Pawscessories is reader-supported. When you buy via links on our site, we may earn an affiliate commission at no cost to you. Learn more.

---
Quick Access To The Best Moving Dog Toys 👇
As a dog owner it can be hard to find quality moving dog toys that your pup loves. Finding the ideal choice out of all the options available is a pain in the… well you know.
We want to make sure that if you're going to be spending money on a toy that your doggo loves it and get lots of use out of it.
After being frustrated ourselves with trying to find a high quality moving toy for our pup we decided to do our own research and find the best ones around.
After looking closely at 60+ different toys we found 12 of the best moving interactive dog toys.
In this post we include puzzle toys, self moving toys, plush toys, camera toys, and more! Find exactly what you are looking for to make your pup as happy as can be.
Let's dive in.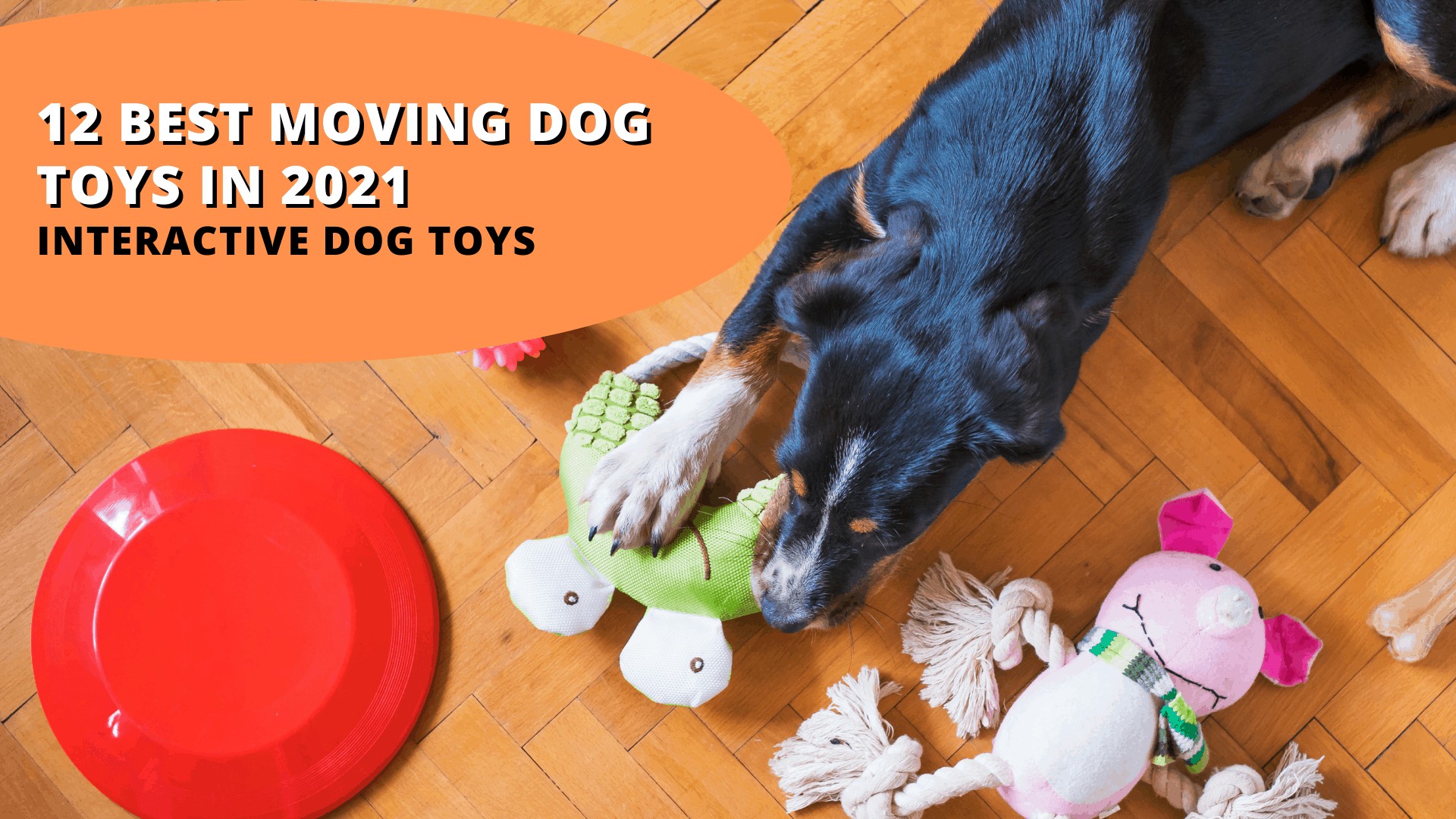 Top 12 Best Moving Dog Toys
Best Overall: Starmark Bob-a-Lot Dog Toy
Looking for a toy for your food-motivated dog? The StarMark Bob-A-Lot is the perfect toy to keep your pup entertained. All you have to do is fill it with treats and watch your dog try and wobble them out. 
The toy will move and wobble all over the place as your dog tries to get at the treats inside the toy.

Unlike a lot of other treat-dispensing toys, you can actually adjust the opening to increase or decrease the difficulty as your dog learns. The toy is sufficiently weighted down with an anti-slip bottom that allows your dog to tackle it without it falling over.

The StarMArk Bod-A-Lot provides lots of mental stimulation and helps improve cognitive functions. This toy works exceptionally well for dogs who suffer from anxiety.
From looking over reviews many appreciate the ability to use the toy on carpets, tiled floors, and/or hardwood floors. The sole downside we found was the noise produced when using kibble or hard treats.

StarMark Bob-A-Lot Key Features: 
Provides mental stimulation 
Ideal for dog with anxiety
Durable material and anti-slip bottom
Easily fills with Treats
Adjustable opening to increase or decrease difficulty
Best Budget: Wobble Wag Giggle Ball
This may look like an ordinary ball, but it's so much more than how it appears. Hours of fun playtime awaits with interactive fun and bonding time between your dog and you with this affordable and durable toy. 
As the name implies, it wobbles, giggles, and bounces for one of the best moving dog toys around. It's a noisemaker to help engage your dog in play and the ball doesn't require batteries. 
This toy is ready to roll straight out of the box! Just give the ball a slight nudge to get it moving and laughing.

The Wobble Wag Giggle Ball is so well made that it can be used inside or outside! There's even a glow-in-the-dark option for just a couple of dollars more.

Wobble Wag Giggle Ball Key Features: 
Great for indoor and outdoor play
No batteries required
Toy wobbles, wiggles, and giggles
Flexible and durable toy
6 clutch pockets allow dogs to easily to pick it up
Helps Keep Dogs Happy, Healthy and Fit
Best Runner Up: Hide-and-Slide Puzzle
Next up is the Hide-and-Slide Puzzle! Simply fill the compartments and swivel the lids to cover them, then let your dog go at it. 
The spinning center combined with moveable blocks is easy for your dog to move with their nose, mouth or paws. This puzzle toy will keep your dog challenged and entertained trying to get to the treats.

The Outward Hound Puzzle is made of composite materials and doesn't have any removable parts. If your dog is a chewer make sure to keep an eye on them to make sure they don't chew it up! 
This puzzle toy can be considered too "Advanced" for some pups, so if you think it might be too complicated, opt for another toy instead.

Be warned…if you let your dog spend too much time solving this puzzle, they may start outsmarting you!
Hide-and-Slide Puzzle Key Features: 
Advanced Puzzle
7 easy to fill treat compartments
No removable Parts
Easy to move blocks and a spinning center
Real wood look
Mental Stimulation
Easy to clean (hand wash)
Best Under $25: Trixie Activity Flip Board
Next up is another puzzle dog toy, the Trixie Dog Activity Flip Board! This is a challenging puzzle on our list that will require your dog to have critical thinking skills. 
Your dog will be challenged to utilize their mouth, nose, and paws to lift and shift pieces in order to get to the treats.

The key component to finding the best moving dog toys are finding a toy that's perfect for your unique dog. What we found after reviewing this toy is that it may require some teaching on your end. 
Owners in reviews mention the importance of showing your pup how to access the treats in order to give them some direction. In some cases your pup may be smart enough to figure it out on their own, but if you notice them getting frustrated make sure to show them!

This unique puzzle includes cones, discs, and knobs. These three compartments keep dogs curious solving the puzzle while learning new techniques to seek their reward by moving the parts of this toy! 
Trixie Activity Flip Board Key Features: 
Cones, knobs, and disc moving parts
Mental Stimulation
Durable Material
Easy to fill compartments
Ideal for small and medium sized dogs
Best For Separation Anxiety: SmartPetLove Snuggle Dog Toy 
This next toy does not move in the same way as other toys on this list. The Smartpetlove Snuggle Dog Toy is designed to drastically reduce negative behaviors resulting from anxiety, including whining, barking and destroying furniture. 
The unique aspect with this toy is the real-feel pulsing heartbeat and internal heat source that is included with the toy.

The slight movement inside the toy adds a real-feel aspect that will make almost every pet fall in love with it.

The idea with this toy is to mimic being part of a pack or by being with the people that they love. This directly appeals to the natural instincts your pup has.
One of the biggest things this product does is eases loneliness, fear and separation anxiety. The snuggle puppy recreates a maternal intimacy with physical warmth and an advanced real feel heartbeat. It has two modes, an eight hour setting and a 24 hour setting.
After looking at the 25,912 Global ratings on amazon.com (Feb 19th, 2022), we found that over 71% of customers claim this to be a five star product. 
The only thing that we could note as a negative aspect of this toy would be that the material used is not indestructible. So if you have a heavy chewer, this is likely not going to be the best toy for you.

SmartPetLove Snuggle Dog Toy Features:
Reduces negative behaviors resulting from anxiety
Aids with separation anxiety 
'Real-feel' pulsing heartbeat
Two AAA batteries (included) last up to two weeks with continuous 24/7 use
Easy To Clean (Machine Washable)
Disposable heat source lasts for 24 hours
non-toxic and safe for people and pets
Best Self Moving Toy: NEILDEN Giggle Plush Dog Toy
If you are someone looking for a self moving dog toy then this is going to be a great option for you. The Neilden Giggle Plush Dog Toy is an interactive dog ball that will automatically shake and make dog barking noises when played with.
The toy is activated by shaking it or by your dog compressing or touching it with some force. This allows for extended play since it will keep your pups attention for longer periods of time.
One of the greatest parts about this toy is the guarantee Neilden gives their customers. If there is any dissatisfaction with the toy or if it has any quality issue they will send you a replacement or a full refund.
NEILDEN Giggle Plush Dog Toy Features: 
Replacement and washable
Indoor and outdoor play
100% Guarantee
Automatic movement and sounds
Easy to charge battery
Other Top-Rated Picks
Wickedbone Smart Bone
Next up on our list is another self moving interactive dog toy called the Wickedbone Smart Bone. One of the coolest parts about this toy is it's automatic and intelligent. 
Meaning you can choose between an interactive autoplay mode, or you can control the toy yourself using a joystick via the app.
The autoplay mode is great for attracting your dog's attention and does not require manual operation. It includes 12 types of emotional driven systems based on your pup. Wickedbone brings various different types of interaction, such as chasing, teasing, avoiding, etc.
The battery life of the wicked bone is about one hour. It lasts more than 30 minutes in the app mode and more than two hours in interactive mode. 
Now, this is definitely one of the best moving dog toys but it also helps with separation anxiety, as it can be a companion for your doggo when you're away.
Wickedbone Smart Bone Toy Features: 
Automatic & Intelligent
Auto Play Mode
Manual Drive Mode
Aids with separation anxiety 
Easy to clean
Worry-free service
IFetch Interactive Ball Launcher
Looking for an automated game of fetch? One where you don't have to continually throw the ball?

The IFetech Interactive Ball Launcher is a great option if you want a toy that can send a ball flying 10ft, 20ft, or 30ft in the air. You can even upgrade to the large IFetch if you want even more distance with a larger sized ball.

This toy can be used indoor and outdoor to keep your pup entertained chasing balls. All you have to do is show your dog how to use the toy.

They simply drop the toy into the hole and wait with anticipation as the ball gets spit back out for them to go chase down.
IFetch Interactive Dog Ball Launcher Features: 
Automatic ball launching
Come in a large or small
Adjustable launch distance between 10ft – 40ft
Mental stimulation
Worry-free warranty
SKYMEE Owl Robot
The Skymee Owl Robot is a great toy that can move around automatically on its own or manually by you in a phone app!

The automatic smart interaction mode triggers multiple action modes with infrared sensing that will play with your pet.

The toy includes a full HD camera, 2 way audio, and treat dispensing functionality. The camera has a 4x zoom and night vision mode so you can clearly see your pet at any time, day or night!

Not only will you be able to leave a trail of treats for your dog but for added play you can also attach a toy arm to the back of the robot.
SKYMEE Owl Robot Features: 
Manual driving & smart interaction
Full HD camera & night vision
Treat tossing function
2-way audio
Motion detection
8 hour battery life
Attachable toy arm
Hyper Pet Doggie Tail
Next up on our list is the Hyper Pet Doggie Tail! This is a great interactive dog toy that wiggles, vibrates and barks!

This is a toy that encourages playtime for dogs and keeps them busy with the funny sounds and movements.
It comes as a doggie tail, monster, or a unicorn. This is a great toy for keeping dogs entertained but also helping to reduce anxiety and boredom throughout the day.

If you have a heavy chewer this might not be the product for you since some claim that it could not stand up to their dogs chewing. Out of over 7000 reviews 70% were over 4 stars sharing their love for this toy.
Hyper Pet Doggie Tail Features: 
Comes in 3 different designs
Wiggles, Vibrates, and Barks
Reduces anxiety and boredom
Battery operated
Replaceable Covers
Not for heavy chewers
ZEUS The Bulldog
Looking for an awesome toy that makes noises, bounces and rolls around the room while keeping your pup engaged?

Well look no further as the Zeus The Bullfrog is one of the cutest and funniest toys around. This is a plush toy that has a durable design and will keep your dog entertained for hours!

Now, for those with dogs that love to destroy every toy they get you may want to stay away from this one. The biggest issue people face with this toy is it getting ripped apart really early on so make sure to take this into consideration before buying.
ZEUS The Bulldog Features: 
Machine Washable 
Barks, shakes and rolls unpredictably
Machine Washable Cover
Interactive and entertaining
Outer Material: 100% Polyester
Stuffing: 100% PP Cotton
Includes 3 AAA batteries
Furbo Treat Tossing Dog Camera
Ever wonder what your pet is doing at home when you're away? Wanting to check in to see if they're misbehaving? Well, here's the solution to that, The Furbo Dog Camera.
The great thing about this is it's essentially a camera and mic, combined with a treat tossing feature.

This allows you to check in on your pet through your iPhone whenever you want! You can talk to them, you can give them a treat, or just check in to see what they're doing. This will no doubt make them really happy!
One of the coolest things about furbo is it was featured on Ellen and over 5000 vets and professional dog trainers approved Furbo for helping alleviate separation anxiety in dogs.
That's not all though, it also includes a real time smart alert as well as cloud recording to make sure your dog is safe!
What this does is if your dog gets up to something bad or if they break something it'll let you know that something is going on in your house. 
Furbo Treat Tossing Dog Camera Features: 
1080p Full HD camera & night vision
2 way audio 7 & activity alert
Fun automated treat tossing
Aids with separation anxiety 
Easy 3 Step Setup
Final Thoughts
So there you have it! The 12 best moving dog toys available. Now of course there are tons of other moving dog toys that you can find online but based on our research these were the best 12 out of the 60+ moving dog toys we looked closely at!

For those of you still wondering what might be the best choice for your dog make sure you select your toy based on your dog's specific situation. Here are some things to think about:
Is your dog a heavy chewer?
Does your dog prefer plush toys, puzzle toys, self moving toys, etc.
Is your dog food motivated?
Do you need something to entertain your dog while you are not home?
These are just a few questions you should ask yourself before deciding what toy to buy for your dog.
Other posts you might find interesting:
13 Best Mind Stimulating Dog Toys: Their Features & Benefits
15 Best Dog Toys for Cleaning Teeth: Which Are Most Effective?
13 Best Toys For Aggressive Chewing Dogs | 60+ Reviewed