Pawscessories is reader-supported. When you buy via links on our site, we may earn an affiliate commission at no cost to you. Learn more.

---
Quick Access To The Best Brushes For German Shepherds 👇
German shepherds are best known for their intelligence, loyalty and willingness to please. Unfortunately, these great qualities don't stop them from being extreme shedders.
There's a better way to collect their excess fur rather than frequent cleanups around your home. And that's with a great quality brush for a german shepherd paired with a good brushing routine.
You see, german shepherds have a double coat that sheds heavily year round which means that your furry friend needs constant grooming.
Picking the right brush can be overwhelming with all the options available. You want to make sure you're getting one that will do a great job at collecting their loose/dead fur, won't harm their skin, and is easy to use.
That's exactly why this list was made. After sifting through dozens upon dozens of different brushes, we found what we believe to be the 10 best brushes for german shepherds.
We're confident that each of the tools listed below will get the job done as painlessly as possible. Making grooming sessions more enjoyable for the both of you.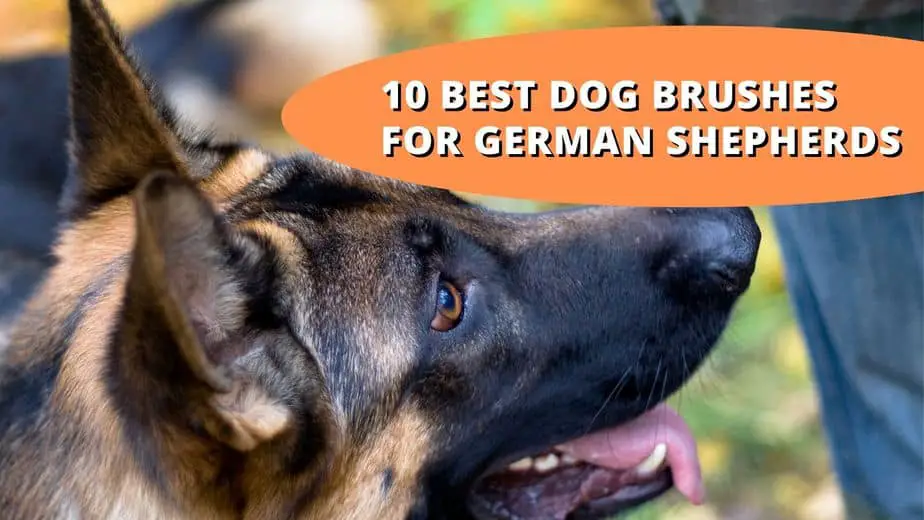 Top 10 Brushes For German Shepherds
Best Overall: The FURminator Undercoat Deshedding Tool
Our best overall brush pick for a german shepherd is the FURminator Undercoat Deshedding Tool. It helps make your pups coat healthy as well as manageable, we'd go as far to say it's the best german shepherd deshedding tool out there.
This brush does a great job at collecting their pesky loose hairs without damaging their topcoat or worrying about hurting their skin.
It's got two blades that gently take care of matted fur which makes brushing sessions more enjoyable for your pup and easier on you.
The handle is designed to remain comfortable after long brushing sessions which will help reduce fatigue when giving your pup their much needed grooming.
Many people with excessively shedding dogs have found that this brush was the best thing they've tried. It's ability to collect their dog's excess fur was much better than other brushes. More fur collected during brushing sessions means less around your home.
FURminator Undercoat Deshedding Tool Key Features:
Helps safely remove matted fur
Effectively gets to the undercoat to get rid of loose hair
Comfortable handle design to make brushing easier on you
Best Runner Up: The Chris Christensen Big G Dog Slicker Brush
The Chris Christensen Big G Dog Slicker Brush is our best runner up brush pick for a german shepherd. This brush is great at taking care of tangles, knots, and matting gently and with ease.
It's got a comfortable rubber handle, a cushioned pin pad that allows for better mobility when brushing/removing fur when cleaning the brush, and the pins are soft making it easy on your pup's skin. It's no wonder this brush is one of the top choices among professional groomers.
The brush also has larger than standard pins to better tackle tough tangles. You're able to take care of knots in both the undercoat as well as the topcoat without harming your dog's skin.
People who've bought this brush shared that it did such a good time at collecting fur and getting rid of knots that it reduced the amount of time it took to brush their doggo considerably.
Some people noted that even their dogs that weren't particularly fond of brushing seemed to enjoy having this brush used on them.
The brush also has just under 90% of people giving it a 5 out of 5 stars on Amazon. With over 3 thousand reviews that's a big accomplishment.
Chris Christensen Big G Dog Slicker Brush Key Features:
Made with larger pins to help grip matting and tangles
Has a cushioned pad for better brushing function
Ergonomic rubber handle to help make your job easier
Best Budget: The Safari Pin And Bristle Dog Brush
Our pick for the best budget brush for a german shepherd is the Safari Pin And Bristle Dog Brush. If you want to keep the amount of tools you use during grooming sessions to a minimum, this could be a great brush pick for you.
This double sided brush enables you to take care of dirt, loose fur and debris on your pup while also being able to fluff up their coat to finish your grooming session.
The bristles are made from organic bristle hair. This side of the brush helps give your dog's coat a nice smooth look while spreading their natural oils all over their fur.
The pins can help you tackle knots and tangles. Using both sides gives you the best of both worlds and keeps your pups coat soft, healthy and strong.
Safari Pin And Bristle Dog Brush Key Features:
2-in-1 pin and bristle brush
Helps spread natural oils to promote a clean, shiny coat
Great for everyday maintenance brushing
Best Under $15: The Glendan Dog Brush
If you're looking for a great brush but don't want to spend an arm and a leg then the Glendan Dog Brush could be for you.
Brushing can definitely be a time consuming task, especially when your dog doesn't like the brush you're using.
The Glendan brush easily combs through tough tangles and gets rid of matted fur so you can spend less time brushing and more time playing.
The head of this brush is rotatable which gives you more freedom to take care of pesky clumps of fur no matter where they're hiding on your pup.
Who says a brush can't be simple and effective! This brush has a simple design at an affordable price.
Glendan Dog Brush Key Features:
Helps remove matting, dander and trapped dirt
Great for both long and short hair
Handle is made with comfort-grip features
Best Dog Brush For German Shepherd Puppies: The Dog Grooming Glove
When it comes to brushing a puppy you want to make sure you're using something that's gentle and will be enjoyable for your pup so they aren't hesitant to get brushed as they get older.
That's where the Dog Grooming Glove comes in. This brush easily slides on your hand and makes your pup think they're just getting some lovin'. Little do they know they're being brushed and you're collecting excess fur and keeping them clean (as well as your house).
Their loose fur will easily stick to the glove as it combs through their fur.
The soft rubber tips make sure the brush won't harm your pups skin and will give them a nice relaxing massage.
It's made without any harmful materials to ensure you and your pup are safe.
Dog Grooming Glove Key Features:
Tips on the glove provide a relaxing massage when brushing
More relaxed grooming than traditional brushes & combs
Excess hair sticks to glove making collecting and throwing away hair simple
Other Top-Rated Picks
The Gorilla Grip Rake Brush
Get rid of your german shepherds toughest tangles with the Gorilla Grip Rake Brush.
It's built for deshedding and detangling. It also has a slip resistant handle that'll help you keep control when taking care of knots.
It has two stainless steel combs, one that's made for taking care of their loose/dead fur while the other gives their skin a nice massage while getting out knots and tangles.
At its core, this brush helps you collect loose fur and smooth out their coat. When you use a quality brush your pup is happy and you'll be happy to see less fur around your home.
Gorilla Grip Rake Brush Key Features:
Great for deshedding and detangling
Made with stainless steel combs
Comfortable handle for long & short brushing sessions
The Hertzko Self Cleaning Slicker Brush
If you have a sensitive skinned doggo on your hands, or they simply don't like being brushed, the Hertzko Self Cleaning Slicker Brush just might fit the bill.
The bristles on this brush are designed to get past their topcoat and easily take off of loose or dead fur in their undercoat. It also takes care of tangles and knots while being gentle on their skin.
It's handle is made with an anti-slip rubber so you're able to have total control even if your pup makes sudden movements.
And the best part, it's retractable bristles. When you've collected a bunch of fur, simply click the button on the back to retract the bristles and easily grab and throw away the fur.
Hertzko Self Cleaning Slicker Brush Key Features:
Great for sensitive skinned dogs
Made with anti-slip grip on handle
Retractable bristles make it super easy to clean
The SleekEZ Deshedding Grooming Tool
The SleekEZ Deshedding Brush does a great job at painlessly removing 95% loose fur in your doggo's undercoat.
The brush's comb is made of high quality steel that provides a smooth grooming experience that's gentle but effective.
It has a unique wave patterned blade that glides along your dog's coat and grabs all their excess, loose fur without pulling and causing your pup and pain.
While collecting their fur it also traps dirt to give their coat a good wipe down in-between baths.
SleekEZ Deshedding Grooming Tool Key Features:
Unique wave pattern blade
Made in the USA
No need to pull hair from the brush – hair piles on the ground in front of you
The MalsiPree 2 in 1 Deshedding Tool
The MalsiPree Brush is an easy-to-use, 2 in 1 deShedding tool for your furry friend.
Simply start with the 22 toothed undercoat rake that gently cuts through stubborn tangles and mats without pulling.
And finish up with the 90 toothed shedding brush that helps thin out their coat as well as deshedding.
Both sides of the teeth are rounded so there's no scratching while you're brushing – just nice gentle strokes that will make regular grooming enjoyable for both of you.
You'll appreciate the soft and ergonomic anti-slip grip that makes it comfortable for you to use no matter how long a grooming session takes.
MalsiPree 2 in 1 Deshedding Tool Key Features:
Takes care of knots & tangles as well as shedding
Teeth are rounded to protect your dog's skin and provide a massage
Designed for medium & long haired dogs
The Poodle Pet Dematting Rake
If sometimes you forget to brush your german shepherd for an extended period of time the Poodle Pet Dematting Rake can help you take care of a tangled mess.
It's made to gently smoothen out tangles, knots and matted fur without harming your pup.
Because of the way it's designed it's able to get deep into their thick coat and break up knots and matted fur.
It's made with durable rubber that ensures the brush will last many brushing sessions for years to come. This also ensures it won't slip in your hand and you'll be able to have full control the entire time you're grooming your lucky pup.
Poodle Pet Dematting Rake Key Features:
Designed specifically to gently get rid of tangles, knots and matted spots
Reaches deep into thick hair to effectively break up bunches
Made with quality material to last the test of time
Top Tips On Brushing Your German Shepherd
To keep that adorable furball groomed, you'll want to know some insider secrets about properly brushing your german shepherd. For starters, you'll want to have your german shepherd professionally groomed every six to eight weeks. If this sounds excessive to you and you don't want to spend that kind of money, going every four to six months will still be considerably helpful.
In between these sessions, you'll need to brush your dog's fur frequently. If you can, make it a habit to sit and brush every day to keep mats and tangles at bay. If everyday seems unattainable to you, then aim for at least three to four times a week.
Follow these helpful tips on how to brush your german shepherd:
Brush your doggo regularly, gently, and carefully from the skin out to the tips of their hair. This is the best way to keep the fur mat free.
Before you get the brush in your hand, comb through their fur with your fingers to check for any serious knots or mats. If you find one, take care of it with a rake, scissors or if it's not too bad, with your pin or slicker brush.
Once you're able to run your fingers through their entire coat without finding matted fur, it's time to use your slicker brush.
Taking care of each leg first, then moving on to their body and finishing with their head. Be sure to not stick around too long in the same area for more than a few brush strokes as you could irritate their skin.
Make sure you go WITH the grain and not against it. Always brush in the direction that their hair is growing. Starting close to their skin and working your way out to the tips of their fur.
Many shepherd parents make the decision to keep their dog's fur nice and short during the warmer summer months. This allows for your pup to enjoy swimming and more frequent baths without having to do daily brushing and risk excessive matting.
Top 5 Benefits Of Brushing Your Dog
Outside of your dog's coat looking generally more attractive and well-kept, brushing has several additional benefits that not many are aware of. Here are five other benefits that you and/or your furry friend gain from consistent brushing.
Bonding Time – Unfortunately, when life gets busy (which it inevitably does) the family pet is often the first to see less of you and feel neglected/ignored. Frequent grooming sessions are a great way to stay connected with your pup and bond with them in a relaxing way.


Health Exam – When you're frequently rubbing your doggo down this puts you in the perfect position to spot unusual bumps or cuts. In a very real way, this could save your dog's life. If you discover something that shouldn't be there and can get it treated early enough, it could be the difference between life or death.


Shiny Oil Distribution – Your dog produces natural oils from their skin that have the power to keep your dog's coat healthy and strong. Brushing your doggo helps spread out these oils all around their body.


Reduce Shedding – I have yet to find someone who loves dog hair all over their home! By consistently brushing your pup you'll reduce their excessive shedding. This becomes a win-win-win situation especially if you or someone in your family is allergic to pet dander. Your dog get's attention and a relaxing massage, you keep your home cleaner from their fur, and whoever has allergies is able to breathe more freely.


Detangle and Demat – If matting is left for too long without being delt with, it can become quite uncomfortable, even painful, for your pup. Some mats can be hidden underneath their top coat that aren't noticeable until you start brushing. Regular brushing can easily avoid this unwanted situation.

FAQs
How Often Should You Brush A German Shepherd?
Ideally if you were to build a habit of brushing your german shepherd everyday that would be best. However, not everyone is able to find time every day to brush their dog. This is why, for many people, brushing 3-4 times a week is much more sustainable.
You might be wondering why it's important to brush them so frequently. And outside of helping keep your house clean (which is a big bonus for many) there are a few things that contribute to its importance.
Regular brushing removes dead hair and debris, helps to distribute natural skin oils, stimulates blood flow preventing dryness or bald patches, and also keeps them smelling fresh & clean!
Brushing will not only help remove loose fur but can also keep fleas at bay by removing dander (dead skin cells). This action will prevent any eggs from hatching into larvae which could lead to infestation with these pesky critters.
Plus it's a great bonding experience for you and your best friend!
What Kind Of Brush Should I Use On My German Shepherd?
As a general rule, to provide the best grooming experience you'll want to have multiple different types of brushes in your home. Having a slicker brush, bristle brush, and rake brush will allow you to take care of all your dog's grooming needs.
However, if you're looking for just one brush, a slicker brush would be the best thing for your german shepherd. 
Slicker brushes are great and collect fur from both your dog's topcoat as well as their undercoat. They're also able to tackle knotting and tangles which will help keep their fur and skin healthy.
This is why they're overall the best brush for you to use on your german shepherd if you're only looking to get one brush.
Bristle brushes are great at providing finishing touches to their grooming session. They glide along your pup's topcoat collecting any left over hairs as well as distribute their skins natural oils along their body to maintain a healthy, nourished coat.
Rake brushes are considerably good at getting rid of serious knots or matting. For matting that needs a little more attention and would otherwise hurt your pup if you just used a slicker brush and attempted to yank out the knot; rakes help take care of them in a much less painful manner.
Final Thoughts
Picking the best brush for your german shepherd can be surprisingly overwhelming.
There are so many options available online it's difficult to know which one is going to be good quality and enjoyable for your pup.
That's why we made this list.
To narrow down all the options to a short list of just 10 of the best brushes for a german shepherd.
We're confident if you bring home any of the brushes on our list that you and your doggo will be happy.
Other posts you might find interesting:
Top 12 Best Harnesses for German Shepherds: The Ultimate List
11 Best Dog Shampoos for German Shepherds: Ultimate Guide
18 Best Dog Toys for German Shepherds
10 Best Dog Beds for German Shepherds: Everything You Need to Know