Pawscessories is reader-supported. When you buy via links on our site, we may earn an affiliate commission at no cost to you. Learn more.

---
Quick Access To The Best Brushes For Golden Retrievers👇
Golden retrievers are the best! They're beautiful, love to swim, and they need lots of lovin'. Speaking of needing a lot of something, they certainly also need a lot of brushing!
If you want to keep your furniture and the rest of your home clean, your golden retriever is going to need a top quality brush as well as a consistent brushing routine.
Finding the right brush can be difficult though. You don't want to buy something that's cheaply made and breaks after a couple uses. You also want to make sure it does a good job, makes your grooming time as easy as possible, all the while not harming your pups skin.
After looking at well over 60 brushes, we've found the top 10 dog brushes that will brush out your dog's coat with as much ease as possible.
We're confident that after taking a look at our list that you'll have found a brush you feel confident is going to be a great tool in your grooming arsenal.
Without further ado, let's jump right into our best over brush pick for a golden retriever.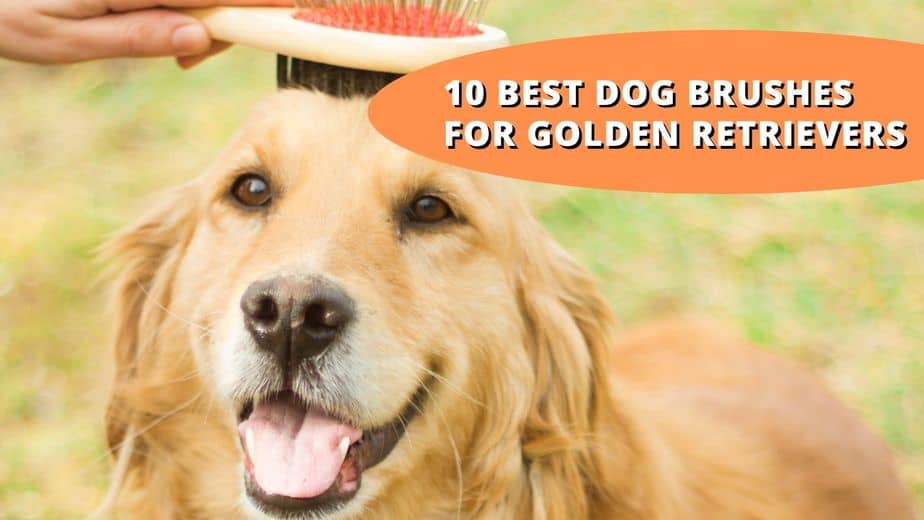 Top 10 Brushes For Golden Retrievers
Best Overall: The Chris Christensen Big G Dog Slicker Brush
The Chris Christensen Big G Dog Slicker Brush is our pick for the best golden retriever brush. When it comes to getting rid of excess fur and taking care of tangles as well as knots this brush does a supreme job.
This brush is considered the best of the best by professional dog groomers and dog owners alike because of its durability and effectiveness.
It has features like a cushioned pad for better pin movement, has a rubber handle for better gripping, and is safe to use for sensitive skinned doggos.
It's pins are larger than standard slicker brushes which helps you work through knots in both layers of their double coat. Because of this you'll save time and energy during your brushing sessions.
That was something we noticed many people spoke about after using this brush, that it enabled them to speed up grooming time while still doing a good job.
One person even found that their dog who really disliked brushing before began to enjoy his grooming sessions with this brush.
Not to mention it has almost 90% of people giving it a 5 out of 5 star on Amazon. When you get up to over 3,000 views that's not easy to maintain, so that's quite an accomplishment.
Key Features:
Made with larger pins to help grip matting and tangles
Has a cushioned pad for better brushing function
Ergonomic rubber handle to help make your job easier
Best Runner Up: The FURminator Undercoat Deshedding Tool
Our pick for the best runner up dog brush for a golden retriever is the FURminator Undercoat Deshedding Tool.
This brush does a great job at easily removing loose fur without putting your dog's skin at risk of being harmed.
It's got two blades that easily take care of knotted or matted fur so grooming sessions are more bearable for the both of you.
If you've ever had trouble getting past their topcoat to tackle their loose fur underneath that won't be a problem with this brush. It simply and safely removes loose hair on both their top and undercoat.
The handle is designed to stay comfortable even after longer brushing sessions and ultimately reduce fatigue in your arm and hand.
People who have a major shedding dog on their hands really like what this brush is able to collect off their dog. They also shared that other brushes they've tried really haven't measured up at all when compared to the FURminator Deshedding Tool.
Key Features:
Helps safely remove matted fur
Effectively gets to the undercoat to get rid of loose hair
Comfortable handle design to make brushing easier on you
Best Budget: The Safari Pin and Bristle Dog Brush
The best budget brush for a golden retriever is definitely the Safari Pin and Bristle Dog Brush. Challenging brushing sessions can become a thing of the past with this multipurpose tool.
It's a versatile double sided dog brush that helps take care of loose hair as well as dirt and debris trapped in your pups coat. The pin brush side is great for knots and tangled fur while the bristle brush side helps smooth out their coat and get rid of any unwanted debris.
The bristles are made from organic bristle hair that does a great job at spreading your dog's natural oils. This helps their coat be healthy, strong, and soft for an all day show-dog shine.
Key Features:
2-in-1 pin and bristle brush
Helps spread natural oils to promote a clean, shiny coat
Great for everyday maintenance brushing
Best Under $15: The FURminator Slicker Brush
If you're in need of a brush that's inexpensive but also does the trick for removing knots and tangles on your golden retriever, the FURminator Slicker Brush could be the one for you.
This brush does a great job at living up to its name by effectively terminating loose and dead fur off your dog's body without harming their skin.
The bristles on the brush are soft which allows you to get rid of painful stubborn knots without having to pull too hard. It's important that brushing time is enjoyed and this brush makes that possible as best as any.
Whether your pup just got trimmed and as a medium length coat or they're rocking a longer fur look, this brush works great at tackling knots and shedding in both.
If your pup is starting to look a little scruffy but you don't want to break the bank on a brush, this could be a great option for you.
Key Features:
Gets rid of mats and tangling without painful pulling
Designed to be gentle on their skin
Made for dogs with curly locks
Best Grooming Kit For Golden Retriever: The Oneisall Quiet Dog Grooming Kit
The Oneisall Quiet Dog Grooming Kit is a great way to groom your golden in complete peace.
Kick your dog-grooming game up a notch. The Oneisall Quiet Dog Grooming Kit is perfect for any beginner looking to take care of grooming on their doggo at home.
With this kit, you'll be able to shave, trim and groom with ease due its cordless design with low noise.
What's also nice is it comes with long lasting batteries that are rechargeable so you don't have to buy replacements.
It includes everything that you'd need from clippers, guide guards (3mm/6mm/9mm/12mm/15mm/18mm), cleaning brush, comb, and scissors.
Your pup will feel like they're getting salon-quality treatment.
Key Features:
Complete at-home grooming kit
Rechargeable trimmer
Cordless and easy to use
Other Top-Rated Picks
The Hertzko Self Cleaning Slicker Brush
If your pup is usually resistant to being brushed or has sensitive skin in general, the Hertzko Self Cleaning Slicker Brush could be a match made in heaven.
It's designed to easily penetrate your dog's topcoat and effectively get right to their undercoat. This means no hidden knots and tangles go untreated.
Building a brushing routine is annoying if the tool you're using isn't comfortable. This brush has a comfy grip handle with special rubber to make sure your hand doesn't slip while using it.
Getting rid of tangles, knots and mats will be a breeze and cleaning up after you're done is even easier. Simply click the button on the back to retract the bristles and the collected fur becomes easily removed to throw away.
Key Features:
Great for sensitive skinned dogs
Made with anti-slip grip on handle
Retractable bristles make it super easy to clean
The Gorilla Grip Rake Brush
Sometimes you have pesky knots that require a little more work than your traditional brush can handle. That's where the Gorilla Grip Rake Brush comes in handy.
It's designed to take care of tight tangles while also deshedding your pup. It has two stainless steel combs in the brush, one is made for collecting loose & dead fur while the other provides a gentle massage while it works out tough mats.
Not to mention it also has a slip resistant handle that is ergonomically made to remain comfortable even after longer periods of use.
Key Features:
Great for deshedding and detangling
Made with stainless steel combs
Comfortable handle for long & short brushing sessions
The Dog Grooming Glove
If your pup is notorious for not liking being brushed, this grooming tool can help disguise brushing and make them think they're just getting some lovin'.
The Dog Grooming Glove helps you groom your doggo without them realizing. You'll be taking care of dirt, loose fur and debris and they'll be none the wiser!
The glove gives a gentle, relaxing massage with it's rubber tips. It effectively collects loose fur without scratching or irritating your pup's sensitive skin.
It's made without any harmful materials to ensure both you and your pup are kept safe.
Key Features:
Tips on the glove provide a relaxing massage when brushing
More relaxed grooming than traditional brushes & combs
Excess hair sticks to glove making collecting and throwing away hair simple
The Poodle Pet Dematting Rake
Your golden's matted areas don't stand a chance against the Poodle Pet Dematting Rake.
No matter how scruffy your pups coat has gotten, this brush is designed to remove tangles, mats and troubling knots.
It easily bypasses your dog's topcoat to reach deep into their coat to effectively break up tough knots, mats and tangles. Strong knots can be quite the task to get rid of which is why the handle is made to be durable enough to withstand all your dematting needs.
It's made out of heavy duty rubber with wavy ridges that keep the brush comfortable to use no matter how long the grooming session.
Key Features:
Designed specifically to gently get rid of tangles, knots and matted spots
Reaches deep into thick hair to effectively break up bunches
Made with quality material to last the test of time
The HappyDogz Slicker Brush
The HappyDogz Slicker Brush is a great tool to make a HappyDogMom (or dad).
The brushes bristles are soft enough to be gentle on your pups skin while getting rid of debris and loose fur, while also being firm enough to tackle stubborn knots.
It's designed to provide an easy-going experience for both you and your doggo; while your pup is enjoying a nice back scratch, you're enjoying the brush's comfortable design, easy-grip handle and high quality material.
You can easily get rid of stubborn mats and knots to get your pup looking show-dog ready with this gentle brush.
Key Features:
Bristles are gentle on your dog but firm enough to get out tough knots
Comfortable & durable to use
Great for both thin and thick coats for dogs with sensitive skin
How To Properly Brush A Golden Retriever
Before discussing which body parts you'll want to tackle first there are a couple things that need to be said first to make this the best experience for your golden.
Firstly, you'll want to make sure you're doing short brushing strokes. If you do too long of strokes you're likely going to get caught on a tangle or knot and end up yanking on their coat. To avoid this, keep your brushing strokes nice and short.
If you haven't built a good habit around brushing your pup yet there's a good chance they'll have some matted fur or tough knots. If this is the case it's a good idea to get a dematting rake and take care of those problem areas first, before using your slicker brush.
Once the big knots are taken care of, the best way to brush your golden retriever is as follows:
Be sure to brush WITH the growth of their hair and not against!
Start with their legs. Gently work your way from the top of their leg (near their armpit) all the way down to their paw.
Once each of their legs is done you'll want to move onto their body. Starting from the back of their neck and gradually working all the way back to the top of their bum. Be sure to get the top as well as both sides. Don't forget about their tail!
Finally you'll finish the job by taking care of their more sensitive areas, their head, face and ears. Taking a little extra time in this area is a good idea so you don't accidently harm your furry friend if they decide to make a sudden movement.
Once they're all brushed out you'll have a handsome boy or beautiful girl ready for the rest of their day!
FAQs
When To Start Brushing A Golden Retriever Puppy?
You can start brushing a golden retriever puppy as soon as you bring them home!
It's actually a great idea to start brushing them as early as possible to get them used to being frequently brushed. When they get older and bigger you don't want to have to wrestle with them each time you want to groom them.
Starting a good habit while they are young is always a good idea.
What Brushes Do You Need For A Golden Retriever?
If you're looking to only get one brush The Chris Christensen Big G Dog Slicker Brush is the best brush to tackle tough knots while collecting all their dead hair.
If you're looking to create a much more wholistic grooming experience for your pup you'll want to get a slicker brush, a rake and a bristle brush.
Each type of brush does a considerably good job at certain aspects of brushing.
A rake will be able to tackle even the toughest of knots and loosen them up.
A slicker brush will be able to collect loose fur in both their topcoat and undercoat. It can get out knots and tangles as well but a rake will do a better job at more severe knots.
A bristle brush is great at finishing the job and spreading their natural skin oils. It helps fluff up their coat and promotes healthy, shiny fur.
Should You Brush Golden Retrievers?
You certainly should!
The only way to make sure your home doesn't turn into a giant fur ball is to consistently brush your golden.
It also makes sure their skin and coat stays in tip top shape.
Without consistent brushing their matting and knots can get out of control where they could become irritating to your pups skin.
Final Thoughts
There you have it. Our list of the top 10 best dog brushes for golden retrievers.
Were you able to find a brush you feel will best suit your golden's coat?
With so many darn options available online it can be a little overwhelming trying to decide which one will work best on your golden retriever's coat.
Hopefully our list was able to narrow your choices down and you're able to feel confident that the brush you pick is going to be great for both you and your pup.
Happy brushing!
Other posts you might find interesting:
12 Best Harnesses for Golden Retrievers: Facts, FAQs & Features
10 Best Dog Shampoos for Golden Retrievers: Clear-Cut Winners