Pawscessories is reader-supported. When you buy via links on our site, we may earn an affiliate commission at no cost to you. Learn more.

---
Quick Access To The Best Brushes For Poodles 👇
Poodles are one of the best breeds for anyone with allergies. This is because they have hair as opposed to fur, they're a go-to pick for anyone who suffers from allergies.
While this means they shed MUCH less than a dog with a fur coat, they're hair still needs to be managed and maintained. Having the right brush in your home ensures that a poodles curly coat stays under control.
Matting, knotting, and tangling are all too common because of a poodles curly hair. This makes having a brushing routine that much more important for poodle owners.
One way to make your job easier as designated brusher, is to have a top-quality brush on hand. In this post we're going to be talking about the best brushes for poodles to help you find the perfect brush for you.
Whether you're looking for something that will get rid of shedding hairs or just want an easy-to-use brush, we've got you covered in our top 10 best picks.
Let's dive into our best overall brush pick for poodles, shall we!?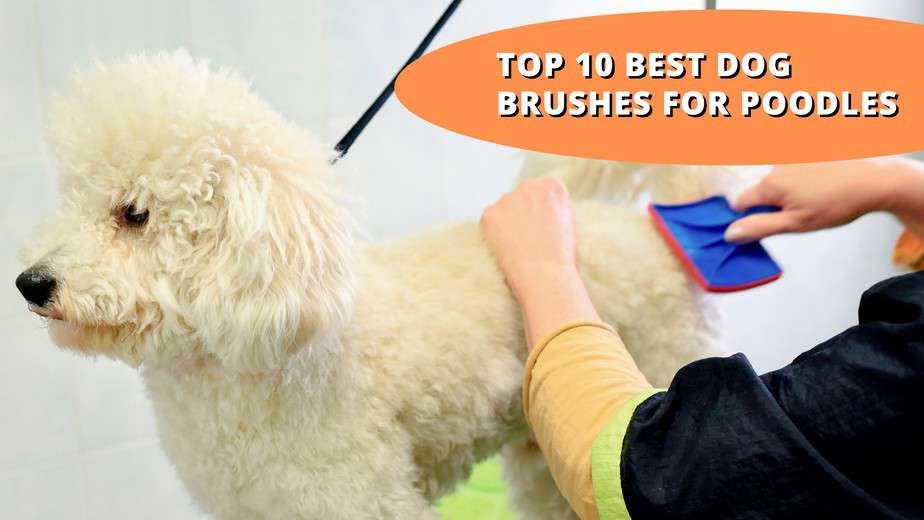 Top 10 Best Brushes For Poodles
Best Overall: The Chris Christensen Big G Dog Slicker Brush
The Chris Christensen Big G Dog Slicker Brush is our pick for the best overall brush for poodles. When brushing with this tool, you'll be able to remove tangles and mats effortlessly and efficiently.
With all the extra built-in features, such as its cushioned pad, retractable soft pins that are low-effort on your pet's skin, plus a rubber grip handle, it is hands down the best slicker brush for curly haired dogs.
It has larger than normal pins to quickly grasp large tangles of hair, saving time and energy during grooming sessions. If you want to be able to groom your poodle like a pro, this is the perfect brush for you.
People who've used this brush on their poodle shared that it was able to dramatically reduce the amount of time it took to brush their pup. One lady also said that her pup hated being brushed before but actually seems to enjoy it with this brush.
This brush has almost 90% of people who take the time to review after buying it and using it giving a 5 out of 5 stars. With over 3 thousand reviews that's a big accomplishment.
Chris Christensen Big G Dog Slicker Brush Key Features:
Made with larger pins to help grip matting and tangles
Has a cushioned pad for better brushing function
Ergonomic rubber handle to help make your job easier
Best Runner Up: The Hertzko Self Cleaning Slicker Brush
Our best runner up brush pick for poodles is The Hertzko Self Cleaning Slicker Brush. It's perfect for a dog that doesn't like being brushed, or has sensitive skin.
The bristles are a fine wire designed to easily penetrate deep into your pup's coat and remove loose hair without causing any harm.
The brush features a stylish comfort grip handle with an anti-slip edge so you're able to groom your pup comfortably without worrying about struggling with the brush itself.
You can easily get rid of tangles, knots, dander or dirt that gets trapped in their hair.
When you're done simply click the button on Hertzko's self-cleaning brush and the bristles retract back into the brush for easy clean up.
It's important for pups to have healthy coats and this brush makes it easy!
People who've used this brush shared that their dog enjoys it almost as much as they do and they find it to be very gentle on their pup's skin. They also said the retractable bristles make it super easy to clean after brushing sessions without having to mess around with and bend the pins to get it clean & ready for more use.
Hertzko Self Cleaning Slicker Brush Key Features:
Great for sensitive skinned dogs
Made with anti-slip grip on handle
Retractable bristles make it super easy to clean
Best Budget: The FURminator Brush
A lightweight brush that removes surface mats and tangles for a clean, healthy coat? You're looking for The FURminator Brush.
It lives up to its name with its innovative design as the bristles are arranged in fingers and made to reduce pulling on your pup's skin.
With this brush you're able to smooth out painful knots without having to pull too hard.
The soft bristle tips provide a pleasant, low-stress brushing experience– finishing coats and creating beautiful natural shine.
It's perfect for pups with medium length and curly coats but also works wonders on longer hair.
This brush is great for scruffy poodles who just need a quick once-over before they step out of the house looking their finest!
FURminator Brush Key Features:
Gets rid of mats and tangling without painful pulling
Designed to be gentle on their skin
Made for dogs with curly locks
Best Under $15: The Glendan Dog Brush
Become a gentle grooming guru to your pup! If you're on a budget you'll still be able to scoop up the Glendan Dog Brush without breaking the bank.
Brushing your dog can be a taxing, time-consuming task. With this easy to clean brush, you won't be spending more than 5 minutes trying to comb out mats.
You can simply use the rotatable slicker brush and remove any pesky clumps of hair that may have been bothering them for weeks.
If it gets dirty later on in the day, simply rinse off by running water over it.
It's amazing how much you can accomplish with just a few materials. It may look simple, but we think the Glendan Dog Brush is a great brush for a great price.
Glendan Dog Brush Key Features:
Helps remove matting, dander and trapped dirt
Great for both long and short hair
Handle is made with comfort-grip features
Best Dematting Tool For Poodles: The Poodle Pet Dematting Rake
A poodles tangled mess of hair doesn't stand a chance after a good brush with the Poodle Pet Dematting Rake.
This tool is designed to gently and effectively remove knots, matted spots, and tangles from the most scruffy coats.
It reaches deep into thick hair to quickly break up knots, mats, and tangles.
The comb is made with top-grade rubber that is strong enough for all your dematting needs.
Its handle has been crafted out of heavy duty rubber with wavy ridges which fits comfortably in your hand. This helps limit the amount of times it slips in your hand because of the increased control.
Poodle Pet Dematting Rake Key Features:
Designed specifically to gently get rid of tangles, knots and matted spots
Reaches deep into thick hair to effectively break up bunches
Made with quality material to last the test of time
Other Top-Rated Picks
The Dog Grooming Glove
This innovative handy tool (see what I did there) is specifically designed for carefree grooming.
This flexible, slip-on glove allows you to brush away dirt and loose hair from long, short or curly haired dogs quickly, gently and effectively.
Shedding hair easily sticks to the glove without causing any harm or irritation to your dog's skin.
This is because it's made of a soft rubber that offers a gentle massage through its different textured panels with no chance of scratching your dog's skin.
This Dog Grooming Glove is free from any materials which could be harmful – keeping both pups and owners safe.
Dog Grooming Glove Key Features:
Tips on the glove provide a relaxing massage when brushing
More relaxed grooming than traditional brushes & combs
Excess hair sticks to glove making collecting and throwing away hair simple
The Coastal Pet Self-Cleaning Slicker Brush
The Coastal Pet Self-Cleaning Slicker Brush features hair pins that are gentle yet durable for hours of grooming leaving no tangled mess behind. 
The self-cleaning feature of this brush will save you time while still providing a comfortable experience for both you and your furry friend.
The stainless steel pins gently but efficiently remove loose hair and dander, helping keep everything around your home clean and dog hair free.
This gentle pet brush can efficiently provide great grooming results on any poodle coat without harming delicate skin or dulling finer hairs.
Coastal Pet Self-Cleaning Slicker Brush Key Features:
Durable stainless steel pins increase the lifespan of the brush
Ergonomically designed handle
Retractable pins for quick & easy clean up
The HappyDogz Slicker Brush
HappyDogz Slicker Brush is a great grooming tool for all dog moms (or dads) with a merry pup.
The brush has bristles that are soft enough to help remove debris and hair from your poodles coat, but firm enough to get out even stubborn mats.
So no matter how thick or thin your four-legged friend's hair may be, this brush will make them look stylish in no time.
It's made to give you and your pup an easy experience; ergonomic design, fool-proof handle grip, and high quality durability.
Get those mats out and give your dog a clean coat again with this gentle brush.
HappyDogz Slicker Brush Key Features:
Bristles are gentle on your dog but firm enough to get out tough knots
Comfortable & durable to use
Great for both thin and thick coats for dogs with sensitive skin
The Safari Pin and Bristle Dog Brush
Say goodbye to annoying and difficult hair-pulling! Poodles can look their best with the Safari Pin and Bristle Dog Brush.
It's a double-sided design brush that is sure to help you remove loose hairs, dirt, and debris from your poodles luscious locks.
The bristles are made of quality organic bristle hair to give your dog's coat a lustrous shine with each stroke along his or her hair.
Bristles also attract natural oils from the skin to keep coats healthy, nourished, and soft for a beautiful sheen in all light conditions.
Safari Pin and Bristle Dog Brush Key Features:
2-in-1 pin and bristle brush
Helps spread natural oils to promote a clean, shiny coat
Great for everyday maintenance brushing
The Paw Brothers Slicker Dog Brush
The professional quality Paw Brothers Slicker Dog Brush is a great choice for a groomer or dog owner looking to help out their furry friend.
It's made of material that is comfortable in your hand and gentle on pup's hair, providing both of you the best brushing experience possible.
The long stainless steel pins penetrate deep into their coat. It also has rounded corners to avoid catching hair during grooming sessions, keeping it hassle free.
This brush is a high quality product at an affordable price. No more needing to worry about your precious pooch staying matted or tangled for long.
Paw Brothers Slicker Dog Brush Key Features:
Pins are extra long and stainless steel
Rounded corners to avoid unwanted catching or grabbing
Tough on mats, gentle on skin
How To Prevent Poodle Matting
Let's not sugarcoat the facts. Unfortunately, curly hair will always be more difficult to manage and can lead to tangles which result in matting. This is especially true for poodles who have the potential for an amazing coat with hair that bounces and waves.
A dog's coat often gets matted, or tangled when the topcoat or loose hairs are left for too long to clump and mat together.
If a matted patch of hair isn't attended to quickly, it can turn into an uncomfortable, irritating problem for your curly four-legged friend.
Matting can happen from simply petting your pup.
And there's just no way in the world you're going to stop petting your pup so the trick is to know how to keep matting under control.
The best way to prevent matting from happening in the first place is to brush your pup, and to brush them frequently. It may be unrealistic for you to brush them everyday, but 3 to 4 times a week should be plenty as well as more manageable.
Also, if you notice matting, hold off giving them a bath until you've dealt with the knots, getting their hair wet will only make things worse.
The most effective way to brush out tangles is by starting at your dog's skin and carefully moving the brush outward to the tip of their hair. This ensures you're taking care of knots that might be hidden below the surface of their hair
Some common places that matting occurs are behind the ears, along the hips or outer thighs, the sides of the stomach, the base of the tail, and where their legs meet their body at the armpits and joints.
FAQs
Should Poodles Be Brushed?
Absolutely!
Because of the curly nature of your poodle's hair, it's super important that you brush your poodle several times a week.
If you haven't been brushing your poodle, hearing that you should be brushing them multiple times a week can seem daunting.
So to prevent you from feeling overwhelmed I'd suggest brushing once a week for 3 weeks, then moving up to 2 times a week for 3 weeks, then moving to 3 or 4 times a week.
This will help make the habit of brushing your poodle regularly more digestible. Making it easier for you to set and achieve brushing benchmarks and your pup to have more comfortable, less tangled hair.
What Kind Of Brush Do You Use On A Poodle?
The best kind of brush to use on a poodle is a slicker brush.
Slicker brushes are best for dogs with long curly hair because it's able to penetrate their thick coat and get rid of knots, matting, and tangles beyond the surface of their hair.
Other brushes, such as pin brushes, can work well as well but are generally more time consuming to brush with.
How Do You Brush A Poodle's Hair?
Short brushing strokes are going to make your poodles' brushing experience better for them. It's not likely that you'll be able to do long brushing strokes due to the brush getting caught in a knot.
If you brush your doggo infrequently there will likely be a good amount of matted hair bunched together.
It would probably be a good idea for you to get a dematting tool as well as a slicker brush to make sure you aren't hurting your pup by pulling on their hair attempting to get a knot out.
Generally, a good way to brush your poodle's hair is as follows:
First, start with each of their legs. Gently brush out each leg one by one removing all knots and tangles all the way up to their armpits.
Once their legs are done you should then move on to their body. Starting from their neck you will work your way back to their bum. It's also a good idea to brush out their tail as well.
Finally you'll finish off with the more delicate part of their body, their head, face and ears. It's a good idea to go slow in this area because you don't want to accidentally get caught on a knot and yank on their poor ears or face.
Once all this is done you should have a beautiful girl or handsome boy ready for the rest of their day.
Final Thoughts
There you have it!
The top 10 best brushes for poodles.
Maintaining your pup's luscious hair isn't too big of a challenge with the right tools and a proper brushing routine.
Not only do you get special bonding time that you both enjoy, but you're helping keep their skin and coat nice and healthy.
Happy brushing!
Other posts you might find interesting:
Top 12 Best Dog Shampoos for Poodles: The Definitive Guide
15 Best Dog Shampoos for Odor: Top Picks for Your Smelly Pup