Quick Access To The Best Brushes For Yorkies 👇
The purpose of a brush for a yorkie is a little different than other breeds. Thankfully, yorkies don't shed anymore than people do because they have hair as opposed to fur. BUT, just because they don't shed as much, doesn't mean they don't need to be brushed.
In order to make their their skin stays healthy and they don't get any serious knots or matted fur, consistent brushing is important.
In this post we'll be looking at 10 brushes perfectly suited for yorkies. Whether your pup has long hair or short hair, we're confident you'll find a brush on our list that'll suit your pup perfectly.
Let's dive in to our best overall brush pick for a yorkie, shall we?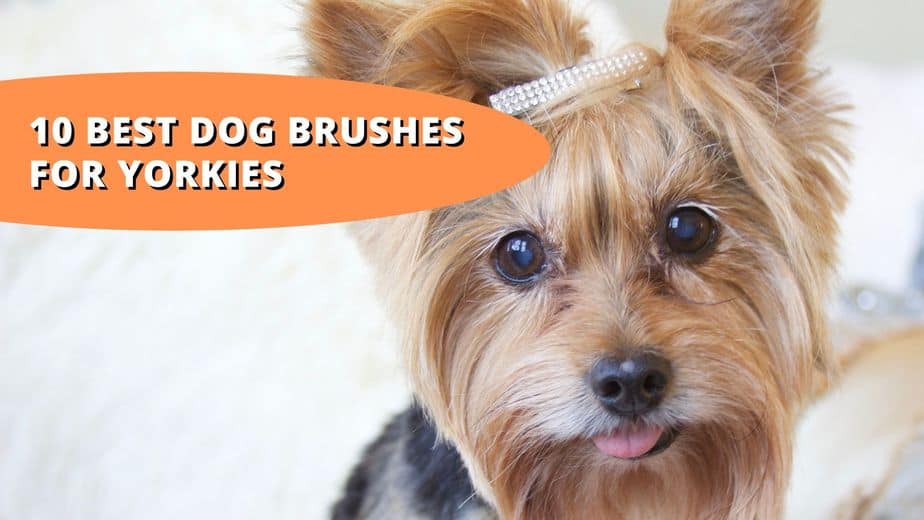 Top 10 Best Brushes For Yorkies
Best Overall: The Hertzko Self Cleaning Slicker Brush
The best overall brush for a yorkie is the Hertzko Self Cleaning Slicker Brush.
If your dog has sensitive skin or hasn't liked being brushed in the past, this brush will be perfect for them.
The pins are designed to easily reach their skin and take care of tangles at the root without causing your pup any harm.
Its handle is made to remain comfortable even after longer than usual grooming sessions. It has an anti-slip grip that will help you stay in complete control while brushing.
When you're finished, simply click the button on the back of the brush to retract the pins to throw away all the collected hair and debris. A quick and painless cleanup!
It's important for your pup to have a healthy coat and this brush makes it easy.
Our source of testers shared that they found their dog thoroughly enjoyed being brushed with this brush, which for some was quite the surprise.
Other people shared that they really enjoyed the retractable pin feature. It made cleaning up after brushing sessions super easy instead of having to fumble around with the pins trying to get all the hair.
Hertzko Self Cleaning Slicker Brush Key Features:
Great for sensitive skinned dogs
Made with anti-slip grip on handle
Retractable bristles make it super easy to clean
Best Runner Up: The Chris Christensen Original Pin Brush
Our best runner up brush pick for a yorkie is the Chris Christensen Original Pin Brush.
The brush is made with top quality materials that are used by hair care professionals that will keep your pup looking up-to-date. It's gentle, safe and fully made in Germany!
Say goodbye to cheap pins that can bend or break over time; this brush is made from durable stainless steel for hassle free grooming from start to finish.
The slender bristles on the tips of every pin ensure a more refined touch so there'll be no pulling or tugging anywhere, no matter what style you're trying out next.
Maintaining healthy, shining skin has never been easier with the help of this beautiful brush.
People who've bought and used this brush shared that they really liked how gentle it was to the touch. One person noticed that her dog started coming to her when she held the brush when her pup would normally run away and hide.
Others mentioned how it was really effective at getting rid of tangles without being irritating on their dogs skin.
Chris Christensen Original Pin Brush Key Features:
Light-weight yet durable
Made in Germany and is built to last
Smooth pin tips ensure brushing is enjoyable for your dog
Best Budget: The Safari Pin and Bristle Dog Brush
The Safari Pin and Bristle Dog Brush is our pick for the best budget brush for a yorkie.
This double sided brush is easy on your wallet as well as on your pups skin.
The pin side does a great job at collecting any dirt & debris caught in your doggo's coat as well as their loose hair.
The bristle side smooths out their coat as you finish up their grooming session. A nice bonus feature on this brush is that the bristles on this brush are made from organic bristle hair.
If you want to keep the amount of grooming tools you have in your home to a minimum, having a 2-in-1 brush is a great option.
Using both sides gives you the best of both worlds and keeps your pups coat soft, healthy and strong.
Safari Pin and Bristle Dog Brush Key Features:
2-in-1 pin and bristle brush
Helps spread natural oils to promote a clean, shiny coat
Great for everyday maintenance brushing
Best Under $16: The Dog Grooming Glove
If you're looking for a handy brush that'll take care of any loose fur on your yorkie without breaking the bank, the Dog Grooming Glove is what you need.
It's less than $16 and great for young pups or older dogs with sensitive skin.
If your pup is hesitant to being brushed, this grooming glove will disguise brushing with a good ol' fashioned rubbin'.
They'll think they're just getting some love while you're collecting any loose hair before it finds its way on your furniture.
It easily slides on your hand so you can conveniently brush them any time you're petting them. Now you'll get your cuddle time in at the same time as brushing time.
The palm and fingers are covered in dozens of rubber nubs to give your pup a nice relaxing massage as you brush over their coat.
Any loose hair will get caught in the nubs and are easily removed to be thrown in the garbage.
Dog Grooming Glove Key Features:
Tips on the glove provide a relaxing massage when brushing
More relaxed grooming than traditional brushes & combs
Excess hair sticks to glove making collecting and throwing away hair simple
Best Dematting Tool For Yorkies: The Poodle Pet Dematting Rake
Our pick for the best dematting tool for yorkies is the Poodle Pet Dematting Rake.
If your yorkie has a tangled mess of hair it doesn't stand a chance against this brush.
It's designed to gently, but effectively, get rid of tangles, knots or any matted spots from scruffy looking pups.
The handle is made with top-quality rubber to help you remain in control while taking care of any serious tangles. It also has wavy ridges to increase how comfortable it is in your hand.
It does a great job at getting to the root on any knot to effectively break it down without causing harm to your pup's skin.
Poodle Pet Dematting Rake Key Features:
Designed specifically to gently get rid of tangles, knots and matted spots
Reaches deep into thick hair to effectively break up bunches
Made with quality material to last the test of time
Best Detangler For Yorkies: The Gorilla Grip Rake Brush
The Gorilla Grip Rake Brush is our pick for the best detangler for yorkies.
It's designed for taking care of the toughest tangles. It also comes equipped with a slip resistant grip to help you stay in control while tackling your pups knots and tangles.
It comes with two stainless steel combs. One is designed for getting rid of tough knots and bunched up fur. The other is good for collecting any loose/dead hair that your pup may have.
This brush will help keep your pup's coat looking neat and tidy without any annoying tangles.
Gorilla Grip Rake Brush Key Features:
Great for deshedding and detangling
Made with stainless steel combs
Comfortable handle for long & short brushing sessions
Other Top-Rated Picks
The Glendan Dog Brush
The Glendan Dog Brush is a simple yet effective tool.
Brushing can sometimes be quite time consuming when your pup doesn't cooperate or enjoy the experience.
This brush is gentle on their skin as it's designed to easily comb through tangles and matted hair. It helps make grooming as quick and painless as possible for any pup who's not a big fan of being brushed.
A neat feature of the brush is that the head is rotatable which gives you more freedom and control over how you brush your doggo.
Glendan Dog Brush Key Features:
Helps remove matting, dander and trapped dirt
Great for both long and short hair
Handle is made with comfort-grip features
The GoPets Double Sided Pin & Bristle Brush
Having a brush that can take care of a variety of circumstances is helpful. The GoPets Double Sided Brush has both pins and bristles to maximize its effectiveness.
If your dog isn't particularly too fond of brushing and makes sudden movements often, the rounded edges of this brush will make sure they stay safe even when being a little fussy. No need to worry about a sharp corner nicking them.
The pin side of the brush is great for taking care of mats, knots or tangles while the bristle side helps spread their natural skin oils as well as fluffing up their coat for a nice finish.
The handle is designed to be comfortable to anyone even if you have arthritis or joint troubles in your hand.
When it's all said and done this brush will help collect their excess hair and keep their coat in great condition.
GoPets Double Sided Pin & Bristle Brush Key Features:
2-in-1 multi purpose brush
Gentle enough for dogs who don't love being groomed
Non-slip handle for more confident brushing
The Coastal Pet Self-Cleaning Slicker Brush
Have a sensitive skinned pup on your hands? You'll want a brush that's gentle on their skin but tough on tangles and that's where the Coastal Pet Self-Cleaning Slicker Brush comes in.
The self-cleaning feature of the brush makes cleaning up quick and painless. Simply press the button on the back to retract the pins and remove all the fur and debris you've collected.
It's pins are made of stainless steel which helps increase the lifespan of the brush as well as the amount of hair it collects.
This brush helps provide an easy going experience for your pup while keeping their coat in tip-top shape.
Coastal Pet Self-Cleaning Slicker Brush Key Features:
Durable stainless steel pins increase the lifespan of the brush
Ergonomically designed handle
Retractable pins for quick & easy clean up
The Cafhelp Stainless Steel Comb
Finally, a solution that can remove all those tangles you're always battling with your pup. The safest and most efficient way to untangle your dog's beautiful fluffy coat is using the Cafhelp Stainless Steel Comb!
The Cafhilp combo pack includes 2 combs (small & large), each with rounded pin heads – not sharp metal barbs like you might find in other combs.
One side has pins spaced evenly apart for thicker hair while the other has shorter pins designed for areas where knots seem to develop more often like around ears, tail, and underarms.
Cafhelp Stainless Steel Comb Key Features:
Great at taking care of tough tangles, mats or knots
Made of stainless steel and rounded ends for maximum safety
Lifetime warranty
FAQs
How often should you brush Yorkie hair?
You should be brushing your yorkie on average 3 times a week.
Considering yorkies don't shed as much as other breeds, brushing to reduce shedding isn't super important.
But, there are a couple other reasons why brushing is important for your pup outside of collecting loose/dead fur.
A few of those reasons are;
Brushing sessions can act as mini health exams. Every time you brush your pup you're giving their whole body a rub down. This enables you to come across any bumps or scratches that you hadn't noticed in the past. This means you'll be able to take care of them before they become problematic.
Grooming your dog is a great time to bond with them. Unfortunately, when things get busy in life, which they inevitably do, the family dog is usually the one who gets the short end of the stick when it comes to your time. By making brushing a habit and building it into your routine you can ensure that they get some special alone time with you no matter what's going on. Which surely you'll both really enjoy!
Lastly, brushing helps distribute their natural skin oils. When you brush out your dog's coat, their skin oils are spread out all over their body which helps promote healthy skin as well as a strong, healthy coat.
How do you brush a Yorkie?
Whether your yorkie has long hair or short/medium length hair, this is how you'll want to brush them.
The length of their hair will determine how slow you have to go to be mindful of pulling where it might be painful for them.
Alright, first things first. Before diving into their full body brushing you want to have a feel around their body to see if you can spot any serious knots, tangles or matted hair. If you do find a troubled area, be sure to take care of that first.
Areas that are more prone to matting are their tail, underarms, ears, as well as belly.
If they're good to go with no bad tangles, you can move on to their body.
You'll want to start at their neck and gradually work your way back to their bum. If they have longer hair be sure to start with small brush strokes eventually moving up to longer strokes as their coat smooths out. If they have shorter hair you likely won't have to worry too much about that.
Now that their body is done, you'll move on to each individual leg. Starting at their armpit and moving down toward their paw. Same rule applies here if they have longer hair.
Once their legs are taken care of all that's left is their head, face and ears! This area is more delicate than the rest of their body so it's important you take your time here.
Voila! You have a fully brushed pup ready for a night out on the town!
Final Thoughts
There you have it! Our complete list of the best 10 brushes for yorkies.
Finding the right brush for your pup can be a time consuming task when you're looking for one that's going to best suit your unique pup.
We hope our list of the best of the best helped you narrow down your list.
We're confident if you bring home any of the brushes on this list that both you and your pup will be happy with the result.
Happy brushing!
Other posts you might find interesting:
Top 12 Best Harnesses for Yorkies | Features and FAQs
Top 10 Best Shampoos For Yorkies in 2021 | Safe, Soft, Shine!