Pawscessories is reader-supported. When you buy via links on our site, we may earn an affiliate commission at no cost to you. Learn more.

---
Quick Access To The Best Brushes For Labs 👇
Labradors are known as one of the best dog breeds for their intelligence, strength and loyalty. They're also loving family pets! But there's just one problem: Labs shed. A lot.
And the only way to get labs excessive shedding under control is with a good dog brush as well as a good grooming routine.
With so many darn brush options it can be challenging to find one that isn't cheaply made or that works effectively at collecting all their loose fur.
After researching and testing dozens upon dozens of different brushes, the 12 listed below are what we would consider the best brushes for labs.
Once you've taken a look through our favorite picks we're confident you'll find at least one that you can feel confident about being a great choice for you and your pup.
Let's jump right into our best overall dog brush pick for labs shall we!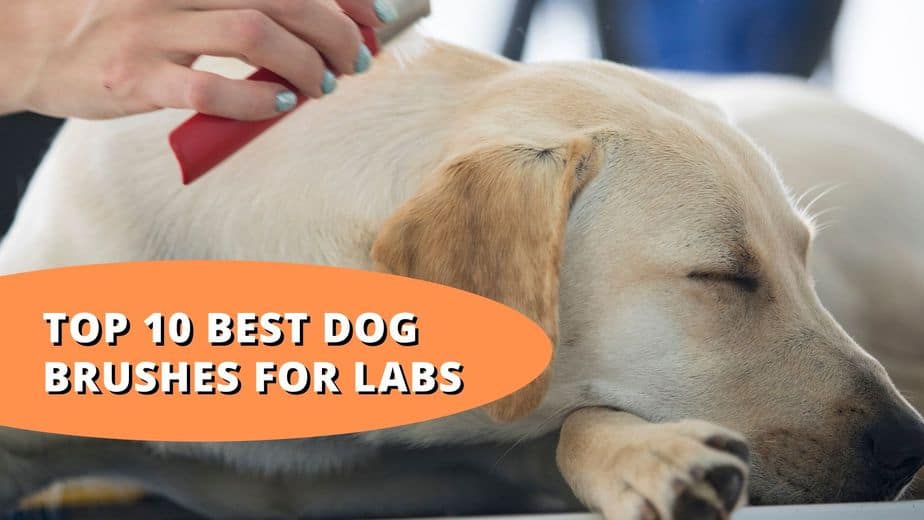 Top 10 Best Brushes For Labs
Best Overall: The FURminator Deshedding Tool
Our best overall dog brush pick for labs is the FURminator Deshedding Tool. It does a great job at maintaining a healthy coat and is one of the best brushes for shedding.
This brush is great at easily removing loose or dead fur trapped underneath their topcoat without damaging it.
It comes equipped with two blades that gently smooth out bunched up fur and collect excess fur making brushing sessions much more effective.
The comfortable handle is ergonomically made to ensure your hand and arm have as little fatigue as possible while giving your pup their much needed grooming.
People who've given this brush a shot have been thoroughly impressed with the amount of fur it's able to get off their dog. Most people who get this brush have major shedders on their hands and find this brush does better than any previous brushes they've tried out.
FURminator Deshedding Tool Key Features:
Helps safely remove matted fur
Effectively gets to the undercoat to get rid of loose hair
Comfortable handle design to make brushing easier on you
Best Runner Up: The Hertzko Self Cleaning Slicker Brush
The Hertzko Self Cleaning Slicker Brush takes our spot for the best runner runner up dog brush for labs. It's especially great for pups who don't love being brushed or have particularly sensitive skin.
The bristles do a great job at removing loose hair trapped underneath the topcoat without being overly tough where it would harm your pups skin.
It has an anti-slip edged grip that's comfortable and allows you to groom your pup easily without having to worry about the brush itself.
You'll be able to easily tackle tangles, knots and unwanted dander that's trapped in their fur. And when it's all said and done, simply click the button on the back of the brush to retract the bristles for an easy clean up.
It's important for pups to have healthy coats and this brush makes it easy!
People who've bought and used this brush shared that it's very gentle on their dog's skin and that they seem to really enjoy being brushed with it. They also mentioned how much they love the retractable bristles because it makes cleaning up super easy and they don't have to mess around with the brush just to get it ready to use again.
Hertzko Self Cleaning Slicker Brush Key Features:
Great for sensitive skinned dogs
Made with anti-slip grip on handle
Retractable bristles make it super easy to clean
Best Budget: The FURminator Brush
Our pick for the best budget dog brush for labs is the FURminator Brush. It's a lightweight brush that does a great job at removing tangles and mats at an affordable price.
It's bristles are arranged to look 'finger-like' which helps them reduce pulling on your pup's skin and maximize the amount of loose fur it collects. A true terminator of fur!
The brushes bristle tips are soft and give your pup a nice, low-stress brushing experience that'll feel like a loving massage.
It's great for labs with medium length hair as it does a great job at collecting fur from both their top and undercoat.
This inexpensive brush is great for making sure your scruffy pup is looking well kept and pretty or handsome on a day-to-day basis.
FURminator Brush Key Features:
Gets rid of mats and tangling without painful pulling
Designed to be gentle on their skin
Made for dogs with curly locks
Best Under $15: The Glendan Dog Brush
If you don't want to spend more than $15 on a quality dog brush for your pup the Glendan Dog Brush is a great pick for labs.
Getting out tough knots and taking care of bunched up tangled fur can be a time consuming task. But the Glendan brush works great with shorter hair to make grooming sessions as quick and manageable as possible.
A nice feature of this brush is that the head is rotatable which gives you more versatility when brushing out different areas of your doggo.
The design is super simple but it's amazing what you can accomplish with a few basic materials.
Glendan Dog Brush Key Features:
Helps remove matting, dander and trapped dirt
Great for both long and short hair
Handle is made with comfort-grip features
Other Top-Rated Picks
The Coastal Pet Self-Cleaning Slicker Brush
If your pup is more on the sensitive side you'll want a brush that's gentle yet durable to get rid of matted areas and that's where the Coastal Pet Self-Cleaning Slicker Brush comes in.
It's self cleaning feature will make your brushing sessions that much quicker while providing an enjoyable experience for your doggo.
The stainless steel pins effectively collect loose/dead fur and any other dander or debris your pup has gathered.
The more you can get during your brushing times the less you'll find around your home!
This easy-going brush can help you keep your pup well-kept while giving them a nice massage that won't harm their sensitive skin.
Coastal Pet Self-Cleaning Slicker Brush Key Features:
Durable stainless steel pins increase the lifespan of the brush
Ergonomically designed handle
Retractable pins for quick & easy clean up
The Dog Grooming Glove
If you want to be able to brush your dog without them even realising they're being groomed the Dog Grooming Glove is a great choice for labs.
This brush is a simple slip-on glove that enables you to collect and brush away any debris, dirt or loose hair quickly and gently. All they'll think is they're getting some lovin' while keeping your house clean from their messiness!
Their loose hair easily sticks to the gloves without irritating their skin in any way. It's made of dozens of soft rubber nubs that give them a nice massage with every petting stroke.
It's safe from any harmful materials to ensure you and your pup are able to enjoy this glove brush for a long time.
Dog Grooming Glove Key Features:
Tips on the glove provide a relaxing massage when brushing
More relaxed grooming than traditional brushes & combs
Excess hair sticks to glove making collecting and throwing away hair simple
The GoPets Double Sided Pin & Bristle Brush
The GoPets Double Sided Brush gives you a pin brush and a bristle brush wrapped into one tool.
It's rounded ends make it safe to use in any situation without risk of a sharp corner harming your pup. If your doggo is fussy when it comes to brushing sessions and makes sudden movements this will be a great brush for them.
The pin side is good for breaking up matted areas and releasing tangles in their fur while the bristle side is great to fluff up their coat for a nice finished look.
It's handle is super comfortable and able to cater to anyone who has arthritis or joint problems in their hand.
All their fur that's ready to come out doesn't stand a chance against this brush. They'll be collected long before they find their way around your nice, clean home.
GoPets Double Sided Pin & Bristle Brush Key Features:
2-in-1 multi purpose brush
Gentle enough for dogs who don't love being groomed
Non-slip handle for more confident brushing
The Chris Christensen Big G Dog Slicker Brush
If you're looking for a professional grade slicker dog brush, the Chris Christensen Big G Dog Brush is definitely a top quality pick for labs.
It does a considerably good job at taking care of matted fur effortlessly and efficiently.
It's features include a cushioned pad (for better pin mobility), soft pins that are sensitive against your pup's skin, and a rubber grip handle that'll make your job just a little easier.
The pins on this brush are larger than normal and are able to take care of tough tangles easily. If you're looking to give your pup a professional grooming experience, you'll want to have this brush in your home.
Chris Christensen Big G Dog Slicker Brush Key Features:
Made with larger pins to help grip matting and tangles
Has a cushioned pad for better brushing function
Ergonomic rubber handle to help make your job easier
The SleekEZ Deshedding Grooming Tool
Give your pup a makeover while bonding with him! The SleekEZ Deshedding Grooming Tool is an easy, mess-free way to groom your four legged friend.
It's made from premium steel and comfortable plastic parts that provides a smooth grooming experience without irritation to their skin or coat.
The brush has a unique wave pattern blade that grabs loose fur while effortlessly gliding over your dog's coat without causing pulling pain.
It traps dirt and loose fur buildup under its tiny teeth for quick removal so you won't find any stray hairs or extra messes around the house.
SleekEZ Deshedding Grooming Tool Key Features:
Unique wave pattern blade
Made in the USA
No need to pull hair from the brush – hair piles on the ground in front of you
The Safari Pin and Bristle Dog Brush
No longer will you need to worry about painful and annoying hair pulling with the Safari Pin and Bristle Dog Brush.
This double sided brush will help you get rid of any dirt, loose hairs, and debris from your labs luscious coat.
It's bristles are made from an organic bristle hair to gently and sustainably spread your dog's natural skin oils; giving them a healthy, nourished looking coat for years to come.
Safari Pin and Bristle Dog Brush Key Features:
2-in-1 pin and bristle brush
Helps spread natural oils to promote a clean, shiny coat
Great for everyday maintenance brushing
FAQs
Should You Brush A Labrador?
Yes you should absolutely brush your labrador!
Aside from making them look like a well kept doggo there are numerous other great reasons to brush your lab.
Bonding time! When you build the habit of constantly brushing your pup you'll be able to spend quality time with them that you'll begin to love once they become comfortable with grooming sessions.


Health check ups! Since you'll be brushing out their entire body you'll be able to check frequently for any unwanted bumps or wounds under their coat. If you do find something you'll have a great chance at catching whatever it is early which could end up saving your pups life.


Skin oil distribution! When you brush your dog not only are you getting rid of nasty knots and tangles but you're also spreading their natural oils all around their coat. This helps maintain a healthy, shiny coat that will limit the amount of shedding they do when compared to an unhealthy coat.


Reduce shedding! When you're actively brushing your pooch you're collecting fur that's starting to get loose on their body. When you do this frequently enough there will be much less fur found around the house because you've collected a good portion of it during your brushing sessions.


Get rid of pesky matting! If their coat is left for too long without a good brushing they will no doubt start to get some mats on different parts of their body. With an active brushing schedule you'll be able to take care of those before they become a sore for your pup. Matting that's left unmonitored can cause your pup skin problems or in the worst case situation, even infection.

How Often Should You Brush A Labrador?
As a general rule, you should be brushing your labrador 3-4 times a week. Any less than that and you'll find yourself having to do far more frequent fur cleanups around your house. Some professionals would recommend brushing everyday but that can be unattainable for some dog owners.
Final Thoughts
There you have it! Our complete list of the top 10 best dog brushes for labs.
We looked at a boat load of features and addressed some of the more frequently asked questions when it comes to lab grooming.
Hopefully this list was able to narrow down what seems like an endless amount of options of dog brushes you can find online.
If you pick up any of the brushes from our list above we're confident both you and your pup will be happy with your choice.
Happy brushing!
Other posts you might find interesting:
The 10 Best Harnesses for Labs: Feature Analysis, Comparison & FAQ
12 Best Dog Shampoos for Labs: A Detailed Guide
Find The Best Dog Toy For Labs (Balls, Ropes, Sticks & More!)