Quick Access To The Best Shampoos For Labs 👇
Labs are fun loving, full of personality and super playful. I'm sure I don't have to tell you that! However, you've noticed your adventurous doggo has started to smell rather… unpleasant. So you've decided to search the world-wide web to find the best dog shampoo for labs to help make your pup squeaky clean once again.
Well, you've come to the right place! We know how much of a pain in the butt it can be to pick a shampoo you feel confident is perfect for your unique doggo. There are so many options available and you want to make sure you're not getting a shampoo that may cause your pup any harm.
We understand that.
That's why we did a whole bunch of research to find the best of the best when it comes to dog shampoo that's perfect for labs. After looking at and analyzing well over 50 different shampoos, we were able to narrow our list down to the top 12.
We're confident that if you choose any of the shampoos we've listed below you and your pup will be happy with the result after their much needed bath.
Without further ado, let's dive into our overall best shampoo pick for labs.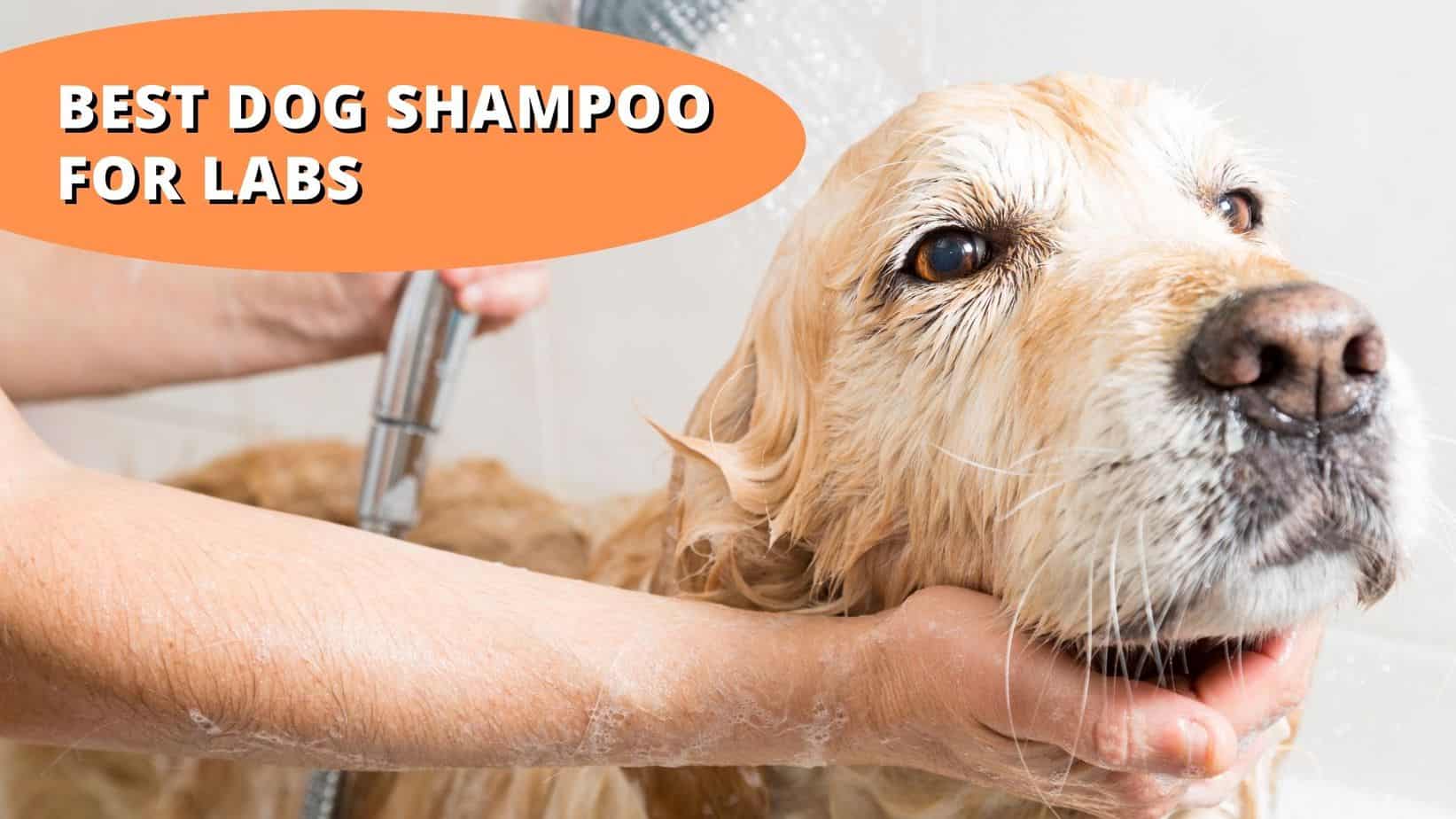 Top 12 Best Dog Shampoos For Labs
Best Overall: Earthbath Green Tea Shed Control Shampoo
Our pick for the best overall dog shampoo for labs is the Earthbath Green Tea Shed Control Shampoo. It's designed to bring the maximum amount of moisture back to your dogs skin through the use of organic shea butter, Omega-6 fatty acids, green tea leaf, ginseng, and awapuhi.
It's considerably soft on your doggos skin while leaving a lovely green tea scent. What's not in the shampoo is just as important as what's in it. This shampoo doesn't have any traces of sulfates, parabens, synthetic dyes, or DEA. It's also animal cruelty free which is something we love see as animal lovers.
Another great feature is the shampoo has a 100% money back guarantee. If you don't love it for any reason simply ask for a refund of your purchase and they'll reimburse you.
Reviews from our source of testers shared that this shampoo really helped reduce the amount their dog was shedding. They also noticed it was really good for dry skin and gentle enough for frequent baths.
A small portion of people didn't notice a material difference in their dog's shedding but still enjoyed the shampoo.
Earthbath Green Tea Shed Control Shampoo Key Features:
Brings maximum moisture back to your dogs skin
Is all natural without the use of harsh chemicals
100% money back guarantee
Best Runner Up: Burt's Bees Natural Shed Control Shampoo
The Burt's Bees Natural Shed Control Shampoo is our choice for the best runner up dog shampoo for labs.
This inexpensive shampoo is made by a brand we humans love. They make great products designed for people and it's no surprise they make great products for dogs too! Burt's Bees has a variety of different shampoos they offer for doggos and this would be the one best suited for labs.
It uses Omega-3s and vitamin E to strengthen your dog's fur and limit breakage. This means that more fur will stay on your pups body and less on your couch! Hooray for less frequent cleanups!
The shampoo is also 99.7% natural and gentle enough to be used on adults, teens and even puppies. It's made without the use of powerful fragrances, sulfates, colorants, and harsh chemicals. 
Overall, this shampoo is a great option for a great price.
Reviews from testers shared that this shampoo really worked to reduce their dogs shedding and made their coat soft and silky smooth. Some said that it smelt weird but it worked! Sounds like buckleys, tastes awful, but it works!
Burt's Bees Natural Shed Control Shampoo Key Features:
99.7% natural ingredients
Safe enough for dogs of any age to use
Strengthens fur and limits breakage
Best Budget: Wahl Oatmeal Dog Shampoo
Our best budget shampoo pick for labs is the Wahl Oatmeal Dog Shampoo. It can help reduce any dryness or itching your pup might be experiencing while helping maintain healthy skin at a rather inexpensive price.
The shampoo tackles multiple things at once, conditioning, detangling, moisturizing, and of course, cleaning. And most importantly it's pH balanced to be gentle on your pups skin. No alcohol or parabens are in its ingredients which ensure it'll be tough on odors but gentle on their skin.
It leaves behind a lovely coconut lime verbena scent that isn't overpowering. They'll enjoy the attention they're getting while being cleaned and you'll enjoy the nice smell.
It's also made in the USA which is definitely an important factor for some people.
Wahl Oatmeal Dog Shampoo Key Features:
Alcohol and paraben-free
Dry skin and itch relief formula
Used and trusted by professionals
Best Under $6: Oster Oatmeal Essentials Shed Control Dog Shampoo
If you're looking to get your labs shedding under control AND find a shampoo that's super cheap, the Oster Oatmeal Essentials Shed Control Dog Shampoo is for you. While this shampoo is the most inexpensive on our list it is still a great quality product.
This oatmeal shampoo is made with vitamin B5 as well as safflower lipids that work their magic on helping limit how much your dog sheds.
While you collect their loose & dead fur during bath time the essential fatty acids strengthen their skin and coat to reduce future shedding. The plant lipids are similar to healthy fatty acids that people consume for better health, except the plant lipids help with their fur coat.
The shampoo is tough on shedding but gentle on their skin. There's no harsh chemicals used in it's ingredients which help it maintain the proper pH balance for a doggo.
It's designed to not remove any topical flea and tick treatment so your pup will stay protected from pests after a bath with this shampoo. It's also made in the U.S. which is a nice bonus.
Reviews from our source of testers shared that they felt it really was gentle on their dogs skin as most people didn't notice a negative reaction from their dog. Some people didn't notice much deshedding while others did seem to notice a difference in their dog's shedding. Most people agreed that they enjoyed the smell the shampoo left behind.
Oster Oatmeal Essentials Shed Control Dog Shampoo Key Features:
Repairs and enhances fur
Contains no dyes, alcohol or parabens making it gentle on skin
Made in the USA
Best Smelling Dog Shampoo For Labs: Buddy Wash
Buddy Wash Shampoo is one of the best dog shampoos for smelly labs at any stage of life.
The pH balance of this shampoo is perfectly suited for young pups or older doggos with sensitive skin. It doesn't use any harsh cleansers or chemicals and instead is jam packed with healthy, natural ingredients.
Some of those ingredients include green tea, chamomile, rosemary, sage, and aloe vera. While it is a 2-in-1 conditioner/shampoo it also helps naturally deodorize to get rid of that 'dog' smell we all know too well. No more refusing cuddle time due to an unpleasant smelling pup!
After bath time the shampoo leaves a lovely lavender & mint scent that's not overpowering. It's made with a coconut base liquid that makes the shampoo completely alcohol free and safe for your pup no matter their age.
If your dog has any allergies to oatmeal, which is a common ingredient in many natural dog shampoos, this one would be great for them as it doesn't contain oatmeal.
Many reviews from testers consisted of a love for this shampoo. People really liked the scent and how gentle it was on their dogs skin. Many people choose to only use this shampoo.
A small number of people did however not love the smell. This is to be expected though as smell is a very personal preference.
Buddy Wash Key Features:
Gentle for puppies
Made with pure botanical extracts
Natural deodorizer
Other Top-Rated Picks
Healthy Breeds Oatmeal & Aloe Dog Shampoo
If you or your lab have allergies The Healthy Breeds Oatmeal & Aloe Dog Shampoo could be just what you need.
This hypoallergenic shampoo is perfect if your pup has itchy, scaling or sensitive skin in general. The oatmeal and aloe makeup of the shampoo helps nourish areas that need help bringing moisture back.
If you're noticing your doggo is shedding more than usual it could be because their skin isn't in tip-top shape. Skin care is the foundation of a strong, healthy coat.
It's soap free as well as doesn't contain any harmful chemicals in its ingredients. This ensures the pH levels of the shampoo are safe for your sensitive skinned pup and will help bring back their skins natural oils.
The shampoo is made in a federally regulated facility in the U.S. Knowing that the shampoo is made in the USA helps give some peace of mind that it's a safe product to use on your pup.
While enjoying the pina colada scent after a bath you can rest assured your doggo's skin is safe and on it's way to being the best it can be after using healthy breeds shampoo.
*If the labrador style of the shampoo doesn't show up right away simply click on a healthy breed shampoo bottle you see and change the style to labrador*
Healthy Breeds Oatmeal & Aloe Dog Shampoo Key Features:
Hypoallergenic 
Made in the USA
Provides relief for itchy, scaling and sensitive skin
TropiClean Papaya & Coconut Luxury Shampoo
There is something about the smell of coconut and papaya to make you feel like all your cares have washed away. I know it brings me to a relaxing beach somewhere!
This luxurious 2-in-1 shampoo and conditioner cleanses, conditions, and moisturizes your pups skin to safely replenish their natural moisture balance. Maintaining soft, moisturized skin is super important for a healthy coat that doesn't shed excessively.
Work up a lather to rid your loving pup of dirt, grime or simply smelly B.O. Because this shampoo is a 2-in-1 combo with conditioner it will also help make your pups coat just that much softer.
When your tail-waggin' friend is all dry, you'll enjoy the fresh-scented cuddles. This shampoo is pH balanced specifically for dogs, is a soap-free solution and free of parabens and dyes. All the good without any of the bad.
TropiClean Papaya & Coconut Luxury Shampoo Key Features:
Smells great
Replenish moisture
Shampoo & conditioner combo
Fresh Pet Shampoo
The Fresh Pet Shampoo is a premium oatmeal shampoo that has an anti itch formula designed to help soothe dry, irritated skin. Whether you're looking for simply a general cleaning shampoo or some to help moisturize your dog's skin, this shampoo is a great choice.
The specially formulated shampoo works with your dog's natural pH balance. It leaves behind a shiny, bright, soft, and smooth coat with a fresh scent that lasts for weeks! The ingredients are all natural and derived from coconut oil. 
It's also tear-free and can help with dandruff. This shampoo works hard to bring all the best qualities together with an affordable price.
This vet-backed shampoo also comes with a lifetime warranty! If at any time you feel this shampoo wasn't worth it, simply reach out to the manufacturer to get a full refund. Now that's a guarantee!
Fresh Pet Shampoo Key Features:
Gently formulated pH balance
Fresh scent for weeks
Comprehensive anti-itch formula
FURminator deShedding Premium Dog Shampoo
The FURminator deShedding Ultra Premium Dog Shampoo is majorly focused on making sure your labs shedding is taken care of.
It tackles shedding issues at the root by starting with caring for your dog's skin hygiene. This shampoo works to help your dog release their loose fur during bathtime. The more fur you can collect during bathtime the less you'll find lying around your home (yay!).
It's gentle and formulated to help your dog's coat shine with ingredients like Omega-3, Omega-6, chamomile, and aloe vera. 
All of these help keep your dog's skin young and healthy. They're also considerably gentle on your pup's skin and coat. So while this shampoo works hard to reduce shedding, it's not using ingredients that would be of harm to your lab. The shampoo doesn't contain anything unnatural like parabens or chemicals.
Safety first is the most important ingredient in a top dog shampoo!
FURminator deShedding Premium Dog Shampoo Key Features:
Reduces shedding
Enriched with Omega-3 and Omega-6
Paraben and chemical free
Isle of Dogs Tearless Puppy Shampoo
When it's time for a bath, you want to set the stage for it as a happy, pleasant experience. Not a time they feel like they're being punished. And let's be honest, some dogs really feel like a bath is punishment! They get their tail between their legs and can't wait to get out. Sheesh, who knew being clean was such a bad thing!
Thankfully, someone thought of your pup and formulated a shampoo called, Tearless Puppy Shampoo. 
It offers a soothing formula with nice cotton and a fresh orchid scent. Don't worry about the ingredients stinging your dog's eyes or skin as it's sulfate and paraben-free. Get your pup squeaky clean and fresh smelling without worrying about causing them any harm.
A cherry on top for this shampoo is that it's made in the USA!
Isle of Dogs Tearless Puppy Shampoo Key Features:
Gentle, tearless formula
Formulated for sensitive skin
Pleasant, long-lasting scent
Vet's Best Hot Spot Itch Relief Shampoo
If your dog is biting and scratching at their skin, they're obviously in some sort of discomfort. That's where the Vet's Best Hot Spot Itch Relief Shampoo comes in. The last thing you want is for them to harm themselves in the process of excessively scratching an irritating itch. 
This shampoo helps your lab alleviate discomfort with a formula that was designed by veterinarians to soothe skin irritations. The shampoo uses tea tree oil, aloe vera, and chamomile to help their skin become less flared up which will stop them from itching. 
All the ingredients used in this shampoo are proven to soothe irritated skin. What's also great is that it's fast-acting, so you will see your pup start to have some relief almost immediately. There is no alcohol in the ingredients, so don't worry about stinging. You also won't have to worry about washing away topical flea or tick treatments when you use it.
If you're noticing your pup experiencing some skin irritations this shampoo is a great choice to help get rid of it, fast.
Vet's Best Hot Spot Itch Relief Shampoo Key Features:
Soothes irritated skin quickly
Veterinarian formulated
Natural alcohol-free ingredients
4-Legger USDA Certified Organic Dog Shampoo
If organic products are important for you and your furry family, the 4-Legger USDA Certified Organic Dog Shampoo could be a great option for sensitive skinned labs.
This hypoallergenic shampoo is made with completely natural ingredients like, organic coconut oil, organic lemongrass essential oil, and aloe vera. It's widely known in the industry and is a common choice by vets and holistic groomers based on it's organic qualities. 
They feel confident about using this shampoo on the dogs they take care of as it's gentle on their skin and helps nourish damaged skin if need be.
People use this shampoo for it's natural ingredients and it's capabilities to relieve dry, itchy skin while being gentle for dogs with sensitive skin. It also leaves behind a nice light scent that many owners love.
Considering this shampoo is USDA certified you can be confident that what you're buying is truly organic. The company that makes this shampoo is so confident that you'll love it they offer a 30-day money back guarantee. Buy it, try it, and if you don't love it, send it back for a full refund.
We love to see money back guarantees because it shows that the company stands behind their work.
4-Legger USDA Certified Organic Dog Shampoo Key Features:
USDA certified as truly organic shampoo
Hypoallergenic
30-Day money back guarantee
Tips On Effectively Bathing Your Labrador Retriever
First and foremost, before even getting them in the tub there are a few things that should be done.
One, let the water run to get the temperature to a comfortable temperature. Not too hot, not too cold, but just right (who remembers where that's from?). Think of the temperature you'd wash a baby in. 
Two, give them a good brushing! You'll want to make sure you get rid of any tangles as well as any loose fur. This will make sure there's less build up of fur in the tub while you're bathing them and reduce the chances of clogging your piping.
The last point isn't required but definitely recommended.
Tire them out! Take them for a nice long walk or a run in the park to help them burn any excess energy. This will make it so they don't feel like being a pain in the butt during their bath which makes your job as the bather, just a little bit easier.
Now let's look at tips for during bathtime.
Not every dog enjoys bath time, so be prepared for a possible struggle. Go ahead and grab three towels:
Put one towel on the floor beside the tub to prevent slipping and for when it's time to get out.
Keep your dog from shaking water everywhere and drenching you by draping the second towel over the wet dog between rinses.
Use the third towel for drying. If your dog is an adult and quite big, you may want to use a bath sheet, an extra-large towel, or have a fourth towel nearby.
Follow these helpful tips for the easiest and best way to wash your dog:
Make sure the shampoo you're using is designed to be used on dogs and not humans. This is very important because human shampoo is more acidic than dog shampoo.
*A good idea but not totally necessary* Place a piece of cotton in each of your dog's ears to keep water from getting in.
Give your dog a good brushing before they get in the bathtub. Matting and tangles only get worse and more difficult to get rid of when they're wet.
Lastly, before you turn the water on, grab a piece of steel wool. You'll want to put this in the drain hole so it will collect their loose/dead fur instead of clogging your drain.
Now you're ready to start the bath/shower. When finding the most ideal temperature to wash them in, think of the temperature you'd wash a baby in. Warm enough so they're not shivering but not too hot where it would be uncomfortable.
Wet them thoroughly. Make sure each crevasse is taken care of and you're wetting all the way down to the skin.
Start massaging in the shampoo starting at their neck and moving gradually toward their bum and tail. Once their body is fully lathered move on to each individual leg.
Now that their entire body has been shampooed rinse them off thoroughly. Double check you've rinsed all the shampoo out before starting to dry them.
Give your pup a good rub down while in the tub to minimize them getting water everywhere.
Move your doggo out of the tub and onto the towel you've placed on the floor to dry them off completely. Using a hair dryer is optional.
Clean up by unplugging the drain and taking out the cotton from your dog's ears.
And voila! You have a clean, lovely smelling pooch again!
Final Thoughts
The perfect shampoo for labs will definitely vary based on their owner! Certain smells you absolutely love might give another person a headache and vice versa. In our list we did our best to cover a wide variety of different scented shampoos, ones made with different ingredients as well as ones specializing in certain categories.
We hope you were able to find one that you feel will be just right for your pup and can move forward in giving your lab their much needed bath.
Don't let us keep you any longer though. Go ahead and grab the shampoo your pup needs.
Happy bathing!
Other posts you might be interested in:
10 Best Dog Beds for Labs: An In-Depth Feature Review
The 10 Best Harnesses for Labs: Feature Analysis, Comparison & FAQ
Find The Best Dog Toy For Labs (Balls, Ropes, Sticks & More!)