Pawscessories is reader-supported. When you buy via links on our site, we may earn an affiliate commission at no cost to you. Learn more.

---
Quick Access To The Best Dog Toys For Tug Of War 👇
Many dogs love to play tug of war, it's a healthy display of their wild side. It provides mental and physical exercise for your dog while also reinforcing your human-doggo bond. If your dog loves to tug and you're looking for the best dog toys for tug of war then you've come to the right place.
Tug of war is a great way to help train your dog. It can show them how to listen to you even when they're extremely excited and overly stimulated from the game.

Dangling any toy in front of most dogs is taken as an invitation to play.

Sound familiar?
In this post we cover 11 of the best tug of war toy on the internet. We looked at over 50 different tug toys and came up with these as the best of the best.

Here they are…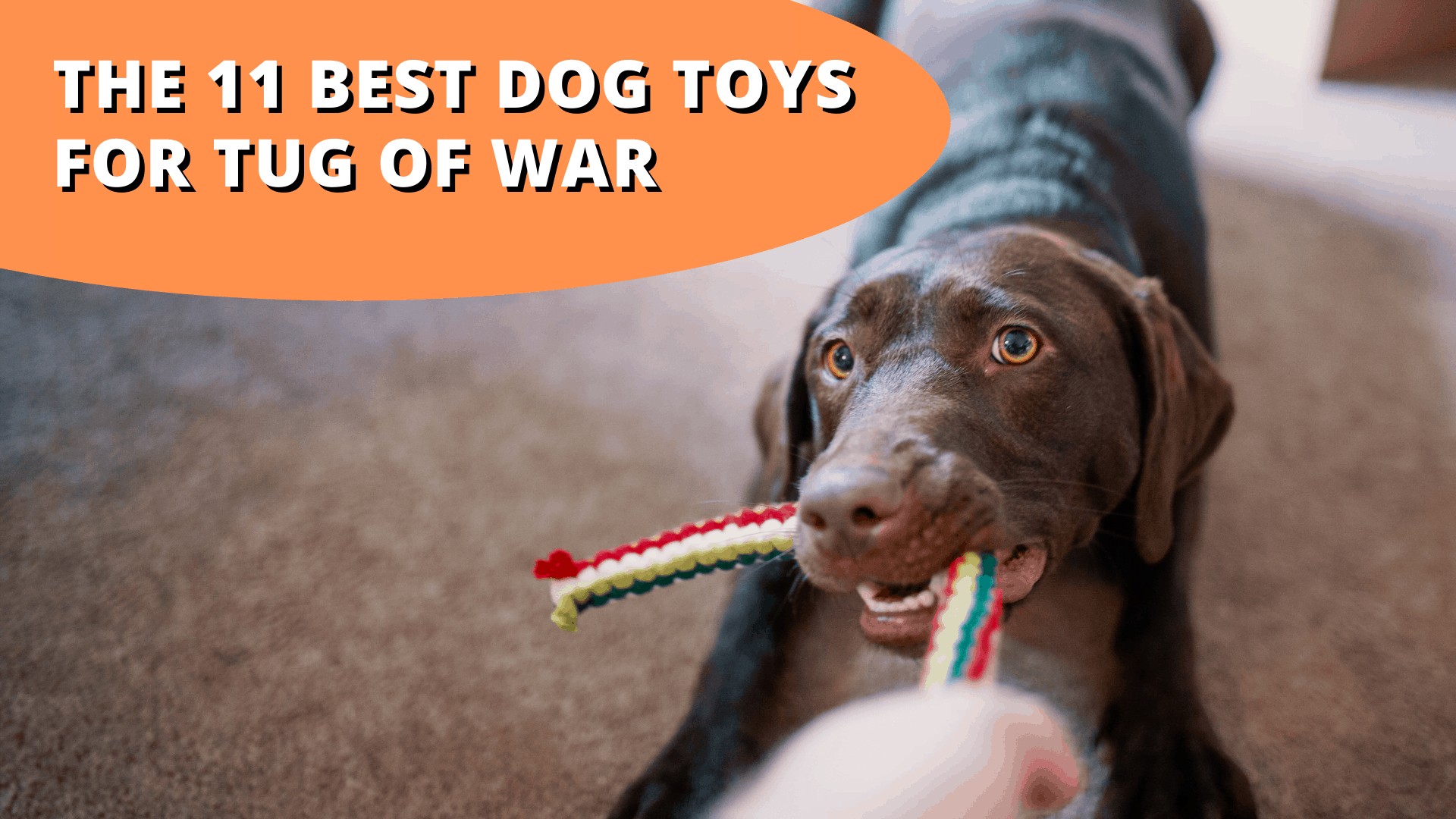 Top 11 Best Dog Toys For Tug Of Wars
When it comes to the best toys for tug of war there's no specific winner as dogs vary so much in size and preference.
Bigger dogs have much more weight and power versus smaller dogs.
This makes it almost impossible to single out 1 toy and claim it as the 'best'. So instead we decided to give you our top choices based on dog sizes and with a few special differences some toys had that others were missing.
Best Tug Of War Toy For Small Dogs: West Paw Zogoflex Bumi Dog Tug Toy
The West Paw Zogoflex Bumi is one of the best tug of war toys out there. Its unique design allows it to stretch over twice its length when pulled on either end.

This toy is our best overall for smaller dogs. Its size is perfect for smaller breeds and has the durability to last.

This specific toy doesn't have a handle for you to grip like some of the other toys on this list, however, the small nubs at the end allow you to get a decent grip. After looking over reviews of testers, none suggest it being difficult to hold on to when their dogs yank and pull.
Since we recommend this for smaller dogs it won't be a problem to hold onto the toy regardless since they don't pull as hard as medium and large size dogs.
The material used for the Bumi is synthetic rubber and falls into West Paws category of Toys for Gentle Chewers. 
Lastly, the West Paw brand gives a 100% guarantee against dog damage for this product. This is an awesome bonus and one of the reasons we have it at the top of our list.
Note: If you have a tiny dog like a Chihuahua, Pomeranian, or Yorkiepoo refer to the best puppy toy for the ideal tug of war toy for their size.

West Paw Zogoflex Bumi Dog Tug Toy Key Features:
Can be stretch twice it's length
Synthetic Rubber
Designed for Gentle Chewers
Not a chew toy
100% guarantee against dog damage
S shape design
Best Tug Of War Toy For Medium Dogs: SodaPup Pull Tab
Next up on our list is the Sodapup Pull Tab. This is going to be the best tug of war toy for medium sized dogs. 
This toy includes a nice hand grip to hold on while playing with your pup. The durable and 100% natural rubber used to make this toy makes it a perfect balance between durability and chewiness.

As dog owners, making sure any toy we purchase is safe for our dogs is a top priority. The Sodapup is FDA compliant, non-toxic, and biodegradable.
After looking over the reviews from testers a big benefit was the handle and the feel of the material. This made it really easy to use for play.

A couple added benefits for this product are that it has a eco friendly design and that it's veterinarian approved!
SodaPup Pull Tab Key Features:
FDA compliant, non-toxic, and biodegradable
Handle for dog and owner
100% natural rubber
Veterinarian approved'
Not a chew toy
Best Tug Of War Toy For Large Dogs: Goughnuts Tug MaXX
Looking for a virtually indestructible tug of war toy for your larger dog?
Look no further since the Goughnuts Tug MaXX is the closest toy to indestructible around. Our testers mention the pure toughness of this toy being incomparable.

This is by far the toughest toy on the list and why we recommend this for larger, heavy chewing dogs.

This toy comes in a variety of colours and is built for play.
One of the best parts of this toy is the safety built into the toy for you and your pup. Not only is the rubber extremely durable but they made sure to add lots of room for your hand to grab with a safe distance from your dog's teeth.
One thing we noticed in our review is the smell when you first get the toy. Make sure to wash and clean the toy before giving it to your pup.

Lastly we will give you the best news any toy brand can give its customers… a 100% guarantee for life! Goughnuts Toys come with a lifetime warranty.

If your dog breaks it, they will replace it.
Goughnuts Tug MaXX Key Features:
Guaranteed for life
Extreme durability
Safe play
FDA food-grade rubber
Designed for aggressive chewers
Best For Puppies: Tuffy Ultimate Ring
The Tuffy Ultimate Ring is a soft toy that's much more durable than most other plush style toys on the market. 
It's unique shape is like a doughnut and can be used for fetch, tug of war, and a number of different interactive games for you and your pup to enjoy. 
The fabric is made up of a few different layers that makes it one of the most durable toys while also providing a great texture and mouthfeel for your pooch.

After looking over reviews from testers, we found this to be the best for puppies. It's a lightweight design but provides loads of durability. It allows smaller dogs to carry it around and chew on it without damaging the toy.
Some additional features of the tuffy ultimate ring is it floats and contains 2 small squeakers that will get any pup excited to play. It's also easy to clean as you can simply throw it in the dishwasher!
The brand Tuffy ranks it's toys based on a "TuffScale" and this particular toy is rated a 9 (out of 10). This makes it one of the best toys for aggressive chewing dogs. 
The biggest issue we discovered was in regards to the two squeakers that were contained inside the toy being annoying.

Tuffy Ultimate Ring Key Features:
Tuffscale rating of 9
Vet Recommended
Dimensions are 7 x 7 x 1
Ideal for dogs under 20 pounds
Machine washable
Best Soft Plush Toy: Charming Pet Cuddle Tug
If your dog is a big fan of softer, plush toys then this is going to be one to consider.

The Charming Pet Cuddle Tug is one of the cutests toys around! 
The testers of this product not only mention the awesome design but the surprising durability of this toy. The toy can open out and extend to 26 inches long.

It's a perfect tug toy that includes a handle, non-rip canvas, double stitched seams, and nylon infused. This creates a material combo that exceeds most durability standards.
Another cool aspect is how it crinkles and squeaks. This keeps your pup engaged while playing and constantly coming back for more.

Perfect for interactive play or to keep them company while you're away. This is definitely one of the best dog toys for tug of war.
Charming Pet Cuddle Tug Key Features:
Durable material
Handle for tug of war
Soft plush outside
Each includes squeakers and crinkle paper
Pig, bunny, cow, and giraffe designs 
Best Rope Tug Toy: Booda Fresh N Floss Rope Toy
This would not be a list of the best dog toys for tug of war without some high quality rope toys.

The Booda Fresh N Floss Rope Toy includes a 3-knot grip to make is easier for your to hold on to during games of tug of war with your pup.
Intertwined in the rope are pieces of dental floss that helps with removing plaque and reducing odor-causing bacteria. Your pup gets to enjoy playing while also improving their dental health and you get to enjoy nice fresh doggy breath.
This rope toy is available in multiple sizes for all dog breeds so make sure to adjust the size according to your pup.

After looking for the reviews from testers as well as on amazon, this was rated one of the top three rope toys online.
Booda Fresh N Floss Rope Toy Key Features:
Up to 3-knot grip
Helps with bad breath
Multiple sizes
Combination of wax coated nylon and durable cotton fiber
Keeps teeth healthy
Gentle on gums
Best Rope & Ball Combo Toy: Jolly Pets Romp-n-Roll Rope and Ball Toy
Looking for a rope toy combined with a ball?

The Jolly Pets Romp-n-Roll Rope and Ball Toy includes both! This is perfect for all sized dogs. Since they offer a variety of sizes just make sure to get the appropriate size for your pup.

The testers' responses to this product were full of positive remarks. The sole negative comment was one dog simply had no interest in the toy, which can always happen!
The ball measures around 4.5 – 8 inches in diameter and does not deflate when punctured! For those of you with heavy chewers this is a big perk!
Its design is perfect for tugging, throwing etc.
The ball never leaves the rope but the rope can be pulled back and forth through the ball. Similar to the KONG Aqua that you will learn about in the next product, this toy floats!
As with all products we recommend it's non-toxic and safe for pet play.
Jolly Pets Romp-n-Roll Rope and Ball Toy Key Features:
Ideal for all dog sizes
Floating Toy
Non-toxic and safe for all
Will not deflate when punctured
Durable ball and rope material
Variety of sizes and colors
Other Top-Rated Picks
Kong Aqua Dog Toy
As dog owners, about 95% of us have heard about KONG. I'd go as far to say that most of us even have a KONG toy at home already. I know I do.

If you are a fan of the Classic KONG toy then you will love this toy for tug for war and water play.
The KONG Aqua is essentially a combination of a floating KONG classic toy and a tough rope toy.
As the name implies it's a perfect toy for playing in the pool and at the beach. However, it's also a great toy to use at home or where ever you and your doggo go!

The versatility is what we found in the reviews from our testers as one of the best features about this toy.

As with all KONG products this toy helps with teething, chewing, separation anxiety, digging/barking, crate training, boredom, and weight management.

This is a great pick for a combination toy that bounces, floats, and can be used for tugging play and fetch.
Kong Aqua Dog Toy Key Features: 
Bounces and Floats
Helps with mental stimulation and boredom
Durable material
Helps with separation anxiety
Water retriever training
3-Knot Mini Rope Tug
Dog parents know this fact all too well. Cheap dog toys are abundant, but good toys that are cheap? 
Not so much!
Fortunately, doggie moms and dads on a budget need not despair. The 3-Knot Flossy Mini Rope Tug provides all the basics for good old-fashioned entertainment. The fibers in the robe will help clean your pups teeth while they get a piece of tugging action. 
A great bonding toy for doggo siblings in your family, or for you and your best friend!
This was rated one of the top three rope toys online.
3-Knot Mini Rope Tug by Mammoth Key Features:
3-knot grip
Helps with bad breath
Multiple sizes
Cotton blend material
Keeps teeth healthy
Gentle on gums
West Paw Zogoflex Tizzi
Up next on our list is a West Paw design called the Tizzi.

The Tizzi comes in a small or large size. It's made with a durable west paw zogoflex design.

This awesome toy allows for teething, as well as fetch, tug of war, and it has a treat dispensing feature. The Tizzi is all dog's favorite toys rolled into one and is why we have it out our list for best dog toys for tug of war.

The treat compartment adds tons of excitement for your dog. There's flexible handles which makes tug of war easy and fun.

The Tizzi bounces, floats, and it's tough enough to stand up to rough supervised play. One of the things to note with this toy is that it's more so for gentle chewers.

One of the things we noticed when looking at the testers reviews is that although it is definitely puncture resistant and has West paws patent rubber used in it, it is still one of the softer West Paw toys.
Which is important to keep in mind when deciding to purchasing this one.

West Paw Zogoflex Tizzi Key Features: 
Small and Large Size
3 colour options
Floats in water
Durable Material for gentle chewers
Treat dispensing feature
So you've made it to the bottom of the list and have come to our last of the best dog toys for tug of war.

The ABTOR Ultra Durable Dog Chew Toy is a great option for both a chew toy and for tug of war. It comes in a large, medium and puppy size.

As an added bonus this toy helps with dental care, training, weight management, and reduces boredom and destructive behaviors.

It comes with a unique flavor but you can also add some peanut butter to the toy for increased interest in the toy.

The testers mention this toy being a great combination toy. Great for when you dog wants to play with it solo, or when you have time to join them in play!
On the outside of this toy you'll notice some little nubs and textured areas. These are effective in controlling tartar and plaque build up on your dog's teeth!

Overall this is a great toy for multiple reasons and is why we included it in our top 11.
ABTOR Ultra Durable Dental Dog Chew Toy Key Features:
100% natural rubber, non toxic, and food grade material
Layered texture and Nub design
Great for all chewers
Attractive flavored toy
Multiple sizes and colors
Tips For Choosing Safe Tug Toys For Your Dog
Before you decide what is a good toy to play tug of war with you'll want to consider a few things.

First of all, is the toy safe for your dog?

And is the toy safe for you to play with?
To know if the toy is safe for your pup you want to make sure any product you are using is made of safe material that will not cause any harm to your furry friend.

We also want to make sure there is room for your hand to grab the toy to play. You don't want to put your hands in the way of our dogs teeth. No one wants an accidental nip of the finger!

This can be especially bad with larger dogs.
All the toys on our list have been hand selected and tested to make sure they are safe and ideal for your furry friend to play with.
Make sure you do your own research into the toy you're choosing to get and always make sure to supervise your dog when they're playing with toys that could potentially break and cause harm to your dog.
What Toys For Tug Of War Are Best For Your Dog?
It's no secret that dogs love to play tug of war.
It doesn't matter what age or breed of dog you have, there are very few dogs that will pass up a good game of tug of war.
If you notice your dog bringing toys up to you to try and initiate a game of tug then you definitely have a pup who enjoys this.

When selecting a toy for your unique pup you'll want to consider their personality and favorite toys they currently have. If you have a new pup don't know quite yet you'll need to test a few to find your dog's style of toy.

Keep in mind that just because we labelled a toy "the best for large dogs" does not mean your medium sized dog that destroys every toy they see won't be able to wreck this toy too. Truly indestructible toys don't exist and a determined chewer can find a way to destroy just about any toy.

When it comes down to selecting the best toy for you pup, you know them best. Use their toy history and preferences to determine which of the toys fits them best.

An important thing to mention is to make sure you select the appropriate sized toy. Many complaints of dog toys come from owners choosing the wrong size or not realizing how big the toy actually was. Look at the dimension before buying to ensure it'll be just right for your pup.
Note: Most tug of war toys are designed to withstand pulling force. They often won't hold up as well to chewing (unless otherwise stated). To extend the life of your tug toy, once the game is over, pack the toy away, and give your dog his favorite chew toy instead.
Final Thoughts
Those are 11 of the best dog toys for tug of war that you can find online. Each toy has its own unique design but each with the same benefits, they are great for tug of war!
When deciding which toy is best for your dog the best thing you can do is go based on past experience. 
If they typically enjoy plush toys then you might want to opt in for the Charming Pet Cuddle Tug or maybe they love rope toys so you can opt for the Booda Fresh N Floss Rope Toy. 
If you have a new pup that you are not sure about then you can always get 2 different kinds and see which one they prefer.
All in all we hope this list of tug of war toys will help you find the perfect one for your pup and you to enjoy.
Related reading:
13 Best Mind Stimulating Dog Toys: Their Features & Benefits
12 Best Moving Dog Toys – Interactive Dog Toys