Pawscessories is reader-supported. When you buy via links on our site, we may earn an affiliate commission at no cost to you. Learn more.

---
Quick Access To The Best Harnesses For Golden Retrievers👇
Golden retrievers are some of the most beautiful dogs that exist. They're loving, loyal and always up for quality cuddles. But sometimes they need to be reeled in by their owners (especially when they're on leash). 
The best way to do that without causing your golden retriever any harm is with a top quality harness.
Unfortunately, there are so many options available it can become challenging when deciding which one to bring home to your pup. You want to make sure the one you get is good quality, secure, while also being comfortable.
That's why we did hours of research to bring you the best of the best. We're confident that if you bring home any of the harnesses from our list below that both you and your pup will be happy!
Harnesses are great at preventing your pup from pulling you down the street or jumping on people & other animals. Let's dive in and look at our best overall harness pick for your golden.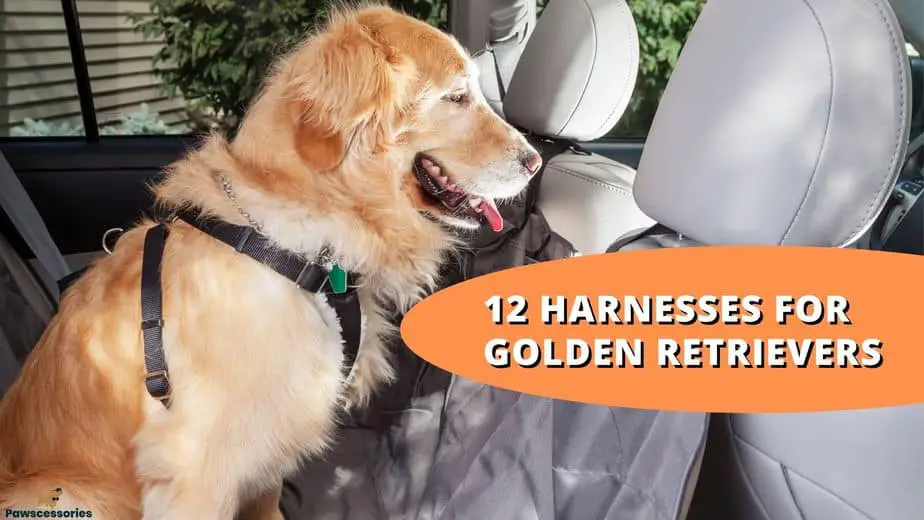 Top 12 Best Harnesses For Golden Retrievers
Best Overall: The Julius-K9 Harness
When choosing a harness for your golden retriever, the Julius-K9 Harness should not be overlooked and is our best overall pick. It has plenty of great features that make it one of the best in its class.
Made from European-sourced materials, this dog harness comes with a number of features designed to make your pup feel safe & comfortable when walking in addition to stronger designs created with durability in mind.
The interchangeable hook and loop patches allow you to choose the colors that best suit your style, depending on the season or your mood.
The harness has reflective threads blended into the material which makes it highly visible day or night. It also has a chest belt with added visibility in case the weather is cloudy or bad.
Comments from people who've used this harness share how it's been the perfect harness for their dogs. Many owners said that it's a sturdy and reliable dog vest while not being uncomfortable for their pup.
Meaning they didn't notice their dog attempting to get the harness off and no skin irritations appeared.
Over 13,000 people have purchased and reviewed this harness and 86% of people gave it a glowing 5 star review. That's not easy to do once you have multiple thousands of people reviewing a product.
Julius-K9 Harness Key Features:
Sturdy & made of high quality materials
Designed for increased visibility & safety
Built to last while being friendly to your dog's skin
Best Runner Up: The RUFFWEAR Harness
The RUFFWEAR Harness is our pick for the best runner up harness for golden retrievers as it's durable and comfortable. In addition, its 29 points of contact allow it to be used in a wide range of settings.
This harness comes with an adjustable 4-point system to ensure a snug fit. The aluminum V-ring on the back makes for easy tugging and relaxed walking, while updated webbing loops redirect your dog if they pull too hard while walking or running.
This harness is specially designed for any sized doggo–from pup to senior it can provide a near custom fit.
The harness features light foam padding, which is great for keeping your pup comfortable on long walks or runs. The fit also gives them enough room for summer activities and wintertime adventures.
The reflective accents on this vest go all the way around, giving your pup top notch visibility no matter what time of day.
Reviews from testers are widely positive with over 82% of people giving this harness 5 stars. People also shared that this harness was a repeat buy for them (if need be) and how their dog seems very comfortable wearing it.
No unwanted scratching and irritation after 10-15 minutes of use with this harness.
RUFFWEAR Harness Key Features:
4 points of adjustment
29 different leash attachment points
Reflective features
Best Budget: The BABYLTRL Big Dog Harness
If you're looking for a harness but on a budget, the BABYLTRL Harness is definitely one to consider.
This harness has an ultra-soft design and lightweight mesh fabric. It's comfortable for larger breeds at any stage of life and also comes at a better price than other styles like it.
The adjustable straps make for a custom fit to ensure they can't shake out of it. While being durable it also has a focus on comfort with it's padding to allow for maximum comfort on longer hikes and walks.
It's also equipped with a choke-resistant, locking buckle system that prevents the belt from tightening around their throat and causing injury. This makes it perfect for dogs who enjoy running after their favorite toy without fear of being injured.
BABYLTRL Big Dog Harness Key Features:
Front & back clip
Evenly distributed pressure to prevent choking
Easy grab handle for extra control if needed

Best Under $15: The Copatchy No Pull Harness
Looking for something on the cheaper end to stop your golden from constantly pulling? The Copatchy No Pull Harness is definitely one you want to have on your radar.
Additionally, the mesh is soft, so it won't chafe or rub where other material might scratch.
The clever design of this harness creates a force-free tension, which works for any size dog no matter how heavy they are.
Putting it on and taking it off is easy too; you won't have to deal with buckles in awkward places or struggle with getting them into funky/unnecessary designs.
The catchers are wide enough to cover their neck and chest, and they snap together a few inches apart. Removing it is just as easy by undoing the clasp.
Copatchy No Pull Harness Key Features:
Additional handle for older dogs or excessive pullers
Comfy sponge-like filling
Easy to put on and take off
Best Golden Retriever Puppy Car Harness: The Kurgo Dog Harness
If you're looking to bring your golden retriever pup with you wherever life takes you, the Kurgo Dog Harness is a great option.
The V-neck design on this harness helps to distribute pressure around your dog's body while providing control and safety for both you and your pup in the car.
It also comes with a 10″ lead that snaps into any seat belt, that ensures your pup is safe & secure while you drive (without getting distracted).
It's ideal for outdoor adventures. It has four adjustment points and a padded chest plate so even dogs with mismatched body types can be comfortable during their walks or runs.
Lastly, the steel nesting buckle system and added handle allows you to have more control during those high-energy hikes or walks through the park.
Kurgo Dog Harness Key Features:
Great for walking, running, camping, hiking
4 adjustment points and padded chest
Includes 10-inch lead for seat belt attachment
Other Top-Rated Picks
The Rabbitgoo Harness
The Rabbitgoo Dog Harness is a top-rated dog vest for golden retrievers. It's designed to keep your four legged friend safe and happy while you're out exploring the great outdoors together.
This harness benefits from a flexible design that moves with your furry friend allowing you to easily adjust the fit for them, ensuring they have some wiggle room while walking.
It's also great because if you find yourself pushing or pulling it eliminates any chance of choking hazards.
There are 4 adjustable straps that can be altered for a customised fit to ensure your pup is safely secured before going out on an adventure.
This harness' design is easy to put on and even easier to take off, has adjustable straps which help fit your pup no matter the circumstances.
Rabbitgoo Harness Key Features:
Dual ring setup
Fully adjustable
Easy on-and-off design
The LightHound Harness
Ready to never lose sight of your pup again? Try the LightHound Harness!
As your pup romps around, they'll be visible from over half a mile away. Saving you from worrying about your pooches' safety and enjoying more of that precious off leash time.
Plus, with its super long battery life of up to 12 hours per charge- no need to worry about this harness getting too tired for playtime!
It's also highly adjustable with a customisable neck and chest strap making it perfect for any dog size or shape.
With choices of colors like magenta, yellow, blue & pink; another favorite is green which offers excellent color contrast as night falls – you'll be able to enjoy a widespread variety of colors to light your pup up with.
LightHound Harness Key Features:
8 different colors to choose from
Visibility from over half a mile
Highly adjustable for custom fit
The Chai's Choice Harness
The Chai's Choice Harness is a great combination of value, aesthetics and functionality for dog owners.
The harness's adjustable design allows your pup to enjoy wearing it no matter the size or shape of their body. With two straps coming from the back and out in different places on the chest, you can easily find a fit for any occasion.
The ergonomic design ensures that your dog will be free from rubbing and discomfort while wearing the harness.
The lining is constructed of lightweight mesh for extra comfort; no bulky or heavy materials inside to cause unnecessary wear on their fur.
For the safety of your doggo at night, it's important to ensure they have enough visibility. The reflective material on this harness will make them very visible in the dark while on your endearing strolls.
Chai's Choice Harness Key Features:
Dual ring setup
Ergonomic design for easy on-and-off
Sturdy handle for extra control and seatbelt use
The Mighty Paw Sport Harness
One of the advantages of the Mighty Paw Harness is that it offers a lot of control. This control includes easy-to-reach adjustable pull handles, which will allow you to reel in your pup if they're pulling too hard on their leash.
This harness is perfect for training sessions because of its heavy duty construction and reinforced straps. It's also great for every day walking to keep your dog from getting into trouble during exercise or while out running errands.
The soft fabric is gentle on your dog yet will keep them secure while they're wearing it.
It spreads pressure evenly without being too restrictive to their sporadic movements.
It also can help keep your pup from distracting you while driving as it easily loops through a seatbelt.
This harness lights up at night-time to become easily seen as it's made out of high-visibility materials.
Mighty Paw Sport Harness Key Features:
Reflective stitching
Adjustable strap
Comfortable and breathable
The PetLove Dog Harness
The PetLove Dog Harness is durable and stylish, with enough padding to protect your dog from discomfort. The harness also comes at a great price if you're looking for a functional harness that won't break the bank.
Plus, it's made with scratch-resistant material and has a substantial loading capacity for increased strength at points of stress.
Some of us prefer to keep things simple, especially when it comes to harnesses. With this vest in particular, you can take comfort in knowing that you won't have difficulty putting it on or removing it thanks to its straightforward design and quick-release clips.
It comes with adjustable straps that accommodate most dog shapes with padding and breathable mesh lining for a secure fit.
And of course the reflective material ensures visibility at night!
PetLove Dog Harness Key Features:
Easy to put on and take off
Comfortable padding with adjustable straps
Stylish & includes reflective material
The EzyDog Quick Fit Harness
Getting your dog out and about has never been easier. Designed with a one-click fit system, the EzyDog Quick Fit Harness is as easy to use as a collar, but more comfortable, affordable and safer!
Simply snap the harness around your pup's chest and you're good to go.
The adjustable neoprene padding on this harness provides comfort for long outings in addition to safeguard from potential injury that could otherwise arise from improper measurement.
Your pup will be ready for anything! Plus, safety features like reflective stitching throughout are well thought out meaning this product can take on any challenge it may encounter.
EzyDog Quick Fit Harness Key Features:
As the name implies, considerably easy to get a secure fit on your dog
Maximum comfort for prolonged use
Highly reflective
The OneTigris Tactical Dog Harness
Designed with a 1000D nylon backing and adjustable straps, the OneTigris Tactical Dog Harness is designed for maximum comfort while providing security to both you and your pet.
Padding on this harness keeps pressure off sensitive areas of your pup's body, which reduces chafing and skin irritation.
The Y-neck strap adjustment provides better security and the snap bolt buckles ensure your fingers are safe anytime you need to take off or put on the harness
The harness also has four quick release buckles, making it easy to maintain control of your pup when needed most.
Lastly, there's one leash attachment point at the front for more control and one in back for a laidback stroll. Whatever you need while out walking your dog, this harness makes it possible.
OneTigris Tactical Dog Harness Key Features:
Made to have maximum security/safety as well as comfort
4 buckles for easy-on-and-off
1 year warranty
FAQs
What Size Harness For A Golden Retriever?
Unfortunately, there's no '1 size' of a harness that will best suit any and all golden retrievers.
Wouldn't that make things so much easier!
To say, "generally a golden needs a medium sized harness" would be misleading.
Is your dog just a pup? Are they a teen? Have they been eating a little bit too much kibble and gained some weight?
There are many factors that come into play when deciding on a harness size for your pup. This is why the best answer is to pull out a measuring tape and measure your doggo.
This way you'll know without a shadow of a doubt that you're going to pick the right sized harness when adding it to your cart on Amazon.
Let's address what measurements you need to make.
First, you'll need a bendable measuring tape that's long enough to go around your dog's body.
Next, you'll want to make 2 measurements around their body (if you can get them to sit still long enough).
One around their lower neck and the second around their chest. These two measurements will allow you to use the sizing chart of the harness you're interested in.
Simply match the measurements you just took with the range of measurements on the product page and voila! You've found the perfect size harness for your pupster.
Is A Collar Or A Harness Better For A Golden Retriever?
As a general rule, a harness is better for a golden retriever than a collar. The reason being is harnesses distribute pressure over their chest. Whereas with a collar all pulling pressure is placed on their neck which can cause injury to their trachea.
Harnesses also allow you to cater better to your dog's walking style.
If your pup is a puller, a harness with a front clip will help deter them from continuing to pull.
If your pup is easily excited but generally a good walker you can switch between the back and front clip when needed.
The versatility of a quality harness and their ability to distribute pulling pressure makes them generally a better choice for your golden retriever over a traditional collar.
Final Thoughts
That sums up our list of the top 12 best harnesses for golden retrievers.
Boy, it's an important decision to make. You want to make sure you're getting them one that fits, that's comfortable, but also one that'll last the time of time.
These harnesses have been hand picked out of all the options available online. Whatever budget you're on, you'll now be able to find the perfect harness for your own unique needs.
Happy walking!
Other posts you might find interesting:
Top 10 Best Dog Brushes for Golden Retrievers: Important Features & FAQs
10 Best Dog Beds for Golden Retrievers: 2021 Buyer's Guide
10 Best Dog Shampoos for Golden Retrievers: Clear-Cut Winners