Pawscessories is reader-supported. When you buy via links on our site, we may earn an affiliate commission at no cost to you. Learn more.

---
Quick Access To The Best Harnesses For Goldendoodles👇
Goldendoodles are becoming one of the most widely adopted pups around North America! They're great with kids, they're smart, they're loyal, and they love their walks!
It's no surprise that many people want to take their pup hiking with them or on a walk around the block.
When on these adventures you want make sure your goldendoodle is safe, secure as well as comfortable and there's no better way to do this than with a high quality harness.
For many people it can be challenging to decide which harness to get their doggo. They're so many darn options available it can be a little overwhelming.
However, after looking at all the options available, we were able to boil down the amount that would be great for a goldendoodle to just 12. We're confident that after checking out the list below that you'll of found a harness perfectly suited for your pup.
Let's dive into our best overall harness pick for a goldendoodle, shall we?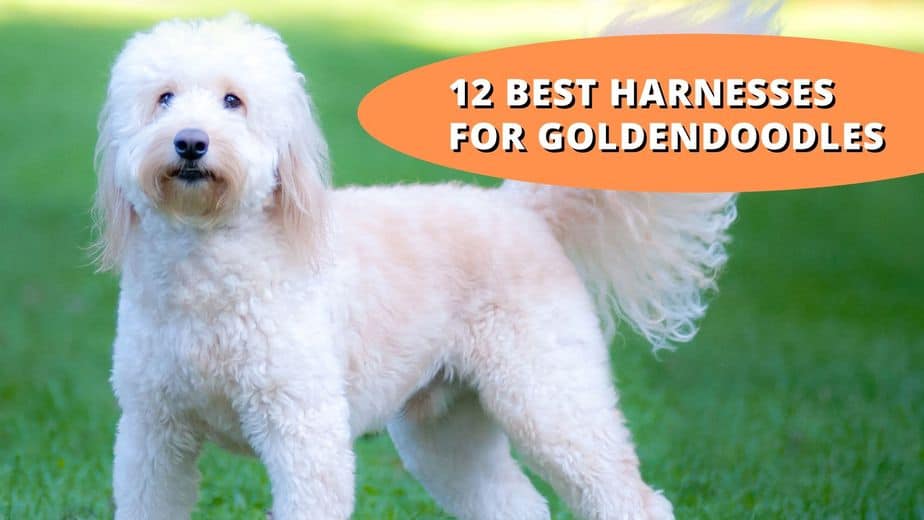 Top 12 Best Harnesses For Goldendoodles
Best Overall: The Kurgo Dog Harness
Our best overall harness pick for goldendoodles is The Kurgo Dog Harness. It does a great job at balancing both practicality and comfort.
It's designed with a V-shaped neckline that helps reduce strain on your pup's fragile throat. It also comes with a seat belt clip that ensures they're strapped in during car rides which helps stop them from distracting you while driving.
The harness' buckle is made from durable steel so that it can remain intact regardless of if your pup pulls aggressively. It also has a handle on the back to add control if need be.
The harness is durable yet comfortable to make sure longer walks are safe & secure but still enjoyable for your pup.
People who've purchased and used this harness shared that the material felt nice and soft in their hands while also being quite strong/durable. Some also shared that after wearing the harness for long periods of time they didn't notice any problems with their pup disliking the harness or being agitated.
Kurgo Dog Harness Key Features:
Great for walking, running, camping, hiking
4 adjustment points and padded chest
Includes 10-inch lead for seat belt attachment
Best Runner Up: The RUFFWEAR Harness
Our best runner up harness for a goldendoodle is the RUFFWEAR Harness. It comes with a staggering 29 different leash attachment points to give plenty of variability during walking sessions.
What's also very nice about this harness is that it has 4 adjustable straps to create an almost custom fit around your doggo.
It comes with a dual clip design which gives you the ability to better cater to your dog's walking style. If they're normally great walkers then the back clip will be great for them.
However if they can be a pain in the butt sometimes with their pulling the front clip helps discourage that behavior.
The harness has soft internal padding that helps maintain your pup's comfort no matter how long they're wearing it. The design is also great for allowing airflow to keep your pup from getting too warm on summer days.
Lastly, it's got reflective material all around the vest to ensure your pup is fully visible during your nighttime strolls.
The feedback from people who've used this harness on their dogs was astoundingly positive.
It even has over 82% of people giving it a 5 out of 5 stars on Amazon which is very impressive.
Many people shared that their doggo's appeared to thoroughly enjoy wearing the harness as they didn't see any unwanted scratching or attempting to get loose from the harness.
RUFFWEAR Harness Key Features:
4 points of adjustment
29 different leash attachment points
Reflective features
Best Budget: The BABYLTRL Big Dog Harness
If you're on the hunt for a harness that has all the qualities you'd want without breaking the bank, the BABYLTRL Harness is one to take a look at.
It's noticeably lightweight and soft as it's made with mesh fabric. It also has multiple adjustment points to make it that much more comfortable for your doggo. The more customisable a harness is, the closer you can get to a near custom fit.
Even though it's soft and lightweight, it's still durably made to make sure your pup is secure on long hikes and daily walks.
It also has a locking buckle that is great to prevent choking. It ensures your pups throat is safe even if they dart off in one direction after their favorite toy or an irresistible chase scene between them and a bunny.
BABYLTRL Big Dog Harness Key Features:
Front & back clip
Evenly distributed pressure to prevent choking
Easy grab handle for extra control if needed
Best Under $15: The Copatchy No Pull Harness
If your goldendoodle is a puller but you're not looking to spend more than $15, the Copatchy No-Pull Harness could be a great choice for you.
It's made from mesh material so it won't cause unwanted rubbing or chafing that would otherwise leave your pups skin red and irritated.
The design of the harness works to create force-free tension for both you and your pup. This makes it easier on your arm and back when they pull and alleviates some pressure on your pups body.
It's made to handle your dog no matter their size, whether they're a puppy, teen or an adult, this harness can help you better control them while walking.
Another nice feature is that it's super simple to put on and take off. The design is basic, no unwanted or unnecessary features to complicate things for 'style points'.
Copatchy No Pull Harness Key Features:
Additional handle for older dogs or excessive pullers
Comfy sponge-like filling
Easy to put on and take off
Best Harness For Long Haired Dogs: The PetSafe Sure-Fit Harness
For a goldendoodle with long luscious locks the PetSafe Sure-Fit Harness is a great choice to keep them safe, secure and comfy on their walks.
It's made with reinforced steel O-rings and nylon straps to make sure it's built to last. Not to mention, it's an absolute breeze to put on and take off.
If you've ever brought home a harness without adjustability you know how frustrating it can be when you see it's either too small or way too loose on your pup. Thankfully this harness has 5 adjustment points to enable you to create a near-perfect fit around your doggo.
PetSafe Sure-Fit Harness Key Features:
5 points of adjustment for a near-custom fit
Made from reliable, durable material
Hassle free to put on and take off
Best Harness For Goldendoodle Puppy: The Voyager Step-in Air Dog Harness
Your adorable goldendoodle puppy needs an adorable little walking accessory. That's where the Voyager Step-in Air Dog Harness comes in.
It's mesh is designed so that it can be worn all year round. Even though it'll cover much of your dog's body, it's very breathable to keep them cool during hot summer walks.
It also has an easy-to-use hook and loop fastener to allow you to make quick adjustments before, during or after their walk.
If you've noticed your pup doesn't like things being placed over their head, this harness will work great for them as this is a step-in harness.
Lastly, it has an important nighttime feature, reflective stitching! If you enjoy early morning walks before the sun rises or nighttime strolls this harness will keep your pup in sight.
Voyager Step-in Air Dog Harness Key Features:
Easy on/off, step-in design
Three layers of security
Soft mesh, lightweight fabric
Other Top-Rated Picks
The Rabbitgoo Harness
Keep your goldendoodle under control and safe with the Rabbitgoo Harness. It's a fully adjustable, hassle free harness designed to help deter your pup from pulling.
It's got 2 reinforced metal rings, one in the front and one in the back, to keep your pup walking nicely throughout their entire walk. Simply change the leash attachment depending on how your pups behave on the leash.
The harness has four straps that are completely customisable to ensure your doggo is contained with a perfect fit.
Rabbitgoo Harness Key Features:
Dual ring setup
Fully adjustable
Easy on-and-off design
The Julius-K9 Harness is a great harness that keeps your furry friend comfortable while being completely secure.
It's made from high quality materials and buckles from Europe. You can tell this harness is made to last and the wide chest strap does a great job at distributing pulling pressure evenly to make sure your pup is completely comfortable.
It has an adjustable strap to keep your pup secure while also not feeling too restricted. It also has reflective accents all over the harness to improve their visibility in low light scenarios.
It's focused on keeping your pup safely and securely on their leash and in your control without compromising their overall comfort.
Julius-K9 Harness Key Features:
Sturdy & made of high quality materials
Designed for increased visibility & safety
Built to last while being friendly to your dog's skin
The Chai's Choice Harness
The Chai's Choice Harness will keep your goldendoodle looking stylish while also keeping them safe and secure on their walks.
It's wonderfully durable and also comes with two points of attachment. It has enough adjustability to make sure it provides your doggo a snug hug while not restricting their movement.
It's ergonomically designed to make it simple to take on and off your pup. Also, the mesh lining is soft to the touch and won't irritate your pup's skin after longer periods of use.
It comes with a lot of reflective material for increased safety at night. This is one of the more expensive options out there but it's well designed and built to last.
Chai's Choice Harness Key Features:
Dual ring setup
Ergonomic design for easy on-and-off
Sturdy handle for extra control and seatbelt use
The EzyDog Quick Fit Harness
The EzyDog Quick Fit Harness gives you the safety and security of a harness with the ease of use of a collar. It has a one-click fit system that makes it a breeze to put on and take off your pup.
You simply snap it around their chest and you're off on your next adventure.
It has neoprene padding along the chest and back piece to keep your pup nice and comfortable even after longer walks.
The reflective stitching helps make sure you and your pooch are prepared for just about anything. No matter what time of day, dawn or dusk, your pup will be seen by anyone passing by.
EzyDog Quick Fit Harness Key Features:
As the name implies, considerably easy to get a secure fit on your dog
Maximum comfort for prolonged use
Highly reflective
The Thinkpet Harness
If your goldendoodle has super high energy most of the time the Thinkpet No-Pull Harness is a great option because it's breathable and lightweight.
The mesh does a good job at absorbing their movement or pulling pressure to make sure they don't hurt themselves.
Not only does the back clip protect them during unexpected movements, but the front clip—which is designed to stop unwanted pulling for a tension-free walk—ensures that they won't be too much of a pain in the butt while you both enjoy the outdoors.
This dog vest is also very good-looking (if I say so myself). So your pup will be one of the most stylish ones at the dog park while maintaining their neck and spine health.
Thinkpet Harness Key Features:
Thin breathable mesh
Dual clip feature
Many colors available
The Mighty Paw Sport Harness
The Mighty Paw Sport Harness gives you complete control over your pup.
It's made to be tough enough to last through training sessions with stubborn doggos yet gentle enough to not be irritating to their skin.
The reinforced webbing evenly distributes the pressure, so it's likely to deter your pup from pulling excessively. The weight is evenly distributed too, which means even if your pup is being a pain and pulling, it won't hurt their neck.
Longer car rides can be tough for pups, but this harness seamlessly loops through seatbelt making car rides fun again.
When the sun starts setting earlier and earlier, the harness has high visibility material to make sure your pup stays safe and lit up.
Lastly, it's important that a harness isn't too much work to get on. This harness easily clips on and off with two buckles so you're out the door in no time flat.
Mighty Paw Sport Harness Key Features:
Reflective stitching
Adjustable strap
Comfortable and breathable
The Most Popular Types Of Harnesses Available
Back Clip
A back clip harness has the leash attachment on the back, which does away with tangling. The back clip is best used if your dog is being good on the leash and you're going for a casual walk. It also prevents your pup from chewing on the remaining portion of their leash while in it.
Front Clip
Another type of harness is the front-clipped harness. This means the leash attaches on the front rather than the back. This type of harness is particularly helpful for training your dog not to pull on the leash as it redirects their attention.
Dual Clip
A dual-clip harness is designed so that you can attach your collar in two places. It gives you the best of both worlds and allows you to cater to how your dog is behaving on a particular day.
The addition of a second clip point means you can attach your leash to the back for relaxed walks or at the front for greater control. This has certain advantages depending on the situation.
Step-in
A step-in harness is great for dog's that don't like things being placed over their head. These harnesses are very easy to get on. You simply place the harness on the floor in front of your dog, put their paws in the holes on the harness, then wrap it around their body.
FAQ
What Size Harness Should I Get For A Goldendoodle Puppy?
Generally, you'd think that your goldendoodle puppy would need a small sized harness.
And that may very well be the case!
However, if you want to be 100% positive you're getting them a harness that fits them well you'll want to measure them.
Simply take one measurement around the base of their neck, and another measurement around their ribcage (behind their front legs).
These two measurements will give you the necessary information to use the sizing chart on any given harnesses product page.
Match the sizing recommendations with the measurements you took and voila! You've found the perfect sized harness for your pupster.
Final Thoughts
There you have it!
Our list of the top 12 best harnesses for a goldendoodle.
Getting the right harness can be a difficult decision to make.
You want to use the goldilocks method…
You don't want a harness that's too big… Or too small… It's got to be JUST right!
This means there needs to be adequate adjustability to ensure you can get the right fit for your pup.
We're confident that if you pick any of the harnesses on our list that you and your pup will be happy with the result.
Happy walking!
Other posts you might find interesting:
12 Best Dog Shampoos for Goldendoodles: Exclusive Shopping Guide
The 9 Best Dog Beds for Goldendoodles: Finding the Perfect Bed