Pawscessories is reader-supported. When you buy via links on our site, we may earn an affiliate commission at no cost to you. Learn more.

---
Quick Access To The Best Shampoos For Chihuahuas👇
Time to get that cute little chihuahua of yours squeaky clean again!
Whether you're starting to notice an unfavorable smell coming from your pup or they are simply overdue for a bath, we've got a shampoo pick that'll be just perfect for your chihuahua.
The challenge with finding a shampoo online is that there are so many options to pick from.
It can take hours of research to find one that you genuinely feel confident is safe for your pup and will make bath time as painless as possible.
That's why we went ahead and did the tedious research and sifted through dozens of different shampoos (over 50+!) to compile a short and sweet list.
Whether you have a certain smell preference, ingredient preferences or require a specialty shampoo, we've got a pick on our list that should fit your situation just right.
Shall we dive right in? Let's take a look at our best overall shampoo pick for a chihuahua.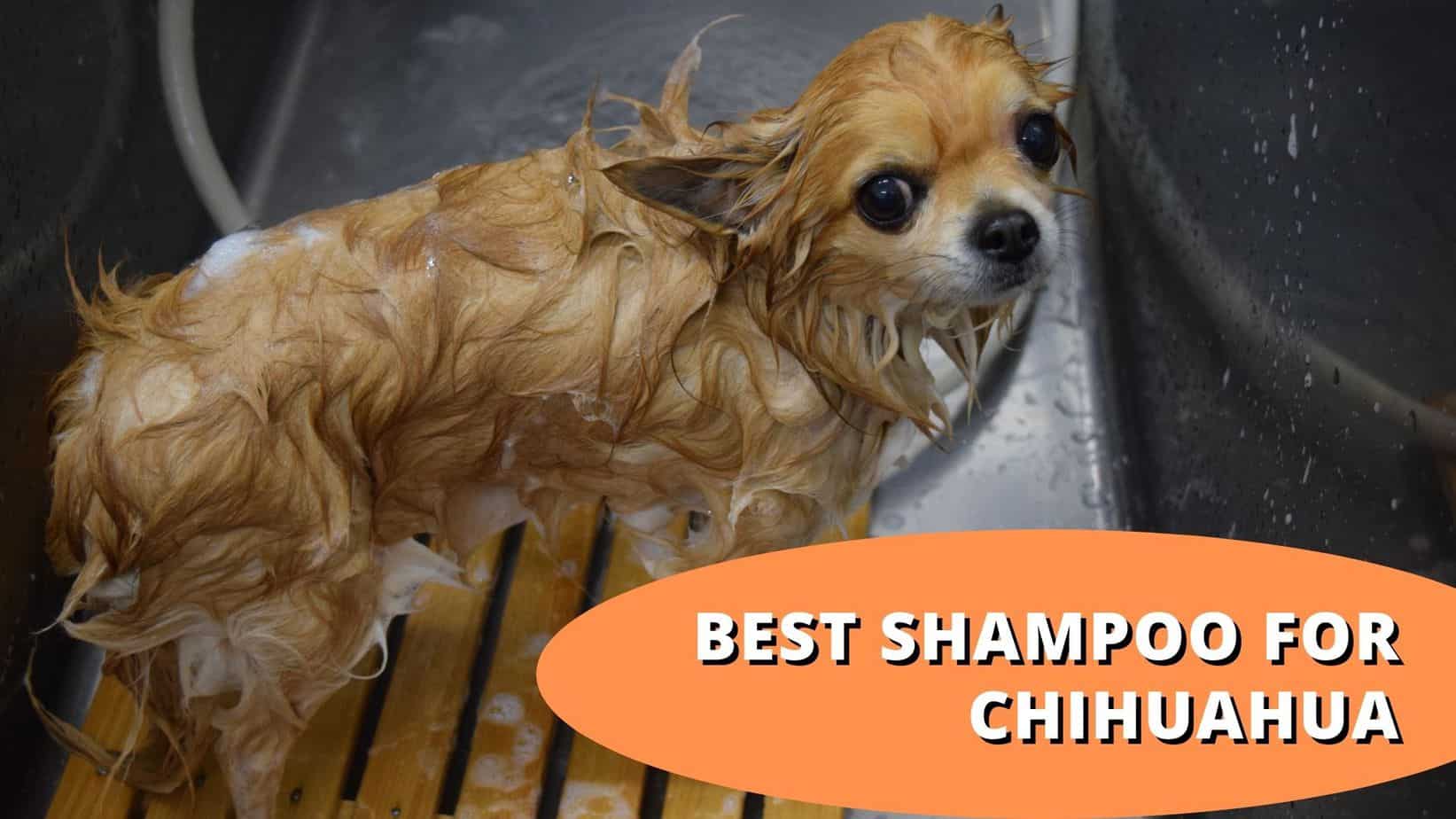 Top 12 Best Dog Shampoos For Chihuahuas
Best Overall: 4-Legger USDA Certified Organic Dog Shampoo
Our pick for the best overall dog shampoo for a chihuahua is the 4-Legger USDA Certified Organic Dog Shampoo.
We felt the great qualities as well as reviews of this shampoo warranted our best overall spot.
This hypoallergenic shampoo is made with completely natural ingredients. It's core ingredients are organic coconut oil, organic lemongrass essential oil, and aloe vera.
These are considerably good at helping nourish skin and promote healthy hair.
It's well known in the industry and used by vets as well as holistic groomers.
They feel confident using this shampoo to help relieve dry skin and know that what's in the bottle is safe and completely natural.
Sensitive skinned dogs are in good hands with this shampoo.
Considering this shampoo is USDA certified you can be confident that what you're buying is truly organic. 
The shampoo also comes with a 30-day money back guarantee.
We love to see money back guarantees because it shows that the company stands behind their work and is willing to put their money where their mouth is.
4-Legger USDA Certified Organic Dog Shampoo Key Features:
USDA certified as truly organic shampoo
Hypoallergenic
30-Day money back guarantee
Best Runner Up: Buddy Wash
Right behind 4-legger is our runner up pick, Buddy Wash Shampoo.
This shampoo is great for doggos at any stage of life. From puppies, teens all the way up to adults, this shampoo can help keep their skin healthy and their coat clean. 
It's made with sage, aloe vera, rosemary, chamomile and green tea and offers a 2-in-1 conditioning shampoo.
These ingredients are perfectly suited to help nourish dry, irritated skin or make their skin even softer and healthier. 
The fresh lavender and mint scent are wonderfully refreshing and not overpowering. Its natural deodorizer takes care of that 'dog' smell and puts in place something much fresher.
It's formulated with a coconut base liquid that makes it completely alcohol-free which means no sting!
Reviews from our source of testers shared that they loved how gentle it was on their dog's skin. Many people have been using this shampoo on their dog(s) for years.
Some mentioned that they bathe their dog frequently with this shampoo and it hasn't negatively affected their skin and kept their coat soft and shiny.
Negative comments focused for the most part on the smell. This was a small percentage compared to the amofacunt of people who did enjoy the smell.
Buddy Wash Key Features:
Great for dogs of all ages
Made with pure botanical extracts
Natural deodorizer
Best Budget: Wahl Oatmeal Dog Shampoo
Looking for a rather inexpensive shampoo for your chihuahua?
Check out Wahl Oatmeal Dog Shampoo. Get your dog's fur looking great, reduce dryness & itching if at all present, and help their maintain healthy skin.
Shampoo doesn't have to cost an arm and a leg! This budget-friendly shampoo, made by a brand that professionals trust takes care of enhancing your pups skin inexpensively without compromising quality.
Its gentle formula is perfect for sensitive skinned pups.
It is made in the USA with a pH balanced, alcohol and paraben-free formula designed to relieve irritated skin.
The coconut lime verbena scented shampoo keeps skin and fur healthy. When the skin and the fur are healthy, less unwanted irritations show up for your doggo. 
Also, it's derived from plants! So for those who are plant-based focused, this shampoo is a nice option.
Wahl Oatmeal Dog Shampoo Key Features:
Alcohol and paraben-free
Dry skin and itch relief formula
Used and trusted by professionals
Best Under $6: Oster Oatmeal Essentials Shed Control Dog Shampoo
Who knew there could be a great shampoo for your chihuahua under $6! Well we found it and it's called Oster Oatmeal Essentials Shed Control Dog Shampoo.
This shampoo is made with oatmeal, vitamin B5 and safflower lipids. These ingredients help enhance your pup's coat by using essential fatty acids.
Plant lipids are compared to healthy fats but for hair. These help make their hair stronger and reduce the amount that leaves their body.
Less hair leaving their body means less frequent clean ups for you! Woohoo!
While this shampoo is tough on shedding it's considerably gentle on your dog's skin. It doesn't include any harmful chemicals in it's ingredients ensuring its pH levels are perfect for dogs (pH is just science talk for acidity levels). 
It's also made in the USA and won't remove any topical flea treatment which is a nice bonus.
Reviews from our source of testers were very positive. People shared that they enjoyed the smell and that it was helpful in reducing the amount of fur they found around the house.
While shedding isn't a huge problem with schnauzers you probably notice some hair still finding its way onto your furniture and clothes and this shampoo helps reduce that.
They also said it really helped dry skin and the scent lasted for a good amount of time.
Surprisingly this didn't have a bad review come through! Satisfied customers plus a low price equals one happy dog owner.
Oster Oatmeal Essentials Shed Control Dog Shampoo Key Features:
Repairs and enhances fur
Contains no dyes, alcohol or parabens making it gentle on skin
Made in the USA
Best Shampoo For Shedding Chihuahua: FURminator deShedding Premium Dog Shampoo
The FURminator deShedding Ultra Premium Dog Shampoo tackles shedding issues at the root by starting with caring for your dog's skin hygiene. 
This shampoo works to help your dog release their loose fur during bathtime. The more fur you can collect during bathtime the less you'll find lying around your house or stuck to your clothes.
It's gentle and formulated to help nourish your dogs dry skin while giving your dog's coat a nice shine with ingredients like Omega-3, Omega-6, chamomile, and aloe vera.
All of these help keep your dog's skin young and healthy. 
Don't worry about harsh ingredients like parabens or chemicals, this shampoo doesn't contain anything that is unnatural.
Reviews from our source of testers have major shedders on their hands (golden retrievers and labs for example) and they shared this shampoo helps reduce the amount of shedding dramatically.
If it can work for those breeds there's a good chance it'll help with your chihuahua. People also mentioned how much they enjoyed the smell after bath time.
FURminator deShedding Premium Dog Shampoo Key Features:
Reduces shedding
Enriched with Omega-3 and Omega-6
Paraben and chemical free
Other Top-Rated Picks
Healthy Breeds Oatmeal & Aloe Dog Shampoo
When it comes to dry, sensitive skin the Healthy Breeds Oatmeal & Aloe Dog Shampoo is a great option for a wonderful general cleaning or if your chihuahua has allergies.
It's soap free! This helps restore natural moisture to your dogs skin and coat. Feel safe that your pup won't encounter any harmful chemicals with the ingredients in this shampoo.
It's pH levels are balanced perfectly for dogs which means it's well suited for their sensitive skin.
This hypoallergenic shampoo is also made in the USA in a federally regulated facility. Rest assured that best practices are being used during the making of this shampoo to ensure safe use for your pup.
While enjoying its lovely pina colada smell you can rest assured your dog skin is safe after a bath with healthy breeds shampoo. 
*If the chihuahua style of the shampoo doesn't show up right away simply click on a healthy breed shampoo bottle you see and change the style to chihuahua*
Healthy Breeds Oatmeal & Aloe Dog Shampoo Key Features:
Hypoallergenic 
Made in the USA
Provides relief for itchy, scaling and sensitive skin
Earthbath Oatmeal & Aloe Dog Shampoo
Earthbath Oatmeal & Aloe Shampoo is a well known brand in the dog grooming space and widely loved by many. Don't let an itchy or smelly dog ruin cuddle time with your lovable friend.
Earthbath dog shampoo offers a totally natural and soothing dog shampoo that's safe for your doggo and leaves a lovely vanilla & almond scent.. 
This natural shampoo is formulated to soothe dry, itchy skin to provide relief all the while managing the smell of 'dog' which we all know too well! 
It adds moisture back to your doggo's skin without causing any unnecessary irritation. Perfect for sensitive skinned dogs.
A great feature of this shampoo is that it won't wash away any flea treatment that has been previously applied.
Earthbath Oatmeal & Aloe Dog Shampoo Key Features:
Gentle cleansing 100% biodegradable
Vanilla and almond scent
Paraben and phosphate-free
Burt's Bees Shampoo For Dogs
With the natural soothing that comes from honey, Burt's Bees has been a favorite choice brand of humans for years. But, they also make products that are perfect for your dog!
All of the natural ingredients in this oatmeal-based shampoo are no exception. 
To no surprise, one of the main ingredients in this shampoo is honey. Honey is soothing to the skin and helps add shine to your dog's coat.
As any great dog shampoo should be, this is formulated to suit your dogs skin perfectly. 
Clean and protect your furry friend from pests since the shampoo won't wash away any topical flea or tick treatments already in place on your dog.
Burt's Bees Shampoo For Dogs Key Features:
No sulfates or colorants
pH balanced to prevent dry skin
Colloidal oat flour and honey moisturizes and prevents itchiness
Antiseptic And Antifungal Medicated Shampoo
The Antiseptic and Antifungal Medicated Shampoo For Dogs is a great choice for a pup that is going through a wide range of skin irritations.
Some examples of conditions this shampoo can help with are bacterial and yeast infections.
The company prides themselves on providing veterinary grade ingredients that are affordable for dog moms and dads.
It has aloe vera and lanolin to reduce itching & soreness fast while also containing ingredients that begin the healing process of your dogs skin.
The technical term for these ingredients is benzethonium chloride and ketoconazole which help nourish fungus and/or bacteria. 
It's safe and doesn't contain any parabens or soaps. It also won't remove any topical flea & tick treatment previously applied which is a nice bonus feature.
Antiseptic And Antifungal Medicated Shampoo For Dogs Key Features:
Provides relief for many skin irritations
Made with veterinary grade ingredients
Provides relief from itching and helps begin healing skin
TropiClean Papaya & Coconut Luxury Shampoo
There is something about the smell of coconut and papaya to make you feel like all your cares have washed away. I don't know about you but it certainly takes me to the beach somewhere!
This luxurious 2-in-1 shampoo and conditioner cleanses, conditions, and moisturizes your dog's skin and fur to safely replenish their natural moisture balance.
We all need a little help bringing moisture back to our skin in some places at one point or another!
Work up a lather to rid your adventurous pup of any smell as well as dirt. When your tail-wagging doggo is all dry, you'll enjoy the fresh-scented cuddles.
Rest assured that this shampoo is safe, pH balanced, soap-free that is free of parabens and dyes.
TropiClean Papaya & Coconut Luxury Shampoo Key Features:
Smells great
Replenish moisture
Soap-free
Nature's Miracle Supreme Odor Control Shampoo
For an extra smelly chihuahua, a shampoo superhero is on the way! Don't let an unwanted stench stand between you and cuddle time with your pup.
The Nature's Miracle Supreme Odor Control Shampoo has been designed to tackle the toughest odors. Say good-bye to a smelly pup and hello to fresh scented cuddles!
No need to worry, while it's tough on odors, it's gentle on your pups skin. The shampoo is made without the use of any dyes or parabens.
This helps to hydrate your dog's skin while neutralizing odors.
After bath time with this shampoo you're left with a clean pup and a honey sage or jasmine pear scent. What's also nice is it can also help soothe any irritations they may have on their skin. Take out two issues in one bath!
Nature's Miracle Supreme Odor Control Shampoo Key Features:
Tough on odors, gentle on skin
Fur stays cleaner longer
Helps soothe any skin irritations
Pets Are Kids Too Premium Oatmeal Pet Shampoo
The Pets Are Kids Too Premium Oatmeal Pet Shampoo has a formula designed to help nourish your chihuahuas skin while providing a lovely scent.
This shampoo works with your dog's skin oils and helps maintain their natural pH balance. This is important as other shampoos can leave your dog's skin dry by removing their natural skin oils. 
After bath time is over it leaves behind a shiny, bright, soft, and smooth coat with a yummy, yet light, oatmeal cookie scent. The ingredients are all natural without any harmful chemicals.
It contains aloe vera, organic oatmeal, baking soda, and coconut. This vet-backed shampoo comes with a lifetime warranty.
With the many great qualities that this shampoo has partnered with a lifetime warranty we don't see a reason not to give this shampoo a try!
Pets Are Kids Too Premium Oatmeal Pet Shampoo Key Features:
Gently formulated pH balance
Fresh scent for weeks
Comprehensive anti-itch formula
FAQ 
What's The Best Brush For A Chihuahua?
For the best brushing experience for your chihuahua you're going to want to use a slicker brush.
A slicker brush has thin wire bristles that set close together and are great for removing loose fur from dogs with long hair and for overall general brushing.
The slicker brush you use on your dog should be stiff to tackle tangles, yet gentle when it brushes against the dog's skin. 
If you're looking for a new brush then we'd recommend taking a look at our best dog brush list. We wrote a post on the top 28 best dog brushes available that you can check out by clicking here.
Final Thoughts
And there you have it! Our complete list of the top 12 best shampoo products for a chihuahua.
While we felt it was important to bring a good range of options we hope our list was able to help you narrow down your options.
Each shampoo pick on our list comes with a large amount of previous purchasers sharing positive experiences.
Whatever your situation is, we hope that we included a shampoo that you felt was just right for your cute little pup.
Remember to give your pup a good dry down after their bath as well! Whether you're towel drying or using a blow dryer.
We won't keep you any longer though! Happy bathing!
Other posts you might find interesting:
12 Best Harnesses for Chihuahuas: Features, FAQs & More
Top 10 Best Dog Brushes for Chihuahuas: Your Complete Guide