Pawscessories is reader-supported. When you buy via links on our site, we may earn an affiliate commission at no cost to you. Learn more.

---
Quick Access To The Best Dog Shampoos For Golden Retrievers 👇
You've got yourself a new golden retriever puppy or are simply deciding to try a different shampoo for your doggo and felt like doing some research.
Golden retrievers have the most gorgeous fur coats that have been stealing the hearts of millions of dog owners for years. How does one maintain that beautiful coat? By finding the best shampoo for golden retrievers.
And, well, brushing definitely helps too.
You want to find a shampoo that smells great, is safe for their skin and coat, makes their fur ever so soft, and with a shine that is show-dog worthy. And you've come to the right place because we've found the 10 best shampoos specifically for golden retrievers.
With so many options available online these days, it can be challenging to find one you feel will ultimately be the best for your specific doggo.
It's our hope that we're able to make your decision a little bit easier. We know dog owners are super busy so it's our goal to help with analysis paralysis and make coming to a decision become a piece of cake.
Enough jibber jabber though! Let's dive into our best overall shampoo for golden retrievers.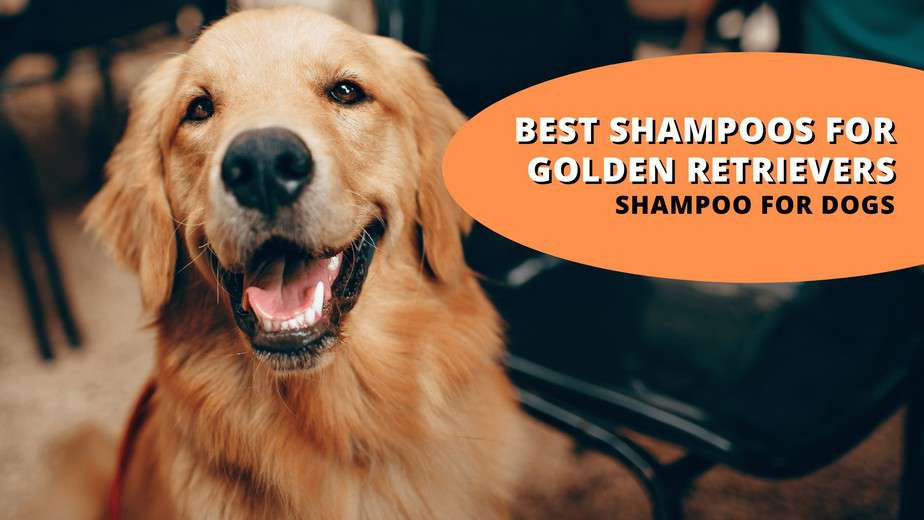 Top 10 Best Dog Shampoos For Golden Retrievers
Best Overall: Earthbath Oatmeal & Aloe Shampoo
In our opinion, the best overall shampoo for golden retrievers is The Earthbath Oatmeal & Aloe Shampoo.
This shampoo is 100% biodegradable and great for clearly up any itchy skin your doggo may have. Yes, dog's can have allergies and skin sensitivities just like humans, so you know how irritating they can be.
The Earthbath shampoo is completely natural that is pH balanced to perfectly suit your dog's sensitive skin while leaving behind a lovely vanilla & almond scent.
It's designed to get rid of that 'dog' smell we all know far too well while also nourishing dry, itchy skin. It does a really good job at bringing moisture back to their skin while restoring their natural skin oils. It also doesn't contain any harmful chemicals like parabens or phosphates.
A nice bonus is that using this shampoo won't wash away any topical flea or tick treatment so they'll stay protected from pests.
Earthbath Oatmeal & Aloe Pet Shampoo Key Features:
Gentle cleansing 100% biodegradable
Vanilla and almond scent
Paraben and phosphate-free
Best Runner Up: FURminator deShedding Ultra Premium Dog Shampoo
Our best runner up shampoo pick for golden retrievers is going to help keep your home just a little bit less furry, it's called the FURminator deShedding Ultra Premium Dog Shampoo.
While giving your doggo a bath with this shampoo, you'll notice the loose/dead undercoat fur being released. This means that you'll find less fur around your house between baths.
Since this shampoo focuses on their skin hygiene, making their skin healthier and stronger, it will help their coat from excessively shedding.
With ingredients like chamomile, aloe vera, Omega-3, and Omage-6 it's designed to be restorative to your dog's skin which will help keep their shedding under control.
No need to worry about if it's safe for your pup as there's no parabens or chemicals included in its ingredients.
FURminator Shampoo Key Features:
Reduces shedding
Enriched with Omega-3 and Omega-6
Paraben and chemical free
Best Budget: Wahl Oatmeal Dog Shampoo
If you're looking for a safe shampoo for golden retrievers while on a tight budget the Wahl Oatmeal Dog Shampoo could be for you. This shampoo will have your dog's coat looking show-dog ready while reducing any dryness or itching they may be experiencing.
It's pH balanced to ensure it's gentle on your pups sensitive skin. This means it's made without the use of alcohol or parabens while still being able to relieve irritated skin. It's 100% natural and leaves behind a lovely coconut lime verbena scent.
You don't have to worry about sacrificing on quality with this inexpensive shampoo.
Something else that's nice about this shampoo is it's made close to home, inside the USA.
Wahl Oatmeal Dog Shampoo Key Features:
Alcohol and paraben-free
Dry skin and itch relief formula
Used and trusted by professionals
Best Under $10: PetAg Fresh 'n Clean Shampoo
For those looking for a good quality shampoo for golden retrievers that's under $10, The PetAg Fresh 'n Clean Shampoo is for you.
Give your pup a smell upgrade while supporting that natural healing of yeast, fungal, or other bacterial issues. You'll be able to turn bath time into a soothing bonding moment between you and your fury friend.
This shampoo is made with rooibos tea extract to nourish their skin. Whether their skin is dry, itchy, or generally irritated they'll be able to find some relief after a bath with this shampoo.
Since this soap doesn't contain any harmful dyes or parabens it's suitable for even the most sensitive skin. It also has antioxidants that help fight inflammation which is a nice bonus feature.
PetAg Fresh 'n Clean Key Features:
Prevents and soothes skin irritation
Supports natural healing for fungal, yeast, and bacterial growth
Moisturizes with olive oil, glycerin, and Vitamin E
Best Leave-In Shampoo/Conditioner For Golden Retriever: Wahl Pet-Friendly Waterless Shampoo
Sometimes you don't have the time to give your pup a nice bath but boy do they need a freshening up. That's where the Wahl Pet-Friendly Waterless Shampoo can be very helpful.
This shampoo can help spruce up the shine in their coat as well as leave a much more favorable smell behind. You take all the same steps you would for bath time, just minus the water.
Pump the shampoo into your hand, massage it into your pup's fur and skin, then instead of rinsing, you just give your doggo a good wipedown with a towl.
And you're done!
You get to enjoy a fresh smelling pup and they get to avoid the bathtub. Which for some pups is a dream come true.
It also makes tackling tangles, knots and matting less of a struggle because it conditions and softens their fur.
Wahl Pet-Friendly Waterless Shampoo Key Features:
Alcohol and paraben-free
Coconut lime verbena scent
Easy-To-Use pump
Other Top-Rated Picks
Burt's Bees For Dogs
I'm sure you've heard of Burt's Bees when it comes to chapstick, but did you know there's a Burt's Bees Oatlmeal Dog Shampoo?
Burt's Bees has been a brand favorite for people for years, and now you can share that love with your pup with their dog shampoo. All its ingredients are natural with one of the main ingredients being honey.
I'm sure you're shocked to hear that!
Golden retrievers can benefit from the honey as it's great at soothing their skin while also adding a beautiful shine to their coat. You'll be able to keep your pup clean and fresh smelling without exposing them to pests.
If you recently got your pup any topical flea or tick treatment this shampoo won't wash it away which is a nice feature.
Burt's Bees For Dogs Key Features:
No sulfates or colorants
pH Balanced to prevent dry skin
Colloidal oat flour and honey moisturizes and prevents itchiness
Buddy Wash
Buddy Wash Shampoo is a great pick for golden retrievers who have particularly sensitive skin. It's a 2-in-1 conditioning shampoo that's packed with natural and safe ingredients; no use of any harsh cleansers in this shampoo.
It contains sage, green tea, chamomile, rosemary, and aloe vera which help nourish their skin and keep it strong and healthy. If your pup is experiencing any skin irritations this shampoo should be able to help clear it right up.
It's made with a coconut base liquid that makes it completely alcohol free and contains wheat protein that serves as a natural deodorizer. It also leaves behind a fresh lavender and mint scent which makes not only easy on the eyes, but easy on the nose too!
The natural base of this shampoo makes it gentle enough for pups as well. So whether you have an older doggo with sensitive skin or a young pup, this shampoo will work wonderfully for them.
Buddy Wash Key Features:
Gentle for puppies
Made with pure botanical extracts
Natural deodorizer
Nature's Miracle Supreme Odor Control
If you've got an extra stinky doggo on your hands Nature's Miracle Supreme Odor Control Shampoo is what you need.
This shampoo does a great job at neutralizing and deodorizing the strongest of odors, while still being gentle on your dog's skin.
After a bath with this shampoo you're left with a clean pup and a honey sage scent. You'll be able to get back to enjoying cuddle time instead of running from it because of their smell.
A nice bonus feature of this shampoo is it helps control static. So after their bath their fur will smooth out nicer and be easier to brush.
Nature's Miracle Supreme Odor Control Key Features:
Eliminate static electricity
Controls heavy odors
Hair stays cleaner longer
4-Legger USDA Certified Organic Dog Shampoo
The 4-Legger USDA Certified Organic Dog Shampoo is the pick for you if organic products are of high priority to you.
This shampoo is hypoallergenic and made with 100% naturally sourced ingredients like, aloe vera, lemongrass essential oil, and coconut oil.
It's recommended and used by industry professionals like veterinarians and groomers. When they want to use an organic shampoo that's great a providing relief to dry skin or for a sensitive skinned pup, this shampoo is an easy pick.
What's also great to know is that the shampoo is USDA certified which means you know for sure what you're getting is actually organic.
They also offer a 30-day money back guarantee which is always nice to have when buying something. You can bring it home and give it a shot and then decide if it's right for you and your pup.
4-Legger USDA Certified Organic Dog Shampoo Key Features:
USDA certified as truly organic shampoo
Hypoallergenic
30-Day money back guarantee
TropiClean Papaya & Coconut Luxury Shampoo
The TropiClean Papaya & Coconut Luxury Shampoo will get your pup nice and clean while making you feel like you're on vacation on a beach with the coconut and papaya scent.
This shampoo also conditions, cleanses and moisturizes your pups skin and fur. It also helps restore moisture to your pup's skin to prevent dryness as well as itchiness.
The shampoo does a great job at loosening up tangles, knots and matting to make for easier brushing sessions after their bath.
It's soap-free, pH balanced for your dog's sensitive skin and free of any parabens or dyes. No need to worry about your pups safety or wellbeing with this shampoo which is why it's one of the best for golden retrievers.
TropiClean Papaya & Coconut Luxury Shampoo Key Features:
Smells great
Replenish moisture
Relax tangles
How To Keep Your Golden Retrievers Coat Healthy
1. Make sure you brush your golden retriever frequently. 3 times a week minimum.
By not brushing you doggo the most common thing that will show up is matting, knots and tangles. Especially since your golden retriever has long luscious fur it can get matted all the more easy.
While matted fur doesn't look the best, it's also uncomfortable for your pup. Bunched up fur can become quite the annoyance if left for too long. It's highly recommended to build a routine around brushing your pup.
We suggest at least 3 times a week but daily brushing would be best.
The second thing you'll likely notice if you don't pay attention to consistent brushing is excessive shedding.
Even though golden retrievers are known to be crazy shedders, if you brush them consistently you'll be able to minimize how much of their fur collects around your home.
By gathering all their loose/dead fur during grooming sessions you'll indirectly get a cleaner home. And they'll get a healthier coat & skin while you both spend some quality bonding time.
In more severe cases, infection can show up from lack of brushing. Tangled and matted fur stays wet longer when it gets wet. And warm wet areas are ideal grounds for bacteria to grow.
If in their curiosity driven travels they wind up getting a cut on their skin, if they're majorly matted, what would normally be a minor boo-boo could become something more severe.
A good brushing routine will help spread their natural skin oils to make for stronger, healthier skin as well as a beautiful shiny coat.
2. Use the proper brush for your golden retriever. We'd recommend a slicker brush.
While having multiple different types of brushes will make your grooming experience more holistic, a slicker brush is a must for golden retrievers.
Slicker brushes have longer pins that allow you to not only comb out their topcoat, but their undercoat as well.
This way you're able to tackle tangles at the root and effectively get rid of them by brushing from skin outward.
However, even though a slicker brush is designed to help with knots and matting, you'll still want to take your time with more tangled areas. If you go too quickly you could yank on their skin and make what's supposed to be an enjoyable experience pretty painful.
If it's been a while since their last brushing and there's an area where it's gotten too matted it's best to grab some scissors and carefully remove that patch of fur; which brings us to number 3.
3. Clip problem areas.
Some areas are simply more susceptible to matting and tangling on your pup. These areas are their stomach, underarms, tail, around their bum, as well as their ears.
If you're finding some of these areas too far gone in terms of matting you'll want to grab a pair of scissors and carefully clip those places.
4. Bath time!
Many people wait until their dog starts to noticeably smell like they need a bath (I'm guilty of this too).
However, that's not the best thing for your pup. To ensure their hygiene stays in tip-top shade it's best to bathe your pup at least every 3 months.
You'll definitely want to increase this if they're puddle magnets, diggers, or are frequently finding ways to make themselves dirty.
While dog's don't typically need baths as often as we people do, setting up a flexible yearly amount of baths will help make sure their skin stays healthy, hydrated and avoid dryness, dandruff or infection.
Let's take a step-by-step look at how to make bath time as painless as possible.
Tips On Effectively Bathing Your Golden Retriever
Not every dog enjoys bath time, so be prepared for a possible struggle. Go ahead and grab three towels:
Put one towel on the floor beside the tub to prevent slipping and for when it's time to get out.

Keep your dog from shaking water everywhere and drenching you by draping the second towel over the wet dog between rinses.

Use the third towel for drying. If your retriever is an adult, you may want to use a bath sheet, an extra-large towel, or have a fourth towel nearby.

Follow these helpful tips for the easiest and best way to wash your pup:
Before diving into the tub, a good idea would be to tire them out. Take them to the park, a good long walk, or play for a while to tucker them out so they won't have too much pent up energy during their bath.


Grab your pup's shampoo. Make sure the shampoo is pH formulated for your dog and not for humans.


Get your bathroom ready to go with a couple towels. One for the floor and another 1 or 2 to dry them off (depends on how big your pup is).


*Optional* Place a piece of cotton in each of your dog's ears to keep water from getting in.


Make sure you brush your dog before their bath. Mats and tangles only get worse once they're wet.


Last thing you'll want to do before turning the water on is place some steel wool in the drain hole. This way all their excess fur won't clog your drain and you can simply grab the bunch of fur and throw it out once you're finished.


Let the water run to get warm but not too hot. Think of a temperature that you'd wash a baby in, warm enough so they aren't freezing but not too warm where it's uncomfortable.


Wet your dog thoroughly, all the way down to the skin.


Begin shampooing starting at their neck and gently work your way down their entire dog body including the tail and paws.


Lather up suds around the base of the dog's skull to keep fleas or ticks from running into the ears.


Rinse and dry thoroughly. (very important that you've rinsed all the shampoo off)


Move your doggo out of the tub and onto the towel you've placed on the floor to dry them off completely. Using a hair dryer is optional.


Clean up by unplugging the drain and taking out the cotton from your dog's ears.


And voila! You have a clean, lovely smelling pooch again!
FAQs
What's The Best Brush For A Golden Retriever? 
Since golden retrievers have a long thick coat, it's best to use a slicker brush and pay close attention to detangling/dematting their fur. We looked at over 30 different slicker brushes and felt the best slicker brush is the Hartz Groomer's Best brush.
In total we analyzed over 100 different brushes and narrowed a list down to the best 28 brushes that you can check out here if you want to see more options.
Final Thoughts
There you have it! That completes our list. Hopefully it's made your job as a doggo owner just a bit easier. Shampoo for golden retrievers is important to maintain their beautiful coat and your furry friend deserves the best.
We covered many shampoo options with different scents, different formulas and different benefits, all of which would be great for golden retrievers. It's now up to you to decide which is going to be the best fit for your doggo.
Other posts you might find interesting:
10 Best Dog Beds for Golden Retrievers: 2021 Buyer's Guide