Quick Access To The Best Dog Shampoos For Pugs 👇
So you want to find the perfect shampoo for pugs to make bath time the best experience possible for your little guy/gal. Well, you've come to the right place! We searched the internet far and wide to find the top 10 best shampoo products for pugs.
We know dog moms and dads have a busy schedule and the amount of time it can take to find a great shampoo can be a lot. There are so many options to choose from, how do you know you're getting the right one for your pup?
We did all the research to find the best of the best when it comes to shampoo for pugs and are confident you'll find one that's perfect for your pup on our list.
The shampoos listed below cater to many different needs and preferences that people may have with their dogs' shampoo. With the most important factor being shared in all of them, safety.
Let's dive in to see our best overall shampoo pick for pugs.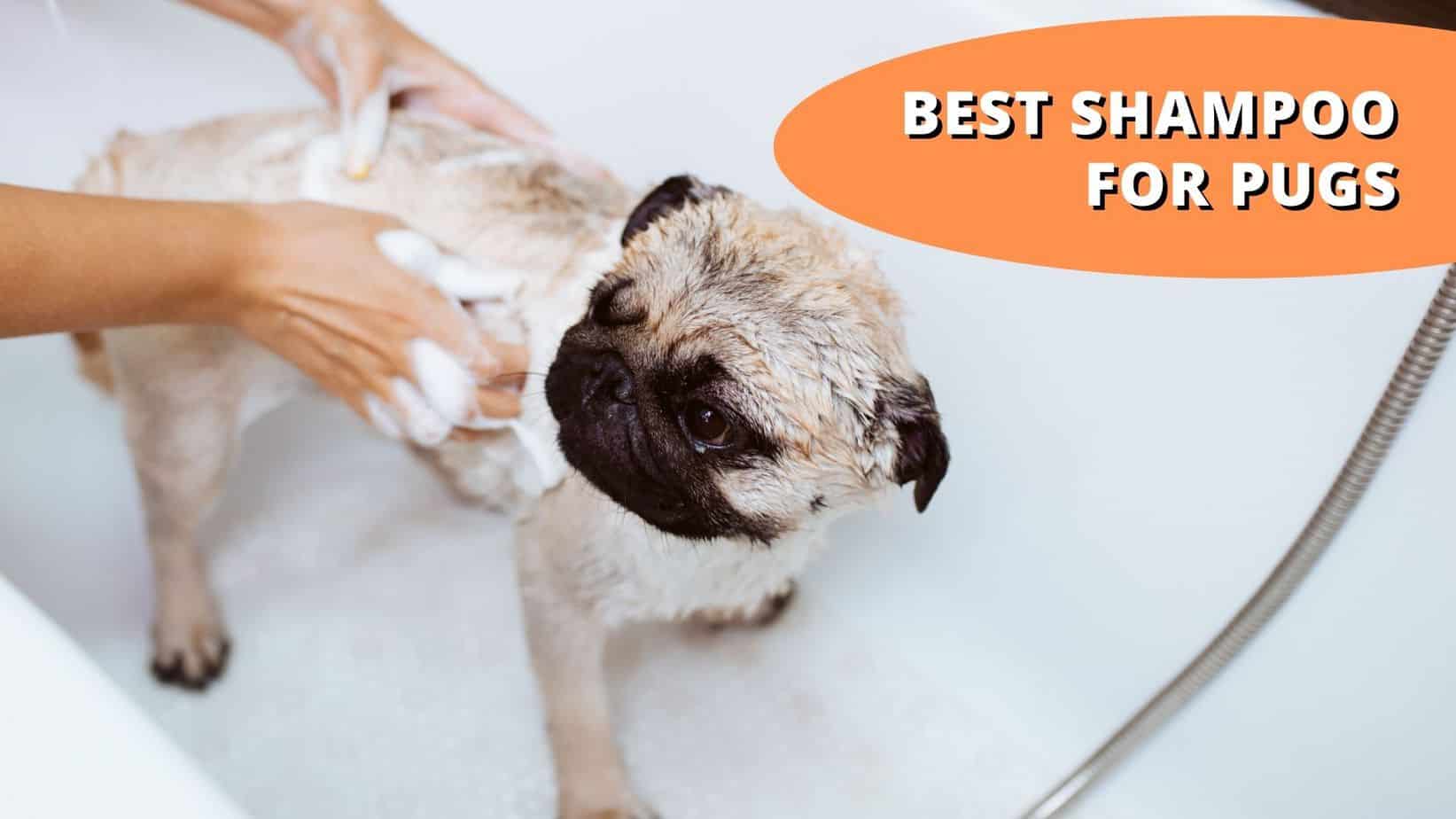 Top 10 Best Dog Shampoos For Pugs
Best Overall: Buddy Wash
The best overall shampoo for pugs in our opinion is Buddy Wash. Keep your dog's coat as healthy as you can without needing to use any harsh cleansers. This shampoo is packed with natural and healthy ingredients. It offers a two-in-one conditioning shampoo that is made with aloe vera, sage, rosemary, green tea, and chamomile to help soothe irritated skin. 
If your pups skin folds are starting to flare up this shampoo can help provide relief in the short term as well as support healing for the long term.
The fresh lavender and mint scent are wonderfully refreshing. After bath time this shampoo will have them looking easy on the eyes as well as smelling easy on the nose. 
It's formulated with a coconut base liquid that makes it completely alcohol-free as well as a wheat protein that acts as a natural deodorizer. This naturally formulated shampoo is gentle enough to be used on dogs of all ages, from puppy, teens all the way up to adults!
Reviews from our source of testers shared that they really liked the scent this shampoo gives off and how gentle it is on their pups skin. Some people liked that it wasn't oatmeal based as their pup was allergic to oatmeal.
The very few negative comments that were shared were mostly about the smell. Some scents are wonderful to certain people while giving a headache to others, and vice versa!
Buddy Wash Key Features:
Gentle for dogs of all ages
Made with pure botanical extracts
Natural deodorizer
Best Runner Up: Antiseptic And Antifungal Medicated Shampoo
The Antiseptic and Antifungal Medicated Shampoo For Dogs is our choice for the best runner up shampoo for pugs. This shampoo tackles many irritations that could be the cause of your pups itchy skin. The company prides themselves on providing veterinary grade ingredients that are affordable for dog moms and dads.
Pugs are more prone to skin issues because of the folds in their skin rubbing together and trapping moisture. This creates a perfect breeding ground for bacteria which can turn into infection or other skin related issues. This shampoos formula is designed to help heal a variety of skin issues like, but not limited to, yeast, fungus, and bacteria.
It has aloe vera and lanolin to reduce itching & flaking as well as promote the healing of your dogs skin. It's 100% safe as it doesn't contain any parabens or soaps. It also won't remove any topical flea & tick treatment previously applied which is a nice bonus feature.
Reviews from testers shared that this shampoo was able to heal a variety of skin issues. Some of their pups were noticeably better with just one use of the shampoo which is remarkable.
Negative remarks were mostly people sharing that the shampoo wasn't able to help their pups skin irritations. However, the amount of people's dogs that did see relief far exceeded the amount that didn't.
Antiseptic And Antifungal Medicated Shampoo For Dogs Key Features:
Provides relief for many skin irritations
Made with veterinary grade ingredients
Provides relief from itching and helps begin healing skin
Best Budget: PetAg Fresh 'n Clean Shampoo
In a pinch but don't want to sacrifice quality? The PetAg Fresh 'n Clean shampoo has your pugs back. Turn bathing and grooming time into a soothing bonding moment between you and your favorite four-legged furball. When they look healthy and clean, it's so much more enjoyable to cuddle them!
Give your dog relief while supporting the natural healing of fungal, yeast, or bacterial skin issues. This specially formulated shampoo is infused with Rooibos Tea extract to provide gentle, soothing relief to their skin and hair. As mentioned before, pugs can have a tendency to get skin irritations more so than other breeds so this is a great inexpensive option to help soothe and heal.
The shampoo uses a mild, soap-free formula that does not contain harmful parabens or dyes. It is suitable for even the most sensitive skin. It also adds antioxidants to fight inflammation.
PetAg Fresh 'n Clean Shampoo Key Features:
Prevents and soothes skin irritation
Supports natural healing for fungal, yeast, and bacterial growth
Moisturizes with olive oil, glycerin, and Vitamin E
Best Under $6: Oster Oatmeal Essentials Shed Control Dog Shampoo
Oster Oatmeal Essentials Shed Control Dog Shampoo is our pick for the best shampoo under $6 for pugs. While pugs aren't excessive shedders, they can still go through phases of shedding and this shampoo will help reduce that while promoting healthy skin.
This shampoo is made with oatmeal, vitamin B5 and safflower lipids. These ingredients help enhance your pup's coat by using essential fatty acids. Plant lipids are compared to healthy fats but for hair. They work to strengthen the foundation, their skin and roots, to make for a softer, healthier coat.
The shampoo is considerably gentle on your dog's skin as it doesn't include any harsh or harmful chemicals in it's ingredients. It's also made in the USA and won't remove any topical flea treatment which is a nice bonus.
Reviews from testers shared mostly positive experiences. From loving the way it smells to how gentle it was on their pups skin, people have seemed to really enjoy using this shampoo.
Oster Oatmeal Essentials Shed Control Dog Shampoo Key Features:
Repairs and enhances fur
Contains no dyes, alcohol or parabens making it gentle on skin
Made in the USA
Other Top-Rated Picks
Earthbath Oatmeal & Aloe Dog Shampoo
The Earthbath Oatmeal & Aloe Shampoo is a well known shampoo brand that is great for pugs that need a general cleaning. Don't let an itchy or smelly pup ruin cuddle time with your lovable friend.
Earthbath dog shampoo offers a totally natural and soothing dog shampoo that's safe for your doggo and smells great. 
This shampoo is formulated so that it soothes dry and itchy skin to provide relief all the while managing the smell of 'dog' we all know too well! Whether your doggo has dry skin or not, this shampoo is still a great choice as it's 100% biodegradable and leaves a lovely scent.
It adds moisture back into your doggo's skin while shampooing without causing any unnecessary irritation. Perfect for sensitive skinned dogs. A great feature of this shampoo is that it won't wash away any flea treatment that has been previously applied.
Earthbath Oatmeal & Aloe Dog Shampoo Key Features:
Gentle cleansing 100% biodegradable
Vanilla and almond scent
Paraben and phosphate-free
4-Legger USDA Certified Organic Dog Shampoo
If organic products are important for you and your furry family, the 4-Legger USDA Certified Organic Dog Shampoo could be a great option for you.
This hypoallergenic shampoo is made with completely natural ingredients like, organic coconut oil, organic lemongrass essential oil, and aloe vera. These ingredients work to nourish your pups skin and provide relief to achy skin if need be.
It's also well known in the industry and used by vets as well as holistic groomers. They use this shampoo for it's natural ingredients and it's capabilities to relieve dry, itchy skin as well as being gentle for sensitive skinned doggos.
Considering this shampoo is USDA certified you can be confident that what you're buying is truly organic. The company that makes this shampoo is so confident that you'll love it, they offer a 30-day money back guarantee. 
We love to see money back guarantees because it shows that the company stands behind their work and put their money where their mouth is.
4-Legger USDA Certified Organic Dog Shampoo Key Features:
USDA certified as truly organic shampoo
Hypoallergenic
30-Day money back guarantee
Burt's Bees Shampoo For Dogs
With the natural soothing that comes from honey, Burt's Bees has been a favorite choice brand of humans for many years. If you've experienced Burt's Bees help your chapped lips, you won't be surprised at how this shampoo can help your doggos skin. 
This all natural oatmeal-based shampoo is no exception and definitely a favorite among the doggo community. Of course, one of the main ingredients is honey. Honey has soothing properties that helps add shine to your doggo's coat and is nourishing for their skin. 
Keep your pupster clean while keeping them protected from pests as the shampoo won't wash away any topical flea or tick treatments they have.
Burt's Bees Shampoo For Dogs Key Features:
No sulfates or colorants
pH Balanced to prevent dry skin
Colloidal oat flour and honey moisturizes and prevents itchiness
TropiClean Papaya & Coconut Luxury Shampoo
There is something about the smell of coconut and papaya that makes you feel like you're on a beach somewhere sipping on a pina colada. Hopefully that doesn't distract you from your pups bath!
The TropiClean Papaya & Coconut Luxury Shampoo and conditioner cleanses, conditions, and moisturizes your dog's skin and fur to safely replenish their natural moisture balance. Perfect to help maintain pugs maintain their healthy coat. 
Work up a lather to rid your adventurous pup of tangles and mats for easier brushing. Even though their hair may be shorter, it can still get tangled and matted. A combo of the right shampoo and proper brushing sessions can help mitigate this as much as possible.
When your tail-wagging doggo is all dry, you'll enjoy the fresh-scented cuddles. Rest assured that this shampoo is safe, pH balanced, soap-free that is free of parabens and dyes.
TropiClean Papaya & Coconut Luxury Shampoo Key Features:
Smells great
Replenish moisture
Relaxes matting
Healthy Breeds Oatmeal & Aloe Dog Shampoo
When it comes to dry, sensitive skin the Healthy Breeds Oatmeal & Aloe Dog Shampoo is a great option for pugs with allergies.
This hypoallergenic shampoo is soap free! It helps restore natural moisture to your dogs skin and coat. Feel safe that your pup won't encounter any harmful chemicals with the ingredients in this shampoo. It's pH levels are balanced perfectly for dogs which means it's well suited for their sensitive skin.
The shampoo is also made in the USA in a federally regulated facility. No need to worry about whether best practices are being used where this shampoo is made. What's also pretty neat is you can customize the bottle to your pug. Simply select pugs from the dropdown menu and the bottle you order will have a cute picture of a pug on the label.
While enjoying its lovely pina colada smell you can rest assured your dog skin is safe after a bath with healthy breeds shampoo. 
Healthy Breeds Oatmeal & Aloe Dog Shampoo Key Features:
Hypoallergenic 
Made in the USA
Provides relief for itchy, scaling and sensitive skin
FURminator deShedding Ultra Premium Shampoo
The FURminator deShedding Ultra Premium Dog Shampoo is a great shampoo if you're looking to reduce the amount of shedding your pup does as much as possible. 
Tackle shedding issues at the root by starting with a shampoo that cares for your pugs skin hygiene. It works to help your dog release loose fur during their bath. This means there is less loss of hair in between baths, which should cut down on excessive shedding. And more importantly, cut down on fur cleanups around the house (yay!).
It's gentle and formulated to help your dog's coat shine with ingredients like Omega-3, Omega-6, chamomile, and Aloe Vera. All of these help keep your dog's skin young and healthy. Don't worry about harsh ingredients like parabens or chemicals, this shampoo contains nothing that is unnatural.
FURminator deShedding Ultra Premium Shampoo Key Features:
Reduces shedding
Enriched with Omega-3 and Omega-6
Paraben and chemical free
How To Keep Your Pugs Coat Healthy
Make sure you brush them frequently. 2-3 times a week.
If you choose to not brush your doggo you'll likely find yourself having to do fur cleanups more often. While pugs don't have an undercoat and have shorter fur than other breeds, they still are prone to shedding. If you brush them a couple times a week this will help keep their shedding under control and limit the amount of cleaning you have to do around the house. 
Consistent brushing also helps spread the oils of their skin which makes for a much more consistently shiny coat.
Use the proper brush for your pug. We'd recommend a bristle brush.
A bristle brush features soft groups of bristles that are usually set in wood or plastic. The bristles are nice for smoothing out their coat and removing dead fur during the shedding season. Since you don't have to worry about tangles and matting a bristle brush will be all you need to collect their fur before it finds its way around your house.
If you're in need of a brush or need a new one, we'd recommend the Bass Brushes Oval Dog Brush. 
Bath time!
Usually people tend to bathe their dogs only when they get noticeably stinky. This is not the best bathing schedule and to keep their hygiene in tip-top shape, it's best to bathe your pug every 6-8 weeks. This will help their skin stay hydrated, healthy and prevent issues like dryness, dandruff, or infection.
Let's take a look at some of the best tips for bathing your pug.
Tips On Effectively Bathing Your Pug
First and foremost, before even getting them in the tub there are a few things that should be done.
One, let the water run to get the temperature to a comfortable temperature. Not too hot, not too cold, but just right (who remembers where that's from? Haha). Think of the temperature you'd wash a baby in. Warm enough so they aren't shivering but not too hot where it would be uncomfortable.
Two, tire them out! Take them for a nice long walk or a run in the park to help them get rid of their pent up energy. This will make it so they have less energy to be a pain in the bum during their bath which makes your job as the bather, just a little bit easier.
Now let's look at tips for during bathtime.
Not every dog enjoys bath time, so be prepared for a possible struggle. Go ahead and grab three towels:
If your pug is small enough, you can bath them in the sink which makes it a little easier on your back. Whether you're using your sink or your bathtub, be sure to have a towel on your countertop or on the floor to prevent slipping when it's time to get out.
Keep your dog from shaking water everywhere and drenching you by draping the second towel over them when they're wet between rinses.
Use the third towel for drying.
Follow these helpful tips for the easiest and best way to wash your dog:
Make sure the shampoo you're using is pH formulated for your dog and not for humans.
Stock a bathing station with shampoo, towels, and everything else you may use during the bath.
*Optional* Place a piece of cotton in each of your dog's ears to keep water from getting in.
Brush your dog before the bath to work out mats and tangles before water mats it down worse.
Put a piece of steel wool in the drain hole to catch excess dog hair before it clogs your drain.
If your dog tends to wiggle too much or dart away, use their leash.
Let the water run to get warm but not too hot. Think of a temperature that you'd wash a baby in, warm enough so they aren't freezing but not too hot where it's uncomfortable.
Wet your dog thoroughly, all the way down to the skin.
Begin shampooing starting at their neck and gently work your way down their entire dog body including the tail and paws.
Lather up suds around the base of the dog's skull to keep fleas or ticks from running into the ears.
Rinse and dry thoroughly. (very important that you've rinsed all the shampoo off)
Move your doggo out of the tub and onto the towel you've placed on the floor to dry them off completely. Using a hair dryer is optional.
Clean up by unplugging the drain and taking out the cotton from your dog's ears.
And voila! You have a clean, lovely smelling pooch again! 
FAQ 
What's the best brush for pugs?
The best brush for pugs is a bristle brush. Bristle brushes are meant for dogs with a shorter coat and that only have a topcoat. It easily glides along your dog's coat to collect the dead fur as well as spread their natural skin oils.
The best bristle brush is the Bass Brushes Oval Dog Brush. We analyzed over 100 different brushes and narrowed a list down to the best 28 brushes that you can check out here if you want to see more options.
Final Thoughts
There you have it! Our complete list of the best shampoo products for pugs. We also covered how to maintain their coat to ensure they have the best chance at long lasting skin health and some tips for their bath.
We're confident that if you choose a shampoo from our list you and your pup will be happy with the results.
Thank you for taking the time to read our post! We hope it's been useful and your pup is just a little bit closer to be squeaky clean.
Happy bathing!
Other posts you might be interested in:
12 Best Harnesses For Pugs | Safe, Secure & Affordable
12 Best Dog Beds for Pugs: Comfortable, Durable & Affordable