Quick Access To The Best Shampoos For Shih Tzus 👇
So your little shih tzu needs a new shampoo. Bathtime has come again and you'd like to find the best shampoo for your special shih tzu.
Well, you've come to the right place! We went ahead and found the top 11 best shampoos for shih tzus.
No need to spend hours scouring the internet searching for the best product for your special pup. We're confident after checking out our list you'll find at least one shampoo that you feel is perfect for your shih tzu.
Let's go ahead and jump right into our best overall pick for shih tzus.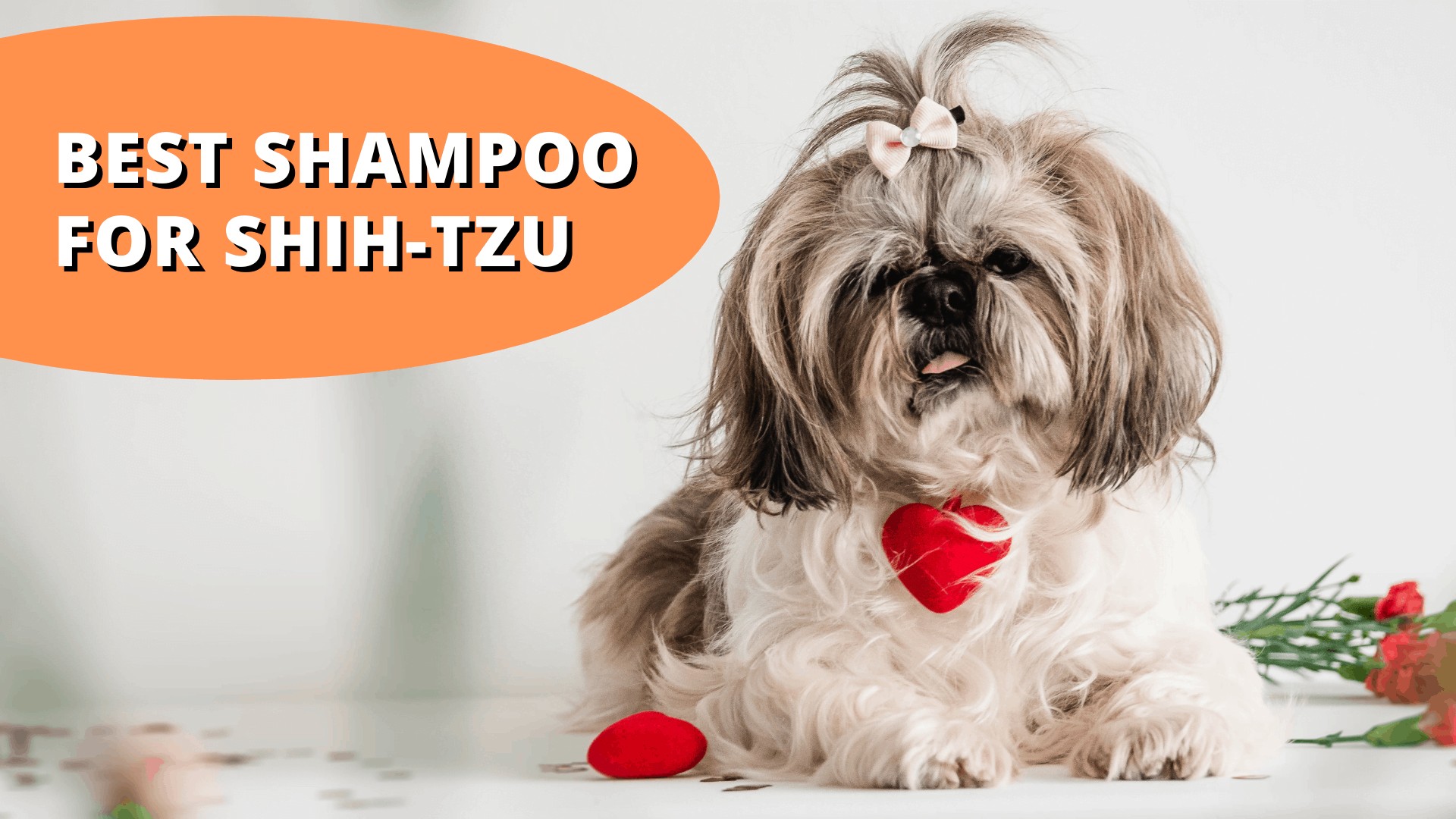 Top 11 Best Shampoos For Shih Tzus
Best Overall: Healthy Breeds Oatmeal & Aloe Dog Shampoo
The Healthy Breeds Oatmeal & Aloe Dog Shampoo is our pick for the best overall shampoo for a shih tzu. Do you find your poor doggo has itchy/irritated skin? This shampoo has oatmeal and aloe formula to help provide relief for itchy, scaling and sensitive skinned pups. It's also soap free which helps restore natural moisture to your dogs skin and coat. No harmful chemicals are used in this shampoos ingredients making its pH perfectly suited for your dog's skin.
The shampoo is hypoallergenic and made in the USA in a federally regulated facility. While enjoying its lovely pina colada smell you can rest assured your dog's skin is safe after a bath with healthy breeds shampoo.
Healthy Breeds Oatmeal & Aloe Dog Shampoo Key Features:
Hypoallergenic 
Made in the USA
Provides relief for itchy, scaling and sensitive skin
Best Budget: Wahl Oatmeal Dog Shampoo
Looking for a rather inexpensive shampoo for your shih tzu? Check out Wahl Oatmeal Dog Shampoo. Get your dog's hair looking great, reduce dryness & itching, and help maintain healthy skin. While shih tzus don't tend to shed excessively they still can shed a bit, especially if their skin becomes unhealthy. 
Shampoo doesn't have to cost a ton of money! This budget-friendly shampoo, made by a brand that professionals trust, does much of the heavy lifting for very little cost. 
It is made in the USA with a pH balanced, alcohol and paraben-free formula designed to relieve irritated skin. The coconut lime verbena scented shampoo keeps skin and fur healthy. When the skin and the fur are healthy, less unwanted irritations show up for your doggo. It's also derived from plants, so for those who are plant-based focused, this shampoo is a nice option.
Wahl Oatmeal Dog Shampoo Key Features:
Alcohol and paraben-free
Dry skin and itch relief formula
Used and trusted by professionals
Best Runner Up: 4-Legger USDA Certified Organic Dog Shampoo
If organic products are important for you and your family, the 4-Legger USDA Certified Organic Dog Shampoo could be a great option for you.
This hypoallergenic shampoo is made with completely natural ingredients like, organic coconut oil, organic lemongrass essential oil, and aloe vera. The shampoo is known in the industry and used by veterinarians as well as holistic groomers to provide relief to dry, itchy or sensitive doggo skin.
Considering this shampoo is USDA certified you can be confident that what you're buying is actually organic. The company that makes this shampoo is so confident that you'll love it, they offer a 30-day money back guarantee. You can use it, bring it to your vet or groomer to get their opinions and if you decide not to use the product you can get a 100% refund. How's that for standing behind your product!
4-Legger USDA Certified Organic Dog Shampoo Key Features:
USDA certified as truly organic shampoo
Hypoallergenic
30-Day money back guarantee
Best Shampoo Under $10: PetAg Fresh 'n Clean Shampoo
In a pinch but don't want to sacrifice quality? The PetAg Fresh 'n Clean shampoo has your back. Turn bathing and grooming time into a soothing bonding moment between you and your favorite four-legged furball. When they look healthy and clean, it's so much more enjoyable to cuddle them!
Give your dog relief while supporting the natural healing of fungal, yeast, or bacterial skin issues. This specially formulated shampoo is infused with Rooibos Tea extract to provide gentle, soothing relief to their skin and hair. 
The shampoo uses a mild, soap-free formula that does not contain harmful parabens or dyes. It's suitable for even the most sensitive skin. It also adds antioxidants to fight inflammation.
PetAg Fresh 'n Clean Shampoo Key Features:
Prevents and soothes skin irritation
Supports natural healing for fungal, yeast, and bacterial growth
Moisturizes with olive oil, glycerin, and Vitamin E
Best Whitening Shampoo For A Shih Tzu: Snow White Shampoo
Keep your shih tzus white fur looking vibrant and bright as opposed to dingy or yellowing without using harmful chemicals like bleach or peroxide. Safely remove stains on their hair without irritating your furry friend's skin with Snow White Shampoo. 
This shampoo gently cleans and deodorizes even the most yellowing or dingiest coat. The ingredients are natural with green tea extract, vitamin E, and pH balanced optical brighteners. You'll also enjoy the pleasant, long-lasting scent with a hint of blue coral and citrus.
Snow White Shampoo Key Features:
Gentle cleaning and deodorizing
No bleach or peroxide
Pleasant long-lasting scent
Best Flea And Tick Shampoo For A Shih Tzu: Adams Plus Flea & Tick Shampoo
Rid your dog of fleas, ticks, and even lice with the right shampoo. This shampoo uses natural ingredients and precor to kill adult fleas, get rid of flea eggs, ticks, and lice. The IGR, Insect Growth Regulator, prevents re-infestation for up to 28 days. 
Soothe your dog's skin and add moisture for healthy skin and hair with ingredients like oatmeal, coconut extract, lanolin, and aloe, while loosening dandruff and dirt. When bath time is done, your dog will smell fresh and clean with a lovely, coconut scent. Who wouldn't want to get close to that!
Adams Plus Flea & Tick Shampoo Key Features:
Fresh scent
Effectively kills fleas, eggs, ticks, and lice
Prevents flea reinfestation for almost a month
Other Top-Rated Picks
Earthbath Oatmeal & Aloe Dog Shampoo
The Earthbath Dog Shampoo is a super soothing shampoo and perfect for a sensitive shih tzu. 
Don't let an itchy dog ruin cuddle time with your furry friend. Yes, dogs can have allergies or skin sensitivities just like humans. This brand offers a totally natural and soothing shampoo that is safe for your pup and smells great. 
This natural shampoo is formulated so that it soothes dry and itchy skin to provide relief while deodorizing. It adds moisture back into your dog's skin while you shampoo without causing irritation. 
One great feature about this shampoo is that it won't wash away any of the flea treatment that has been topically applied.
Earthbath Oatmeal & Aloe Dog Shampoo Key Features:
Gentle cleansing 100% biodegradable
Vanilla and almond scent
Paraben and phosphate-free
Burt's Bees Shampoo For Dogs
With the natural soothing that comes from honey, Burt's Bees has been a favorite choice brand of humans for years, but they also make products that are perfect for your pup. All of the natural ingredients in this oatmeal-based shampoo are no exception and great for a shih tzu. 
Of course, one of the main ingredients is honey, which one would assume considering the use of bees in the product's name. 
Honey is soothing to the skin and helps add shine to your doggo's coat. Keep your pupster clean while keeping them protected from pests as the shampoo won't wash away any topical flea or tick treatments they have.
Burt's Bees For Dogs Key Features:
No sulfates or colorants
pH Balanced to prevent dry skin
Colloidal oat flour and honey moisturizes and prevents itchiness
Buddy Wash
Keep your dog's coat as healthy as you can without needing to use any harsh cleansers. Buddy Wash Shampoo is packed with natural and healthy ingredients. 
It offers a two-in-one conditioning shampoo that is made with aloe vera, sage, rosemary, green tea, and chamomile to help soothe irritated skin. If you're looking for a softer result after bathing, having a 2-in-1 shampoo & conditioner can certainly help with that!
The fresh lavender and mint scent are wonderfully refreshing. After bath time will have them looking easy on the eyes as well as smelling easy on the nose. It's formulated with a coconut base liquid that makes it completely alcohol-free as well as a wheat protein that acts as a natural deodorizer. This naturally formulated shampoo is gentle enough to be used on pups as well!
Buddy Wash Key Features:
Gentle for puppies
Made with pure botanical extracts
Natural deodorizer
Vet's Best Hot Spot Itch Relief Shampoo
When your dog is biting and scratching at their skin, their hair is getting damaged and can fall out as well as get matted in the process. Help alleviate your little pups discomfort with a shampoo that is formulated by veterinarians. It uses tea tree oil, aloe vera, and chamomile. 
All are ingredients proven to soothe irritated skin. It's fast-acting, so you will see results almost immediately. There is no alcohol in the ingredients, so don't worry about your pup experiencing any sort of stinging. You also won't have to worry about washing away topical flea or tick treatments when you use it.
Vet's Best Hot Spot Itch Relief Shampoo Key Features:
Soothes irritated skin quickly
Veterinarian formulated
Natural alcohol-free ingredients
TropiClean Papaya & Coconut Luxury Shampoo
There is something about the smell of coconut and papaya to make you feel like all your cares have washed away.
This luxurious 2-in-1 shampoo and conditioner cleanses, conditions, and moisturizes your pet's skin and fur to safely replenish your dog's natural moisture balance. 
Work up a lather to rid your adventurous pup of tangles and mats for easier brushing. When your tail-wagging doggo is all dry, you'll be able to enjoy fresh-scented cuddles. Trust the safe, pH balanced, soap-free solution that is free of parabens and dyes.
TropiClean Papaya & Coconut Luxury Shampoo Key Features:
Smells great
Replenish moisture
Relax tangles
Qualities To Look For In A Top-Rated Shampoo For Shih Tzus
The most common skin problem that shows up with shih tzus is dry skin. Dry skin can be considerably itchy for your pup and can make them quite uncomfortable.
This isn't 100% certain to occur in all shih tzus but is definitely something to keep in the back of your mind if you notice them excessively itching a certain area. The reason for their dry skin could be one of a few things, such as, food allergy, improper products used on their skin, or environmental allergies.
It could be challenging for you to get to the root of the problem on your own so it's best to consult with a vet and figure out how to help them remedy their discomfort. While a soothing shampoo can help resolve the issue temporarily, it's best to get to the root of the problem for long-lasting relief.
When it comes to choosing a shampoo for a shih tzu there are a few things you'll want to look for. Here are some of the more important qualities you'll want to keep an eye out for when it comes to picking the next shampoo for your pup:
Proper pH Balancing
It's not common knowledge, but dog's skin is much more sensitive than human skin. This means that the products you use on your dog need to have less acidic pH levels in order to nourish their sensitive skin, as opposed to harming it.
*An important note is to not use human shampoo on your dog for the reason stated above.*
Deodorizing
Many people wait until their dog starts to get their trademark 'dog smell' before deciding to give their pup a bath. While we recommend bathing your shih tzu every 2-3 months, getting a shampoo with deodorizing qualities will help keep them smelling fresh longer between baths.
Moisturizing
Dry and itchy skin can be super irritating to deal with, both for humans and dogs. Using a moisturizing shampoo can help soothe your pups skin from bothersome itching & dryness. 
Natural Ingredients
If your shih tzu has sensitive skin you'll definitely want a shampoo made with natural ingredients. Things like oatmeal and aloe are great for sensitive skin and things you'd want to avoid are paraben, sulfates, phosphates as well as other chemicals.
How To Keep Your Shih Tzu's Coat Healthy
1. Make sure you brush them frequently. Ideally 2-3 times a week.
If you choose to not brush your doggo there are a few things that could show up. 
First, and the most common, will be excessive shedding. If you choose not to brush your pup you'll likely see hair showing up more often on your furniture around the house. While shih tzus have hair rather than fur which makes them shed less, they're still susceptible to shedding. If you brush them a couple times a week this will help keep their shedding under control and limit the amount of cleaning you have to do around the house. 
What can also show up is infection. Ungroomed hair can become matted and bunched together tightly which makes for their coat to stay wet longer, when it does get wet. Areas that are warm and wet are common ground for bacteria to grow which can definitely lead to infection.
Consistent brushing also helps spread the oils of their skin which makes for a much more consistently shiny coat.
2. Use the proper brush for your shih tzu. We'd recommend a slicker brush.
Slicker brushes have thin wired bristles that are close together and help get rid of loose hair from dogs with longer hair. If you've left your dog's coat for a little too long or missed a few brushing sessions and are noticing tangles or matting, a slicker brush will help you remove these with gentle care. 
If you're in need of a brush or need a new one, we'd recommend the Hartz Groomer's Best brush. We analyzed over 100 different brushes and narrowed a list down to the best 28 brushes that you can check out here if you want to see more options.
3. Bath time!
Usually people tend to bathe their dogs only when they get noticeably stinky. This is not the best bathing schedule and to keep their hygiene in tip-top shape, it's best to bathe your pup every 2-3 months. This will help their skin stay hydrated, healthy and prevent issues like dryness, dandruff, or infection.
Let's take a look at some of the best tips for bathing your shih tzu.
Tips On Effectively Bathing Your Shih Tzu
Not every dog enjoys bath time, so be prepared for a possible struggle. Go ahead and grab three towels:
Put one towel on the floor beside the tub to prevent slipping and for when it's time to get out.
Keep your dog from shaking water everywhere and drenching you by draping the second towel over the wet dog between rinses.
Use the third towel for drying.
Follow these helpful tips for the easiest and best way to wash your dog correctly:
Tire them out first! Take them for a walk or bring them somewhere they can run around. If they're pooped they won't have the energy to be a pain in the butt during their bath.
Make sure the shampoo you're using is pH formulated for your dog and not for humans.
Stock a bathing station with shampoo, towels, and everything else you may use during the bath.
*Optional* Place a piece of cotton in each of your dog's ears to keep water from getting in.
Put a piece of steel wool in the drain hole to catch excess dog hair before it clogs your drain.
If your dog tends to wiggle too much or dart away, use their leash.
Let the water run to get warm but not too hot. Think of a temperature that you'd wash a baby in, warm enough so they aren't freezing but not too hot where it's uncomfortable.
Wet your dog thoroughly, all the way down to the skin.
Begin shampooing starting at their neck and gently work your way down their entire dog body including the tail and paws.
Lather up suds around the base of the dog's skull to keep fleas or ticks from running into the ears.
Rinse and dry thoroughly. (very important that you've rinsed all the shampoo off)
Move your doggo out of the tub and onto the towel you've placed on the floor to dry them off completely. Using a hair dryer is optional.
Clean up by unplugging the drain and taking out the cotton from your dog's ears.
And voila! You have a clean, lovely smelling pooch again! 
FAQs 
Can I use human shampoo on my shih tzu? 
We would strongly encourage you not to use human shampoo on your shih tzu. The reason being is pH levels in human shampoo are more acidic than that of dog shampoo. Dog's skin is much more sensitive than human skin which is why dog shampoo is made to be less acidic. Many dog shampoos are made with oatmeal and aloe for this reason.
If you must use human shampoo on your dog once then it likely won't harm them, but we strongly discourage making the use of human shampoo on your pup a habit.
How to make shih tzu hair silky?
Much like human hair, there are a few factors that come into play regarding making hair silky smooth. The nutrients going into their body, the daily maintenance and products that are used have a big impact on the quality of their hair.
Put simply, the best way to make your shih tzus hair more silky is to feed them high quality food & treats, brush their hair regularly, and use high quality shampoo & conditioners. While all the shampoos on our list have moisturizing properties to help soothe and heal your dogs skin (which in turn help their hair). The Buddy Wash Shampoo would be our recommendation to help make your shih tzus hair even more silkier.
Final Thoughts
And that finishes up our list of the top 11 best shampoos for shih tzus in 2021!
Picking the right shampoo for your shih tzu is an important decision. We hope this list has been helpful in making that decision a little bit easier.
Go ahead and give that adorable little fur ball their bath!.
Happy bathing!
Other posts you might find interesting:
12 Best Harnesses for Shih Tzus: Features and Frequently Asked Questions