Pawscessories is reader-supported. When you buy via links on our site, we may earn an affiliate commission at no cost to you. Learn more.

---
Quick Picks: The Toughest Dog Toys Around
Pick #1: Goughnuts MAXX 50 Ring. Out of all the toys, the Goughnuts MAXX 50 Ring is our pick for the best toy for aggressive chewing dogs. A tough-as-nails rubber chew ring that has several layers inside. This is the toughest toy on the market.
Pick #2: West Paw Tux Stuffable Treat Toy. This ultra-tough toy can float, bounce, and fly through the air. Plus it has a pocket that can be stuffed with treats for food-dispensing fun!
Pick #3: Kong Extreme Dog Toy Rubber Ball. Kong's legendary black rubber is the toughest around, and this puncture-resistant ball can withstand even super chewers.
Best Soft Toy: Tuffy Ultimate Ring Made with luggage-grade material and several layers of cross-stitch, it's the one soft toy that has a chance against your pooch's teeth.
Best Rope Toy: Mammoth Flossy 3-Knot Tug Rope Made of colorful rope fibers that clean your dog's teeth while he plays. Perfect for tug of war play!
Best Frisbee: West Paw Zogoflex Zisc A flying frisbee made from West Paw's tough, durable material – great when you're sick of your dog breaking apart plastic frisbees when playing.
Continue reading for a list of the 13 dog toys for aggressive chewers with an in-depth review & pictures.
---
If you're here, then you must have a dog that destroys every toy that's ever come into your home. Finding a tough toy that your dog can't shred immediately is very frustrating at times.
This doesn't mean we should deny them from their favorite jaw exercising time! Chew toys are great for dental health, mental stimulation, and anxiety.
Destructive behaviors only come from boredom and under stimulation. That's why we checked out over 60 toys to find the best toys for aggressive chewing dogs.
Give your dog something that will keep them happy and prevent them from chewing your shoes, furniture, hardwood floors, or just about anything that they can get their paws on.
In today's blog post, we're going to be talking about the top, durable dog toys for extreme chewers. 
These dog toys may not literally be indestructible but they're pretty much as close as they come. If your dog is a super chewer and loves ripping apart stuffed animals, sticks, frisbees, and all toys, this list of toys is going to be the perfect for your dog.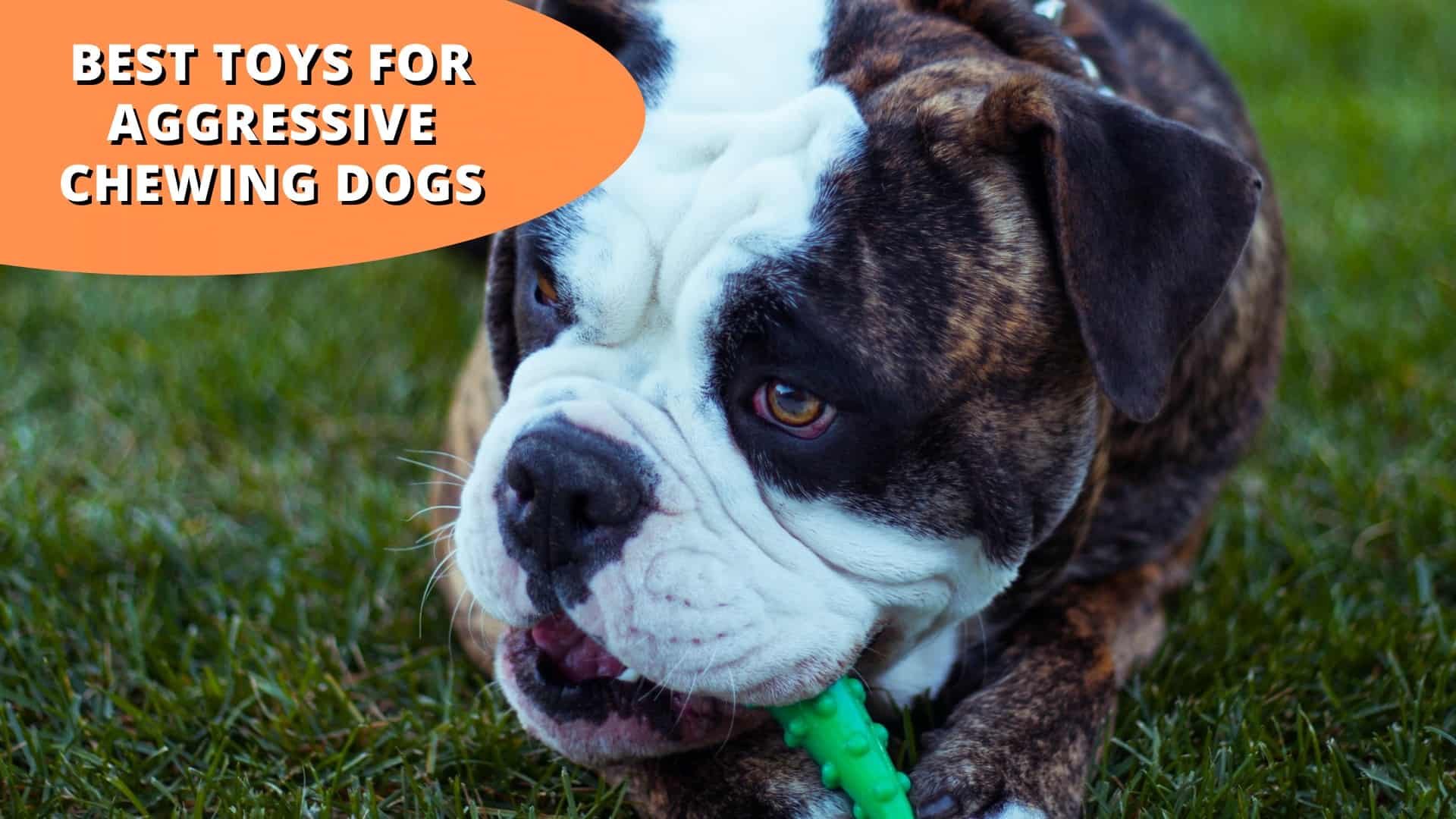 13 Best Toys For Aggressive Chewing Dogs
Best Overall: Goughnuts Indestructible Ring Maxx 50
First on our list is going out to Goughnuts for the Indestructible Ring Maxx 50. If you're done messing around and are ready for the toughest chew toy on the market. You definitely need to check this out.
This toy is not only tough as can be but has a few additional benefits. It has a very helpful safety feature built in as with most Goughnuts products. If the inner layer of red is showing the toy is then considered unsafe to use.

The Ring Maxx has your back with their manufacturer guarantee. If your dog exposes the red inner layer simply send it back for a free replacement. This dog toy works for fetch or solo chewing.
Since this model is made of a thick, heavy and super durable material, this is one of the few Goughnuts toys that does not float.

The biggest thing that people love about this toy is that it appears to be able to take pretty much everything a dog can throw at it. Some dog owners with devil pups mentioned that it has outlasted every other chew toy that they've ever had.
However, looking on the opposite side of things, the biggest downside for this chew toy is that the smell is a little off-putting for some folks for the first few days. But, this odor does go away pretty quickly.
This toy is also a bit pricier than most other toys… But this is definitely a case where you get what you pay for.
Best Runner Up Toy: West Paw Tux Stuffable Treat Toy
Like every single toy on this list, the West Paw Tux is designed for super chewers. Much like the West Paw Zogoflex Hurley, the Tux is a tough and durable toy.
If your dog is food motivated this is going to be a great option due to its treat dispensing feature. The WestPaw Tux floats, bounces, and stores all sorts of treats to encourage your dog to play and engage with the toy.

This toy can be used for keeping your dog stimulated over long periods of time or you can use it to play fetch! The West Paw Tux is easy to clean by simply tossing it in the dishwasher.
As with all West Paw products it comes with a 100% guarantee against dog damage. This toy comes in three colors Tangerine, Aqua Blue, and Yellow.

In a few rare cases, dogs are still able to bust through the toy. However, the vast majority of people don't come across this problem and is why we believe it's still one of the best toys for aggressive chewing dogs.
Best Plastic Bone Toy: West Paw Zogoflex Hurley Dog Bone
This toy is rough and tough for dogs that are extreme chewers. If your dog loves bone shaped toys for solo chomping or for playing fetch then this is one to check out.
One of the awesome features of this dog bone is that it's floatable. This makes it great for playing fetch at the beach or the pool.

As with all West Paw Products it's backed by a 100% damage guarantee. So if your dog destroys the Hurley bone, you get a new one sent to you ASAP. This toy is easy to clean as you can simply throw it in the dishwasher.
Another big concern with most dog owners is safety. This toy is BPA-and-Phthalate-free, non-toxic, and FDA compliant! While many dog owners adore the Hurley bone toys, based on reviews they have shown to not really be "indestructible".
The good news is that they're great customer support will send you a new one if this happens! Just be aware that there are dogs that have totaled these things.
Best Tug Toy: Mammoth Flossy Three Knot Tug Rope
The Mammoth Flossy Three Knot Tug Rope is a durable rope toy with double benefits. It helps clean your dog's teeth as well as keeping your dog entertained! This toy comes in 5 different sizes and lengths depending on your dog's needs.

The material is made of special rope fibers that help stimulate your dog's teeth while they are tugging and chewing away. The cotton blend of colors showcase three different colors woven together for a fun design.
There are a couple of different variations that you can get. The most important thing is to make sure you check the sizes before purchasing as some people have mentioned the sizes being "not what they expected". 
Best Frisbee Toy: West Paw Zogoflex Zisc
Next on our list is the West Paw Zogoflex Zisc Frisbee Toy. The Zisc Frisbee is specifically designed to stand up to your dog's chompers, unlike many other frisbees that easily get destroyed.
This one has a soft texture for your dog's teeth but very durable to keep it in one piece even against the toughest dogs.

Your best interest is at the forefront with this toy as it's backed with a 100% guarantee. If your dog does damage the disk, then you can simply return it to the manufacturer for a replacement.
As with most frisbees, this one also floats so it can be used for water games as well as for your typical day in the park.

The small disc measures 6.5 inches in diameter, while the largest disc is 8.5 inches across. They come in several colors like aqua blue, granny smith, tangerine, ruby and glow (which glows in the dark).
The biggest issue found with this product is that despite its durability some dogs were able to damage it. However, given West paws guarantee that shouldn't be a problem.
Just be sure to supervise your dog and take the toy away if you prefer to avoid damage to it.
Writer's Favorite: Nylabone Dental Dinosaur
Dinosaur dental chew toys are one of my favorite indestructible dog toys for aggressive chewing dogs. They come with three different dinosaur designs.
You can watch your pup wrestle with a T Rex, a Stegosaurus or an Apatosaurus all while cleaning their teeth at the same time.

This toy design is specifically for the toughest chewers! The Nylabone dental dinosaur has rounded nubs and bristles to help with cleaning teeth and controlling plaque and tartar buildup.

This toy only comes in 1 size and is best suited for dogs that weigh up to 50 Ibs. If you are looking for one of the most unique toys on the market then this is going to be the best choice.
Now, the biggest problem we've seen from looking at the reviews is people who say their dogs just don't fancy the toy based on preference. However, that seems to be pretty rare considering the killer reviews from other dog owners.
Other Top-Rated Toys For Aggressive Chewing Dogs
Classic KONG
At some point in your dog owning journey you've probably seen this toy. Kong has rightfully earned its place among the best of the best toys for aggressive chewing dogs.
It's been ranked the number one dog toy by veterinarians, pet owners, dog trainers, and canine behaviorists worldwide! Not only is this a toy that will withstand super chewers but it will also help with mental stimulation, teething pups, and separation anxiety.

The Kong classic dog toy weighs around 7.2 ounces and comes in a variety of different sizes with materials to fit your dog's individual needs.
There are types that serve each unique dog from your average chewer to the most extreme power chewers. The tough build and ability to bounce is what makes this toy a never ending fun for your pup.

Another major benefit is the hollowness of the Kong which allows you to easily fill it with treats. You could even fill it with some tasty peanut butter to keep them busy!
The last thing I will mention is the issue most dog owners mention which is the mess created from their dogs playing with the toy.
Other than a little tidy up after your pup plays with it, it's a great option!
Goughnuts Original Dog Chew Ring
Sometimes your dog isn't in the mood for a fancy design or a variety of cutting edge features. All they want is a solid and durable toy that will last a long time.
Look no further because the Goughnuts Original Dog Chewing Ring is an excellent choice for several reasons. First reason is the ring is able to float and can safely be used for playing fetching both on the ground or in the water.

There's a variety of sizes and colors that makes it really easy for your pup to find it. The Goughnuts original ring is sturdy and built with a rubber that is used for spaceships and aircrafts!
Goughnuts is so convinced that the ring is indestructible that if your dog does manage to chew through the upper layer to expose the red material underneath, the brand will replace your ring for free.

The Goughnuts 100% lifetime warranty is a major selling point for many. Especially since it is one of the more expensive choices on the list.
After looking at the reviews the only major downside we could find was dogs being uninterested in the product which will always be a concern for any toy.
The Kong Extreme Ball Dog Toy
Based on the Kong brand popularity, this is definitely one of the best toys for dogs that like to chew. If your dog doesn't love the bone shaped toys, frisbees, plush toys and instead cannot resist the look of a nice ball.
Well then this is the toy for your pup. The Kong Extreme Ball is nearly impossible to destroy unlike most tennis balls that get ripped to shreds.

This toy can be enjoyed by the dog on their own, or used in a game of catch between you and your doggo.
The Kong extreme ball is available in two sizes and can accommodate dogs up to 65 pounds, no matter how ruthless towards their toy they may be.

The design of the Kong is puncture resistant and promises weeks of uninterrupted fun. This ball is super bouncy and makes for a super fun dog toy.
After looking at the reviews, some of the cons that we have found with this toy are that, as with most "indestructible" toys, a few dogs were able to chew up the ball.
Tuffy Ultimate Ring – Worlds Toughest Soft Dog Toy
The Tuffy Ultimate Ring is a soft toy that's much more durable than most other plush style toys on the market.
It's unique shape is doughnut-like and can be used for fetch, tug of war, and a number of different interactive games for you and your pup to enjoy.
The fabric is made up of a few different layers that makes it one of the most durable toys while also providing a great texture for your pooch.

An additional feature of the Tuffy Ultimate Ring is it floats. You can play with it at the pool or at the beach! It also contains 2 small squeakers that will get any pup excited to play and is easily cleaned using a dishwasher.
Something to note with this toy is the manufacturer actually recommends that it's used for interactive games.

The brand Tuffy ranks it's toys based on a "TuffScale" and this particular toy is rated a nine. This makes it one of the best toys for aggressive chewing dogs.
The biggest issue we discovered in the reviews was in regards to the two squeakers, a few owners found it to be annoying at times. This is one of the reasons it's more recommended for interactive play.
Goughnuts Indestructible Stick MaXX
If your pup prefers sticks and bones this may be the perfect choice for them. Instead of the more popular options that are shaped more like a ball, a doughnut, a rope etc.
This one actually resembles a bone or a stick. No matter the size of your dog, they will love The MaXX Stick as it's made from supremely durable materials and comes in a variety of sizes.

As with most Goughnuts products this includes its red visual safety indicator letting you know exactly when the toy needs to be replaced.
It also comes with amazon's 100% money back guarantee and Goughnuts lifetime warranty should your dog break through the toy.

The material used to create the MaXX Stick is a type of rubber that is used by astronauts! In fact, this product is used by police canine departments around the world.
Canine handlers won't gamble with their dogs' safety by using inferior toys. That means you can be confident that the toy MaXX Stick is one of the best toys for dogs that like to chew on the market.

The biggest issues we found were the large size which may make it inappropriate for smaller pups and it's price tag. However, you can't get a toy that is this durable without spending a bit of money so it's higher price tag is expected.
Petstages Dogwood Chew Toy
If your dog loves sticks more so than balls, frisbees etc… then this is going to be the pick for you. In most cases sticks are hardly the most durable toys.
I mean, practically every dog will chew through a stick in no time and leave a big mess all over the place. The Petstages Dogwood is built to withstand the destruction that typical sticks, plush toys, and other types of dog toys go through.

This is a great alternative for dogs that love this style of toy. BUT, also in a way that's durable, that's not going to make a mess, and is going to last a long time.
This is a toy designed as closely as you could get to real wood. The Petstages Dogwood comes in four sizes from petite to large. The chew toy is flavored with a real wood sensation for your dog's interest or you can opt for the delicious barbecue flavor.

No toy is truly indestructible and that was mentioned in some of the reviews as the main complaint.
Kong Extreme Goodie Bone
If your dog loves bones then this toy could become their new best friend! The Kong extreme Goodie bone is a durable, tough, and attractive toy for your pup.
It's made of a strong natural rubber and has small holes in order to stuff treats inside. The holes contain "goodie grippers" to make it more difficult to retrieve the treats.
These serve as a great mental and physical stimulation. If your pup is food driven this is going to keep them busy for hours!

There are 2 sizes, medium for dogs 15-35Ibs, and larger for dogs 30-65Ibs. The biggest issues we found with this toy from the reviews was the flimsiness of the toy.
It seems to be less durable than some of the other Kong products so take that into consideration before buying.
Finding the Best Materials For Indestructible Dog Toys
When looking for heavy duty dog toys, you need to select one that has the proper materials. One that's going to be able to withstand excessive chewing from the most extreme super chewers.
However, you also want to make sure that the material is safe and isn't going to harm your pup.
Below you'll find a list of ideal materials for aggressive chewing dogs. You'll also find some materials that you might want to consider avoiding.
Ideal Materials For Power Chewers
When looking at thick rope materials, rope is a great material for aggressive chewing dogs. Rope toys are very durable, strong, easy to clean and relatively safe.
If your dog does end up ripping apart some strands of rope, it's not likely that it will send them to the emergency room. Most rope toys can double as a tug of war toy providing fun for canines and their owners.
Also, they make for an extremely resilient toy that typically won't break apart very easily.
Materials To Avoid For Super Chewers
Squeaky toys are a ton of fun for dogs, but the risks are just too high for tough chewing dogs. Rough dogs can typically tear right through them.
Even if they're considered an indestructible squeaky toy. For the most part, they're not going to be as strong as the types of materials listed above. So these are typically ones that you would want to avoid.
One big issue with squeakers is if the toy does get destroyed. If this happens the squeakers can be something that your dog eats which is not something you'd want.
However, these toys are acceptable for interactive use. By watching your dog closely and making sure they're never alone with the toy, this will ensure their playtime is safe.
Plush and fleece toys are next on this list as they usually come with a lot of destruction. Most fleece toys or plush toys have a fluffy internal stuffing. And if/when your dog opens them up, it can make a mess and definitely isn't good for your them to eat.
However, in some cases there are toys that are created without internal stuffing. In these more rare cases the may be filled with tough fibers which would be considered less hazardous.
The last thing to look at is latex or vinyl toys. Again, these toys are often very cute like plush toys, but they aren't durable enough for aggressive chewing dogs.
When dogs bite through these toys, they can create sharp edges that will harm your dog's mouth, gums and can create extreme discomfort for them.
We hope our list of the best toys for aggressive chewing dogs helped you find the ultimate toy for your pup!
Other posts you might find interesting:
12 Best Chew Proof Harnesses: What Makes a Dog Harness Indestructible
9 Reasons Dogs Follow You To The Bathroom