Pawscessories is reader-supported. When you buy via links on our site, we may earn an affiliate commission at no cost to you. Learn more.

---
Quick Access To The Best Harnesses For Bulldogs 👇
Bulldogs are one of the most popular dog breeds in America. They're playful, strong, and full of personality! But sometimes they can be a handful.
Considering bulldogs are super strong dogs, you'll want a great quality harness to give you more control making their walks more secure and safe.
A good harness will help control your pup when they pull on the leash or find things to run after.
What do you need to know about the best harness for bulldogs? In this post we bring you 12 of the best harnesses for bulldogs.
We looked through dozens upon dozens of the different harnesses available and boiled down what we feel are the best to just 12.
It can be challenging to find the right harness for your dog. You want to make sure what you're getting is good quality so your pup is safe on your walks.
No one likes buying something only to find out that it's crummy/not usable when they get it in their home.
We're confident that if you choose any of the harnesses on our list that both you and your pup will be happy with the result.
Take a look at our list and see which one is the right choice for your specific pupster.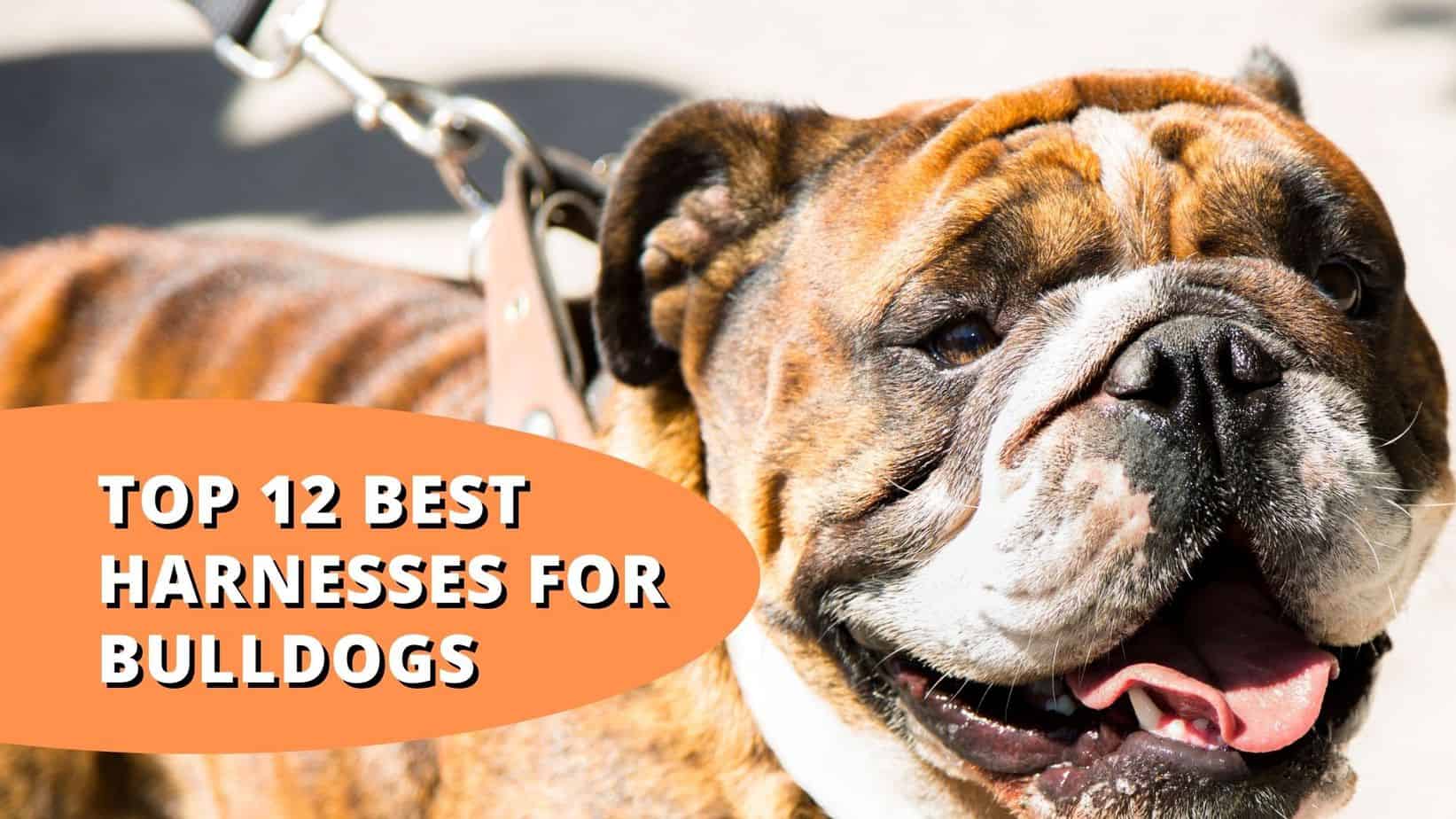 Top 12 Best Harnesses For Bulldogs
Best Overall: The Julius-K9 Harness
The Julius-K9 Harness is our pick for the best overall dog harness for bulldogs. We even might go as far to say it's the best bulldog harness on amazon!
With its premium quality materials it's the perfect choice for an adventure.
Whether you're heading out on your next excursion or just going for one of your daily strolls you can feel confident your pup is comfortable, safe, and secure with this durable harness made in Europe.
The interchangeable hook & loop patches give your dog plenty of options to match their mood or personality (or is it just my dog that has sassy moods).
It's got you covered at any time of the day with its reflective edges and chest strap to give added visibility at night or during bad weather.
The adjustable front straps help fit any size pup, large or small, while the breathable inner liner keeps them cool as they run all day long.
Reviews from testers share how it's been the perfect harness for their big dogs. Many of which are bulldog owners that say it's a sturdy and reliable dog vest.
Over 13,000 people have purchased and reviewed this harness and 86% of people gave it a glowing 5 star review.
That's not easy to do once you have multiple thousands of people reviewing a product.
Julius-K9 Harness Key Features:
Sturdy & made of high quality materials
Designed for increased visibility & safety
Built to last while being friendly to your dog's skin
Best Runner Up: The Bulldog Grade Harness
Meet your dog's new best friend. The Bulldog Grade Harness is our best runner up pick for bulldogs and are not only stylish and comfortable, but they come backed with a 1-year warranty!
This harness can be adjusted to any size of doggo. From young pup to adult American, English or French bulldogs so you'll never have to worry about getting another harness.
With both the restraint strap around the belly or the back of their neck, your strong bulldog won't be getting away anytime soon.
Because all Bulldog Grade Harnesses are made from thin but durable oxford cloth/mesh fabric that is secured with buttons in strategic places, bulldogs can continue running, walking, sitting down or lying down without having constricted movement!
Based on the response from testers of this harness many people appreciate that it was built by a bulldog owner for bulldog owners.
Many shared how it fit their bully perfectly and liked how stylish it is!
Bulldog Grade Harness Key Features:
Built by bulldog owners for bulldog owners
Easily adjustable and simple to get on and off
Allows for unrestricted movement while also being escape proof
Best Budget: The PAWABOO Dog Harness
The PAWABOO Dog Harness is a budget-friendly harness great for walks with your bulldog to provide a safer and more comfortable experience.
With a variety of styles available, this product can satisfy almost any cost-considerations desired.
The breathable mesh, easily adjustable straps, and sturdy D-ring are all features that make this harness perfect for bulldogs.
It also includes reflective stitching for increased visibility when it's dark outside.
This affordable, functional harness is one of the less expensive options out there and adjusts to fit just about any size.
PAWABOO Dog Harness Key Features:
Reflective visibility
Durable, comfortable, breathable fabric
Adjustable buckles
Best Under $5: The Forestpaw Mesh Padded Dog Vest
The Forestpaw Mesh Padded Dog Vest is an exceptional choice for bulldogs. It's competitively priced and has all the features you are looking for in a quality harness.
Even though it's been handcrafted from air mesh fabric, soft canvas, and beautiful rhinestone studs–all of which are durable materials–they offer a 100% money-back guarantee.
So need no to worry about looking great while holding onto your little (or maybe not-so-little) friend for years to come!
All accessory connections, regardless of size, are made from strong and durable metal that will hold up for a long time.
Choose the small vest for dogs with 18-20 inch chests or the large vest for more substantial pups with 20-24 inch chests.
Forestpaw Mesh Padded Dog Vest Key Features:
Budget-friendly
Comfortable
Adjustable
Other Top-Rated Picks
The Kurgo Dog Harness
This adventure harness is perfect for your pup who loves the outdoors! The 4 adjustment points and padded chest plate ensure it can provide a near-custom fit for all sizes and shapes of dogs.
The Kurgo Dog Harness comes with a V-neck design to keep doggos in motion comfortable when it's being worn and is also equipped with 10″ lead that snaps into any seat belt.
The result of this combo is no more doggo-induced distracted driving as well as never having to worry again about their canine companion's safety on the open road.
Combine that with its steel nesting buckle system and back handle knob for a more secure attachment, this is one of the best harnesses you can buy for bulldogs!
Kurgo wants both you and your pup to enjoy every step of your adventures together, so they designed this no-pull harness with durability, comfort, and practicality in mind.
Kurgo Dog Harness Key Features:
Great for walking, running, camping, hiking
4 adjustment points and padded chest
Includes 10-inch lead for seat belt attachment
The Mighty Paw Sport Harness
The Mighty Paw Sport Harness is a well-made harness gives you all the control and allows easy attachment when used.
The super sturdy construction is tough enough for training sessions yet gentle on your bulldog during walks, discouraging pulling without harming or causing discomfort.
The reinforced webbing evenly distributes pressure to discourage excessive pulling while maintaining a steady grip with consistent distribution of weight so it doesn't harm your pup.
On long car rides, keep your pup from distracting the driver with a harness that loops through the seatbelt.
When the days start getting shorter and darker, it's made of high-visibility materials so that your four-legged friend lights up and becomes more visible.
It's important that a dog vest is easy to put on, is durable but gentle on the animal's neck and back, and has features like night visibility.
And of course, it must be stylish! Thankfully the mighty paw sport harness has all this covered.
Mighty Paw Sport Harness Key Features:
Reflective stitching
Adjustable strap
Comfortable and breathable
The Rabbitgoo Harness
Does your pup get a little too excited when the leash comes out? Does your dog pull hard in an attempt to get closer to other dogs or people?
The Rabbitgoo Harness is a fully adjustable, reliable no-pull vest is made especially for dogs of all shapes and sizes.
You can attach the front or back metal ring to whichever hand feels best and never have to worry about your dog choking when wearing a leash and collar again.
… Before they take their first steps. Don't forget to customise the straps before you fit it for your dog.
It takes a few seconds and will make sure that there is no pulling or tugging on the dog's neck so that they can still walk without feeling constricted.
The thin, adjustable straps are a wonder for new adventures. With fasteners that make sure your four-legged friend is never uncomfortable, this harness will surely be a hit.
Rabbitgoo Harness Key Features:
Dual ring setup
Fully adjustable
Easy on-and-off design
The Didog Multi-Use Escape Proof Harness
The Didog Harness is designed to guard against escape while still being comfortable.
The design makes use of a chest strap that balances the weight, and side straps tighten beneath your dog's belly.
Comfortable foam guards against chafing at all points of contact with your pet's skin.
Bulldogs are notoriously difficult to control on walks, and so it's important to choose the right harness for a well-matched fit.
One of the reasons that this particular harness is among the best is because it has plenty of unique details which cater to a range of different bulldog sizes while making it nearly impossible for them to escape from.
Along with its hidden top handle and D-ring, you can attach your leash or tether your dog for safety.
Didog Multi-Use Escape Proof Harness Key Features:
Durable air mesh
Designed for escape artists
Adjustable multi-point straps
The Chai's Choice Harness
The Chai's Choice Harness is a stylish, yet safe harness with safety features for traveling.
Not only is this dog vest phenomenally durable but it offers two points of attachment.
This gives you the ability to create a range of different fitting arrangements depending on your dog's size and shape.
It's ergonomic design ensures quick and easy harnessing on and off as well as comfortable mesh lining that won't irritate your pups skin.
This harness features reflective material for added safety at night when you are out with your pup.
The visibility of the materials keeps them protected in dim or dark conditions, and it is effective at all hours of the day.
Chai's Choice Harness Key Features:
Dual ring setup
Ergonomic design for easy on-and-off
Sturdy handle for extra control and seatbelt use
The RUFFWEAR Harness
The RUFFWEAR Harness is a great choice for bulldogs. The 29 leash points, which are designed to contour the shape of a bulldog's body, make it comfortable and stylish.
The harness has 4 points of adjustment and an aluminum V-ring for relaxed walks.
It also includes a reinforced webbing loop to redirect your furry friend if you're pulled too hard while walking or running.
It has a foam padded construction that makes it comfortable to wear for long periods of time, whether they're playing or just lounging around.
It's the perfect summer and winter accessory – with this harness, your pup is definitely going to be the talk of the dog park!
It also has a reflective trim that is great for low light conditions. Bonus!
RUFFWEAR Harness Key Features:
4 points of adjustment
29 different leash attachment points
Reflective features
The Puppia Soft Dog Harness
With a 100% polyester design that's waterproof, The Puppia Soft Dog Harness is the perfect harness to keep bulldog pups from running away.
The fabric is ultra-resistant to mud, dirt, and doesn't absorb water like traditional fabrics. This ensures that bulldogs will be comfortable no matter how many drool stains cover this harness!
These harnesses will keep their strong, independent bulldog safe and secure. The breathable soft padding in the neck means they can enjoy exploring without worries of discomfort.
The adjustable chest belt makes it easier to control the pup. No longer will you have to struggle for control during walks.
Since this comes from a company with a reputation for care, your pup will enjoy walking more than ever before.
Puppia Soft Dog Harness Key Features:
Breathable soft padding
Doesn't chafe
Simple to put on
The BABYLTRL Big Dog Harness
Who let the dogs out? The BABYLTRL Big Dog Harness does!
With its ultra-soft mesh fabric and a sturdy, lightweight design this harness is perfect for larger breeds at any stage of life.
The adjustable straps ensure a custom fit.
Plus, there's two D-rings: one on the front where you can attach your leash to discourage pulling and one on the back which makes long walks with your pup more comfortable.
The locking buckles with added features help create an even distribution of force throughout their body.
This makes it so your dog is never choked or hurting while in this snugly fitted harness as they're out chasing after their favorite toy!
BABYLTRL Big Dog Harness Key Features:
Front & back clip
Evenly distributed pressure to prevent choking
Easy grab handle for extra control if needed
Collars Vs. Harnesses
Bulldogs are considered a brachycephalic breed. Which is a fancy word for a breed of dog that has a shortened face/snout which gives them more troubles with breathing than other breeds.
This means collars are more harmful to bulldogs because of the added pressure to their neck.
While this pressure isn't good for any breed of dog, since bulldogs already have more challenges with breathing it compounds this issue.
If too much pressure from pulling is placed on their necks it could cause long term negative effects on their airways making their breathing patterns even worse.
Harnesses on the other hand distributed pulling pressure along a dog's chest.
This means no extra force will go on their throat when pulling happens and won't harm their airways.
There's also harnesses that have leash attachments in the front that help discourage dogs from pulling which helps train them to walk politely.
As long as the harness you're using on your bully isn't causing them any skin irritations and they aren't able to escape from it, there really isn't a reason to use a collar as opposed to a harness.
Qualities Of A Great Harness For Bulldogs
The first quality you want in a dog vest is that it's easy to put on. Being able to take your pup quickly out in public, without having the hassle of putting on a harness and leash, is worth its weight in gold.
Second on the list for consideration is visibility.
Whether you're walking your dog at night or early in the morning, you want to make sure that they can be seen so they stay safe and don't get accidently ran into by other walkers who aren't paying attention!
The third important factor is comfort. A pup might get stressed out if they have an uncomfortable experience every time they go for a walk or potty trip.
Walks are meant for bathroom breaks but should also be enjoyable for your pupster!
Final Thoughts
There you have it! The top 12 best harnesses for bulldogs in 2021. I hope you found this post helpful and informative.
It should take a lot of consideration when it comes to picking a harness since you'll likely be using it everyday. With so many options available online it can be challenging to know if you're buying the right one.
We believe that any harness on our list will make both you and your doggo happy.
Happy walking!
Other posts you might find interesting:
12 Best Dog Shampoos for Bulldogs: The Ultimate Buyer's Guide