Pawscessories is reader-supported. When you buy via links on our site, we may earn an affiliate commission at no cost to you. Learn more.

---
Quick Access To The Best Brushes For Goldendoodles 👇
*Ratings are from Amazon at the time of publication and can change.
One of the most downright adorable furry coats on a dog, hands down, or should we say paws down, belongs to the Goldendoodle.
With all of this potentially long hair from the Golden Retriever side and wildly curly hair from the Poodle, Goldendoodle owners take pride in showing off their dog's lovely locks.
But, all of that curly fur that makes you want to run your fingers through when you see it, requires understanding as to how to care for your Goldendoodle's fur coat.
You will need to start with some top comb and brushing tips as well as discovering the best brush for a Goldendoodle.
The good news is that many are easily found on Amazon and can be quickly shipped right to your doorstep. Let's take a closer look at how to groom and care for your Goldendoodle's curls with these helpful insider secrets.
This hybrid breed typically has one of three types of coats that include:
Low-maintenance wavy fur that is a lot like human hair. The longer the coat of fur, the more grooming is needed.
Beautiful curly locks of fur from their Poodle side to contend with that can quickly become a tangled mess.
A coat of fur that is wooly. Wooly puppies don't require much grooming, but that will change as they grow into a full-grown dog.
While they won't leave clumps of fur everywhere they sit like some breeds, Goldendoodles do require regular grooming through brushing, washing, and an occasional trim.
Check out the following choices to find the best brush for your Goldendoodle, all of which are available on Amazon.
Let's dive in.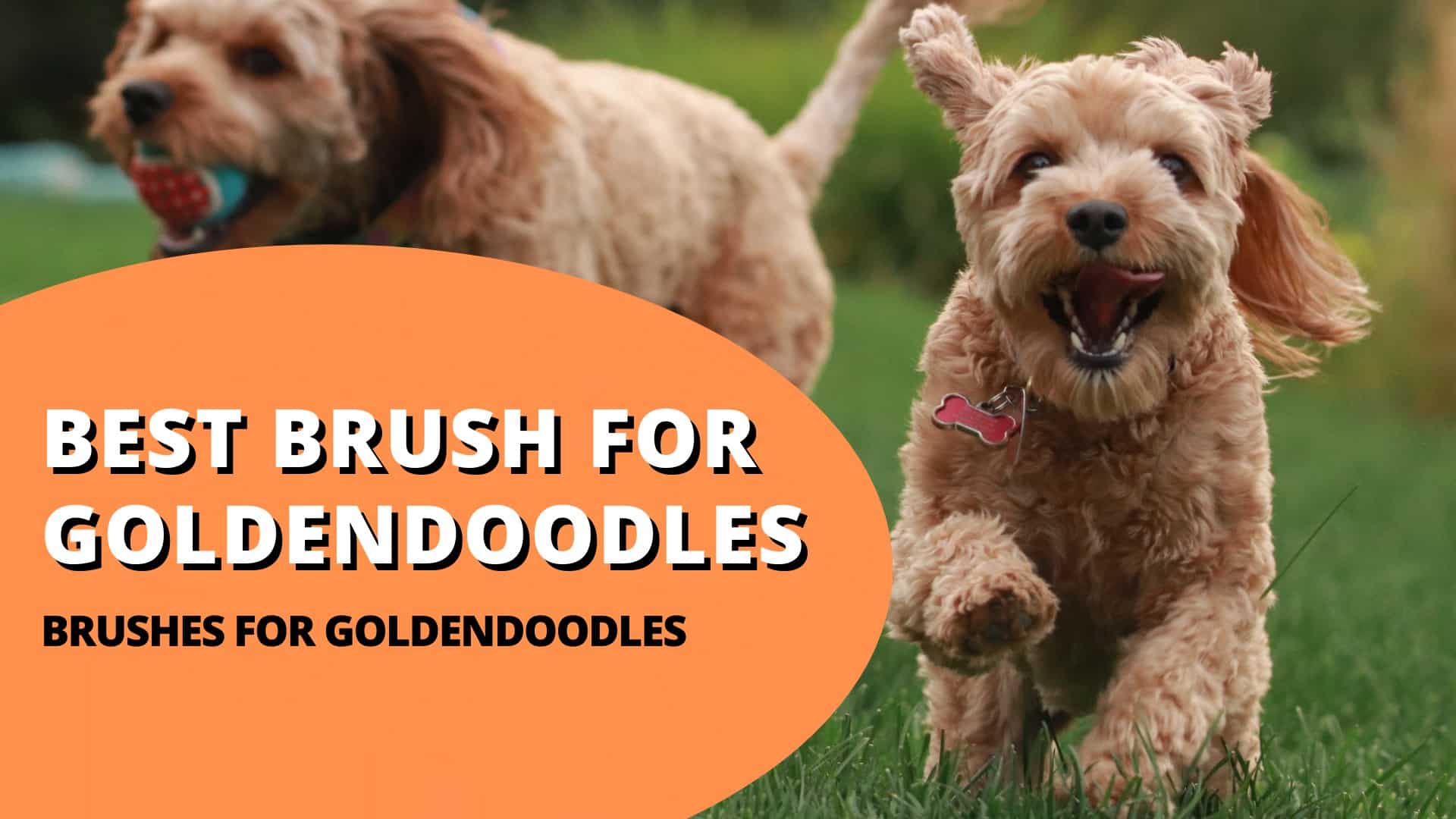 Top 10 Best Brushes For Goldendoodles
Best Overall Brush For A Goldendoodle: The Doodle Brush
Brush your furry family member's curly, wavy, or wooly coat with fewer hassles. Grooming a Goldendoodle requires tackling the tangles and the mats as well as brushing out the tips of the hair.
This brush helps make every step of the process easy which is why we've labeled it our pick for the best overall brush for a Goldendoodle.
Designed for poodle hybrid dogs, The Doodle Brush tackles their coat of fur with long, curved pins that glide through tangles and matting.
The brush has a flexible head that makes the process more comfortable for your dog and creates less snagging. Brush with one side until it becomes filled with fur, and then simply switch to the other side to continue brushing.
Best Budget Brush: Self Cleaning Slicker Brush and Metal Comb
The good news is that you don't have to spend a ton of money on grooming products. This budget-friendly brush and comb kit provides you the convenience of using a professional pet grooming brush at home.
Besides saving money, the best part of this budget brush is that it comes with a metal comb for tackling tangles in the undercoat.
The handle is slightly bent so you won't lose your grip while brushing hard-to-reach areas. In between brushings, use the self-cleaning button on the slicker brush to remove the residual hair stuck in the brush.
Best Runner Up: Double-Sided HOP Dog Brush
Wooden brushes are great for a more natural brushing that helps to absorb the dog's natural skin oils and distribute it throughout the hair. It's a two-in-one grooming brush.
This HOP Home of Paws brush is double-sided to help remove loose hair, detangle, and smooth out the entire coat of fur regardless of what specific type of hair your Goldendoodle has.
The pin brush side gently massages your dog's skin to remove tangles, while the boar hair bristle side gently brushes out the length to make your dog look great.
The ergonomic handle helps you keep a steady grip with support pads that make it comfortable for you to keep brushing.
Best Brush Under $10: JW Pet Company GripSoft Slicker Brush
Don't rush out and spend a fortune on the first brush that touts amazing results. Find this brush for just under $10 on Amazon. This JW Pet Company GripSoft Slicker Brush delivers a lot for its price.
It is designed to gently get to the root of tangles or matting with a soft grip handle that keeps it from slipping out of your hand. The teeth on the brush are turned 90 degrees away from the skin to prevent raking your pet's skin.
Best Soft Brush: Hertzko Soft Pet Brush
Get to the root of tangles before matting sets in with this pet brush perfect for Goldendoodles. The bristles gently remove tangles, dander, and trapped dirt.
The soft and gentle plastic bristles glide through the dog's hair for beautiful results you will want to show off on your next walk.
Underneath that head and body full of gorgeous Goldendoodle fur, is skin. The gentle, soft design of this brush won't damage or scratch their sensitive skin.
The brush grooms and massages, which increase blood circulation which will help make your dog's coat look even shinier.
Best Self Cleaning Slicker Brush: Premium Self Cleaning Slicker
While Goldendoodles are not prone to shed, there is still going to be some fur that comes loose during grooming. Where does all that fur end up? In the bristles of the brush.
That's where a self-cleaning feature is a dream to make the after grooming cleanup process a breeze.
This premium self-cleaning brush has a wide brushing head that effectively removes mats, tangles, dirt, and any loose fur or fur that is loosened during the process, and it only takes about 5 seconds to clean it when you are all done or in between tangles.
Quickly and easily push the button, wipe, and the brush is clean and ready to keep grooming.
Best Dematting Tool Brush: RUBOLD Dematting Tool Brush
Matting is the main issue for Goldendoodles when it comes to maintaining a well-groomed feel and look. However, whenever you are trying to get rid of a mat or tangle, you risk scraping your dog's skin.
This dematting tool brush takes the worry out of accidentally scratching or causing pain during dematting. It makes it safe, gentle, and easy to get rid of matting.
Don't worry about scratching your pet's skin or causing them pain while detangling. It gently and precisely goes to the root of the issue with nine sharp teeth for tackling stubborn mats and tangles.
Seventeen finishing teeth then rake the undercoat without hurting your dog.
Best Stainless Steel Brush: Paw Brothers Stainless Steel Brush
Enjoy at-home brushing sessions with your Goldendoodle with this large stainless steel brush. The brush features rounded corners so you don't have to worry about catching stray fur.
PAW Brothers designs its products with one focus of providing exceptional pet grooming supplies at an affordable price. And, they were quite successful with this brush.
Get a complete grooming experience all in one brush. This is a slicker brush that also has long stainless steel pins designed to get deep into the coat to eliminate tangles without harming your pup.
The grips make it easier for you to maintain a firm grip without slipping while you're precisely combing out a tangle near the skin.
Best Slicker Brush: Chris Christensen Big G Slicker Brush
Fluff curly coats while also getting rid of mats and tangles with this one Big G Slicker Brush perfect for Goldendoodles. Groom your dog with confidence knowing that you are using a brush with 40% more pins than some other brands.
The long pins penetrate deep into long coats and are specially designed to bend while brushing to create a lift in the dog's beautiful coat.
The flexible cushion on the brush is gentle. The ergonomic handle is for you so that you don't have to suffer from arm or hand fatigue while brushing and detangling your dog's long curls.
Best Detangler: BioSilk For Pets
Eliminate the painful grooming sessions that tangles bring on by using a detangler spray beforehand. You can brush your dog's fur as much as you like, but if it becomes tangled it's going to create challenges.
You can also choose a conditioner on Amazon and add Moroccan Oil with water to make your own detangler formula.
How To Prevent Goldendoodle Matting
Let's face the fact that curly hair is more susceptible to tangling which leads to matting. That beautiful fur on your Goldendoodle is going to require some special care to make sure it doesn't clump together and become matted.
Matting occurs in the fur when the topcoat, undercoat, or any loose hair in between gets tangled and left to clump and mat.
If a small matted patch of hair is left unattended, it can turn into a painful issue for your four-legged curly fur ball. Matting can occur from something as simple as petting your Goldendoodle.
So, the matting is going to happen with every Goldendoodle since their hair is irresistible. The trick is knowing how to keep the matting from getting out of control.
The main tip to prevent matting is to brush them, and brush them a lot. Also, hold off on that bath if you spot mats starting to form. Getting the fur wet will only make the matting worse.
Brush out tangles starting from the dog's skin with a careful motion outward toward the tip of their hair. Be sure to tackle matting from underneath and not just touch the surface of the hair leaving painful mats hidden.
Some common places that matting occurs are behind the ears, along the hips or outer thighs, the sides of the stomach, the base of the tail, and where the legs meet the body at the armpits and joints.
Top Tips On Brushing Your Goldendoodle
To keep that adorable furball of a loyal friend groomed, you will want to know some insider secrets about properly brushing your Goldendoodle.
For starters, you will want to have your Goldendoodle professionally groomed every six to eight weeks. In between these sessions, you will need to brush your dog's fur frequently.
Make it a habit to sit and brush every day to keep mats and tangles at bay. Follow these helpful tips on how to brush your Goldendoodle.
Brush your dog regularly, gently, and carefully from the skin out to the tips of the hair. This is the best way to keep the fur mat free.
Before bathing your Goldendoodle, spray on a leave-in conditioner. Let it work itself down into the fur for several minutes, and then rinse it off. Towel dry, leaving your dog's fur slightly wet, and then it's bath time.
Keep in mind that any pet shampoo or conditioner that you use while bathing, which is not intended to be left in the hair, must be completely washed out when you are done.
Any residue left behind can cause clumping at the roots that will make grooming seem challenging. Also, never leave a Goldendoodle's fur wet to dry on its own. Always brush your dog after the bath.
Start your brushing sessions by first finger combing through their fur to check for tangles and mats...
If you find one, address it before you start to brush their entire furry coat. Once you can run your fingers through their fur, it's time to use a slicker brush.
This will add shine to their coat and smooth it out. Don't linger in the same area for more than a few brush strokes, since this could irritate the dog's skin.
Don't go against the grain. While some groomers may recommend that a dog's fur be brushed against the grain, this is not the case with Goldendoodles. Always brush in the direction of the new hair growth, from the skin, and undercoat out to the tips.
Many Goldendoodle dog parents decide to give both their dog and themselves a break during hot summer months and cut their dog's fur short.
Leaving the curly, wooly fur short temporarily allows you the freedom to give them more frequent baths and let them enjoy swimming without the worry of so much matting.
How To Brush Goldendoodle Puppy
Aw, that amazing coat of fur on the tiny puppy is likely what tugged at your heartstrings to choose your Goldendoodle in the first place.
Now that you have the little pupster home, it's up to you to make sure those curly, wooly, or wavy long locks stay well-groomed. Starting by turning brushings into a pleasurable experience will be your best first step.
Keep in mind that brushing a Goldendoodle puppy is going to require more of a gentle touch than it will when they become full grown.
Try to remember back when you were a kid and your mom tried to brush your hair and found a tangle. Did you scream and squirm and try to stop her from brushing you?
The reason for this is because when the brush cannot smoothly run through your hair, the strands begin to tug at your skin. The same is happening for your pup.
So, try your best to make grooming time to be a time they associate with bonding time or treat time.
Start your brushing sessions with your new Goldendoodle puppy off right by making it a pleasurable time. It often helps to hold the puppy to let them know there is nothing to fear.
Some new puppy owners start slowly and gently allowing the puppy to take a break when they start to squirm or show any discomfort during de-matting.
Start With The Right Brush For Your Goldendoodle
Look for a brush to help groom your specific type of Goldendoodle fur. Brushes with wooden handles and backs absorb oils from your furry friend's skin and distribute it throughout the coat.
Make sure the brush you choose is durable and constructed well with quality. Whatever brush you choose, it should be comfortable on your dog's skin and coat while brushing.
Decide between a bristle brush for long coats, stiffer bristles for short-haired pups, wire pin brush for medium to long coats or those with wooly or curly fur coats, or a slicker style brush with several tiny wire pins set in a cushion bed to remove mats and tangles.
Keeping your Goldendoodle's fur looking great and free of tangles and matting starts with your attention to keep them well-groomed.
Make this process easier on you, as the dog's owner, by making sure you have the right brush, comb, and grooming tools.
Choose the best brush for your Goldendoodle on Amazon along with a detangler spray to make brush time an enjoyable time for you both.
Other posts you might be interested in:
Top 12 Best Shampoos For Goldendoodles
Top 9 Best Dog Beds For Goldendoodles
12 Best Harnesses for Goldendoodles: Safe, Durable and Affordable