Quick Access To The Best Toys For Corgi Puppies 👇
After looking into over 100 dog toys and analyzing each one, we have narrowed our list down to the 13 best dog toys for a Corgi puppy!
Corgis are full of energy with big personalities for their tiny size. Their stubby legs and smaller body doesn't make them one of the fastest breeds, but they are more powerful than most think.

An issue we see with a lot of Corgi dog owners is that they're not able properly occupy their Corgis time. Which can unfortunately lead to destructive behaviors.
One of the best ways to avoid this is by providing your Corgi plenty of toys to keep them entertained and busy.

In this post, we'll be sharing the best toys for Corgi puppies. Our list will cover all of the top-of-the-line toys including the best balls, frisbee toys, fetch sticks and much more!
Let's dive in.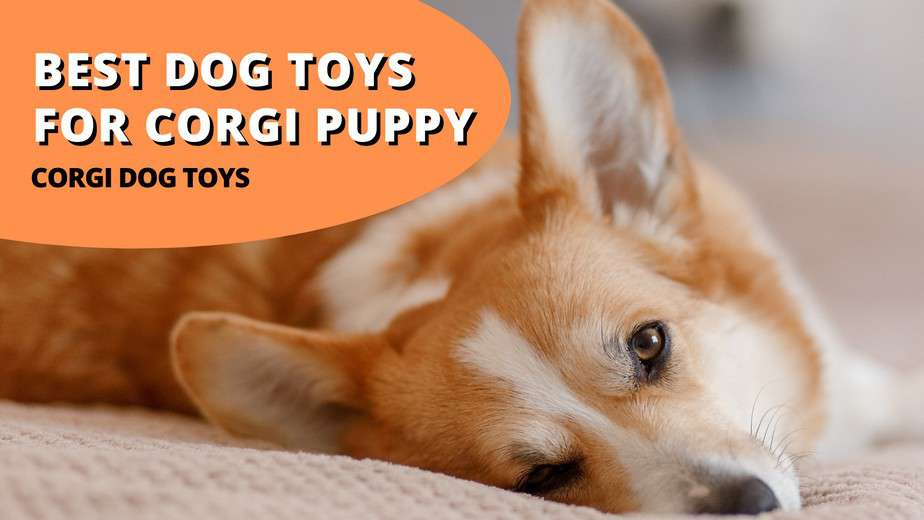 Top 13 Best Dog Toys For A Corgi Puppy
Best Overall: Skinny Peltz
First up is the famous Skinny Peltz! The Product Value pack includes 3 skinny plush dog toys (1 squirrel, 1 fox, and 1 racoon).

Each toy includes 3 squeakers and is roughly 18 inches long. These toys are great for Corgi Puppies and full grown Corgis and the best part is… there is no stuffing! This means no mess! 
ZippyPaws is no stranger to making some of the best toys. They create all sorts of 
amazing quality products that benefit both the dog and the owner.

The unique aspect to the Squirrel Skinny Peltz is the lack of stuffing and not having to worry about a mess to clean up. Due to their long shape and high quality material, dogs can use these toys for a playful tug-of-war game.

Over 90% of purchasers found their dogs loving the product and having no issues. This is why we hand selected Zippypaws Skinny Peltz as one of the best dog toys for Corgi puppy.
ZippyPaws Skinny Peltz Key Features:
Provides mental stimulation
Each toy includes 3 squeakers
Toy length: 18 inches
No stuffing = no mess!
Great for small-medium-sized dogs
Product Value pack includes 3 skinny plush dog toys (1 squirrel, 1 fox, and 1 racoon)
Best Budget: Puppy Chew Teething Rings
Did you know that there are teething rings for puppies like there are for human babies? 
The Nylabone Puppy Chew Rings are the perfect choice for helping to clean your pups teeth while also entertaining them for hours.
Now this may say "Puppy" in the title, however,  while reviewing this product there were many dog owners and testers who mention their older pups loving this toy as well.

So not only will this be great for your Corgi puppy but also for when they get older! 
This toy has just the right flavor to keep your pup chewing on it for hours – and not on your shoe. Its gentle nibs help to clean your dog's teeth and compact size makes it the perfect chewing companion for medium and small dogs . 
Dogs who are 25 pounds and under will be perfect for this toy (aka Corgis!)!
Puppy Chew Teething Rings Key Features:
Helps teething
Cleans teeth and freshens breath
Savory bacon flavor
Durable nylon material
Dogs 25 pounds or less
Best Runner Up: West Paw Jive
Next up on the list is the West Paw Jive. This is a durable dog toy that's soft, bouncy, and perfect for land and water play.

This is going to be the perfect toy for Corgis as it has sizes starting at 2 inches and then all the way up to 3 1/4 inches.

It's by far one of the best balls that you can get for smaller dogs. It's more durable than a tennis ball and has a unique bounce for engaging your dog when playing. 
Corgis tend to have shorter legs but they are very strong. Allowing them to move and pivot quickly. The slight groove within the ball that allows for the ball to bounce in multiple directions which will keep them engaged in the ball.
It's typically recommended to avoid using this with senior dogs. The erratic movement can be bad for the hips of older dogs.  
A few other benefits is the toy is dishwasher safe and the ball fits in a standard ball thrower.

After looking at the reviews, the majority of pet owners are in love with this ball. The biggest issue that we found with this ball is that it is definitely not indestructible. So over time there will be some wear and tear depending on how strong of a chewer your Corgi is.
West Paw Jive Key Features:
Multiple Sizes and colours
Floats and bounces
Groves on the side provide erratic bounces
Guarantee against dog damage
Dishwasher safe
Zogoflex durable material
Best Under $10: Chuckit! Ultra Ball
The Chuckit! Ultra Ball is ultra bouncy, and is one of the best dog toys for corgi puppy. You can play fetch at any location including the water! 
The Ultra Ball has a lightweight and buoyant design. It's a very tough and durable rubber ball that is perfect even if your Corgi tends to be an aggressive chewer. 
Out of all balls reviewed on the internet this is by far the most popular. Based on the price, quality and performance, it is the "Gold Standard" for tennis ball alternatives.

So if your Corgi loves tennis balls then this will be the choice for you!

The chuckit Ultra ball comes in a few different sizes from small (2″) to XXL (4″) . So depending on how big your pup is will depend on the size you get. 
This ball was designed to have a higher bounce, better float, and be longer lasting from all the rest of the balls out there, and based on our testing, this was definitely held up. 
The big thing to know about this ball is it is made of rubber, so it naturally  has more weight than some of the other balls on the market. So just be careful throwing this ball in the direction of your furry friends.
The biggest complaint we heard about was that the ball did not withstand the terror of their dogs. However the majority of reviewers mentioned that this ball is still not destroyed even after 11 months of use.
Chuckit! Ultra Ball Key Features: 
Gold standard for tennis balls
Multiple sizes
Ideal for aggressive chewers
Lightweight and buoyant design
Tough and durable rubber material
Best Frisbee Toy: Chuckit! Flying Squirrel
Let's face it, typically, smaller dogs are not going to be able to run down a large sized frisbee to catch it. They have small legs, and are not as quick and athletic, as bigger dogs.

That's where the Chuckit Flying Squirrel comes in. It has a soft design and is perfect for shorter throws that gives your Corgi a semi high chance of catching it midair. With this frisbee's unusual shape, it does take some time getting used to.


No only is this a great frisbee for Corgi Puppies looking to learn to catch a frisbee midair, but it's also very durable. It can be used for tug of war matches every so often without seeing much sign of wear and tear. 
The Flying Squirrel is available in more than one size. So for you Corgi puppy owners grab the small size. If your corgi is larger and no longer puppy sized, then you might want to consider the large one.

A few last features are its spinning aerodynamic design that will grab your dogs attention and the fact that it floats makes it perfect for the beach and around the pool. It's soft curb sides allow pets and pet owners to conveniently pick up the toys. One of the coolest features is it actually glows in the dark.
The biggest issue we found while looking through reviews is that it's not designed as a chew toy.. So just make sure that you don't have a heavy chewer that's going to be sitting and chewing on this Frisbee. Otherwise, it might damage it.

Chuckit! Flying Squirrel Key Features:
Raised sides for easy pick up
Glow in the dark
Floats in water
Aerodynamic design for idea flight
Durable material
Multiple Sizes
Best Bone Toy: West Paw Hurley Mini
West Paw is definitely one of the best brands out there, and when looking for a small toy for your Corgi Puppy the West Paw Hurley is going to be one of the best bone chew toys. 
When it comes to getting products for small dogs, it's quite difficult to find a perfect toy. Most are just too big and heavy.

The reason that Hurley is the perfect toy for your corgis is because it holds up against smaller jaws and It's mini size is ideal for carrying around.

We found the 4.5 inch perfect for Corgi Pups, those of you with older Corgis but still small dogs should choose the next size up which is the 6 inch long. 
After looking at the reviews, typically after a few weeks of chewing there were only about a few isolated puncture marks and no sign of tearing or breaking the rubber. 
One of the best things about the West paw is when their toys come with the satisfaction guarantee and this is one of those toys. So if the toy breaks they offer either a refund or replacement or an alternative product from their toy collection. This is why it's one of the best dog toys for Corgi Puppy.

West Paw Zogoflex Hurley Dog Bone Key Features: 
BPA-and-Phthalate-free, non-toxic, and FDA compliant
100% damage free guarantee
Ideal for extreme chewers
Buoyant and durable material
Best Stick Toy: Benebone Dog Stick Chew Toy
Next up we have the Benebone Real Wood Dog Stick Chew Toy.

This toy comes in 3 different sizes and 2 flavors, maple wood and bacon.

If your Corgi is a fan of sticks then this is definitely the toy for you. This toy is designed to mimic the feel of a real stick only without the dirty mess.

It can be used for fetch, and keeping your dog entertained for hours on end chewing away.

This toy was built to be a durable, long-lasting toy for super chewers. So if your Corgi tends to be hard on their toys, this dog toy will be able to withstand the terror.

Most of you will not have a problem since puppies will not be able to do damage like adult dogs. However, this will still withstand a full grown Corgi.

Your furniture legs will thank Benebone for this toy…
Benebone Real Wood Durable Dog Stick Chew Toy Key Features:
Multiple sizes
Real wood texture
Durable, long-lasting material
Bacon and maple wood flavors
Best Corgi Puppy Toys For Teething: Nylabone Bacon Flavor Teething Pacifier
Start your Corgi puppy off right while also helping establish good oral hygiene. 
For a puppy, the world is a new and exciting place to explore first with their mouths. Establish healthy chewing habits while helping your puppy teeth with this Nylabone Teething Pacifier. 
For a new puppy, a chew toy meant for teething needs to be gentle and pleasurable, so they will opt to chew the teething toy as opposed to everything else in your household. 
This pacifier is flavored with the bacon taste that dogs cannot seem to resist with flavor and massaging nubs throughout the entire toy.
Nylabone Bacon Flavor Teething Pacifier Key Features:
Soft and Flexible Material
Specifically designed for teething pups
Green/pink/blue colour
Controls plaque and tartar build up
Bacon Flavoured
Best Corgi Puppy Puzzle Toy: Outward Hound Nina Ottosson Dog Tornado
The bright blue and yellow layers of this toy make for a beautiful and dazzling puzzle toy that any dog will love.

The Dog Tornado is an ideal puzzle toy for puppy corgis. Each of the 4 layers spins alternating between the blue and yellow layers. 
The only way to reveal the treats is to move each bone shaped layer out of the way.

This level 2 difficulty puzzle will be one of the best mind stimulating dog toys around. As an added bonus you can up the difficulty by placing treats under smaller white bones that fit into compartments in each layer. 
As with every toy, no dog toy is truly indestructible, so always remove the toy from playtime if pieces begin to break off.
Outward Hound Nina Ottosson Dog Tornado Key Features:
Mind stimulating toy
Fun feeding game
Plastic material
Supervision is recommended
Level 2 puzzle (great for puppies) 
Other Top-Rated Picks
KONG Classic Dog Toy for Puppies
Corgi Puppies can seem to chew on everything, so a toy that not only promotes directed chewing but also calms them is ideal. 
Chew toys like the KONG Classic Dog Toy promote relaxation and direct attentive focused chewing with its durable rubber and beehive shape that you can fill with soft food. 
This also would not be a best toy list without the KONG.
The toy comes in a variety of sizes, so there is one that will fit your growing Corgi's needs. 
Fill it with canned dog food, yogurt, sweet potato, pumpkin, or other soft dog favorites, and freeze it for a soothing treat that will keep your puppy focused and calm for a while. This toy will also likely last up until adulthood which helps make it one of the best dog toys for corgi puppy.
KONG Classic Dog Toy for Puppies Key Features:
Blue/Pink Color
Natural teething rubber
Perfect for stuffing treats
Recommended worldwide by veterinarians
West Paw Zogoflex Tizzi
Up next on the list is gonna be another West Paw design called the Tizzy. 
Now the tizzy is a mini 4.5 inch Zogoflex durable dog toy. This is definitely designed for small dogs and an active toy that allows for teething, fetch, tug of war, and treat dispensing. 
The tizzy is all of the dog's favorite toys rolled into one.

The treat compartment adds tons of excitement for your Corgi playing with the toy. There's flexible handles which makes tug of war easy and fun. 
The tizzi bounces, floats, and it's tough enough to stand up to rough supervised play. Now one of the things with this toy to note is that this is more so for gentle chewers. 
One of the things we noticed about this is that although it is definitely puncture resistant and has West paws patent rubber used for it. It is still one of the softer West Paw toys, meaning that the durability doesn't add up to some of the more intensely durable toys from their collection. 
So just keep that in mind when purchasing this one. Majority of Corgi's will not have any issues with the Tizzi.
West Paw Zogoflex Tizzi Key Features:
Multiple colors and sizes
Treat Compartment
Floats and bounces
Zogoflex durable material
Designed for gentle chewers
JW Dog Crackle Ball
Toss it, play fetch, or let your Corgi sit and chew while teething. 
Your dog won't be able to resist the crackling sounds that will keep them interested and engaged in play for a while. 
This ball has a tough outer rubber layer and a crunchy ball inside made from recyclable plastic bottle material. 
The outer layer has holes, so the sounds are easily heard during playtime. JW Dog Crackle Balls come in a variety of colors and sizes to fit your growing Corgi puppy. This was rated one of the best toys on the market and why we included it in our best dog toys for corgi puppy list.
JW Dog Crackle Ball Key Features:
Multiple sizes and colors 
Durable chew toy
Outer rubber layer and crunchy ball inside
Great for toss, fetch, and chewing
Outward Hound Hide-A-Squirrel Dog Toy
Outward Hound brings a unique and innovative Plush puzzle dog toy to the market. 
This toy includes hidden squirrels inside a soft plush tree trunk. Your lab will love this interactive puzzle as the squirrels pop in and out of their hiding holes while squeaking away. 
This is by far one the best dog toys for corgi puppy for entertainment as well as providing them with cognitive stimulation!

The Outward Hound Hide A Squirrel is available in multiple sizes ranging from junior to ginormous. The Junior includes 3 hiding spots and 3 squirrels with squeakers that will keep your dog continuously entertained for hours on end. 
A couple things to note about this toy, it contains stuffing and many users claim they tear after extensive use. This is not a good choice if your Corgi is an aggressive chewer.
Hide a Squirrel Puzzle Key Features: 
Provides mental stimulation 
2-In-1 Interactive Play
Gentle on teeth and gums
The Stuffed Squirrels Contain Squeakers
Soft slush tree with 3 – 5 squirrel hiding spots
3 – 6 plush squeaking squirrels included
Final Thoughts
Congratulations on making it to the end of the post. You should have a good starting point of toys to look for when selecting the right toy for your Corgi puppy.

We customized this to be geared towards the best dog toys for a Corgi puppy and we hope our list helps you and your pup find the perfect toy.

As a quick recap here are the top picks that had the highest ratings and recommendation:

Best Overall – Skinny Peltz
Best Runner Up – West Paw Jive
Best Budget – Puppy Chew Teething Rings by Nylabone
Best Under $10 – Chuckit! Ultra Ball
Best Frisbee Toy – Chuckit Flying Squirrel
Best Bone Toy – West Paw Hurley
Best Stick Toy – Benebone Real Wood Dog Stick Chew Toy
Best Puppy Toy For Teething – Nylabone Bacon Flavor Teething Pacifier
Best Puppy Puzzle Toy – Outward Hound Nina Ottosson Dog Tornado
Thanks for reading! If you think our blogs are helpful then it would mean the world to us if you could share our posts so we can reach more people and help more dog owners and their pups!
Other posts you might be interested in:
Top 10 Best Dog Beds for Corgis: Beds That Won't Disappoint