Pawscessories is reader-supported. When you buy via links on our site, we may earn an affiliate commission at no cost to you. Learn more.

---
Quick Access To The Best Shampoos For Bulldogs 👇
Does your wrinkly beauty need a long overdue bath? It's crazy how fast time flies and the next thing you know it's been a couple months since your pup last had a bath and it's starting to show.
We're going to go over the top 12 best shampoos for bulldogs so you can find the perfect shampoo for your pup.
Now, because of bulldogs notoriously wrinkly skin, they are more prone to skin irritations. This is because their skin folds easily and these areas get warm, and for a lack of better words, moist.
Warm wet places are hotspots for bacteria to gather. Add constant rubbing of the skin folds to the mix and many skin infections can flare up.
So whether you're looking for a shampoo that's simply to make them squeaky clean and fresh smelling again. Or, if you're looking for a shampoo that can help reduce their skin irritations and heal them, we have options on our list that'll suit you perfectly.
After looking at close to 100 different shampoos, we're confident that the 12 listed below are the best of the best.
Without further ado, let's jump into our first pick that we're calling the best overall shampoo for bulldogs.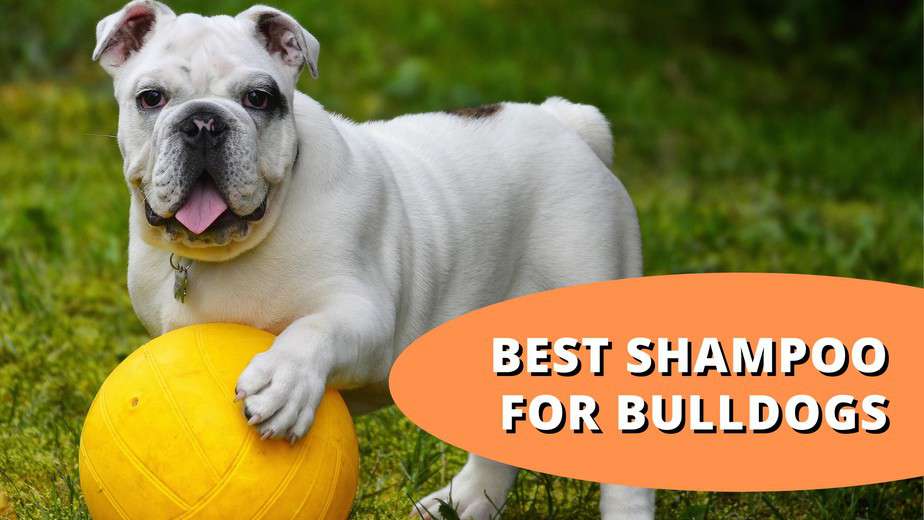 Top 12 Best Shampoos For Bulldogs
Best Overall: Earthbath Oatmeal & Aloe Pet Shampoo
Our best overall pick for bulldogs is the Earthbath Dog Shampoo. Don't let an itchy dog ruin cuddle time with your furry friend. Yes, doggos can have allergies or skin sensitivities just like humans.
This shampoo offers a totally natural and soothing dog shampoo that is safe for your pup and smells great. 
This natural shampoo is formulated so that it soothes dry and itchy skin to provide relief all the while deodorizing. Get rid of any irritations that might be showing up within your pups skin folds with this shampoos gentle formula.
It adds moisture back into your dog's skin while you bathe them without causing any sort of irritation. 
One great feature about this shampoo is that it won't wash away any of the flea treatment that has been topically applied.
Earthbath Oatmeal & Aloe Pet Shampoo Key Features:
Gentle cleansing 100% biodegradable
Vanilla and almond scent
Paraben and phosphate-free
Best Runner Up: Veterinary Formula Clinical Care Antiparasitic & Antiseborrheic Dog Shampoo
Looking for a dog shampoo that provides relief for a wide variety of skin issues that bulldogs may encounter? The Veterinary Formula Clinical Care Antiparasitic & Antiseborrheic Dog Shampoo is a phenomenal pick for all things related to skin irritations.
This shampoo has coal tar, salicylic acid, and micronized sulfur to help reduce scaling & flaking of skin for a wide range of causes. On top of that, it also contains colloidal oatmeal and allantoin to hydrate their skin quickly.
The shampoo provides the best of both worlds, fast effective relief as well as improving skin health for the long run.
While the shampoo is tough on irritations it's gentle on your pups skin. It's great for sensitive skin and dogs prone to allergies or yeasty skin.
It's made with veterinary grade ingredients and won't wash away any flea or tick treatment, which is a bonus.
Many reviews from testers are simply raving fans of this shampoo. Some share it's finally been the solution to their dogs skin troubles and overall helped get rid of red irritated skin.
Some reviewers did mention that their dog's skin was irritated after using the shampoo so if your pup has considerably sensitive skin another choice from our list might be better.
Veterinary Formula Clinical Care Antiparasitic & Antiseborrheic Dog Shampoo Key Features:
Provides fast action relief as well as long-term
Provides relief for a wide variety of skin irritations
Made with veterinary grade ingredients
Best Budget: Wahl Oatmeal Dog Shampoo
Our choice for the best budget shampoo for bulldogs is the Wahl Oatmeal Dog Shampoo. Have your dog's coat looking great, reduce dryness & itching, and help maintain healthy skin all without costing you an arm and a leg.
This shampoo will be considerably gentle on your bulldogs skin folds that might be more sensitive than the rest of their body.
It's made in the USA with a pH balanced, alcohol and paraben-free formula designed to relieve irritated skin. The coconut lime verbena scented shampoo keeps skin and fur healthy. 
When their skin and the fur are healthy, less unwanted irritations show up for your doggo! This makes it easier for them to get back to their normal selves and showering you with love.
It's also derived from plants, so for those who are plant-based focused, this shampoo is a nice option.
Wahl Oatmeal Dog Shampoo Key Features:
Alcohol and paraben-free
Dry skin and itch relief formula
Used and trusted by professionals
Best Under $10: PetAg Fresh 'n Clean Shampoo
In a pinch but don't want to sacrifice quality? The PetAg Fresh 'n Clean Shampoo has your bulldogs back. Turn bathing time into a soothing bonding moment between you and your pup.
When they don't have to worry about irritated skin all they have to worry about is loving you, as it should be!
This shampoo supports natural healing of bacterial skin issues as well as yeast and fungal issues. Giving them a bath with this shampoo should be comforting & soothing (depending on how much your pup likes or dislikes baths).
This specially formulated shampoo is infused with rooibos tea extract to provide gentle, soothing relief to their skin and coat. 
The shampoo uses a mild, soap-free formula that doesn't contain harmful parabens or dyes. It's suitable for even the most sensitive skin. It also adds antioxidants to fight inflammation. Never worry about sacrificing quality when it comes to price with this shampoo pick!
PetAg Fresh 'n Clean Shampoo Key Features:
Prevents and soothes skin irritation
Supports natural healing for fungal, yeast, and bacterial growth
Moisturizes with olive oil, glycerin, and Vitamin E
Best Bulldog Shampoo And Conditioner: TropiClean Papaya & Coconut Luxury Shampoo
There is something about the smell of coconut and papaya to make you feel like all your cares have washed away. 
This luxurious 2-in-1 shampoo and conditioner cleanses, conditions, and moisturizes your dog's skin and coat to safely replenish their natural moisture balance.
We feel this is the best shampoo & conditioner combo for bulldogs.
Work up a lather to rid your adventurous pup of dirt caught in their loveable wrinkles. A combo of the right shampoo and proper brushing sessions can help mitigate this as much as possible while spreading their natural skin oils.
When your tail-wagging doggo is all dry, you'll enjoy the fresh-scented cuddles. Trust the safe, pH balanced, soap-free solution that is free of parabens and dyes.
TropiClean Papaya & Coconut Luxury Shampoo Key Features:
Smells great
Replenish moisture
Relaxes matting
Other Top-Rated Picks
Vet's Best Hot Spot Itch Relief Shampoo
When your dog is constantly scratching and redness starts you show up, or even worse, scabbing you can tell there's something going on with their skin.
Help alleviate your furry friends agitation with a shampoo that is formulated by veterinarians to soothe dry, irritated skin as quickly as possible.
The Vet's Best Hot Spot Itch Relief Shampoo uses ingredients such as tea tree oil, aloe vera, and chamomile to achieve this soothing and healing effect. 
All of these ingredients are proven to soothe irritated skin. Also, it's fast-acting, so your doggo should experience relief almost immediately. 
There's no alcohol used in this shampoo so don't worry about your pup experiencing any unwanted stinging. When bathing your pup you won't have to worry about washing away topical flea or tick treatments when you use this shampoo. Keep them safe from pests while nourishing their achy skin.
Vet's Best Hot Spot Itch Relief Shampoo Key Features:
Soothes irritated skin quickly
Veterinarian formulated
Natural alcohol-free ingredients
Heel Dog Shampoo
A great shampoo for itchy skin, odor as well as a plethora of other things is definitely Heel. It uses argan oil, shea butter, and aloe vera to help soothe dry, irritated skin while providing a natural deodorizer. 
A unique feature about this shampoo is it's made with bentonite clay. For those who haven't heard of bentonite clay, it's been used for centuries for its natural healing abilities!
While this isn't a traditional remedy for skin irritations it can help relieve & bring moisture back to dry, irritated skin helping reduce any flare ups.
The shampoo is also hypoallergenic and formulated to restore natural oils in your dog's skin as well as bring moisture back to dry areas. For dogs that have sensitive skin due to allergies, this is a great choice!
It's also made in the USA and an interesting note is they claim to make the shampoo in small batches to ensure high quality!
Heel Dog Shampoo Key Features:
Hypoallergenic
Made in the USA
Moisturizes and reduces odor
Healthy Breeds Oatmeal & Aloe Dog Shampoo
When it comes to sensitive skin the Healthy Breeds Oatmeal & Aloe Dog Shampoo is a great option for hypoallergenic dog shampoos.
This shampoo has an oatmeal and aloe formula to help provide relief for itchy, scaling and sensitive skinned bulldogs. 
It's also soap free which helps restore natural moisture to your dogs skin and coat. No harmful chemicals are used in this shampoos ingredients which makes its pH (acidity levels) perfectly suited for your sensitive skinned pup.
This hypoallergenic shampoo is also made in the USA in a federally regulated facility. No need to worry about whether best practices are being used where this shampoo is made.
While enjoying its lovely pina colada smell you can rest assured your dog skin is safe after a bath with healthy breeds shampoo. 
Reviews from testers of this shampoo share that they love the scent it leaves and how gentle it is on their dogs skin. Some share that they wash their dogs' faces with ease and without causing any irritation to their dog.
There were some complaints about the price so if price is a major factor for you this may not be the best choice.
*Sidenote: once on Amazon you can filter the shampoo to find the one specific to bulldogs if it doesn't take you there directly*
Healthy Breeds Oatmeal & Aloe Dog Shampoo Key Features:
Hypoallergenic 
Made in the USA
Provides relief for itchy, scaling and sensitive skin
Dechra Miconahex + Triz Shampoo
The Dechra Miconahex + Triz Shampoo is a solid option for bulldogs going through an unfortunate episode of skin irritation.
This shampoo is designed to make your dog's coat look shiny and healthy while also tackling what lies underneath their fur, their skin. Dry skin brings on more trouble than just causing irritation for your pup. 
Sometimes, there's a bigger issue such as a yeast infection, fungus, ringworm, or other bacterial skin infections that need to be treated and soothed. 
If your dog's skin is irritated, chances are their fur won't be at its best. This dog shampoo is formulated specifically for dry skin, dandruff, and other skin issues.
It contains ceramides to moisturize and repair dry and damaged skin. If you're looking for a shampoo more focused on healing, this is a great option.
Dechra Miconahex + Triz Shampoo Key Features:
Restores dry, damaged skin
Fights dandruff
Medicated to treat fungal and bacterial skin infections
Buddy Wash
Buddy Wash Shampoo is one of the best shampoos for bulldogs of all ages. Keep your pups coat as healthy as you can without needing to use any harsh cleansers. This shampoo is packed with natural and healthy ingredients. 
It offers a two-in-one conditioning shampoo that is made with aloe vera, sage, rosemary, green tea, and chamomile to help soothe irritated skin. It also comes equipped with a natural deodorizer to help with that 'dog' smell.
Cuddle time is important but so much more enjoyable when they aren't as smelly!
The fresh lavender and mint scent are pleasant to your nose as well. It's formulated with a coconut base liquid that makes it completely alcohol-free and is made with wheat protein that acts as a natural deodorizer. 
Buddy Wash Key Features:
Gentle for puppies
Made with pure botanical extracts
Natural deodorizer
Isle of Dogs Tearless Puppy Shampoo
When it's time for a bath, you want to set the stage for it as a happy, pleasant experience. Not a time they associate with pain after shampoo gets in their little eyes or from their skin becoming achy.
Thankfully, someone thought of your small pup and formulated a Tearless Puppy Shampoo made specifically for dogs with sensitive skin. 
It offers a soothing formula with nice cotton and a fresh orchid scent. Don't worry about the ingredients harming your pup. It's sulfate and paraben-free. Get your dog looking shiny and clean without causing discomfort to their eyes or skin.
Isle of Dogs Tearless Puppy Shampoo Key Features:
Gentle, tearless formula
Formulated for sensitive skin
Pleasant, long-lasting scent
Burt's Bees Shampoo For Dogs
With the natural soothing that comes from honey, Burt's Bees has been a favorite choice brand of humans for years. But, they also make products that are perfect for your dog! Introducing Burt's Bees Shampoo For Dogs!
This oatmeal-based shampoo contains all natural ingredients perfectly suited to help clean & soothe bulldogs skin.
Of course, one of the main ingredients is honey (who would've guessed!). Honey is soothing to the skin and helps add shine to your dog's coat.
Clean and protect your furry friend from pests as the shampoo won't wash away any topical flea or tick treatments already in place on your doggo.
Burt's Bees Shampoo For Dogs Key Features:
No sulfates or colorants
pH Balanced to prevent dry skin
Colloidal oat flour and honey moisturizes and prevents itchiness
How To Keep Your Bulldogs Coat Healthy
1. Make sure you brush them frequently. Ideally 2-3 times a week.
If you choose not to brush your bulldog you'll likely see them shed excessively. While bulldogs don't have an undercoat and have shorter fur than other breeds, they will still shed.
If you brush them a few times a week this will help keep their shedding under control and limit the amount of cleaning you have to do around the house. 
Consistent brushing also helps spread the oils of their skin which makes for a much more consistent, shiny coat. Not to mention it will help some of their skin folds breath as you brush their body.
2. Use the proper brush for your bulldog. We'd recommend a bristle brush.
A bristle brush features soft groups of bristles that are usually set in wood or plastic. The bristles are nice for smoothing out their coat and removing dead fur during the shedding season.
Since you don't have to worry about tangles and matting a bristle brush will be all you need to collect their fur before it finds its way around your house.
If you're in need of a brush or simply need a new one, we'd recommend the Bass Brushes Oval Dog Brush. 
3. Bath time!
Usually, people tend to bathe their dogs only when they get noticeably stinky. This is not the best bathing schedule and to keep their hygiene in tip-top shape, it's best to bathe your bulldog every 6-10 weeks.
This will help their skin stay hydrated, healthy and prevent issues like dryness, dandruff, or infection.
If your dog has sensitive skin you want to make sure you have a shampoo that's designed for sensitive skin and aren't bathing them too frequently. While it's important to bathe them more than a couple times a year, it's also important not to bathe them too often.
This would have adverse effects and strip their skin of their natural skin oils and most likely do more harm than good.
Once their bath is done be sure to get them good and dry. Whether that's a good rub down with a towel or using a dog blow dryer.
FAQ 
What's The Best Brush For Bulldogs?
The best brush for a bulldog is a bristle brush. Bristle brushes are meant for dogs with a shorter coat and that only have a topcoat. It easily glides along your dog's coat to collect the dead fur as well as spread their natural skin oils.
The best bristle brush is the Bass Brushes Oval Dog Brush.
We analyzed over 100 different brushes and narrowed a list down to the best 28 brushes that you can check out here if you want to see more options.
Final Thoughts
These are some of the best shampoo products for bulldogs. If you want to make sure you're getting a shampoo that's safe for your pup, that can relieve them of skin irritations and provides a nice smell, there are plenty of good options available on our list.
Our best overall pick is the Earthbath Dog Shampoo because of its gentle nature and because it's great for many different uses that a dog owner may need a shampoo for.
We hope you found this information helpful. 
Happy bathing!
Other posts you might be interested in:
Top 10 Best Dog Beds For Bulldogs
Top 12 Best Harnesses For Bulldogs | Safe, Secure & Affordable