When you have a baby as well as a dog it's easy to find some of their toys being used interchangeably. If a dog toy is safe enough for your dog surely it's safe enough for your baby as well, right? This common thought is actually dead wrong…
Cheap dog toys aren't safe for your baby. Inexpensive dog toys that are made in China are made without regulation which means low quality/toxic materials are often used to keep costs low. Higher quality dog toys made in regulated facilities are the safest for your baby to be around.
Unfortunately, many dog owners aren't aware that the cheap, made in China, toys they're buying their dog are unsafe for them; which definitely makes them unsafe for your baby.
In this post we're going to cover everything you need to know about safe dog toys to ensure your baby is safe when/if they grab their furry brother or sister's toy.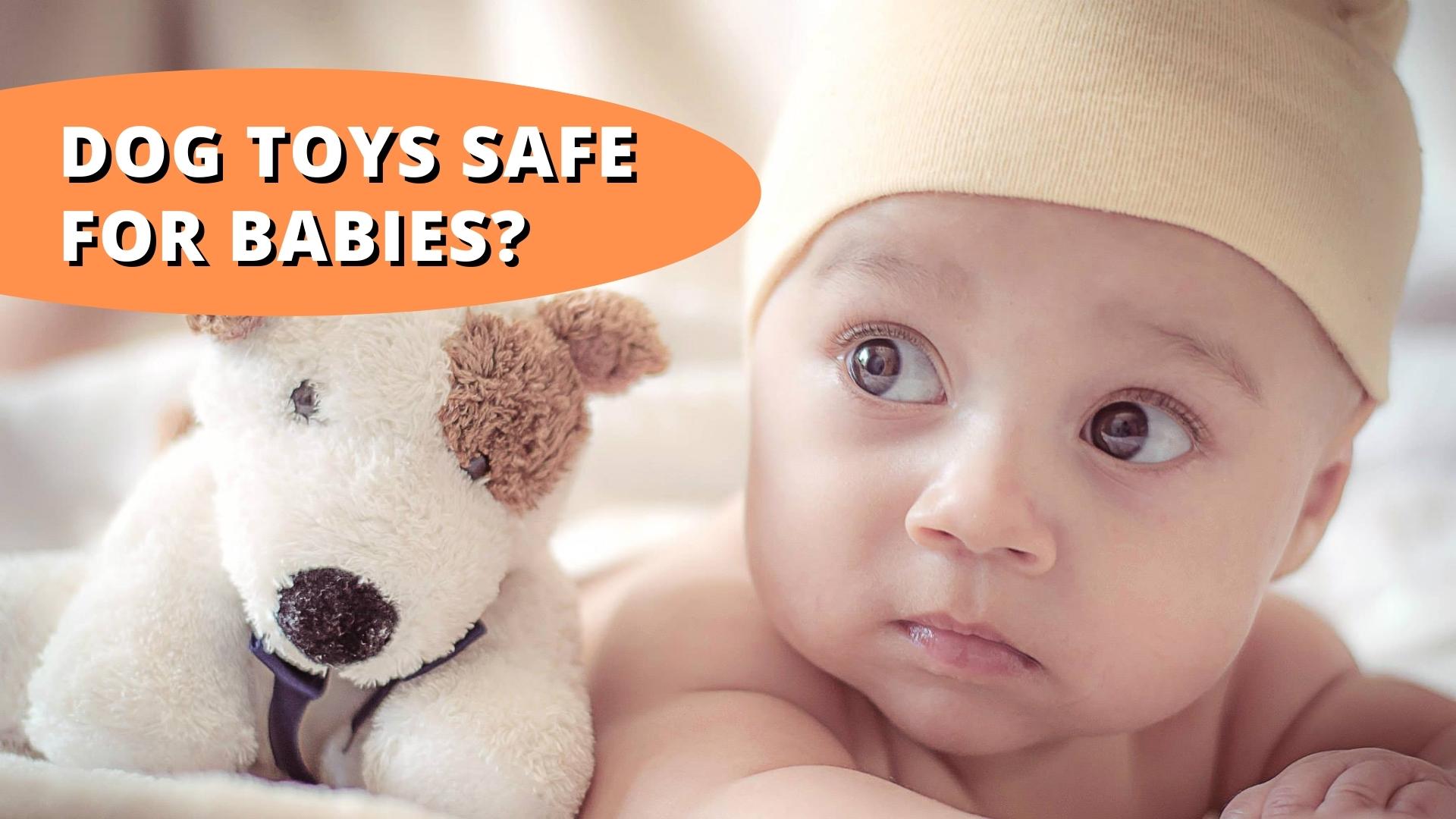 Is It Safe For My Baby To Play With Our Dog's Toys?
It's not uncommon for dog toys to get mixed with kid's toys. Most tend to look the same, and babies can't tell the difference. However, it's worth noting that there's no regulation that applies to dog toys. It means you have to do the work when it comes to purchasing suitable toys.
Not all dog toys are safe for your baby. Some contain materials that can affect their health and well-being. Therefore, the first thing is to learn more about a dog toy before you bring it home. Check out the type and the material.
Also, consider where the toy is made from. It's best to steer clear of dog toys made in China because they tend to have lead and other harmful chemicals on/in them. This not only affects your baby but your dog as well.
Sadly, no organization regulates the safety of dog toys. It means you have to do due diligence when buying the toys. Only those that offer third-party testing results are safe for your baby.
What Dog Toys Are Unsafe For Babies To Play With?
Dog toys come in various types, and not all are safe. Unsafe toys are best kept out of a home with a baby. Here are a few ways to determine if a dog toy is unsafe to have in the house:
FDA Approval
While there's no regulatory body for dog toys in the USA, the FDA offers approval for the best toys. A toy that lacks FDA approval must be avoided at all costs.
It most likely doesn't meet the standards for good-quality dog toys.
Type of Dog Toy
There are various types of dog toys in the market that you can buy. However, your selection has to be much more thorough when there's a baby at home.
Toys that have flavoring, plastic that's not BPA free, rope toys, and treat dispensers are unsafe for young children.
Material
Some dog toy materials are unsafe for humans. Always check the toy and read more about the materials before making a purchase. Some toys can have harmful ingredients in them, like lead and flavoring.
For instance, a bacon-flavored bone is good for your dog but not your baby. It's best to stay away from toys made in China as many (if not all) contain some form of toxic material.
What Types Of Dog Toys Are Safe For Babies To Also Play With?
Dog toys that are designed to be indestructible are the safest to have around a baby. This is because you won't have to worry about pieces breaking off and becoming a choking hazard. OR, worry about them swallowing any plastic bits, rubber, stuffing, etc. that could contain toxic materials.
It's important to note that no toy is truly indestructible for a dog that's a determined chewer. But toys that are designed with a focus on holding up to the toughest chewers will be your best bet at having a safe toy around for both your dog and baby.
For other types of toys that don't have a focus on being indestructible you want to make sure they weren't made in China. They'll cost more. But there's a good chance they'll be made with higher quality materials that won't break easily or contain harmful materials.
It's up to you as the buyer to do some digging to find out what materials the toy is made of before deciding to bring it home.
Differences Between Dog Toys And Baby Toys
Dog toys and baby toys have a few differences worth noting. These differences make it easier for you to distinguish between them as you engage at home.
Flavoring
Some dog toys have flavoring like bacon that keeps your dog engaged. It helps turn a toy into a treat as well. This can make for a toy that keeps your dog occupied for many hours.
While the flavors are good for dogs, they aren't safe for a baby. You'll be hard pressed to find a baby toy that's flavored.
Design
While some of their toys may have a similar design, many do not. Dog toys are usually designed to resemble animals and have flavoring or squeak for a dog's enjoyment.
Baby toys make noise as well but more so in terms of the toy speaking to them or playing music/singing. Also, many baby toys are plastic for a baby to play with with their hands, whereas all dog toys are designed to be played with by a mouth.
Regulation
All baby toys are monitored and regulated by the US Consumer Product Safety Commission (CPSC) in the US. This body ensures all baby toys meet set standards and are ethically made for use at home.
On the other hand, apart from getting FDA approval, there's no governing body regulating dog toys in the US. This makes it harder for pet families to distinguish which toys are the safest and which toys aren't.
Why Are Some Toys Safe For My Dog And Not My Baby?
This is a great question.
The honest answer is many toys people buy their dog that wouldn't be safe for their baby aren't the safest for their dog either.
Cheap toys that are made in China that can be easily ripped apart or are made with toxic materials aren't safe options for your pup. But people generally go toward these dog toys because they're inexpensive and they don't get upset if it breaks after a few play sessions.
More expensive dog toys that are made with higher quality materials are more safe for both a dog and a baby to be around.
Also, you'll want to keep flavored toys away from your baby. The flavoring suits a dog's needs but the same ingredients can harm your baby's health.
How To Keep a Baby Away From Dog Toys
Keeping a baby away from dog toys can be a challenging task. Kids always seem to want to play with something that someone else is playing with!
The best way to keep your dog's toys away from your baby is like anything else, put it in a place/places that are out of their reach.
This means having a toy basket or tub with a lid that all your dog's toys go in when your pup isn't playing with them. And when they are playing with a toy or two, make sure they aren't sharing with their brother or sister.
While sharing is caring, it's not recommended here.
An advanced way to do this is to train your dog to put their toys away when they're done playing. Have a designated basket for their toys and teach them to put their toys in it when they are done playing. This will keep your home more tidy as well as make it less likely that your baby will play with your dog's toys.
Safe Dog Toys For Homes With Babies In It
Features
Brand: Goughnuts
Target Animal: Dog
Recommended Breed: All Breeds
Type of Toy: Indestructible Rubber Toys
Description
Goughnut dog toys are some of the best around. They're made with 100% natural FDA approved food-grade rubber (though not made to be ingested) and designed to be as indestructible as a dog toy can be. 
This means there's a much smaller chance that bits of the toy will break off and become a choking hazard for your dog or your baby.
What's great about Goughnuts toys is that, while they are more expensive, they come with a life-time guarantee. If your dog is able to chew through the outer layer of the toy, they'll replace the toy!
Features
Brand: SmartPetLove
Target Animal: Dog
Recommended Breed: All Breeds
Type of Toy: Stuffed
Description
The SmartPetLove Snuggle Puppy Stuffed Toy is a one-of-a-kind dog toy. It's best to have it at home when you have an anxious or new puppy. The stuffed toy works to help your dog feel better with a 'real' heartbeat.
They can snuggle with the stuffed dog toy for stress alleviation and feel safe. This is a toy made in the USA by a company dedicated to making the best and safest dog toys. It's been around since 1997 and continues to improve designs and quality.
All materials used to make the snuggle toy are safe for human use. It means you can have this snuggle dog toy in a home with a baby or young children without worry. The company uses only certified materials to make the dog toy.
It's also machine washable which helps you keep it clean if it finds its way to your baby.
Final Thoughts
Dog toys can be pretty engaging, and you tend to notice even your baby wants to play with them. However, it's worth noting that not all dog toys are safe for your baby.
Inexpensive dog toys aren't safe for a baby to be around because they can more easily have pieces broken off and are likely made with toxic materials.
It's better to keep your dog toys and baby toys separate for safety and hygiene purposes. Also, this prevents any battles if your baby comes across your dog with their toy and vice versa.
Other posts you might find interesting:
Why Are Dog Toys So Expensive? (Simply Explained!)
Are Dog Toys From Dollar Stores Safe? (The Truth…)