Deciding on the dog bed to buy for your furry friend can be quite taxing. The two best options available are an elevated dog bed or memory foam.  But, which one will your dog enjoy using the most and want to use for years to come?
Both types of beds can be a comfortable place for your dog to relax. Elevated dog beds work better for dogs that have difficulties cooling off. Memory foam dog beds help a dog stay warm and are easier to access. Both bed types have orthopedic features.
We weigh the pros and cons of each bed type and take everything into account that you'd need to consider. Read on and let's explore the two types of dog beds in detail to help you make the best choice for your pup.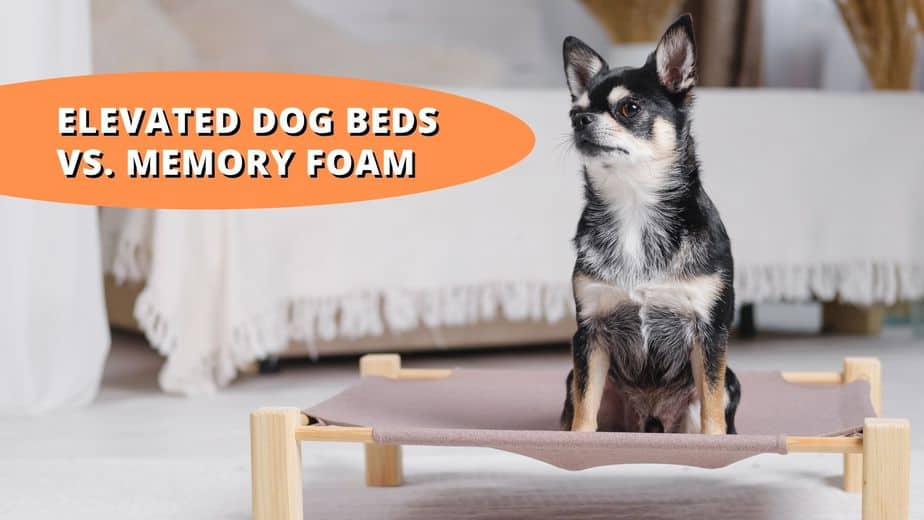 Which is More Comfortable: An Elevated Bed or a Memory Foam?
An elevated bed is raised a few inches from the ground. If you worry about dirt and dust getting on your pup's sleeping area, this is the best bed for them. Its elevated position is why many people use the bed if their dog is injured or sick.
But, is it comfortable?
Comfort is widely subjective, what one doggo finds comfortable another may find completely uncomfortable. Honestly, both can be a good option for your pup. The biggest determining factors are whether your pup has trouble cooling off or not and if they have trouble getting off and on cushy surfaces.
If your dog has trouble keeping cool, an elevated bed will help air circulate around them and keep them cooler than a memory foam bed that will trap heat and make it hard for your pup to cool down; and vice versa if your doggo has trouble staying warm, a memory foam bed will suit them better.
If your pup is old and frail and has troubles getting on and off the couch, for instance, a memory foam bed might be just as challenging where a stable elevated bed may suit them better.
Why Choose an Elevated Dog Bed Over Memory Foam?
Now, if you like the sound of an elevated dog bed, you might want to learn some of its benefits. Here are some reasons why you should choose an elevated dog bed over a memory foam one:
Unique Orthopedic Support
An elevated bed gives your dog's aching joints and bones a break from gravity which helps alleviate pressure. This break helps their body recover and have less pain when they decide it's time to get up and get moving.
In addition, this also applies to when they're injured and need a better recovery bed, no matter their age. 
Less Likely To Be Chewed
Since elevated beds have a base made of plastic and a hammock-like mesh across the top, it's not as interesting to chew for a dog. There's no stuffing inside that a dog can get enjoyment from ripping apart and making a mess.
More Versatile Bed
An elevated dog bed can go anywhere in your home, can be moved in your backyard, or brought with you camping for your pup to rest on. Since they're raised off the ground and made with a plastic base (most of the time) they won't collect dirt that will make the bed a mess that needs to be washed.
Any dirt from their paws can easily be washed off so it's ready for in-home naps again.
Hygienic
The area where your dog lies on an elevated bed is usually a thin/non-cushion piece of material. This is a huge advantage since you don't have to struggle cleaning the bed if your dog has an accident.
Since there's no cushion material on the bed it won't absorb any accidents and don't take nearly as long to clean as memory foam beds.
Why Choose a Memory Foam Dog Bed Over an Elevated Bed?
Memory foam dog beds have benefits worth considering before you make up your mind. Some of them that you can take into account are:
Easier Access
An elevated dog bed can be a bit cumbersome for a dog not used to such a setup. It takes time for your puppy to learn to get on the bed and take a nap. However, having memory foam on the floor is simple for them. It's likely not much of a change from where they'd already been napping.
But, keep in mind their age. As your pup gets older, getting themselves situated on cushy, non-stable surfaces becomes more difficult for them to navigate.
Better to Share
When you have two or more dogs, they tend to grow close. Some dogs love sleeping in the same space. It's easier to share a memory foam for the multiple dogs to share than to set up an elevated bed.
This even fosters closeness among your pups and brings more harmony to your home.
Warmer for Your Dog
If your dog normally gets cold or you live in a colder climate, a memory foam bed is better. It helps to keep your pup warm and cozy when they need to lie down.
Blends in Better With The Furniture
An elevated bed tends to stick out like a sore thumb. But, the beauty of a memory foam bed is its ability to blend with the furniture in your home.
You won't need to find places to put it where it won't clash so much with the rest of the space.
Ideal for Nursing
Another practical use of a memory foam dog bed is when your little lady has some puppies. You don't want to keep her in a raised bed while she nurses her young. That can be hard for her and put the puppies at risk.
Pros of Using an Elevated Dog Bed
Elevated dog beds suit both indoor and outdoor use.
Easier to clean.
Elevated dog beds get ample ventilation on all sides.
Your dog doesn't come into contact with the floor and collect dirt.
Many elevated dog bed brands are chew-resistant.
Cons of Using an Elevated Dog Bed
Some elevated dog beds have little to no cushion.
A dog might refuse to sleep on the bed when it's elevated. Could take some time for them to get used to it.
Poor construction or a cheaply made elevated bed could cause the bed to fall apart with frequent use.
Pros of Memory Foam Dog Beds
Known to be good at keeping pup's joints and bones young and healthy while providing relief to older dog's aches and pains.
It's easy for your dog to use since all they have to do is lie on it.
You don't have to figure out how to put the bed together.
The thick nature of the bed is great if where you live gets cold.
Cons of Memory Foam Dog Beds
Isn't the best option for an injured dog since it's easy to come into contact with dust and debris.
It's not ideal to use outdoors.
Memory foam is hard to clean when it gets urine, poop, or other stains on it.
The bed can quickly accumulate germs and odors.
When Does an Elevated Dog Bed Make More Sense for a Dog?
After learning the benefits, pros, and cons of elevated and memory foam dog beds, it's time to delve deeper. When does it make more sense to get an elevated bed for your dog?
An elevated dog bed makes more sense when you have a lighter dog that likes to sleep in a high position. You might want to test such a bed with your pup to see the reaction to the bed.
If they need help cooling off, the increased air circulation that an elevated bed provides could be their saving grace.
Also, the elevated position works for an unwell dog since it offers more protection from dirt & debris, or other dogs coming to bug/play with them. In addition, the bed is fantastic when you want to spend time with your dog outside.
Perhaps you want to hang out in the backyard, travel, or go camping. Being able to bring an elevated bed without having to worry about it getting overly dirty or ruined means they will have a comfortable place to relax when play time is winding down.
If you need to, many elevated beds can easily be dismantled to store until you reach your destination. Then you can reassemble the bed, and your dog has somewhere to lie off the ground.
We believe the Kuranda Elevated Dog Bed is one of the best elevated dog beds. You can check it out for yourself by clicking here.
When Does Memory Foam Make More Sense for a Dog?
Not every dog likes sleeping in an elevated position. In fact, for some, you'd have to train them to sleep on an elevated bed, which can be an uphill task. In such a case, instead of having to worry about this, a memory foam bed would likely suit them better.
If your dog loves to be warm and cuddled up against things, a memory foam bed will help them feel warm and comforted.
Dogs that already prefer lying on the couch or on/against pillows would likely prefer a memory foam bed over an elevated bed.
We believe the PetFusion Ultimate Dog Lounge & Bed is one of the best memory foam dog beds. You can check it out for yourself by clicking here.
Final Thoughts
Every dog should have a comfortable bed to rest, take a nap, or sleep on at night. The two top-tier types of dog beds to consider are elevated dog beds and memory foam beds. Each type of bed has different benefits for your pup.
After looking at the pros and cons of each type of bed as well as discussing which situations favor the different type of bed, we hope you've been able to decide which is better suited for your pup.
Other posts you might find interesting:
Are Elevated Dog Beds Good For Arthritis? (Fully Explained)
Will My Dog Use a Dog Bed? (Know For Sure!)