Dog accessories are all the rage lately, from collars shaped like bow ties to oh-so-stylish leather leashes. Which brings us to the topic for today: are leather leashes safe for your dog to wear, and are they any good?
Leather dog leashes are a viable option for any dog walker. They're durable, provide improved grip/control, and are comfortable to hold for any duration of walk. The challenge with leather dog leashes is when the temperature drops as the leather stiffens up.
In this post, we discuss all things leather leash-related. We look at the complete pros and cons list of leather leashes, how leather leashes measure up when compared to other leash types, and which types of dogs may benefit from using a leather leash.
Without further ado, let's jump right in!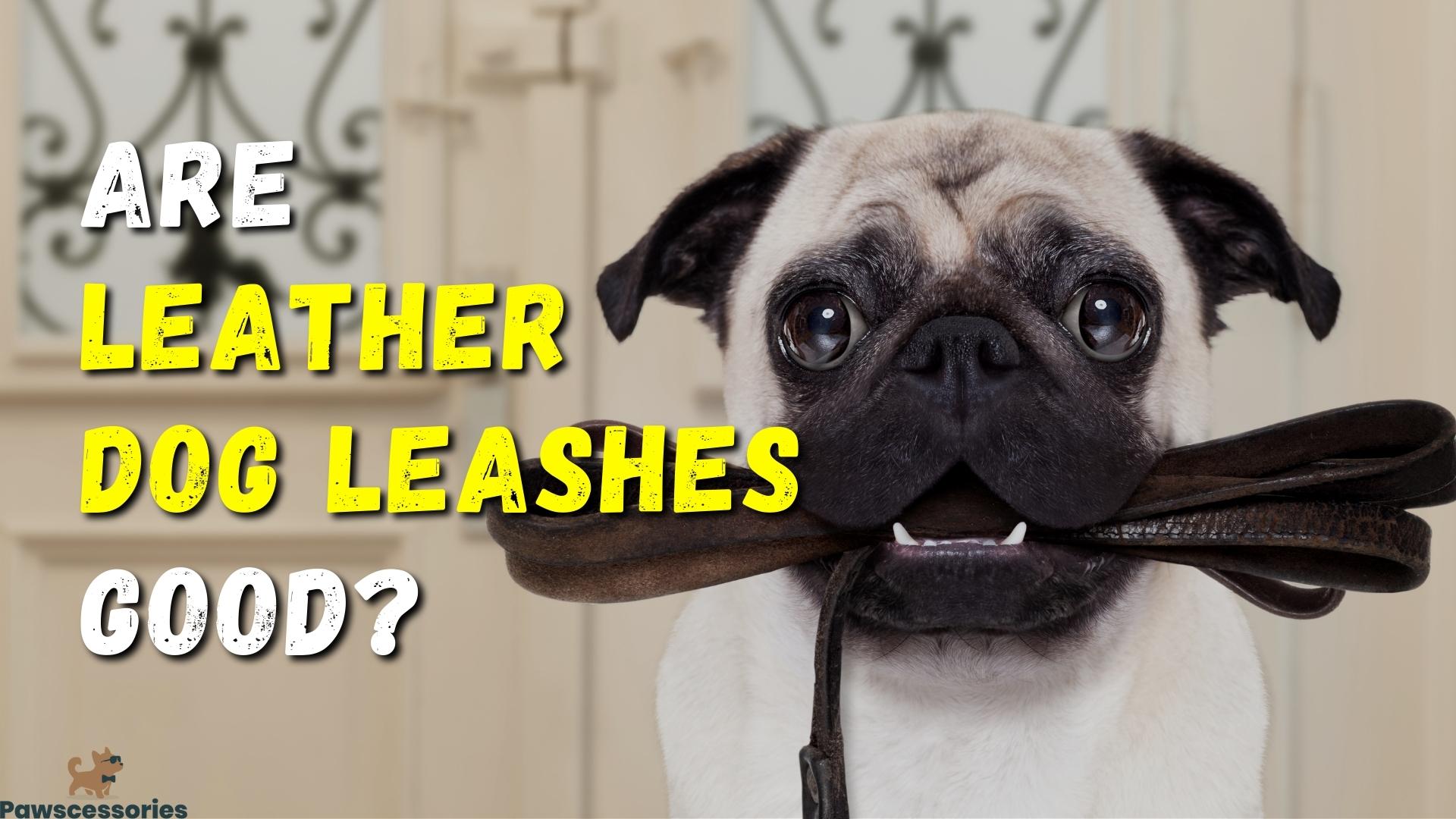 Complete Pros & Cons List Of Leather Leashes
There are a few great reasons to add a leather leash to your dog's walking arsenal, but there are also a few important things to remember. Below, we'll discuss all the pros and cons of a leather dog leash. 
Pros Of Using a Leather Dog Leash
From durability and comfort to better grip while walking. Here are all the benefits of using a leather leash that you might consider before purchasing one: 
Durability
Leather leashes are more durable than any other leashes, and will prevent your dog from chewing through them.
Plus, a leather dog leash can last  many years, and tend to withstand most elements (although we'll get to water in a bit). Investing in a leather leash means your dog's leash won't look dingy after a few months. 
Aesthetics 
Let's be honest, a beautiful leather dog leash looks much more aesthetically pleasing than a nylon one. Leather leashes are especially beautiful when in natural shades, such as browns, as opposed to the neon colors often seen in nylon leashes. 
Leather leashes tend to look quite classy on a dog; definitely something that Lady of Lady and the Tramp would wear. 
Improves Control & Grip
Unlike nylon leashes, leather leashes won't slip through your hands when a dog tugs at their leash. Leather leashes are much easier to grip, and helps a pet owner have maximum control over their pooch.
Leather leashes also don't become slippery when wet, making them the ideal walking partner for adventurous dogs. 
Comfort
Ah, what beats comfort? Leather has always been known as a material many people enjoy sitting on, touching, even smelling.
Holding a leather leash in your hand makes you feel like you have a strong grip on your pup while you get to enjoy the smooth feel of leather.
Does Little Damage To Dog's Coat
Nylon leashes have thousands of little sharp edges that make up the leash. Because of this, as the leash rests on their coat during their walk, it could eventually cause some damage.
Leather leashes are much smoother to the touch and wouldn't have the same effect on your dog's coat.
Cons Of Using a Leather Dog Leash
We told you we'd be telling you the full truth of using leather leashes! Here are all the cons you should keep in mind before buying one for your dog:
Not Great In Cold Conditions
Although leather leashes aren't slippery in wet weather, they don't do well in cold weather.
We've noticed that they get very stiff in cold weather. Anything over 50°F is fine, but when you go on a walk in anything cooler the leather starts to stiffen up.
It still serves its purpose but it's sort of like you're holding on to a half-cooked noodle.
Smells Bad When Wet
Unfortunately leather and water don't generally mix well. Leather leashes tend to smell bad when wet, so avoid bathing your dogs or playing in the rain with them while they wear a leather leash. 
Unlike nylon leashes, leather leashes cannot simply be thrown in the wash when dirty. They require special treatment and should avoid getting wet.
Generally More Expensive 
Leather dog leashes will likely be more expensive than other leashes, such as nylon leashes.
However, they will also last longer. So if you're okay with the higher upfront cost, leather leashes are designed to last many years when taken good care of.
Are Leather Dog Leashes Better Than Other Types Of Leashes?
Leather dog leashes are generally a favorite choice of leashes, although this may depend on your dog's specific needs. 
Won't Slip When Wet
Unlike most dog leashes, such as nylon and cotton leashes, leather leashes offer better grip, and won't slip when wet. 
Comfortable To Use For Dog Owner
Leather leashes offer dog owners much more grip, compared to that of chain, nylon or cotton leashes. This is especially useful if your dog is a tugger, as it will allow for more control over the situation. 
Durability 
When compared to other leashes, such as nylon dog leashes or cotton leashes, leather leashes have a much longer lifespan. Leather leashes are more durable, and are a better long term investment for dog owners.
Not For Cold Weather 
A leather leash does fall short when it comes to cold weather. Leather leashes tend to stiffen up quite a bit in cold weather, so if you live in cooler areas, you may want to consider a different alternative. 
Keep Cost In Mind 
As opposed to its nylon, cotton and chain counterparts, leather leashes are likely to be more expensive. However, they do last longer and are considered a good investment. 
What Type Of Dog Would Benefit The Most From a Leather Leash?
Although leather dog leashes will work well with most dogs, here are a few specific dogs that may benefit more from using a leather leash: 
Tuggers
Does your dog love to pull and tug while walking – no matter how much you try to train them not to? Leather leashes are great for when you need to have a good grip on your dog. 
Chewers 
So, your dog likes to chew through their nylon leash? Not to worry, leather leashes are sturdy and durable, making them the perfect walking companion for stubborn chewers. 
Prone To Allergies 
Some dogs' coats can't handle synthetic materials such as nylon, and these leashes may make their skin itch. If this is the case with your dog, consider buying them a leather leash instead. 
Strong Dogs
If you're worried that your big dog might be able to break free from a thinner leash, a leather leash will suit them. Leather is a strong durable material that no dog can rip through pulling force.
Do Leather Leashes Better Suit Big Or Small Dogs?
Leather leashes can be great for any sized dog.
Many people get leather leashes because they like the style of it. And no matter what size of dog is sporting a leather leash, it still looks good.
When it comes to the practical uses of a leather leash, owners of big, strong dogs would get a lot of use out of a leather leash.
If you have a tough tugger on your hands and you're worried about your current leashes ability to hold up to the pulling, a leather leash could be a good option for you.
Best Leather Dog Leashes
If you'd like to add a leather leash to your dog's collection of walking accessories, these are our top-rated picks: 
Made from real Italian leather, this leash is as beautiful as it is durable. It has been handmade, offers tensile resistance and is quite strong.
This leash has a pure copper alloy casting, with a simple yet practical clip. Ultimately, the leash can carry 500 LB pull force. Its length of 5.6FT is ideal for all walking situations, and the leash has a warranty of two years. 
This modern but timeless leash is made from genuine leather, and a premium nickel-plated solid brass clip.
This leash can withstand over 245 LB of pulling force, making it the ideal leash for a military or other service dog. It is both beautiful and durable, and has a lifetime guarantee. 
Final Thoughts
Leather dog leashes are both stylish and comfortable, as well as a durable companion for your four-legged friend's walking adventures. They have a variety of benefits, such as allowing for more/better grip, are a more durable leash, more comfortable to hold, and are stylish to boot.
Every product comes with some negatives though. For the leather leashes case they stiffen up quite a bit in cold weather, can get a little smelly when wet and tend to have a higher up-front cost. In spite of these cons though, a leather leash has many great attributes and can be a great walking accessory for your pup.
Other posts you might find interesting:
5 Ways Using A Dog Leash Can Be VERY Cruel
6 Reasons Your Dog Leash Won't Last + 3 Helpful Tips