The thought of our unwatched pups' buckle collars getting caught and causing a neck injury is devastating, but so is the idea of them getting out of the house/yard without a collar on. This dilemma has inspired quick release dog collars, but are they really safe?
Quick release dog collars are safe to use, and can be lifesaving in some cases. The catches on the buckle are designed to automatically unclasp if tugged by a strong force. This prevents strangulation or injury to a dog if their collar catches on something or is tangled during play.
Quick release collars can be a great safety precaution for your dog, but there are still things to be aware of before giving this type of collar to your furry friend. Read on for all the answers to quick release dog collar queries you may have so you can decide if they're right for your pup!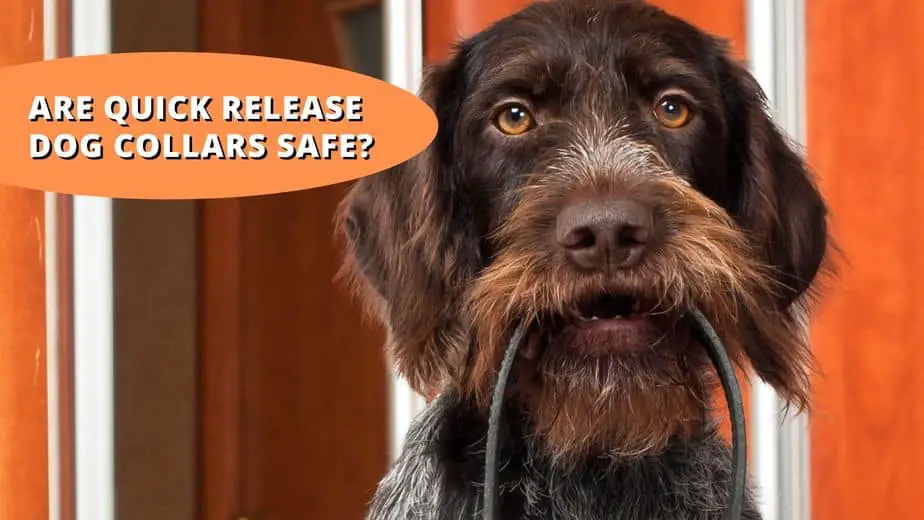 How Do Quick Release Dog Collars Work?
Quick release dog collars are very similar to regular flat buckle collars, except that the internal prongs on a quick release – or breakaway – collar are rounded. Without the barbed catch on the buckles' prongs, a sufficiently strong force will pull the clasp apart. But this doesn't break the collar, it'll simply click back together like it's the first time you're putting it on your dog.
A lot of quick release dog collars will have two metal D-rings to attach the leash to, which stops the mechanism from releasing if your pooch tugs on the leash or spots a squirrel and makes a break for it. 
Are Quick Release Dog Collars Easy For a Dog To Get Out Of?
If the quick release dog collar is fitted properly you should be able to get two or three fingers underneath the collar easily without being too tight. If correctly fitted, your pup shouldn't be able to slip out of it without having to put in a fair amount of effort towards getting out of it.
When fitting the collar, make sure that the material isn't abrasive on your dog's skin. You don't want them escaping but you also don't want them chafing!
Do Quick Release Dog Collars Break Easily?
In terms of the actual dog collar itself, the material that quick release collars are made of will make the biggest difference in this department. Mostly, quick release collars are made from thickly woven nylon, and they are just as durable as standard buckle flat collars.
A huge pro for quick release collars is that the clasps aren't damaged if the collar opens, and they snap straight back into position when you put the collar back on. Of course, this isn't a total guarantee, especially if your dog is a particularly large breed or strong in general.
Are Quick Release Dog Collars Reliable?
The strength of the force necessary to trigger the quick-release mechanism differs from collar to collar. It's important to consider this factor if you do decide to go ahead with one of these collars, because if your dog is too strong for the maximum pull, the collar may snap open more easily than you'd like. 
You can trust the collar to do its job and keep your dog safe, but make sure to do your research properly too before rushing to buy one. Quick release dog collars are definitely reliable when used on the right dog, so just make sure that the collar is correctly suited to your pooch and you should be happy with the results.
Is a Quick Release Dog Collar Safe To Walk Medium/Big Dogs With?
A lot of the safe quick release dog collars available tend to primarily target puppies and smaller dog breeds. However, a quick release dog collar is safe to walk bigger dogs with, you just need to take a few things into consideration: 
Your dog's weight and neck size
The strength of the material
Choosing a collar with two D-rings for the leash attachment
Often, brands that cater to big dogs will make it apparent, so ask at the pet store for assistance! A very popular choice for dogs on the larger size comes from the aptly named PetSafe catalog, and it has received rave reviews from owners.
What Types of Dogs Best Suit Quick Release Collars?
Active Dogs
A quick release dog collar is a good option for the following dog breeds, who often get themselves into trouble due to curiosity, hyperactivity and top-notch escape artistry: 
Labradors
Chihuahuas
Huskies
Boxers
Jack Russell Terriers
Beagles
Staffordshire Bull Terriers
Border collies
Playful Pups
Most collar-related strangulations and injuries happen when a dog is playing. Whether that be at the park, home, or at another house for a pooch-playdate.
It's probably for this reason that puppies get the most out of quick release collars, because they tend to be doing nothing but play!
Escape Artists
If your dog is a bit of an escape artist and you don't feel safe leaving them unattended without a collar on, then a quick release dog collar would probably suit them well.
If their escape artistry includes seeking freedom from their own collar, and not just getting outside when the doors open, this style may not be the best choice given the easier release of the clasp.
What Brands Have The Safest Quick Release Dog Collars?
There are many bands of quick release dog collars. These are the best, most safe quick release collars that we've found.
The FunTags Reflective Nylon Dog Collar is a great option for your four-legged friend. It has a range of neon colors you can pick from and reflective features that add to the safety of the collar, ensuring that your dog is always visible. 
Another great quick release dog collar is the Petsafe KeepSafe Break-Away Collar, which has a patented buckle designed to prevent tragic collar accidents.
Definitely explore the plenty of different choices available. It's never a bad idea to ask your local vet for their advice or recommendations to help point you in the right direction. There's not one brand that is universally best suited to every dog, so browse the options with your own dog in mind, and you'll be sure to find the best collar for your pup.
Final Thoughts
In theory, yes, quick release dog collars are safe for dogs to wear and can actually increase safety in many ways. Every dog is different, and you want to be certain that the quick release collar will work with your precious pup before you go ahead and grab in one.
When it comes to leaving your dog unattended at home and a collar is non-negotiable, quick release dog collars are definitely a safe option. You can happily rest assured that if anything was to catch their collar, your pooch is protected from injury and potentially fatal strangulation.
If your dog is a larger breed or pulls particularly hard on the leash, it may be worth looking into a second collar that is more suited to your dog's needs while on a walk. That way, you can comfortably leave your pup unattended while at home, and then switch to a different collar when you head out for walks or to the dog park.
Over 50% of veterinarians surveyed reported to have encountered an accident that was linked to a dog's collar, so what seems like a quick simple decision, like getting a collar, should be given a good amount of thought.
Other posts you might find interesting:
Dog Harnesses Fully Explained (Are They Cruel?)