Pawscessories is reader-supported. When you buy via links on our site, we may earn an affiliate commission at no cost to you. Learn more.

---
Quick Access To The Best Brushes For Australian Shepherds👇
Aussie shepherds are best known for their intelligence, loyalty and good looks. But they're also well known for their shedding. This is why having a top-notch brush at home is especially important for an australian shepherd.
While brushing is most commonly known for collecting loose fur so it doesn't make its way around your home, there are other great reasons to make brushing your dog apart of your routine.
For your doggo to enjoy all the benefits that come from brushing, it needs to be enjoyable for them as well as you!
That's why we're going to look at the top 10 best brushes for an australian shepherd in this post. To help you find a brush that will make your job easier while still being a great bonding experience for the both of you.
Let's get right to it and take a look at our best overall brush pick for australian shepherds.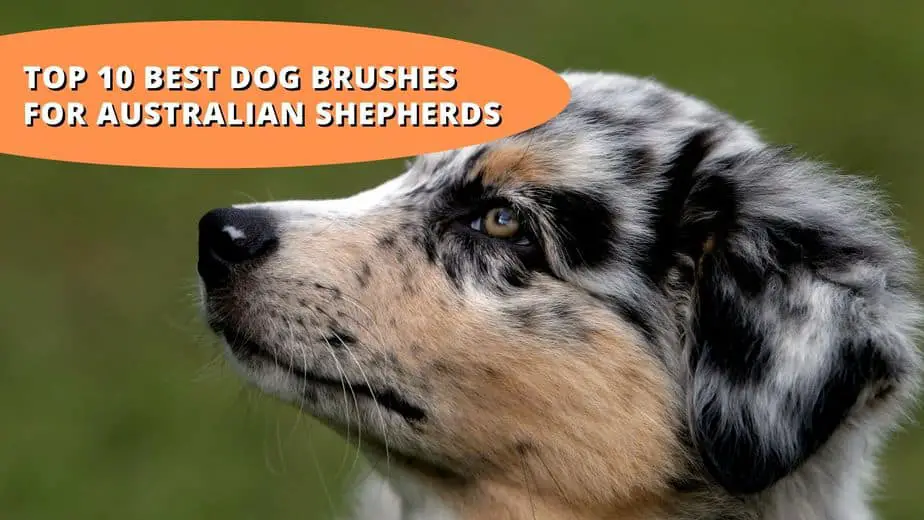 Top 10 Best Brushes For Australian Shepherds
Best Overall: The Chris Christensen Big G Dog Slicker Brush
Our best overall brush pick for an australian shepherd is The Chris Christensen Big G Dog Slicker Brush. When it comes to effectively grooming your pup this brush will help you remove knots and tangles efficiently and effectively.
The brush has additional features like a cushioned pad, scratch free pins for sensitive skinned dogs, plus a rubber handle for better gripping, it's arguably the best of the best.
It's pins are larger than most other brushes which enables you to better tackle tangles which saves you time and energy. You'll feel like a professional groomer with this brush in your toolkit.
Our source of testers shared that this brush has done a really good job at speeding up their grooming time.
One person said that their doggo really didn't like being brushed but actually sat still for brushing sessions when she got this brush.
Not to mention it has almost 90% of people giving it a 5 out of 5 star on Amazon. When you get up to over 3,000 views that's not easy to maintain, so that's quite an accomplishment.
Chris Christensen Big G Dog Slicker Brush Key Features:
Made with larger pins to help grip matting and tangles
Has a cushioned pad for better brushing function
Ergonomic rubber handle to help make your job easier
Best Runner Up: The FURminator Undercoat Deshedding Tool
Make your dog's coat healthy and manageable with the FURminator Undercoat Deshedding Tool!
With this brush you'll be able to easily remove pesky loose hair without having to worry about cutting skin or damaging their topcoat!
It has two blades that safely remove matted fur so grooming sessions are less cumbersome for the both of you.
This versatile brush is designed to effectively reach through the topcoat to safely and easily remove loose hair as part of any grooming regimen.
The ergonomic handle helps reduce fatigue on your arm while giving your pup their much needed grooming.
The vast majority of people who've given this brush a shot are wildly impressed. Many of which have heavy shedding dogs and haven't been able to find anything that really gave them the results they were looking for.
FURminator Undercoat Deshedding Tool Key Features:
Helps safely remove matted fur
Effectively gets to the undercoat to get rid of loose hair
Comfortable handle design to make brushing easier on you
Best Budget: The Safari Pin and Bristle Dog Brush
Difficult grooming sessions with too many tools can be a thing of the past with the Safari Pin and Bristle Dog Brush.
It's a multipurpose, double sided brush that helps you clean your pups fur from debris, dirt and loose hair. This means less frequent clean ups elsewhere!
It's bristles are made from quality organic bristle hair which helps better spread your doggos natural oils along their coat. With enough brushing this will help keep their coat healthy, nourished and soft for a show-dog shine all day long.
Safari Pin and Bristle Dog Brush Key Features:
2-in-1 pin and bristle brush
Helps spread natural oils to promote a clean, shiny coat
Great for everyday maintenance brushing
Best Under $10: The FURminator Brush
If you're looking for an inexpensive brush that's lightweight and easily removes tangles and matting, the FURminator Brush could be for you.
Being the terminator of excess fur, this brush lives up to its name by effectively grabbing dead fur without pulling on your doggo's skin.
This brush allows you to remove painful/irritating knots and smooth out your pups fur without having to pull too hard. It's bristles are soft at the end to make the experience as enjoyable as possible for you pup.
It works great for dogs with medium length coats and also does a great job with longer fur to create a lovely natural shine.
If your pup is looking a little scruffy and you're on a budget, a quick once-over with this brush and they'll be all the rage at the dog park.
The FURminator Brush Key Features:
Gets rid of mats and tangling without painful pulling
Designed to be gentle on their skin
Made for dogs with curly locks
Best Brush For Mini Australian Shepherd Puppy: The Dog Grooming Glove
The Dog Grooming Glove is great to help a puppy get used to grooming without them realising. They think they're just getting some lovin' and you're getting rid of fur before it finds its way on your couch or all over your house.
This glove simply slips on your hand and enables you to brush away dirt and loose hair gently and efficiently.
Loose fur will easily stick to the glove without causing your pup and harm or irritation because it's made of soft rubber tips.
This gives your doggo a nice relaxing massage with no chance of scratching their sensitive skin.
It's made without any harmful materials to ensure you and your pup are safe.
Dog Grooming Glove Key Features:
Tips on the glove provide a relaxing massage when brushing
More relaxed grooming than traditional brushes & combs
Excess hair sticks to glove making collecting and throwing away hair simple
Best Thinning Shears For Australian Shepherd: The Chibuy Professional Thinning Scissors
The Chibuy Professional Thinning Scissors are our pick for the best thinning shears for an australian shepherd.
They give you the ability to act like a pro by removing tangles and dead hair while greatly increasing the pleasure of grooming.
Good thinning shears are essential for low-shedding, sensitive skin and/or double coated breeds or heavy shedders year round.
These scissors are made from stainless steel material to help them remain sharp and durable to reduce friction when cutting through fur.
The rounded tip design prevents the chance of injuring your pup if they get restless during their trimming. It also allows you to cut with precision around their ears, paws, and mouth area.
Chibuy Professional Thinning Scissors Key Features:
Made with stainless steel to keep them sharp
Rounded tips to prevent chance of injury
Easy to use
Best Rake Brush For Australian Shepherd: The Gorilla Grip Rake Brush
Put your pup's hair at bay with the Gorilla Grip Rake Brush. We believe this is the best rake brush for an australian shepherd.
It's designed for deshedding and detangling and also has a slip resistant, ergonomic grip that is comfortable to use and hold.
The brush features two stainless steel combs: one end is designed for deshedding while the other comb offers a gentle but effective massage while working out knots in their coat.
This rake helps get rid of their current loose fur while helping reduce excessive shedding in the future. A quality brush means less cleaning up around the house, and less often too (woohoo!).
Gorilla Grip Rake Brush Key Features:
Great for deshedding and detangling
Made with stainless steel combs
Comfortable handle for long & short brushing sessions
Other Top-Rated Picks
The GoPets Double Sided Pin & Bristle Brush
The GoPets Double Sided Brush is a 2-in-1, multi-purpose brush. This means that no matter if your pup has short, medium or long hair you'll always have the right combing tool on hand.
The rounded ends make it easy to wipe away loose hairs and dirt without causing any pain–making it perfect for dogs who don't like being groomed too often.
The bristle side is designed to remove loose hair, dirt and mats while getting rid of those pesky little hairs that pests like to hide in.
It also has a non-slip handle so you can groom confidently even if you have arthritis or other joint problems.
It's fast and easy to use to help with loosening their undercoat which means they'll shed less afterwards since the grooming process will get rid of the fur ready to come out.
GoPets Double Sided Pin & Bristle Brush Key Features:
2-in-1 multi purpose brush
Gentle enough for dogs who don't love being groomed
Non-slip handle for more confident brushing
The Hertzko Self Cleaning Slicker Brush
If your doggo doesn't love being brushed or has sensitive skin, the Hertzko Self Cleaning Slicker Brush could be a great option for them.
It's bristles are designed to easily get past your dog's top coat and get right to their undercoat to remove loose fur without harming their skin.
The brush has a comfortable grip handle with anti-slip technology so you're able to do your brushing sessions comfortably multiple times a week.
You'll easily be able to get rid of tangles, knots, and mats and when you're done, simply click the button on the back to retract the bristles for an easy clean up.
It's important for pups to have healthy coats and this brush makes it easy!
Hertzko Self Cleaning Slicker Brush Key Features:
Great for sensitive skinned dogs
Made with anti-slip grip on handle
Retractable bristles make it super easy to clean
The HappyDogz Slicker Brush
For dog moms and dads looking to make their pup happy during grooming time they should check out the HappyDogz Slicker Brush.
The brush strokes are soft enough to gently remove hair and other debris from their coat while also being firm enough to get out stubborn knots. No matter how thick your pup's coat is, this brush can make them soft as a cloud in no time.
It's highly durable, ergonomically designed, and has a fool-proof handle for easy control.
Both you and your pup will have an easy-going experience with this brush while getting out troubling mats and tangles.
HappyDogz Slicker Brush Key Features:
Bristles are gentle on your dog but firm enough to get out tough knots
Comfortable & durable to use
Great for both thin and thick coats for dogs with sensitive skin
Top 5 Benefits Of Brushing Your Dog
While grooming will no doubt make your dog's coat look better kept and more attractive in general, brushing offers much more than a good appearance. Below I'll address five additional benefits that you get from consistent brushing sessions with your furry friend.
Bonding Time
It's easy to get caught up in your busy job, family challenges as well as everything else you need to worry about on a day-to-day basis. Unfortunately, all too often, it's the family pet that is first to receive less of your time and affection. A consistent grooming schedule is a great way to bond with your pup in a relaxing way that can help melt stress away for the both of you.
Health Exam
It's difficult to find the time, not to mention can be expensive, to do frequent check ups at the vet. Brushing sessions give you the perfect chance to inspect all over their body to find any unusual bumps and wounds. Regular grooming could turn out to save your pups life if something is found early and taken care of promptly.
Shiny Oil Distribution
Just like with people, your dog naturally produces oils in their skin and coat. Brushing helps distribute these oils all over their body which help promote a healthier, shinier coat. It also prevents unwanted grease buildup.
Reduce Shedding
No one likes to clean up the house more frequently than they have to. When you constantly brush your pup you'll reduce their shedding and will be able to collect most of their fur and dispose of it before it finds its way all over your home. It's especially beneficial if you have someone living with you that has pet dander allergies.
Detangle and Demat
Oftentimes, matting and tangling occurs near their skin and not on the surface where you can easily see them. If these are left for too long they can become quite the sore for your pup. They can even cause skin problems, or worse, infections if left untreated for too long. Getting rid of them with a good brushing schedule is super important.
How To Prevent Australian Shepherd Matting
Long luscious fur is prone to tangling which then leads to matting, unfortunately. I guess that's why they say beauty hurts!
And because of this, that beautiful coat on your australian shepherd is going to require some extra care. Matting happens when their topcoat, undercoat, or loose hair is left for too long and begins to clump together and get knotted.
If even a small matted patch is left alone for too long, it can easily turn into an irritating problem for your furry family.
Matting can happen very easily. As easy as frequently petting your pup!
And we both know that giving your doggo some lovin' isn't going to stop.. So the trick becomes knowing how to keep their matting at bay and under control.
The best piece of advice to prevent excessive matting is to brush your pup, and brush them often. You'll also want to hold off on giving them a bath if you notice any matting. Getting their fur wet will only make the tangles or knots worse.
To carefully get rid of a bunched up knot you'll want to brush the area starting at their skin and gently stoke outward toward the tip of the patch of hair. Repeat this careful motion until the mat is taken care of.
Be sure to address matting underneath the surface of their coat so no knot is left being unaccounted for.
Some places that matting takes place more often than not is in their armpits (where their legs meet their body), their tail, along their thighs, as well as around their ears.
FAQs
What Is The Best Deshedding Tool For Australian Shepherds?
The best deshedding tool for australian shepherds is the FURminator Undercoat Deshedding Tool.
If you're looking to keep your pups shedding under control this brush is a great option.
What Kind Of Brush Should I Use On My Australian Shepherd?
The best type of brush for an australian shepherd is a slicker brush. That's why we recommend the Chris Christensen Big G Dog Slicker Brush.
However, if your pup has some serious matted fur because it's been a while since they've had their last brushing. It would be a good idea to get a rake brush to detangle more severe knots and then use the slicker brush for the remainder of their body.
How Do You Brush An Australian Shepherd?
Before getting the slicker brush out, you'll want to check all over your pups body for some more heavy duty tangles. Areas to check are in their armpits, underbelly, ears, and tail to name a few.
Once you've either dealt with the more severe tangles or didn't find any you're ready for their general brushing.
First, you'll want to brush each individual leg. Make sure you're doing small strokes to get all the excess fur and not getting caught in a big bunch of fur.
Once you've finished brushing each leg from top to bottom you'll want to work on their back.
Starting from their neck and moving towards their back, gently massage their coat while loosening tangles and collecting dead fur. Don't forget their tail!
Lastly, you'll want to get their head, ears and face. Be sure to take a little extra time with these areas as you don't want to spook your pup or accidently hurt them.
Final Thoughts
There you have it! Our list of the top 10 best dog brushes for an australian shepherd.
There are so many darn brushes to choose from online it can make choosing any brush in particular far too challenging.
We hope this list was able to condense your options to something much more manageable.
We're confident if you grab any of the brushes on our list both you and your pup will be more than happy with their grooming experience in the future.
Happy brushing!
Other posts you might find interesting:
12 Best Harnesses for Australian Shepherds: Features and Benefits
12 Best Dog Shampoos for Australian Shepherds: Top-Tier List
Top 8 Best Beds for Australian Shepherds | Features and Benefits