Pawscessories is reader-supported. When you buy via links on our site, we may earn an affiliate commission at no cost to you. Learn more.

---
Quick Access To The Best Cooling Mats For Dogs 👇
Your dog's permanent furry coat can be a blessing and a curse. During the winter it keeps them nice and warm, but unfortunately they don't have the luxury of taking it off in the summer when it's warm!
If you're noticing that your furry friend may be overheating, you probably want to get the best cooling mat for dogs possible. You don't want your little (or big) furry friend to be uncomfortable!
Dog's also don't have the benefit of sweating all over their body to help relieve some of the heat they're experiencing. Unlike humans, dogs only sweat through their mouth, nose and paws, making their whole bodies trap heat under that furry coat.
This is why a cooling mat or pad is such a great accessory for your doggo to have that they will surely appreciate. If your dog stays too warm for too long they could experience a heat stroke which may lead to other troubles in the future.
I'm sure this is something you'd like to avoid and you've come to the right place to find your pup the best solution to keep them cool on warm summer days & nights.
We've put together a list of the top 12 cooling mats & pads for dogs to help you keep your doggo nice and cool on those days that are unbearably hot.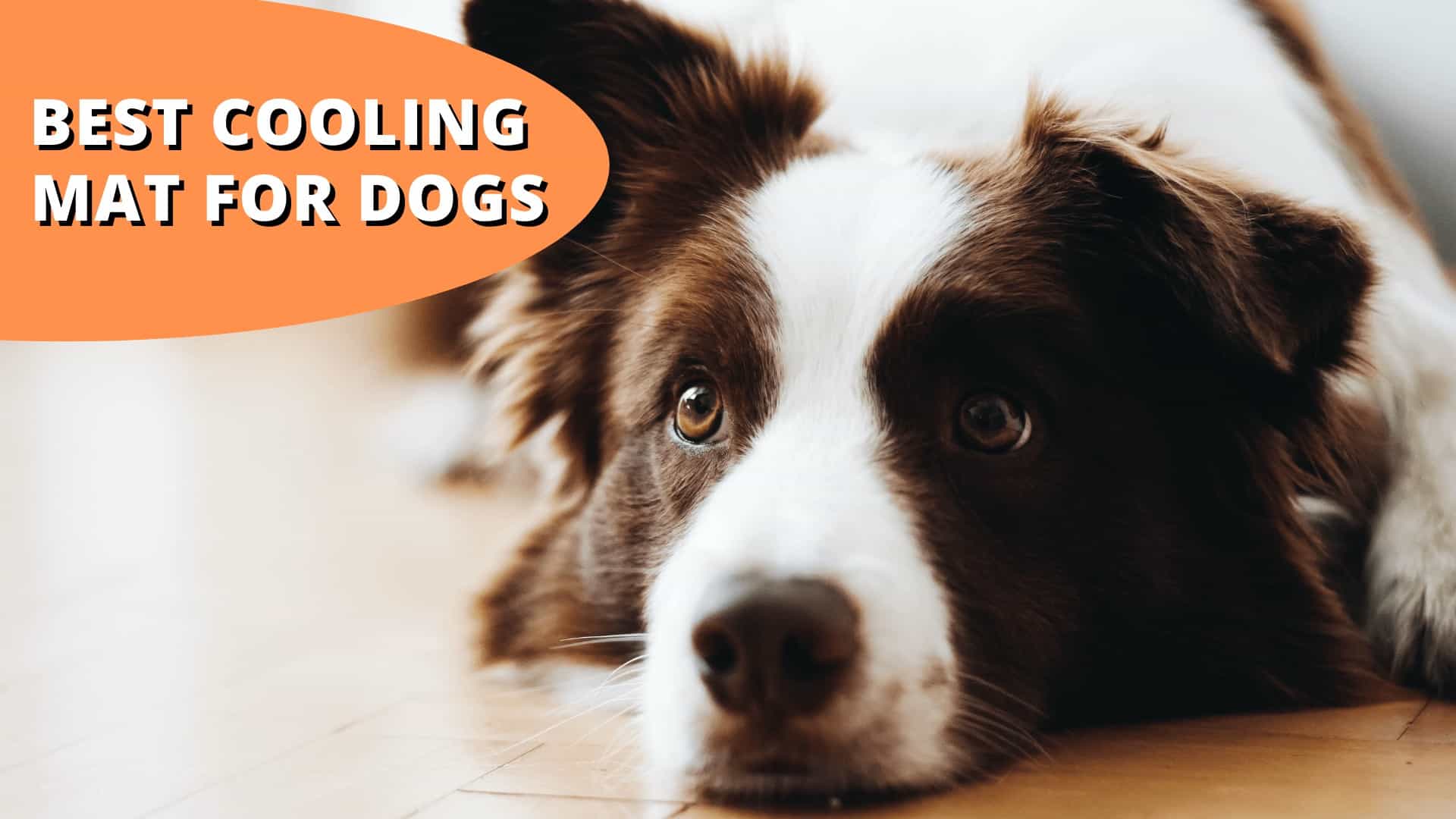 Top 12 Best Cooling Mats & Pads for Dogs in 2021
Best Overall: The Arf Pets Cooling Mat
The mat we chose for the best overall spot on our list is the Arf Pets Cooling Mat. If you're noticing your dog is getting increasingly more uncomfortable being in the heat, this pad could provide them with a great deal of relief.
We'd go as far as saying this is the best gel cooling pad for dogs.
This mat automatically recharges while it's not being used. Make no mistake, there are no batteries or electricity involved in using this pad, but after your dog's warm body lies on it for enough time (they say up to 3 hours of cooling relief), it will lose its cooling effect.
Once your dog gets up off the pad and it's placed inside in a cooler environment, it will start to recharge its cooling qualities. No need to refrigerate, add water, or use batteries.
The mat is made of non-toxic, latex free material to make it completely safe to be around your entire family (furry and non-furry).
If an accident happens on the mat it can be easily wiped down to be as good as new for years to come.
Arf Pets Cooling Mat Key Features:
Cooling relief lasts up to 3 hours before needing to recharge
No batteries, water or refrigerator needed to make the mat work
Made of non-toxic material inside and out
Best Budget: The Goldenlight Dog Self Cooling Mat
The Goldenlight Dog Self Cooling Mat is our choice for the best budget cooling mat!
This inexpensive cooling pad is made of breathable mesh fabric as well as self-cooling fabric material – making it velvety smooth and soft to the touch.
The mat comes in sizes to accommodate small doggos under 30 lbs and medium-large dogs up to 70 lbs.
The mat is thin and lightweight making it easy to take around with you as well as store. If you and your pup are going to the dog park you can easily bring this with you to help cool them down after running around with all their four-legged friends.
It can also be easily used in a kennel/crate, on your couch, chair, or bed (without damaging them) to ensure no matter where your dog is resting, they will be able to cool down which will help put them at ease.
Goldenlight Dog Self Cooling Mat Key Features:
Inexpensive cooling mat
Can providing relief for dogs up to 70 lbs
Easily portable & storable
Best Runner Up: The Green Pet Shop Dog Cooling Mat
The Green Pet Shop Dog Cooling Mat is our choice for the best runner up spot on our list. This pressure-activated mat is great for hot dogs of all sizes.
The mat requires no additional effort on your part to replenish its soothing cooling features. Simply have your doggo stop using the mat for 15-20 minutes and the mat will cool itself down again.
Whether you have a senior dog or a rambunctious pup, this pad could become their best friend on hot summer days.
The mat is easily foldable to enable on the go cooling wherever you and your adventurous doggo go. However, to help maintain the cooling features, it is highly recommended that you do not leave the mat outside in direct sunlight.
If it stays out there too long the benefits of the bed will wear off, unfortunately.
Green Pet Shop Dog Cooling Mat Key Features:
Pressure-activated cooling gel
Recharges after 15-20 minutes of no use (no refrigerator, water or batteries required)
Foldable & portable for on the go cooling
Best Under $50: The Chillz Cooling Mat For Dogs
Get the cooling your dog so badly wants on hot summer days without having to break the bank! The Chillz Cooling Mat For Dogs is our choice for the best under $50 option.
This low-maintenance cooling mat is not only safe for your dog and family, but also the environment with it's non-toxic gel material.
This mat is also pressure activated and self-replenishing. As soon as your doggo lies on the mat is when they'll start feeling the cooling sensation, and when they leave to go explore it will begin recharging for the next resting period.
Another nice feature of this mat is that its cover is made of puncture resistant material. This can help increase the lifespan of the mat to make sure you're not having to buy a new one every year.
It is important to note that the mat is certainly not chew proof, but the cover can hold its own if your dogs nails are getting longer.
Chillz Cooling Mat For Dogs Key Features:
Made of non-toxic, family, dog and environmentally safe gel
Pressure activated
Self-recharging 
Puncture resistant cover
Best Electric Dog Cooling Pad: The Pawaboo Dog Cooling Mat
After a lot of searching, the Pawaboo Dog Cooling Mat is what we found to be the best electric dog cooling pad on amazon. It appears that electric dog cooling mats are far less common than gel cooling mats.
It is feature rich but the reviews are quite widespread. Some giving the mat 5 star reviews saying it works perfectly while others giving 1 and 2 star reviews sharing it doesn't work as shown.
If you're keen on giving an electric dog cooling pad a try, we still believe this to be the best option available on amazon. Now let's check out its features.
The mat is filled with 1 bottle of water (provided with the mat) and then once plugged in and turned on, evaporates the water and blows these cool water particles to the surface where your dog would be laying.
It's made of nano absorbent material to help ensure the mat doesn't become damp while in use.
The mat should not be washed in the washing machine, wrung out, or blown with a hair dryer to dry the mat. To clean the mat simply wipe it down with a wet towel.
Pawaboo Dog Cooling Mat Key Features:
Electric cooling mat to provide longer cooling experience
Made of nano absorbent material
Built with waterproof fan
Best Large Cooling Mat: The Dogbed4less Premium Gel-Infused Memory Foam Dog Mat
Dogbed4less Premium Gel-Infused Memory Foam Dog Mat maximizes cooling as well as comfort. It's memory foam is infused with a cooling gel to make sure your dog stays as cool as a cucumber whenever they're resting on this mat and is why we've selected this to be the best large cooling mat.
The mat is soft, cushiony and absorbent. As accidents are bound to happen on the mat, it's made with an antimicrobial treatment to help prevent mold and mildew.
The top is made of a comfortable coral fleece fabric in a slique grey colour.
It's washable but has a little more of a higher maintenance cleaning process. Since it can't be machine washed (as the cooling gel would get ruined) it's recommended to use a garden hose with a small amount of detergent and then dabbed with a towel to remove excess water.
Once that's done it can sit outside in a shaded area until completely dry. The mat is not made of chew proof material so wouldn't be a good choice for aggressive chewers.
Dogbed4less Premium Gel-Infused Memory Foam Dog Mat Key Features:
Thicker than other cooling mats to provide increased comfort as well as cooling
Antimicrobial treatment to prevent mold and mildew development
Anti-slip waterproof bottom
Washable
Other Top Picks
The K&H PET PRODUCTS Coolin' Comfort Bed
The K&H PET PRODUCTS Coolin' Comfort Bed provides orthopedic features as well as a soothing, cooling sensation.
This cooling mat in particular does not use gel to provide its cooling feature, it uses water! Simply fill the mat with water and let your pupster lie on it and they should start cooling off right away.
The core of the mat is made of orthopedic foam to help with arthritis or joint pain. If you have an older dog that needs a place to lie that provides relief to their achy joints but also helps them stay cool, this mat could be a great option for them.
As this mat's cooling features involve filling it with water, you will have to be careful where you place the mat outside as if it gets punctured it won't work anymore. While it's made of durable nylon/vinyl material you will still want to be mindful of where you're placing the mat.
K&H PET PRODUCTS Coolin' Comfort Bed Key Features:
No use of gel or electricity
Orthopedic foam center
Tough nylon/vinyl cover 
The Coleman Pressure Activated Comfort Cooling Gel Dog Pad
The Coleman Pressure Activated Comfort Cooling Gel Dog Pad is a hot dogs best friend.
Wherever your doggo goes, this mat can be brought with them. In the car, on a hike, trip to the dog park, or simply just in the backyard.
When it's a nice warm day out you want them to be able enjoy being outside without having to worry about them overheating. That's the beauty of having a cooling mat.
Even if you're simply noticing your dog laying on the tiles in your house, hanging around vents or doors where air is circulating, getting them this cooling mat could make their life that much better.
This mat stays 5-10 degrees cooler than room temperature which is perfect to help keep your doggo comfortable.
If any accidents happen, simply give the mat a quick wipe down and it's ready to get back to being used.
Coleman Pressure Activated Comfort Cooling Gel Dog Pad Key Features:
Stays 5-10 degrees cooler than room temperature in home
Easily cleaned with quick wipe down
Made of non-toxic stay-cool gel
The Faith Force Dog Cooling Mat
The Faith Force Dog Cooling Mat is an inexpensive option to keep your furry friend tail waggin' happy on a hot day.
The mat is made of an ice silk material on the surface that is more breathable, lighter, and more comfortable than most fabrics used in other cooling mats. 
It has a limited degree of scratch resistance with its robust stitching. However, it by no means is scratch resistant or chew resistant so if you have a digger or chewer on your hands this product likely won't last the test of time.
As the mat is lightweight it is easily foldable and portable enabling it to be taken anywhere you and your dog venture off to.
Faith Force Pet Cooling Mat Key Features:
Surface made of ice silk material
Limited scratch resistance
Lightweight, breathable, and comfortable
The Nesutoraito Washable Summer Cooling Mat for Dogs
The Nesutoraito Washable Summer Cooling Mat for Dogs is an excellent option for those looking for a cooling mat that is machine washable.
To get the best cooling experience it is recommended to throw the mat in the freezer for 10 minutes and place it in an air conditioned area.
It can be used virtually anywhere you like but it's cooling features will last longer in an air conditioned environment. Many reviewers shared that the mat worked well outdoors as well so it's not solely for indoor air conditioned places.
As mentioned in the beginning, this mat can be machine washed! That is different from almost every other cooling mat on our list. So if ease of maintenance is important on your list of priorities for a cooling mat for your dog, this could be a great option.
Nesutoraito Washable Summer Cooling Mat for Dogs Key Features:
Inexpensive
Machine washable
Can place in freezer for more obvious cooling feeling
Multi-purpose 
The ALL FOR PAWS Dog Cooling Mat
The ALL FOR PAWS Dog Cooling Mat provides cooling in a very unique way compared to the other choices.
This mat does not have cooling gel, is not electric, and isn't water filled. It provides air circulation by keeping your dog elevated and has an open center to allow air to pass through easily.
It's mattress is made of plastic noodles to create space (air pockets) while keeping your dog off the floor so air can pass through the mat to keep your furry friend cool.
The cover is removable and machine washable if it gets dirty (who are we kidding, WHEN it gets dirty).
ALL FOR PAWS Pet Cool Mat Key Features:
No gel, water or electricity needed to provide cooling
Designed for natural air circulation
Removable & washable cover
Yespet Cooling Mat for Dogs
The Yespet Cooling Mat for Dogs will have your dog feeling like they're on the beach for more than 1 reason! Not only will it help keep them cool as though they were running around sandy beaches, the wavy design will remind them of relaxing waters.
This cooling mat is cool but not ice cold. It will be roughly 8 degrees lower than your doggos body temperature to help regulate their warmth.
The cover is made of nylon with a PVC coating to make the mat more puncture resistant. While not chew proof, if your dog is a nibbler this mat would hold strong longer than others.
This mat is self-recharging requiring no electricity or freezing to maintain its cool temperature.
Yespet Cooling Mat for Dogs Key Features:
8 degrees cooler than body temperature
Made of nylon with PVC coating to increase puncture resistance
Self-recharging after 10-15 minutes
Final Thoughts
And there you have it! Our list of the best cooling mats for dogs in 2021. Out of the top 12 that we picked, we hope you found one that you feel will be a great fit for your doggo.
A cooling mat can be a phenomenal accessory for dogs as they age or if they live in a warmer part of the world. Being uncomfortably warm without having the ability to take any layers off would be a pain in the butt!
It's our job to help them get back to a comfortable body temperature and keep them the happy pup you know and love.
Other posts you might find interesting:
Top 20 Best Dog Shampoos | Shiny, Soft & Safe!
Top 28 Best Dog Brushes (100+ brushes analyzed!)