Pawscessories is reader-supported. When you buy via links on our site, we may earn an affiliate commission at no cost to you. Learn more.

---
Quick Access To The Best Shampoos For Labradoodles👇
Breeds mixed with poodles are super popular due to their non-shedding/low shedding coats. This also means they have hair instead of fur which makes them hypoallergenic.
The labradoodle is certainly no exception to this. They're cute, soft, intelligent, playful, and best of all, relatively low maintenance!
However, you might have started to notice a particular smell coming from them that's not favorable. Well, let's take a look at some of the best shampoo products for a labradoodle to get them squeaky clean and fresh smelling again.
No doubt you've taken a look online for dog shampoos and found that the amount of choices are virtually endless, which can be a little overwhelming.
That's why we did all the research (looked at over 50 different shampoos) and found 13 shampoo products that we believe to be the best for a labradoodle.
On our list there's a variety of different scented shampoos, ones that majorly focus on particular circumstances, and one's with different ingredients. However, they all share an important quality, and that's being considerably safe for your pup.
Let's dive into our best overall shampoo pick for a labradoodle.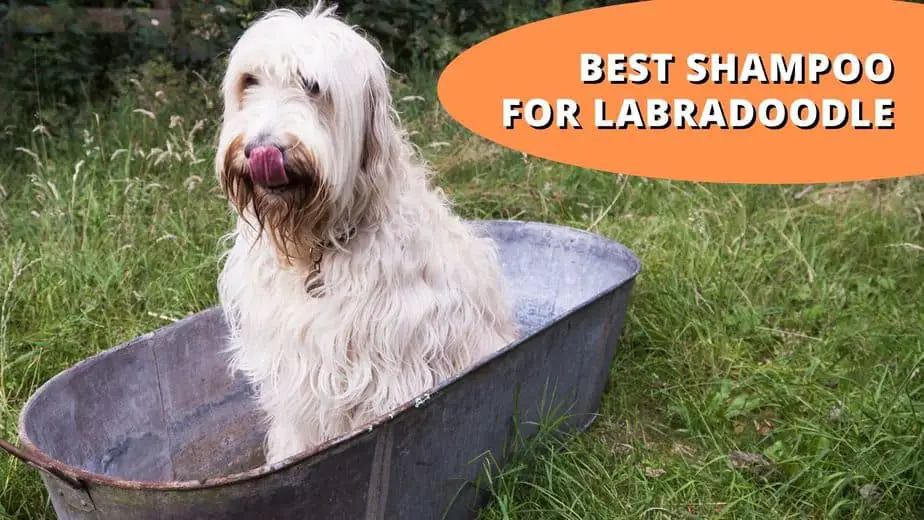 Top 13 Best Shampoos For Labradoodles
Best Overall: Buddy Wash
Buddy Wash Shampoo is our pick for the best overall shampoo and is great for a labradoodle at any stage of life. Keep your pups coat as healthy as you can without needing to use any harsh cleansers. 
This shampoo is packed with natural and healthy ingredients. It offers a two-in-one conditioning shampoo that is made with aloe vera, sage, rosemary, green tea, and chamomile to help soothe irritated skin.
All these ingredients do a considerably good job at nourishing skin to make their fur that much stronger and softer.
It also comes equipped with a natural deodorizer to help with that 'dog' smell. Cuddle time is important but much more enjoyable when they aren't as smelly!
The fresh lavender and mint scent are pleasant to your nose as well. It is formulated with a coconut base liquid that makes it completely alcohol-free as well as a wheat protein that acts as a natural deodorizer. 
Reviews from our source of testers shared that they really loved the smell and how gentle it was on their pups skin.
While we don't recommend bathing too often, one person shared that they were able to bathe their dog once a week without causing them any irritation.
Some people didn't love the smell of the shampoo but that will happen any scent a shampoo provides. Smell is very subjective!
Buddy Wash Key Features:
Gentle for puppies
Made with pure botanical extracts
Natural deodorizer
Best Runner Up: 4-Legger USDA Certified Organic Dog Shampoo
If organic products are important for you and your family, our runner up pick could be a lovely option for you. The 4-Legger USDA Certified Organic Dog Shampoo is a well known shampoo brand that'll safely clean and soften your labradoodles coat.
This hypoallergenic shampoo is made with completely natural ingredients like, organic coconut oil, organic lemongrass essential oil, and aloe vera.
The shampoo is used by veterinarians as well as holistic groomers to provide relief to dry, itchy or sensitive doggo skin. If your pup doesn't have any skin irritations this shampoo will still do the trick of making them squeaky clean and smelling fresh.
Considering this shampoo is USDA certified you can be confident that what you're buying is actually organic. The company that makes this shampoo is so confident that you'll love it, they offer a 30-day money back guarantee.
You can use it, bring it to your vet or groomer to get their opinions and if you decide not to use the product you can get a 100% refund.
Testers shared that they really enjoyed the smell of the shampoo and appreciated the ingredients used. Others didn't love the smell but again, that's to be expected as what one person thinks smells amazing might give another person a headache and vice versa.
4-Legger USDA Certified Organic Dog Shampoo Key Features:
USDA certified as truly organic shampoo
Hypoallergenic
30-Day money back guarantee
Best Budget: Oster Oatmeal Essentials Shed Control Dog Shampoo
Oster Oatmeal Essentials Shed Control Dog Shampoo is our best budget pick for a labradoodle.
This shampoo is made with oatmeal, vitamin B5 and safflower lipids. These ingredients help enhance your pup's coat by using essential fatty acids.
Plant lipids are compared to healthy fats but for hair. They're used to get down to the roots and make skin healthier which in turn makes their coat healthier.
The shampoo is considerably gentle on your dog's skin as it doesn't include any harsh or harmful chemicals in it's ingredients. It's also made in the USA and won't remove any topical flea treatment which is a nice bonus.
Reviews from our source of testers were very positive. People really enjoyed the smell and shared it was helpful in reducing the shedding of their pup.
While shedding isn't a huge problem with labradoodles you probably notice some hair still finding its way onto your furniture and clothes.
They also said it really helped dry skin and the scent lasted for a good amount of time.
Surprisingly this didn't have a bad review come through! Satisfied customers plus a low price equals a happy dog owner.
Oster Oatmeal Essentials Shed Control Dog Shampoo Key Features:
Repairs and enhances fur
Contains no dyes, alcohol or parabens making it gentle on skin
Made in the USA
Best Under $10: PetAg Fresh 'n Clean Shampoo
In a pinch but don't want to sacrifice quality? The PetAg Fresh 'n Clean Shampoo has your back. Turn bathing and grooming time into a soothing bonding moment between you and your cuddly pup.
When they are healthy and clean, they become tail waggin' happy which makes us smile from ear to ear!
If your labradoodle has any sort of skin irritations this shampoo can help provide relief as well as long lasting healing. It helps with getting rid of skin issues such as yeast, bacterial infections, as well as fungal!
This specially formulated shampoo is infused with Rooibos Tea extract to provide gentle, soothing relief to the skin and hair. 
The shampoo uses a mild, soap-free formula that doesn't contain harmful parabens or dyes. It's suitable for even the most sensitive skin. It also adds antioxidants to fight inflammation.
PetAg Fresh 'n Clean Shampoo Key Features:
Prevents and soothes skin irritation
Supports natural healing for fungal, yeast, and bacterial growth
Moisturizes with olive oil, glycerin, and Vitamin E
Best Labradoodle Puppy Shampoo: Isle of Dogs Tearless Puppy Shampoo
All puppies need extra care. When it's time for a bath, you want to set the stage for it as a happy, pleasant experience and not a time they associate with pain after shampoo irritates their skin or gets in their little eyes.
Thankfully, someone thought of your labradoodle pup and formulated a Tearless Puppy Shampoo made specifically for young dogs. 
It offers a soothing formula with nice cotton and a fresh orchid scent. Don't worry about the ingredients harming your puppy. It's sulfate and paraben-free. Get your dog looking shiny, soft and clean without causing any sort of discomfort.
Reviewers of this shampoo shared that it left their pup with a super soft coat and that they really liked the smell. Others said that it didn't dry out their dog's skin either like some other shampoos do.
You might notice a trend starting to emerge. Some people said that the smell was too potent and that they didn't like it. When it comes to scent it's more of a personal thing and doesn't really make a shampoo bad or good.
Another tester noted that they felt the shampoo bottle was too small but this wasn't a common opinion.
Isle of Dogs Tearless Puppy Shampoo Key Features:
Gentle, tearless formula
Formulated for sensitive skin
Pleasant, long-lasting scent
Best Dandruff Shampoo For A Labradoodle: Antiseptic And Antifungal Medicated Shampoo
The Antiseptic and Antifungal Medicated Shampoo For Dogs is our choice for the best dandruff shampoo for a labradoodle.
Dandruff comes from dry skin and the cause for dry skin can be a variety of reasons. This shampoo tackles many irritations that could be the cause of your pups dandruff.
The company prides themselves on providing veterinary grade ingredients that are affordable for dog moms and dads.
It has aloe vera and lanolin to reduce itching flaking as well as promote healing with your dogs skin. It's 100% safe as it doesn't contain any parabens or soaps.
It also won't remove any topical flea & tick treatment previously applied which is a nice bonus feature.
Reviewers shared that the shampoo worked great for ringworm, allergies, flaky skin and more with great results in terms of healing these skin issues. Some people shared they've been using the shampoo for years to help keep their dog's skin clean and healthy.
However, a few people shared that the shampoo didn't work for their pups skin irritation. While the vast majority of people seemed to have a positive experience there were a few cases where it wasn't super effective.
We feel the amount of positive reviews outweigh the few negatives which make this shampoo overall still a great choice.
Antiseptic And Antifungal Medicated Shampoo For Dogs Key Features:
Provides relief for many skin irritations
Made with veterinary grade ingredients
Provides relief from itching and helps begin healing skin
Other Top-Rated Picks
Healthy Breeds Oatmeal & Aloe Dog Shampoo
The Healthy Breeds Oatmeal & Aloe Dog Shampoo is a great option for a hypoallergenic dog shampoo.
It's soap free! This helps restore natural moisture to your dogs skin and coat. As it's made to be pH balanced for dog's skin you don't have to worry about harmful chemicals in the ingredients which would irritate your pups skin.
It's gentle on their skin and tough on dirt which'll have them squeaky clean in no time.
The shampoo is also made in the USA in a federally regulated facility. No need to worry about whether best practices are being used where this shampoo is made.
While enjoying its lovely pina colada smell you can rest assured your labradoodle won't have to worry about itchy, sensitive skin with the healthy breeds shampoo. 
*If the labradoodle style of the shampoo doesn't show up right away simply click on a healthy breed shampoo bottle you see and change the style to labradoodle*
Healthy Breeds Oatmeal & Aloe Dog Shampoo Key Features:
Hypoallergenic 
Made in the USA
Provides relief for itchy, scaling and sensitive skin
Vet's Best Hot Spot Itch Relief Shampoo
If your dog is biting and scratching at their skin, they're obviously in some sort of discomfort. That's where the Vet's Best Hot Spot Itch Relief Shampoo comes in.
The last thing you want is for them to harm themselves in the process of excessively scratching an irritating itch. 
This shampoo helps your labradoodle alleviate discomfort with a formula that was designed by veterinarians to soothe skin irritations.
The shampoo uses tea tree oil, aloe vera, and chamomile to help their skin become less flared up which will stop them from itching. 
All the ingredients used in this shampoo are proven to soothe irritated skin. What's also great is that it's fast-acting, so you will see your pup start to have some relief almost immediately.
There is no alcohol in the ingredients, so don't worry about stinging. You also won't have to worry about washing away topical flea or tick treatments when you use it.
Vet's Best Hot Spot Itch Relief Shampoo Key Features:
Soothes irritated skin quickly
Veterinarian formulated
Natural alcohol-free ingredients
Colloidal oat flour and honey moisturizes and prevents itchiness
TropiClean Papaya & Coconut Luxury Shampoo
This luxurious 2-in-1 shampoo and conditioner cleanses, conditions, and moisturizes your dog's skin and fur to safely replenish their natural moisture balance. Perfect to help maintain a healthy and soft labradoodle coat. 
Work up a lather to rid your adventurous pup of tangles and mats for easier brushing. Being a labradoodle owner you're likely not a stranger to matted fur.
This shampoo helps make your job a little bit easier when the time comes for a good brushing. A combo of the right shampoo and proper brushing sessions can help mitigate tangles and matting as much as possible.
When your tail-wagging doggo is all dry, you'll enjoy the fresh-scented cuddles. Rest assured that this shampoo is safe, pH balanced, soap-free that is free of parabens and dyes.
TropiClean Papaya & Coconut Luxury Shampoo Key Features:
Smells great
Replenish moisture
Relaxes matting
Earthbath Oatmeal & Aloe Dog Shampoo
The Earthbath Dog Shampoo is a well known shampoo brand with many dog moms and dads trusting this product to safely clean their pups. 
This shampoo offers a totally natural and soothing pet shampoo that is safe for your dog and smells great. The shampoo is formulated so that it soothes dry and itchy skin to provide relief all the while deodorizing.
It adds moisture back into your dog's skin while you shampoo without causing irritation. 
The lovely vanilla and almond scent is for you while the clean, nourished skin is for your doggo. Another great feature about this shampoo is that it won't wash away any of the flea treatment that has been topically applied.
Earthbath Oatmeal & Aloe Dog Shampoo Key Features:
Gentle cleansing 100% biodegradable
Vanilla and almond scent
Paraben and phosphate-free
Nature's Miracle Supreme Odor Control Shampoo
For an extra stinky labradoodle, help is on the way in the form of a shampoo. The Nature's Miracle Supreme Odor Control Shampoo is your ticket to a fresh smelling pup.
Don't let a stench stand between cuddle time with your doggo when a shampoo has been specifically designed to tackle and control even the toughest odors.
This shampoo neutralizes the strongest of odors saving your furniture, clothes, or wherever your dog lies on from absorbing their stink. 
After bath time you're left with a clean pup and a honey sage scent. It will also help soothe their skin from any irritations that they may be experiencing. 
An added benefit is that it will help control static electricity too. Not only will your labradoodle smell better, but their hair will smooth out nicer when it's brushed. Bonus!
Nature's Miracle Supreme Odor Control Shampoo Key Features:
Eliminate static electricity
Controls heavy odors
Hair stays cleaner, longer
Fresh Pet Shampoo
While professional grooming is recommended every few weeks, in between you want your furry friend to look and smell their best. The Fresh Pet Shampoo has a formula designed to help nourish their skin while providing a lovely scent.
The shampoo works with your dog's skin oils and helps maintain their natural pH balance. It leaves behind a shiny, bright, soft, and smooth coat with a fresh scent that lasts for weeks.
The ingredients are all natural and derived from coconut oil! 
This vet-backed shampoo also comes with a lifetime warranty. They decided to go above and beyond the common 30-day money back guarantee. If at any time you feel this shampoo wasn't worth it, simply reach out to the manufacturer to get a full refund. That's the kind of confidence we like to see in a top dog shampoo.
Fresh Pet Shampoo Key Features:
Gently formulated pH balance
Fresh scent for weeks
Comprehensive anti-itch formula
Burt's Bees Shampoo For Dogs
Did you know honey has natural soothing properties? Burt's Bees has been a favorite choice brand of humans for years because of this, but, did you know they also make products that are perfect for your pup?
This all natural oatmeal-based shampoo is no exception and definitely a favorite among the doggo community. Of course, one of the main ingredients is honey, which one would assume considering the name of the shampoo.
It's great for dry skin and helps soften, soothe and condition their coat.
The shampoo helps add shine to your doggo's coat while nourishing their skin. Keep your pupster clean while keeping them protected from pests as the shampoo won't wash away any topical flea or tick treatments they have.
Burt's Bees Shampoo For Dogs Key Features:
No sulfates or colorants
pH Balanced to prevent dry skin
Colloidal oat flour and honey moisturizes and prevents itchiness
How To Keep Your Labradoodles Coat Healthy
1. Make sure you brush your labradoodle frequently. 3 times a week minimum.
If you choose to not brush your doggo there are a few things that could show up. 
First, and the most common, will be matting. Poodles are known for their curly hair so it's no surprise that your labradoodle's curly hair can easily become matted if not brushed often enough.
Not only does matted hair not look the best but is also uncomfortable for your pup! If you can imagine having clumps of hair twisted tightly together on your head you can understand the discomfort that your doggo is likely feeling if they're badly matted.
It's best to build a routine/habit around brushing your labradoodle at least 3 times a week. 
Some say you should go as far as brushing them everyday. But, given you're busy and brushing everyday can seem like a lofty goal, brushing at least 3 times a week will be much appreciated by your labradoodle.
What can also show up is infection. Matted hair that's bunched together tightly makes it easy for when their coat gets wet, to stay wet longer.
Areas that are warm and wet are common ground for bacteria to grow which can definitely lead to infection. This is especially more common around your labradoodles ears.
Their big, floppy ears unfortunately make for an easy breeding ground for bacteria which is why it's important to brush and clean your labradoodle regularly.
Consistent brushing also helps spread the oils of their skin which makes for a much more consistently shiny coat.
The last thing we'll note here is it would be best to start them on a good brushing routine as early as possible. The younger your pup is when you start to brush them regularly the more likely they will be to enjoy the experience!
2. Use the proper brush for your labradoodle. We'd recommend a slicker brush.
Slicker brushes have thin wired bristles that are close together and help get rid of loose hair from dogs with longer hair.
If you've left your dog's coat for a little too long or missed a few brushing sessions and are noticing tangles or matting, a slicker brush will help you remove these with gentle care. 
If they're matted it's important to take your time as you can hurt your furry friend attempting to get rid of tangles if you go too quickly. Chances are you've brushed your hair too hard when there's a tangle you know the pain, ouch! 
If some areas are simply too matted then it's best to grab some scissors and clip the tangled hair, which brings us to number 3.
3. Clip problem areas.
Some areas will be more prone to matting on your labradoodle than others. If these tangled areas can't be brushed away, it's best to simply get rid of them with a pair of scissors. 
Areas you'll want to look more closely at are their stomach, underarms, tail, around their bum, and ears. As previously mentioned, ear infections are more common in labradoodles so it's important to keep their ears groomed and clean to minimize the chances of your pup getting this type of infection.
4. Bath time!
Usually, people tend to bathe their dogs only when they get noticeably stinky. This is not the best bathing schedule and to keep their hygiene in tip-top shape, it's best to bathe your labradoodle every 6-8 weeks.
This will help their skin stay hydrated, healthy and prevent issues like dryness, dandruff, or infection.
If they decided that a mud puddle was simply too irresistible and went and rolled around in it it's okay to bathe them more frequently.
But, we wouldn't recommend bathing them more than once a month very often as their skin could become more sensitive. Also, be sure to get them nice and dry after their bath.
Whether you're towel drying or using a blow dryer, you want to make sure they're adequately dried off to prevent matting.
FAQ 
What's The Best Brush For A Labradoodle?
As labradoodles have those beautiful curly locks, it's best to use a slicker brush and pay close attention to dematting. The best slicker brush is the Hartz Groomer's Best brush.
We analyzed over 100 different brushes and narrowed a list down to the best 12 brushes for labradoodles that you can check out here if you want to see more options.
Final Thoughts
And there you have it! A complete list of the best shampoo products for a labradoodle. We're confident that if you choose to use any of the shampoos we've listed above you and your pup will be happy with the result.
We hope this post has been helpful in making your decision a little easier and shortened your list of choices so your doggo can become squeaky clean ASAP.
Happy bathing!
Other posts you might find interesting:
Top 28 Best Dog Brushes (100+ brushes analyzed!)
Top 15 Dog Harnesses: What Makes Them the Best of the Bunch