Pawscessories is reader-supported. When you buy via links on our site, we may earn an affiliate commission at no cost to you. Learn more.

---
Do you have a Kong dog toy that is looking grimy and needs to be cleaned? Wondering how to clean a Kong dog toy properly?
We're here to help! Cleaning a Kong dog toy can seem tedious and annoying, but it doesn't need to be.
In fact, a majority of the cleaning doesn't need to be done manually!
In this post we'll explain 6 simple steps to properly clean a Kong dog toy.
Let's dive in.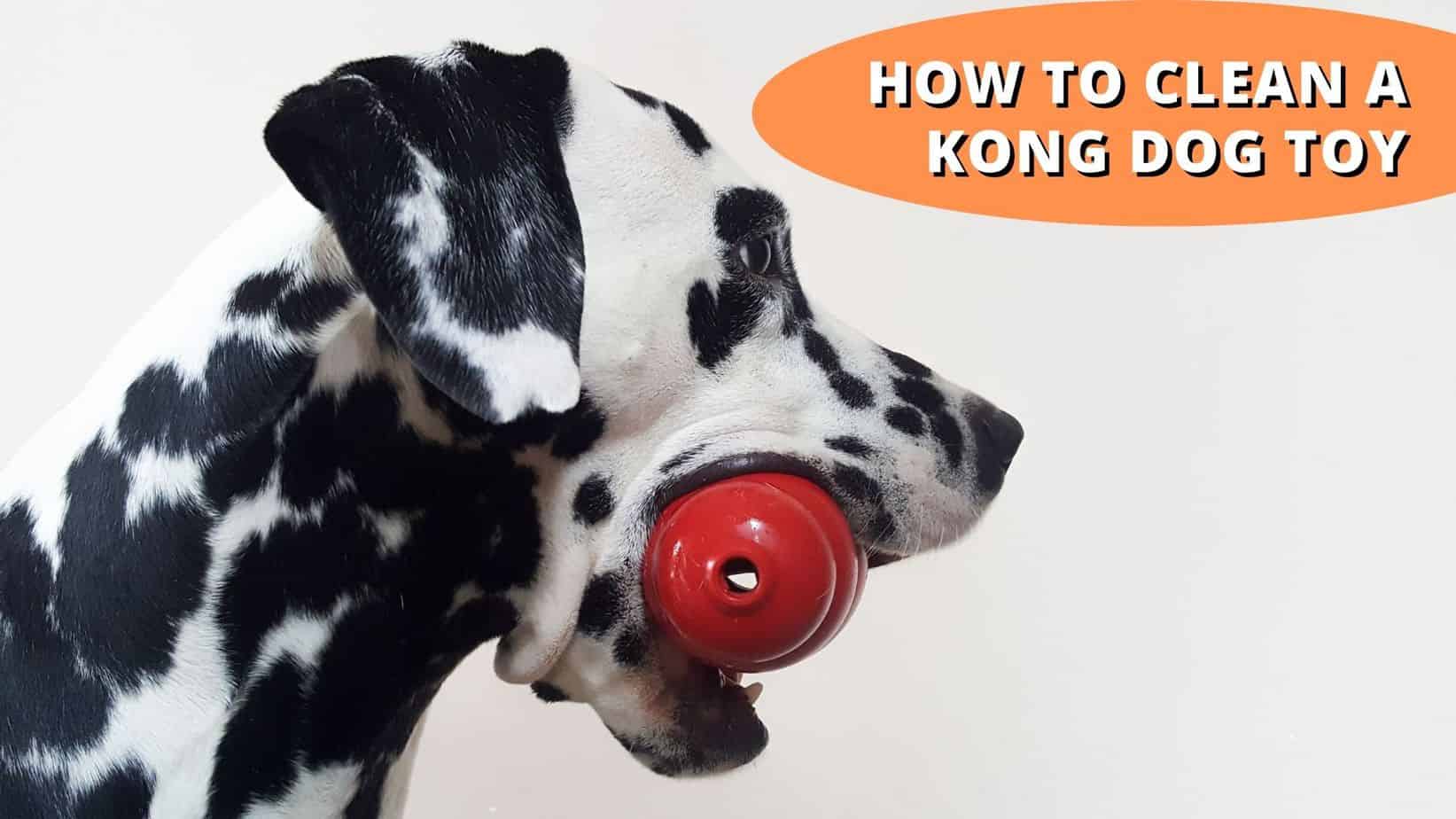 Cleaning a Kong Dog Toy Step By Step
The company Kong makes it easy and simple to clean and disinfect their toys. Here are the simple steps they give to make your Kong toy good as new in no time:
Fill a bathtub or large bowl with warm water (make sure the toy can be fully submerged in water)

Add dish soap or shampoo (we recommend Dawn dish soap or Zesty apple scent shampoo)

Place the dirty item into the soapy water

Swirl it around and let it sit for 10 minutes or more until all of the dirt has loosened or fallen off from inside of cracks

Using a bottle brush or old toothbrush scrub the inside of the Kong to get rid of any leftover dirt and grim.

Rinse off any suds with cold water and then place the toy in the top dishwasher rack.
*All Kong rubber toys are top rack dishwashers safe so if the toy does not need scrubbing or soaking, simply throw it in the top rack. Also, they can be washed with the rest of your dishes using normal dishwasher detergent.*
Here's an article where Kong explains their recommended cleaning process.
Why Do You Need to Wash Kong Rubber Toys?
No matter what kind of toy you have, from a plastic chew bone to the family dog's favorite Kong rubber ball – pets love playing and chewing on their toys. 
They also love dragging them through dirt and all around the place. This can lead to a buildup of bacteria that can cause illness or even worse (don't even want to think about it), a pet's death. 
This is why it's so important to clean your dog toy regularly – every single day if possible!
Final Thoughts
Those are the short simple steps on how to clean a Kong dog toy. We hope this information is helpful in keeping your dog's toys clean so you can keep them happy and healthy.
Other posts you might find interesting:
The 10 Best Rope Dog Toys (50+ Analyzed)
15 Best Dog Toys for Separation Anxiety: A Comprehensive Guide