Pawscessories is reader-supported. When you buy via links on our site, we may earn an affiliate commission at no cost to you. Learn more.

---
After searching far and wide for a new bed for your doggo you might start wondering, what is the best type of dog bed?
Well, in this post we're going to cover the 6 best types of dog beds. We'll be looking at the advantages for each type so you can make an informed decision based on your situation.
Whether you're looking for a dog bed made of memory foam or one that can be easily washed, there are several factors to consider when making your purchase.
The right type of bed ensures a comfortable and healthy night's sleep for your furry friend.
Let's dive in.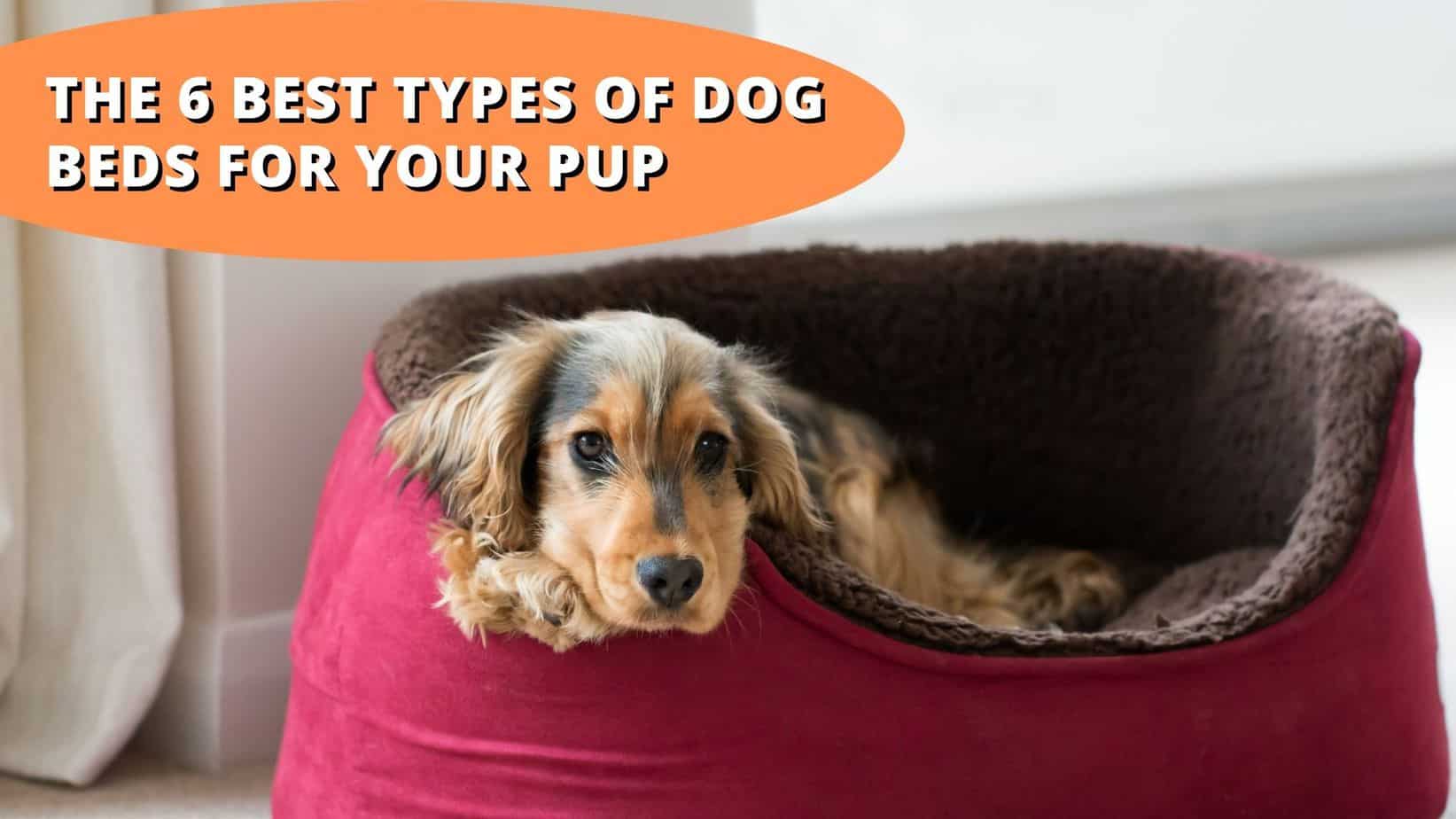 Orthopedic Dog Beds
Orthopedic dog beds are designed to maximize comfort. The memory foam found in these beds is great to help maintain a young pup's healthy joints and bones.
They're also great to help provide relief to an older doggo with less mobility. 
Many orthopedic beds come in a variety of shapes and sizes to accommodate pretty much any and all dog breeds.
A great feature that many orthopedic dog beds have is they usually tend to come with a zippered removable cover.
This makes for easy washing as well as increasing the lifespan of the dog bed.
If your dog is getting a little older and frail, or is more boney like a greyhound, they will very much appreciate an orthopedic dog bed.
You can check out our post here that looks at the best orthopedic dog beds available online.
Donut Dog Beds
Donut beds are great for snugglers! If your dog likes to burrow and roll up in a ball, they will likely love a donut dog bed.
Donut dog beds have a raised border that helps make your pup feel safe and secure while they're resting.
These types of dog beds are typically made of soft, plush material giving them an extra cuddly feel.
An older dog may have a harder time getting in and out of a donut bed because of the raised border.
You'll want to keep that in mind if your pup is getting a little older.
The best donut dog bed is The Original Calming Donut Cuddler Dog Bed in our opinion. You can check it out by clicking here.
Raised Dog Beds
Raised beds have a couple combined features. While they aren't orthopedic with the traditional memory foam, they can still help relieve achy joints and bones as they're elevated.
This helps alleviate pressure and allows their body to restore.
Raised beds are also good for helping dogs cool off. Since they're off the ground it promotes air circulation which helps them enjoy a nice breeze.
They can also be more durable since they don't have stuffing. The stand is usually made of metal which isn't easily destroyed like other beds.
However, the netting that holds them up can still be chewed if you have a major chewer on your hands.
Crate Mats/Pads
If your dog spends much of their time in a kennel/crate then a crate mat is a great idea for them.
This is especially true if your dog is still rather young and not fully house trained. This is because many crate mats are easily washable and ready to use again ASAP.
Since kennel floors are more often than not a plastic tray, this can be hard on their bones and joints.
A crate pad is a great alternative to help preserve their joint health and prevent them from getting achy bones and joints at an earlier age.
Older dogs or boney breeds of dogs should definitely have a crate mat in their kennel to help relieve/prevent some avoidable aches and pains.
You also see people using bulky blankets inside of kennels to help with comfort or newspapers & disposable mats.
Both of these options aren't nearly as beneficial as having a crate mat because of its ability to be washed and reused as well as provide comfort.
Cooling Dog Beds
Since dogs don't have pores all over their body like us humans and only sweat through their mouths and nose, they have a more difficult time cooling off.
Cooling beds provide a great deal of relief for dogs during hot summer months.
Some cooling beds have temperature regulating foam, others can be filled up with water, and some have gel that 'recharges' when not being used.
If your dog overheats or generally has troubles cooling off after being in the heat, a cooling bed is a great option.
We made a list of the best cooling beds/mats that you can check out by clicking here.
Covered Dog Beds
Covered dog beds are one of the more unique ways for dogs to chill out. They give dogs a nice escape from everything else going on in your house and some isolated alone time when they need it.
These types of beds are typically designed to look like mini houses or tents.
Because of this, these beds are usually meant for small dogs. As you can imagine, a mini home can take up quite a bit more space than a traditional bed.
For this reason it wouldn't be practical for a big dog like a great dane to have a covered bed because it would take up too much room.
These beds tend to be more aesthetically pleasing than a traditional bed. So an added bonus is they can help add to/compliment the decor of your home.
Final Thoughts
So what is the best type of dog bed? Well it entirely depends on what kind of doggo you have on your hands!
Small dogs don't need an orthopedic bed as much as bigger dogs.
Dogs with thick heavy coats don't need temperature regulating beds as much as those with finer coats.
Thankfully there are so many choices available these days.
We hope that the information in this post was useful in helping guide your choice to picking the best type of dog bed for your four-legged friend.
Other posts you might find interesting:
Do Dogs Need A Dog Bed | Things You Should Consider
 Top 10 Best Waterproof Dog Beds | Accident Resistant Beds