You may be aware that there are toxins in household items we use every day. But have you ever thought about the toxins your furry friend may be exposed to in their dog bed and the damage they could have on their health?
It turns out that some dog beds can in fact contain toxic materials. Unless the bed has been made in America with a toxic-free stamp of approval, it's likely your dog bed may contain harmful materials like antimony, PVC, bromine or lead.
Being the great doggo parent you are, you've still got questions. Well, we're about to answer all questions about whether dog beds are toxic or not backed by scientific research, because your furry friend deserves the best.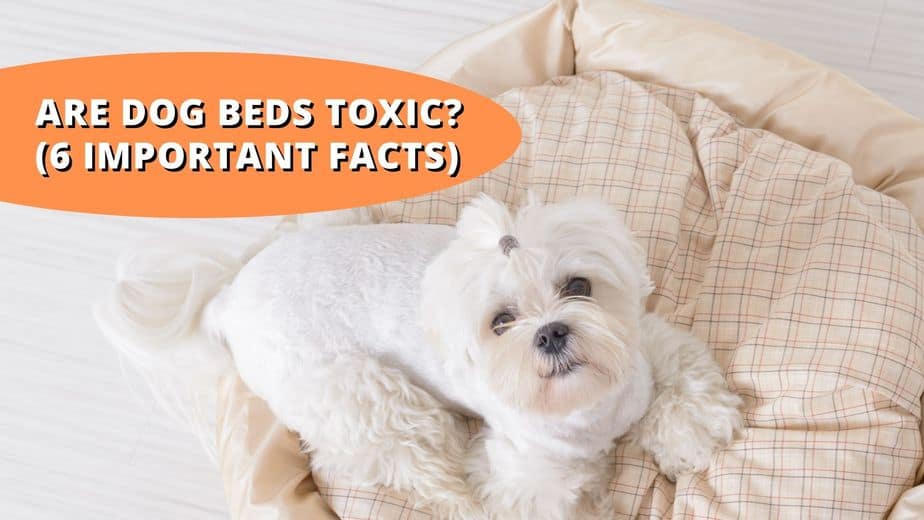 What Are Dog Beds Made Of?
Many materials go into making your pup's special bed. Let's go over the main components of what makes up your average dog bed.
Plastic
Plastic is almost an essential material for any dog bed. It can make up the zippers that allow the fabric to be removable. There is also usually some plastic tubing surrounding the lining of dog beds made out of fabric.
Other times, an elevated dog bed will be made from plastic pipes. There are still other dog beds that are made entirely out of plastic.
Fabric/Material
Any soft dog bed is going to be covered in some sort of fabric. Common materials that make up these kinds of dog beds are nylon, polyester, faux suede, faux fur, or cotton. 
When you're shopping for dog beds, make sure the material is very tough and can withstand dog teeth and claws. It also helps if the material is waterproof and washable.
Elevated dog beds are typically made for big dogs who need a cooling effect. These kinds of beds usually have a stretched mesh material as a base for your pup to perch.
Foam
Orthopedic-type dog beds almost always have memory foam in them. That's because memory foam has proven to give relief to dogs with joint problems. 
The safest kind of foam for your doggo's bed is polyurethane foam certified by CertiPUR-US. Other kinds of foam may have been imported from places that do not regulate what materials are put into dog beds (we will talk more about this later).
Filler
Dog beds that are soft for sitting and not foam-based are filled with something else. Usually, this material is polyfill, but sometimes manufacturers use recycled materials to fill their dog beds.
Polyester filling's great because it's hypoallergenic, meaning no allergy problems for your pup when they are snoozing away.
Metal
Some elevated dog beds are made with a metal frame. Metal is sturdy and will withstand years of use. The most common metal used for dog beds is steel.
How To Know If My Dog's Bed Is Toxic
When you're least expecting it, toxic materials can show up in or on your precious pup's bed.
If you want to keep your pet safe and healthy, you'll need to know the toxins that are harmful to your furry friend's health. 
The first step in doing this is getting a detailed list of all the materials that make up your dog's bed. This could prove to be more difficult than it seems.
Just take a quick look through the leading online pet stores at some of the dog beds. They will tell you some of the names of the materials used to make the bed, however, you will not know what those materials are made of exactly unless you do a deep dive.
Luckily, there are a few ways to guarantee that your pup's dog bed is toxin-free.
EcoCenter
EcoCenter's Healthy Stuff Lab is a great resource for learning about what toxic chemicals may be found in daily household items, as well as pet products. 
If you have a specific bed in mind, enter the name of it into their search bar. Though they have only tested a handful of beds for toxins, it's still worth seeing how your bed measures up.
If you're able to get a detailed "ingredients" list for the materials used in your new dog bed, you can look up on the same website the names of the chemicals used in the product, and decide for yourself whether it's worth the risk or not.
You can also check out EcoCenter's Archived Pet Supply Data to evaluate any other pet supplies you may have concerns about.
3M Lead Test
If you are wondering if lead is in your pup's bed, there's an easy way to do that. 3M sells a lead test that will tell you if there's lead in a product instantly after swabbing.
You can get a 3M Lead Test from Amazon by clicking here.
Do Research and Buy From Brands That Care
Unfortunately, it's not enough to just avoid all beds made from countries that have sometimes sketchy dog-bed-making ethics. 
Some companies that proudly sport a "Made in America" sticker may still use imported goods made with no accountability in terms of effects on your dog's health.
Because of this, a little research is necessary to make sure your next dog bed purchase is a safe one. It's possible to buy from brands that care about your dog's health and safety.
Just like "Made in the USA," the label "natural" on a dog bed does not cut it, either. 
Look for words like "eco-friendly," "organic," or "non-toxic," as all of these labels mean that they are checked by third-party testing. These tests should be readily available for your reading, too.
When in doubt, you can call or email the company you want to buy from with any questions or concerns you may have. Ask If there was legitimate testing done on their dog bed materials, and check to make sure they are being totally transparent with you.
Is It Dangerous If My Dog Ate Some Of Their Bed?
There are two reasons why it may be fatal if your dog ate some of their bed. 
One, of course, is because of toxic chemicals that may be found in some dog beds.
The second reason is that eating something inedible like a chunk of a dog bed or a sock can cause an intestinal blockage or choking in your dog.
Neither of these scenarios is ideal, so you should call your vet right away if your pup ate some of their dog bed. It's better to be safe than sorry.
Are Dog Beds Made In China Dangerous?
Be very careful not to buy dog beds that are made in China, or even a dog bed that's made from Chinese materials. You need to exercise caution because China's track record of manufacturing safe pet products is not very good.
With EcoCenter's data on toxins in dog beds, the Chinese-made beds were among the most offensive. Only 3 of 69 beds tested were found to be completely toxin-free. 
Based on Big Barker's data, we know that Chinese-made foam is the biggest culprit in toxic materials. That's because they add toxins like lead and PBDE to make the foam look fuller when you get the product (a feature that fails with use over time).
Can Lying On a Dog Bed Make a Dog Sick?
Your dog might get sick lying on a bed laced with toxic materials. Because your pup spends 12-18 hours a day sleeping, that's a lot of exposure to potentially dangerous material on your pup's bed.
Although it's not 100% certain that your dog will get sick laying on a toxic dog bed, you don't want to risk it. If your furry friend decides they want to chew up or lick the bed's materials, this obviously increases the chances of toxic materials being ingested by your dog.
Materials You Should/MUST Avoid When Getting a Dog Bed
When you're on the market for a new bed for your beloved pup, keep an eye out for these materials, and absolutely, 100% steer clear if you see them:
PVC
Phthalates
Bromine
Antimony
Lead
All of these materials can be harmful to your dog over time. Just a few of the health problems they can cause are cancer, immune system issues, developmental problems, liver and kidney damage, and GI upset.
Final Thoughts
You can never be too careful when it comes to the health of your lovable lunk. If your goal is to extend their life and improve the health of your pup, it's worth all the time it will take to research which dog bed will be the safest for daily use. 
You can do this by making sure you buy a bed from a trusted source that is candid about their third-party testing. Words like "non-toxic," "organic," and "homemade" are good clues that you are purchasing a quality dog bed.
Other posts you might find interesting:
How Are Dog Beds Made? (Fully Explained!)
How Often To Replace A Dog Bed | The Truth