Pawscessories is reader-supported. When you buy via links on our site, we may earn an affiliate commission at no cost to you. Learn more.

---
Quick Access To The Best Dog Beds For Arthritis 👇
*Ratings are from Amazon at the time of publication and can change.
Unfortunately your dog seems to be going through some new aches and pains. And you've gotten the news that it looks like they have arthritis. Now you want to find them the best dog bed for arthritis, to help ease their discomfort.
Sadly, this is all too common as pups become older and they start to slow down and need more rest.
The best thing for them is uninterrupted sleep to give them the energy they need to be their normal selves again! And a great way to help them get this beauty rest is by getting them a nice comfy bed.
Below you'll find our top 10 best dog beds for arthritic dogs.
Without further ado… Let's jump into the list!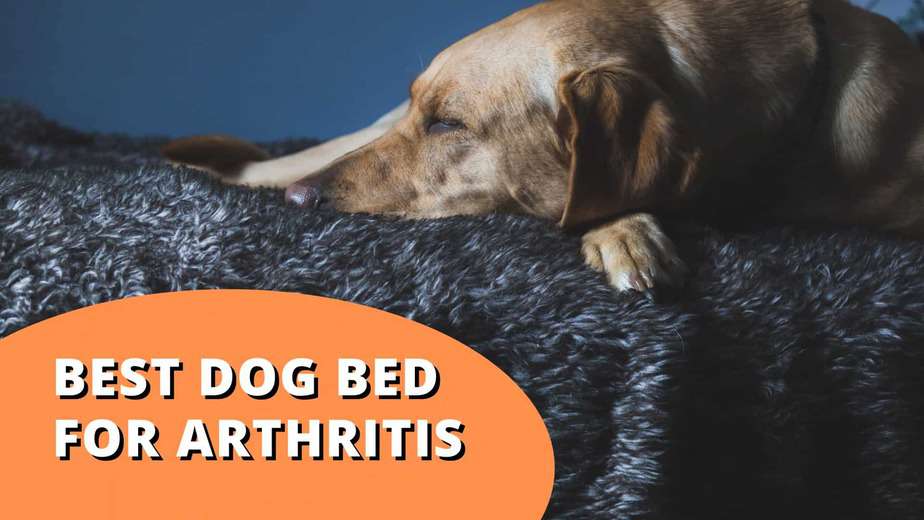 Top 10 Best Dog Beds For Arthritic Dogs
Best Overall: PetFusion Ultimate Dog Bed
After careful analysis on the variety of dog beds available, the PetFusion Ultimate Dog Lounge & Bed takes the cake when it comes to being the overall best dog bed for arthritis.
We're calling this bed the best orthopedic dog bed.
This would also be our pick for the best dog bed for hip dysplasia. Hip dysplasia is more common in larger dog breeds but can still be experienced in smaller breeds.
This bed has a wide range of sizing options to accommodate most breeds and their arthritic needs.
It has it all, orthopedic memory foam, comfy bolsters to act as a head rest, removable & machine washable covers, a non-slip grip along the bottom so it stays in place, and waterproof lining around the memory foam. 
It's the perfect size for small-large size dogs, ranging from 25-inches in length up to 44-inches. Not so big where it will take up too much room in your home but not too small where your doggo will have to squeeze to make room.
Even if you have a little guy or girl they'll feel like a king/queen in this bed!
The bed has glowing reviews from thousands of purchasers. All whom share how their beloved pups adore this bed and have no problem taking to it.
A worry when spending money on a bed can definitely be, "I hope they use the darn thing!" and it's clear that's no issue with this bed.
What's also nice about this bed is replacement covers are available separately if needed.
Best Budget: Furhaven Pet Orthopedic Foam Dog Bed
If you're looking for an orthopedic dog bed that doesn't break the bank but still will provide the support needed to help with arthritis then the Furhaven Plush Ergonomic Contour Orthopedic Dog Bed could be the one.
Regardless of the size of your dog, this brand has very affordable options for small, medium and large doggos. It offers great support with its contoured form.
It has both ends elevated to act as a headrest, as well as orthopedic foam to make sure your pup is experiencing optimal support for their neck, back, hips and joints. 
The orthopedic foam is extra thick to ensure the bed remains super comfortable and that it will last a long time without being flattened.
So even though this is our best budget option, it's not going to be ruined and unsuitable for your dog in a matter of days/weeks.
Another bonus to this bed is there's a zippered cover. You can easily remove it and put it in your washing machine.. because accidents happen!
It has over 15,000 reviews with an average rating of 4.3 stars. Many reviewers shared that the quality of the bed is just what they wanted, if not better.
Best Runner Up: Big Barker's Orthopedic Dog Bed
The Big Barker 7″ Pillow Top Orthopedic Dog Bed is our choice for the best runner up dog bed for arthritis. This particular bed would also be our choice for the best orthopedic dog bed for large breeds as it's calibrated for big dogs.
It's made with 1 bolster side and a flat side to give your dog the best of both worlds. If they want to lie with their head elevated, they can. And if they'd like to lie flat, they can also do that to maximize their comfort.
The bed has 4 different types of American made foam, 4" contoured foam for the head rest, and 3" of H45 comfort foam sandwiched between 2" of H10 comfort foam.
Even a human would be comfortable lying on this bed. As of writing this, the bed comes in 3 sizes, large (48" x 30" x 7"), extra-large (52" x 36" x 7"), and giant (60" x 48" x 7").
The company that makes these beds did a focused study. They have clinically proven that after using the Big Barker for 28 days dogs experienced less pain and more mobility.
So, outside of having over 4,000 reviews with 90% of buyers being raving fans… This bed has also been tested in a concentrated study and proven to help with mobility and pain.
What's also great is the company is so confident that the bed will last and not flatten over time they even offer a 10-year warranty.
Best Under $75: Pet Magasins Orthopedic Memory Foam
The Pet Magasin Large Orthopedic Memory Foam Bolster Dog Bed is our best under $75 option.
It has all the necessary components you'd need in a dog bed, it's easy to clean, great for stiffness and arthritis, nice thick memory foam, and it's made of durable material that's water resistant (so it shouldn't get wrecked by any accidents).
The bed is designed in a way to maximize comfort with an elevated bolster border allowing your dog to rest their head on a pillow-like surface.
It's been purchased and reviewed by numerous dog owners who have given this bed a glowing 5 star average review.
It's apparent that those who made the choice to get this bed for their dog didn't regret their decision and their companion was super happy with their choice.
Best Washable Dog Bed: Laifug Orthopedic Memory Foam Dog Bed
The Laifug Orthopedic Memory Foam Extra Large Dog Bed is our choice for the best washable dog bed for dogs with arthritis. It has two layers of protective surfaces, a waterproof lining and a soft, zippered removable cover that makes washing the bed simple.
This bed can withstand any size dog up to 150 lbs. It's got a nice bolster headrest that is 7" high while the rest of the bed is 4". 
The flat 4" portion of the bed is made of thick memory foam and the company claims that it will keep its shape and not flatten over time. They say it will keep 90% of its shape and support for the 3 years.
Based on the reviews that statement seems true. Many reviewers share that the bed has been used for long periods of time and still in great shape.. And of course that their dog has taken quite the liking to their new bed and remained happy with it.
It's been reviewed almost 2,000 times with 85% of people giving this bed a shiny 5 star review.
Best Water-Resistant Dog Bed: Brindle Memory Foam Bed
One of the challenges that can come up with an aging dog is their lack of bladder control. So having something that they love to sleep on and not have to purchase a new bed every time a mess happens, is important!
That's why The Brindle Waterproof Designer Memory Foam Dog Bed gets our vote for the best water-resistant dog bed. It also comes equipped with high quality memory foam so even though it's built for durability with messes it's also very comfortable.
Since the outer layer is removable and the memory foam is covered in a waterproof layer, this bed can easily be washed up and ready to use again as needed. Many of the reviewers of this product shared that it has held up against many washes.
The bed has just over 4,500 reviews with an average rating of 4.5 out of 5 stars. 
Best Dog Bed For Anxiety: The Original Shag Donut Cuddler
For dogs that struggle with anxiety the best thing for them is to have a safe place that they can call their own. That's what The Original Calming Shag Donut Cuddler Dog Bed can provide.
It's made of vegan faux shag fur that's cozy, flexible and warm. Lying in this bed will feel like a warm hug from a loved one which will allow them to completely relax and in turn get a better quality of sleep.
The bed has deep crevices as well as a bolstered border. Whether your doggo likes to burrow and snuggle up or sprawl out to sleep, they will be able to get the best of both worlds in this bed.
The cover is also easily removable as well as machine washable.
The Original Calming Shag Donut Cuddler Dog Bed Key Features:
Relatively inexpensive, quality material, exceedingly comfortable
Donut shape/design
Bolstered border and deep crevices in the center
Removable & machine washable cover
Other Top-Rated Dog Beds For Arthritis
Bedsure Orthopedic Dog Bed
The Bedsure Orthopedic Memory Foam Dog Bed doubles as a sofa with it's supportive bolster walls. This bed is a little more on the cheaper end but still has all the qualities you'd want to have in a bed that's going to be adequate for your arthritic pup.
The outer cover doesn't stain, stick to fur/hair or easily absorb liquid (urine, vomit, drool). The inner portion is made of a soft micro-sherpa sleeping surface, perfect for your doggo to get cozy.
Like many of the other beds, the outer cover is removable so it can be easily washed when it inevitably gets dirty.
What's also nice about this bed is they have an array of sizes available so whether you have a small or large dog, you'll find a size of this bed that meets their needs.
It has just over 1,500 reviews with an average rating of 4.5 out of 5 stars so many people who decided to move forward with this bed were not let down.
Barkbox Memory Foam Dog Bed
The Barkbox Memory Foam Platform Dog Bed is a great place for your four legged friend to hang their hat. 
Some features of this bed are it comes in a variety of sizes, it's available in small, medium, large, extra large and double XL. So no matter the stage of life your dog is in, puppy to senior, there's a size of this bed that will suit them well.
It has high quality comfort… 4 cushy inches of high density memory foam for joint relief.
So if your dog is suffering from hip dysplasia, arthritis or any general aches and pains that can come about when you're an adventurous doggo, having a nice orthopedic memory foam bed to come home to will make them tail waggin' happy.
It's also waterproof, machine washable, and there's a zipper cover that easily slides off that can be washed to be good as new.
Another great feature of this bed is that it has temperature regulating memory foam. When it's too warm it'll help keep them cool, and when it's cold, it'll help keep them warm.
This bed has over 14,000 reviews on Amazon at an average star rating of four and a half stars. Thousands upon thousands of people have bought this bed and felt compelled to leave a glowing review, which speaks for itself. 
The Dog's Bed Orthopedic
The Dog's Bed Orthopedic Dog Bed (spot on company name for their product, I must say) has everything your achy doggo could ask for in a bed. 
This bed is specifically designed to help with pain relief of arthritis, hip and elbow dysplasia, post surgery, lameness, and senior support if your doggo is getting a little older. 
Just as most of the other beds, it comes with a removable cover that is easy to wash, quick drying, and includes a waterproof mattress protector to catch accidents.
It comes in a variety of sizes, it has been reviewed just over 3,000 times on Amazon, with an average review rating of four and a half out of five stars with over 75% of all reviewers giving the bed a five star rating.
Many of the reviewers share they have large dogs that enjoy this bed, some say that it's truly an orthopedic bed, that it's been very comfortable and satisfying for their dogs that have hip and elbow dysplasia or joint/arthritis troubles.
If your dog is experiencing any discomfort, then this bed can help.
Conclusion
As your doggo ages, they don't have to experience a great deal of discomfort. By getting them an orthopedic, memory foam bed their joints and arthritis can take a break and heal so when you come home they can spring into action and give you their best hello.
Our best overall choice, the PetFusion Ultimate Dog Lounge & Bed, is what we're calling the best orthopedic dog bed for 2021 as well as the best dog bed for hip dysplasia.
So if your dog is unfortunately experiencing more than one challenge, this bed can help aid many aches and pains.
If you have a big or giant doggo on your hands then the Big Barker 7″ Pillow Top Orthopedic Dog Bed, which is our runner up choice, would greatly suit them. It's our top choice for the best orthopedic dog bed for large breeds.
If you have a dog bed that your four legged friend who has arthritis loves and we missed it on our list, please let us know in the comments below!
We constantly look for new products that come out to make sure our list stays up-to-date with the best beds out right now.
Other posts You May Find Interesting:
How To Crate Train An Older Dog W/ Separation Anxiety
16 Ways To Know If Your Dog Is Sick + Helpful Tips