Quick Access To The Best Dog Beds For Pitbulls 👇
The best dog beds for pitbulls require more consideration than other breeds. Since pitbulls can be power chewers this means a durable bed is a must if it's going to have any chance at lasting. 
No one wants to buy bed after bed with nothing lasting. It hurts your wallet and stinks for your doggo! It means they can't have something they love that they can continue to rest on for years to come. 
However, if your pitbull is a well behaved boy/girl then we have options below that focus more on comfortability rather than durability.
Pitbulls also have a higher chance of experiencing hip and elbow dysplasia, as well as other joint difficulties. This makes finding the right balance between durability and comfort super important. Both highly chew resistant & maximum comfort dog beds are covered in detail below to cover a wide range of situations for pitbulls.
Let's dive in to our best overall pick, shall we?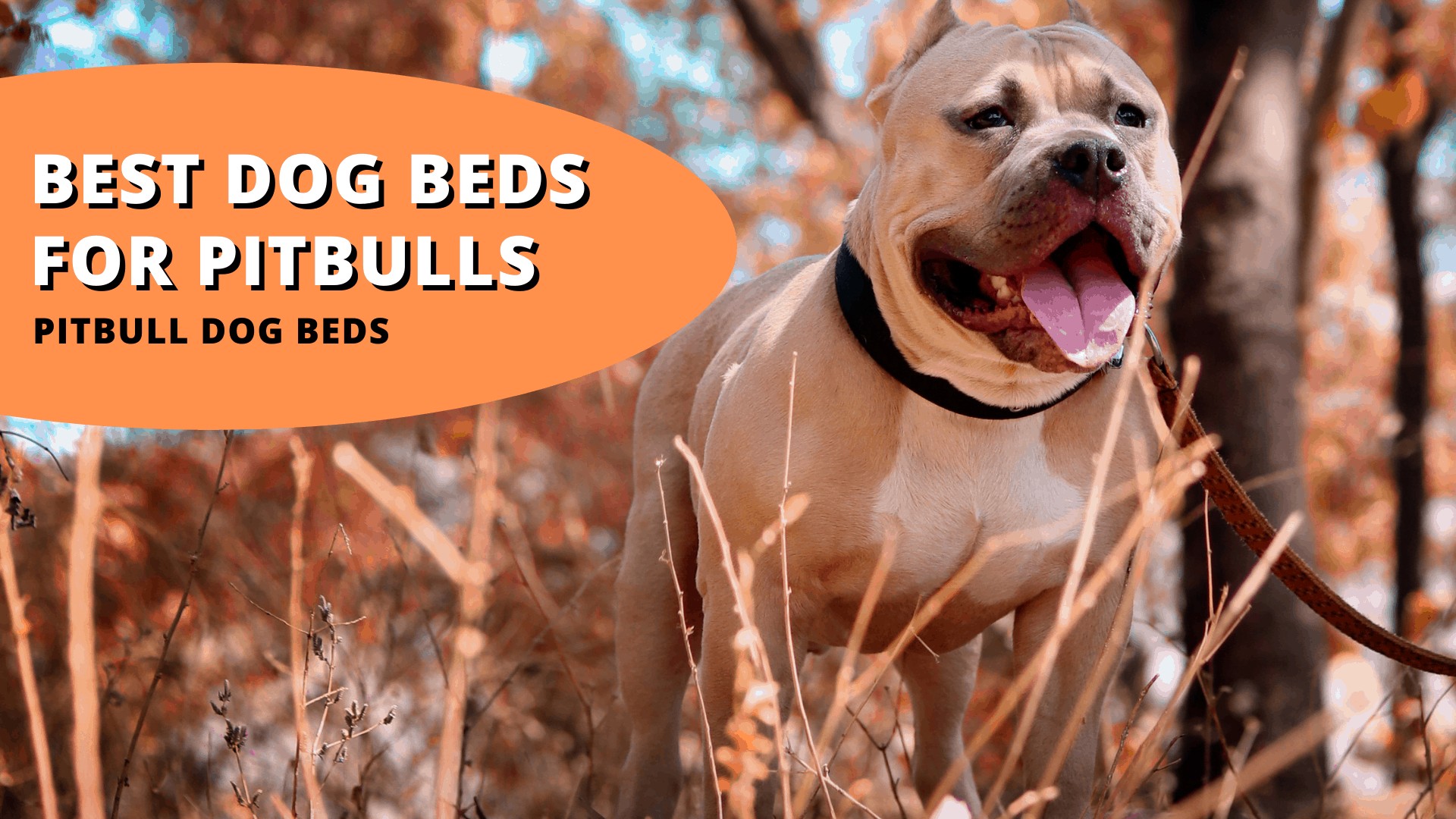 Top 9 Best Dog Beds For Pitbulls
Best Overall Dog Bed For Pitbulls: The Kuranda Dog Bed
Of all the dog beds available, we determined that the best overall dog bed for pitbulls in 2021 is the Kuranda Dog Bed. This bed is highly chew-resistant, has immense durability, as well as an elevated design, which helps alleviate pressure to joints.
This product is patented for it's high strength, lightweight design. It's built to support up to 250 pounds AND it has a one year warranty. If your dog can chew through this bed, then you're covered for a year, which is great. 
However, based on the amount of reviews from previous purchasers, you won't have a problem with your dog chewing apart this bed.
The chew proof design is great for aggressive chewers and the elevated/raised orthopedic design is also great because as previously mentioned, it helps relieve some of the pressure on their joints. 
Unfortunately, as pitbulls age they have a tendency to get arthritis and hip dysplasia. These conditions can be very taxing on their joints making the elevated nature of this bed a perfect fit for your furry friend.

Kuranda Dog Bed Key Features:
Patented chewproof technology
Elevated and can withstand up to 250 lbs
Easy to clean
1 year warranty
Best Budget Bed: Pet Craft Supply Super Snoozer Calming
Next we have the best budget option for your canine companion. And what we've decided for the best budget bed is the Pet Craft Supply Super Snoozer Calming Bed.
This is a pretty inexpensive bed compared to others. And while it does claim to be durable, it wouldn't be the best one for a very aggressive chewer. While it does say that it's chew resistant and can stand up to dogs of all sizes and age. For the price you wouldn't really expect it to have the top of the line, high quality durable materials.
The reviews are back and forth. Some say that it's been really good for their dog and some that have heavy chewers say that it's not super durable. And that their dog was able to destroy it with relative ease.
It's our choice for the best budget bed because it is durable but if your dog is an aggressive high frequency chewer, then it may not be able to withstand their chewing tendencies. 
But, in other facets it still has great qualities. It's very supportive and comfortable, has lots of padding in it, and it's also machine washable which is important whenever you're looking for a bed for your four legged friend.
Pet Craft Supply Super Snoozer Key Features:
Inexpensive
High Quality Durable Material
Supportive and comfortable padding
Machine washable
Best Runner Up: 'The Dogs Bed'
The best runner up option for pitbulls is called 'The Dog's Bed' (pretty well branded product name for dog beds if I say so myself!). This is a great choice because it can be used in your car, in your home, in a crate, or even outside. Because of this versatility it makes for a more durable bed than one that's simply made for inside your home. It also has a washable cover which, as mentioned previously, is a super important feature when buying your dog a bed.
The bed comes equipped with waterproof features as well which is helpful if an accident happens or if they have wet paws and jump into bed for a nap. It also has comfortable bolsters, so this allows your dog's head to be elevated a little bit as if they're lying on a pillow (we all know how much we love to put our heads on a pillow after a long day and so do our pups!).
When it comes to the reviews of this bed, it has an average rating of four stars. It's been reviewed about 300 times, which is a little lower than we like to see, but because of the price and durability/versatility of this bed we figured it still warranted a spot on our list.
People shared that the product has been very good for their dogs. There are however some poor reviews that claim this isn't a super durable bed. So it's going to depend on how rough your doggo is with their possessions.
'The Dog's Bed' Key Features:
Versatile: can be used in many different environments
Double stitched to improve waterproofing
Durable zippers
Firm comfortable bolsters
Best Bed Under $50: The Bedsure Orthopedic Memory Foam Dog Bed
Next is our best under $50 bed, and what gets this spot on our list is the Bedsure Orthopedic Foam Dog Bed. This bed is chew resistant, water resistant, and also has orthopedic egg crate foam inside to help with the comfortability of your pitbull.
The cover and the bottom of the pad is made of chew resistant durable Oxford. Having said that though, this bed is not going to be 100% chew resistant, it can endure some chewing, but if your dog likes to really rip things to pieces this bed may experience a quick fate.
It has a smooth zipper cover that is removable and washable so it can easily be thrown into your washing machine when it inevitably gets dirty. The cover is made of a fluffy warm sherpa surface that snugglers can especially enjoy.
This bed comes in any size that you'd need, medium, large and extra large. It has over 1000 reviews on Amazon, with an average star rating of four and a half stars. 
All in all, the written reviews are very positive. It has over 70% five star reviews and 15% four stars. So it's highly valued from the people that made the decision to buy this bed. Lots of people said that their dogs love to lie on it, they easily got accustomed to it, and others shared that they love the bed for the price.
Bedsure Orthopedic Memory Foam Dog Bed Key Features:
More affordable than other options of similar quality
Bed doubles as a sofa
Made of soft micro-sherpa material
Removable & washable cover
Best Dog Bed For Pitbull Snugglers: The Dog's Bed Sound Sleep Donut Dog Bed
Now we have the best bed for snugglers! As much as you love to cuddle with your pup, sometimes a break is nice. BUT, you still want them to be able to get comfortable and snuggle somewhere else.
With that being said our pick is The Dog's Bed Sound Sleep Donut Dog Bed. This one is great for pitbulls who are major cuddle bugs and need dog beds that fulfill that need. It's also good for calming and anti anxiety because of its comfortable material as well as it's a donut shape. It gives the feeling and comfort of caressing your pup even when you're not around.
For those of you who have a dog that loves to cuddle, loves to sit on your lap, loves to get all that attention and affection. Some other great features of this dog bed are that it can be used for years, because it comes with removable covers that are easy to wash. 
What's also really great as replacement covers can be purchased separately, at a fraction of the cost of replacing the whole bed.
It also has a one year warranty. However, it is only for manufacturing defects. If your dog has an accident on it or if they chew it up that will not be covered in the warranty. But if there is a manufacturing defect, and you don't believe it was your dogs doing, then you're likely within the rights of that warranty and should be able to get a replacement.

The Dog's Bed Sound Sleep Donut Dog Bed Key Features:
Ideal for snugglers
Calming and anti-anxiety bed
Removable Covers 
Easy to clean
1 year warranty
Other Top Dog Beds For Pitbulls
The Barkbox Memory Foam Platform Dog Bed
The Barkbox Memory Foam Platform Dog Bed is a great place for your four legged friend to hang their hat. 
Some features of this bed are it comes in a variety of sizes, it's available in small, medium, large, extra large and double XL. So no matter the stage of life your dog is in, puppy to senior, there's a size of this bed that will suit them well.
It has high quality comfort. Three cushy inches of high density memory foam for joint relief. So if your dog is suffering from hip dysplasia, arthritis or any general aches and pains that can come about when you're an adventurous doggo, having a nice orthopedic memory foam bed to come home to will make them tail waggin' happy. It's also waterproof and machine washable. There's a zipper cover that easily slides off and can be washed to be good as new.
Another cool feature of this bed is that it has temperature regulating memory foam. When it's too warm it'll help keep them cool, and when it's cold, it'll help keep them warm.
This bed has over 13,000 reviews on Amazon at an average star rating of four and a half stars. Thousands upon thousands of people have bought this bed and felt compelled to leave a glowing review, which speaks for itself.
Barkbox Memory Foam Platform Dog Bed Key Features:
Available in many sizes
High density memory foam
Temperature regulating layer of memory foam
Removable & washable cover
The Big Barker 7″ Pillow Top Orthopedic Dog Bed
Our second top alternative bed for pit bulls is the Big Barker 7″ Pillow Top Orthopedic Dog Bed. This bed maximizes comfort. If your dog is experiencing joint pain, general discomfort or if they're just a little older, this is a great bed for them. It's designed for bigger dogs, which is perfect for pitbulls. Also what's interesting is it's clinically proven that it will decrease pain and increase mobility in your dog's limbs after using the bed for just 28 days.
It also has a 10 year warranty for the foam features of this bed. If your dog chews this thing apart, that's not a part of the warranty. But they are confident that this bed will not flatten over time and allow up to 10 years of use guaranteeing it's quality! That's the best warranty we've seen for a bed.
This bed is also easy to clean as it's machine washable. It has just over 4000 reviewers on Amazon, and the average rating is five stars so 89% of people that reviewed this bed gave it five stars which is quite remarkable.
Most of the reviewers are from people with large dogs that weigh 100+ pounds. And they're saying that it's held its own and that it's worth the money, that it's super comfortable. Unfortunately not indestructible but will withstand the test of time in terms of having your dog lie on it for many years to come, and still be very comfortable.
Big Barker 7″ Pillow Top Orthopedic Dog Bed Key Features:
10-Year won't flatten warranty
Tested to provide less pain and more mobility after 28 days use
American made foam
Designed for larger dogs
The Dog's Bed Orthopedic Dog Bed
The Dog's Bed Orthopedic Dog Bed has everything you and your pitbull could ask for in a bed.  
This bed is more specifically designed to help with pain relief of arthritis, hip and elbow dysplasia, post surgery, lameness, and senior support if your doggo is getting a little older. These features can also act as preventative measures to help keep your pupster's joints younger for longer. 
Just as most of the other beds, it comes with a removable cover that is easy to wash, quick drying, and includes a waterproof mattress protector to catch accidents.
It comes in a variety of sizes and it has been reviewed just over 3000 times on Amazon, with an average review rating of four and a half out of five stars with over 75% of all reviewers giving the bed a five star rating.
Many of the reviewers share they have large dogs that enjoy this bed, some say that it's truly an orthopedic bed, that it's been very comfortable and satisfying for their dogs that have these hip and elbow dysplasias or joint troubles. If your dog is experiencing any discomfort or if you want their joints to stay healthy as long as possible, then this bed can help.
The Dog's Bed Orthopedic Dog Bed Key Features:
Designed to help with pain relief of elbow & hip dysplasia
Wide range of sizing options: Small – XXXL
Removable & washable cover
Waterproof mattress protector
The Dogbed4less Premium Memory Foam Dog Bed
The Dogbed4less Premium Memory Foam Dog Bed has a beautiful balance between durability and comfort. The bed includes premium memory foam, pressure relief orthopedic padding, a waterproof case, a washable durable denim cover and also comes with two external covers, which is a nice bonus. If something happens to one cover and you're unfortunately unable to get the stain out, it comes with another cover that you can simply replace with the old one.
The denim cover is meant to be strong, durable and has extra stitching to prolong the life of the bed. The manufacturers claim that the bed will not flattened over time, which will help with better sleep and healthier joints for your dog, for many years to come.
This bed has just under 3000 reviews, with an average rating of 4.7 out of 5 stars with the vast majority of people, 82%, giving this bed a five star review.
Dogbed4less Premium Memory Foam Dog Bed Key Features:
Denim cover to increase durability
Premium memory foam
Comes with additional cover
Waterproof lining
Final Thoughts
So there you have it, our complete review of the best 9 dog beds for pitbulls in 2021. We covered ones that were highly resistant to chewing, and ones that were super comfortable to help alleviate joint pain, arthritis, hip and elbow dysplasia. All things that are unfortunately common in pitbulls. 
If we can't avoid those things, the least we can do is make their time more relaxing by providing them with a super comfortable bed.
We've covered the best of the best for dog beds for pitbulls. It's important to make sure that your pitbull is experiencing maximum comfort while they enjoy their resting time. It's also important to make sure you get a bed that will last longer than a few days or weeks. No one likes having to spend more money than they have to!
Other posts you might be interested in:
Top 10 Best Harnesses For Pitbulls