Pawscessories is reader-supported. When you buy via links on our site, we may earn an affiliate commission at no cost to you. Learn more.

---
Quick Access To The Best Harnesses For Boston Terriers👇
Boston terriers are best known for their small size and goofy personalities. They're also known for the amount of times they escape from their harnesses or collar! That's why finding a harness that fits well, is durable, and comfortable is all the more important for a boston terrier.
You're looking for a harness for your pup because you care about their best interests.
You know that collars are bad for them and can cause all sorts of neck problems, so you want to choose them the best possible harness.
We understand. Which is why we've compiled a list of top 12 best harnesses for boston terriers.
In the sea of harness options available it can be difficult to feel confident about what you're buying. However, we're confident that after checking out our list that you'll have numerous options that will perfectly suit your boston terrier.
Let's dive in shall we!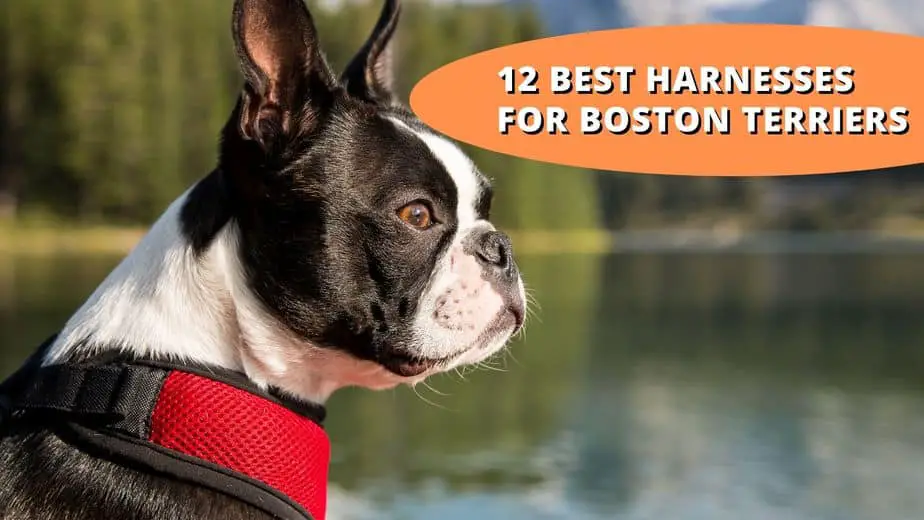 Top 12 Best Harnesses For Boston Terriers
Best Overall: The RUFFWEAR Harness
What we believe has all the best features wrapped up into one is the RUFFWEAR Harness which is why it's our best overall pick for a boston terrier. The 29 leash attachment points will make it especially good for all sorts of different scenarios.
The adjustability features of this harness also make it a great choice. It has 4 adjustable points which will allow you to customise the fit to ensure it's wrapped around them nice and snug.
There's an aluminum ring on the back that helps them walk calmly, and updated loops on the chest that help redirect their movement if they're ever pulling too hard while on a walk or run.
It's designed with a soft inner lining to keep your pup comfortable while wearing it. The design also allows for increased airflow (less chance of overheating) on warmer days and during long play sessions.
The vest has reflective stripes, making it easy to spot at night or on cloudy days.
Feedback from people who've bought and used this harness are overwhelmingly positive with over 82% giving it 5 out of 5 stars.
People also shared that if they were to ever need to buy a harness again that it would be a repeat buy. None have noticed any unwanted scratching or skin irritations on their pup after longer periods of use.
RUFFWEAR Harness Key Features:
4 points of adjustment
29 different leash attachment points
Reflective features
Best Runner Up: The Chai's Choice Harness
Our best runner up pick for a boston terrier is the Chai's Choice Harness.
The adjustable straps on the side of the harness provide convenient on-the-go adjustments to ensure that it will fit your pup no matter what size he or she might be.
With ample strength and an easy design, it can be used for extra special adventures or their normal day-to-day walks.
The mesh lining enables increased air flow and reduces skin irritations so your pup is as comfortable as can be in any type of weather.
The harness also offers additional safety at night. The material is reflective for added visibility. Making it practical to use during dusk and morning hours that would otherwise make it tough to see your furry friend without a little help.
People who've bought this harness shared that they really liked how visible the harness became when the sun went away. They also really liked how well made it was. They didn't feel they'd need to buy another harness but if they did or their pup grew out of their current one, they'd more than happily repurchase this one.
Another common point was how comfortable they felt the harness was. They didn't find any skin sores after removing the harness, and their dogs never attempted to get it off on their own.
Chai's Choice Harness Key Features:
Dual ring setup
Ergonomic design for easy on-and-off
Sturdy handle for extra control and seatbelt use
Best Budget: The Frisco Small Breed Soft Dog Vest
The Frisco Small Dog Vest is a convenient and affordable option for boston terriers looking for a way to walk safely, comfortably, and enjoyably.
This harness has a snap-in back end with a step-in front end that adjusts to your pup's size for an excellent fit.
With the 2 sturdy metal D-rings to attach your leash to you'll have peace of mind that your pup is well secured for your walks.
Aside from being a great quality harness that won't break the bank, it has 4 adorable colors to choose from to make sure your pup is cruising in style. Lilac, blueberry, peach muffin & spiderweb.
Frisco Small Breed Soft Dog Vest Key Features:
Made with soft breathable material
Easy step-in design
Comes with reflective bands and 4 cute colors
Best Under $15: The Copatchy No Pull Harness
The Copatchy No-Pull Harness, a less expensive option for limited pulling, may be an excellent choice for your boston terrier.
Additionally, this harness has a mesh interior that won't cause excessive rubbing or chaffing.
This harness was designed to be adjustable, so it can accommodate just about any size pup- from puppy to adult. It creates a force-free experience for you and places less tension on your doggo's chest.
Both putting on and removing this harness is a breeze; there are no buckles around the neck or unnecessary design features to complicate things.
The harness itself takes little to no time to put on and remove, with no unnecessary design features to fiddle around with; it's simple as pie to use.
Copatchy No Pull Harness Key Features:
Additional handle for older dogs or excessive pullers
Comfy sponge-like filling
Easy to put on and take off
Best Tactical Dog Harness For A Boston Terrier: The OneTigris Tactical Dog Harness
The OneTigris Tactical Dog Harness is designed with a soft padded 1000D nylon backing and adjustable straps. It provides a comfortable fit that's not too snug where it's restrictive for your doggo.
It has Y-neck straps that easily adjust for maximum security and the easy-on-and-off buckles make it simple to get your pup in and out of the harness.
The harness comes with a dual clip feature. One that rests on the front of your dog's chest and the other on their back.
The front attachment enables you to get more control over your pup and discourages them from excessively pulling. It's great to have when you're in an area that may cause them to feel more anxious or excited than usual.
The back attachment is best used for a good boy or girl who is simply enjoying their daily walk and not pulling ahead.
OneTigris Tactical Dog Harness Key Features:
Made to have maximum security/safety as well as comfort
4 buckles for easy-on-and-off
1 year warranty
Best Harness For Boston Terrier Puppy: The Voyager Step-in Air Dog Harness
Our pick for the best harness for a boston terrier puppy is The Voyager Step-in Air Dog Harness.
This harness has great sizing options for a small pup that ensure a secure fit with its customisable straps. It's also made with breathable mesh which makes it perfectly suited for warmer weather.
It comes with reflective pieces throughout the harness to make sure your pup stays visible no matter what time of day you're taking them out for a walk.
With this harness being durable and lightweight it's the perfect companion for a rambunctious pupster.
Voyager Step-in Air Dog Harness Key Features:
Easy on/off, step-in design
Three layers of security
Soft mesh, lightweight fabric
Other Top-Rated Picks
The Puppia Soft Dog Harness
The Puppia Soft Dog Harness is a 100% Polyester, durable vest that's dirt- and mud-resistant. It doesn't soak up water like typical fabrics which means drool doesn't turn it into a heavy wet weight on your pup.
It comes equipped with soft padding in and around their neck as well as being made with breathable material. This ensures your pup stays comfortable and cool.
The harness comes in 10+ different colors and patterns to make sure you're getting something that matches your pups style. The chest strap is also adjustable to allow you to customise the fit specific to your doggo.
**Most complaints with this harness come from ordering the wrong size and being disappointed that they can't use it because it looks great. So if you order, make sure to measure your pup so you get a perfect fit!
Puppia Soft Dog Harness Key Features:
Breathable soft padding
Doesn't chafe
Simple to put on
The PetSafe Sure-Fit Harness
The PetSafe Sure-Fit Harness has multiple points of adjustment and is lightweight like a collar but provides the security, safety and comfort of a harness.
The harness can be used confidently in just about any situation where you'd be bringing your dog with you. It has sturdy steel O-rings and strong nylon straps that help you feel like it's built to last.
If you've ever brought home the wrong size harness you know how unsafe they can be. This sure-fit harness comes in 4 different sizes with 5 different adjustment points to make sure your pup can have a near-custom fit.
Not to mention it's simple as can be to take on and take off with the quick snap buckles.
PetSafe Sure-Fit Harness Key Features:
5 points of adjustment for a near-custom fit
Made from reliable, durable material
Hassle free to put on and take off
The Sporn Dog Harness
The Spern Dog Harness is a mesh harness that stretches and conforms to your pup, providing more comfort while also giving you better control!
It's made from high quality nickel-plated rings and nylon that makes it able to stand up to wear and tear from a tough pup.
You'll be able to feel how noticeably lightweight it is when you pick it up. Your pup will be able to run around carefree as if they're off-leash.
It also has elastic webbing which provides a bit of 'give' if they bolt off in any given direction. You know, if they see a squirrel, bunny, chipmunk, anything too tempting NOT to chase after.
Sporn Dog Harness Key Features:
Webbing stretches with dogs movements
Made with high quality nylon & nickel plating to reduce wear and tear
Designed for complete control over your pup
The Gooby Dog Harness
The Gooby Escape Free Dog Harness is perfect for small breeds who have attempted to get out of a standard collar. Its design puts the pressure around your pup's chest and not their throat, which makes it nearly impossible to wiggle out of.
The strong (neoprene) material gives the harness a lightweight feel but not so much where you feel it'll be easy for your pup to break free from.
It also has four points of adjustment to allow you to make it fit perfectly around your pup. No need to worry if it's too snug or too loose, you'll be able to customise it specific to your doggo.
Gooby Dog Harness Key Features:
Designed for smaller breeds up to 35 lbs
Lightweight material with polyester straps help ensure durability with comfort
Considerably adjustable for secure fit
The Blueberry Pet Soft Harness
The Blueberry Pet Soft Harness is a simple walking vest that has two quick release buckles for easy on-and-off.
It's a dual clip harness which gives you the best of both worlds. Depending on the day or your dog's walking style, you'll be able to better cater to them by using either the front or back leash attachment.
The harness is made with soft, lightweight material that makes for a comfy fit while still maintaining durability. The buckles are made with eco-friendly plastic and it's D-ring is coated in a matte grey finish to add durability.
Blueberry Pet Soft Harness Key Features:
Lightweight
Dual clip
Made with eco friendly plastic
The Rabbitgoo Harness
If you've got a stubborn puller on your hands the Rabbitgoo Dog Harness is a great pick for you.
This harness is great because it's flexible and moves with your pup's body as they wander around. It also has multiple adjustment straps that allow you to customise the fit around your doggo.
The more adjustable a harness is the more likely it is to be comfortable for your pup while not allowing them to escape.
It's a breeze to take on and off which is a nice feature. When your pup's gotta go they gotta go! You don't want to be fiddling around with the harness before a walk; that's just asking for an accident in the house.
Rabbitgoo Harness Key Features:
Dual ring setup
Fully adjustable
Easy on-and-off design
FAQs
Is A Collar Or Harness Better For A Boston Terrier?
As a general rule, a harness will better suit your boston terrier. Boston terriers are a brachycephalic breed which means they have challenges with their breathing. Using a harness will ensure they don't get any neck/throat injuries from pulling on their leash because the pressure will go to their chest.
Traditional collars place all pulling pressure on your dog's throat which means if they pull aggressively they can hurt themselves.
Any additional strain on their trachea (throat) could make their breathing challenges even worse.
That's why a harness is a better option because it disperses pulling pressure across their chest.
Harnesses also enable you to better cater to your pup's walking style while also being better at ensuring they can't escape when on your walks.
How Do I Stop My Boston Terrier From Pulling?
Fortunately, their pulling habit was learned over time which means it can also be unlearned.
Now that doesn't mean it will be easy…
It's likely going to require a good amount of time and even more patience.
But it can definitely be done.
He's a simple strategy that when given enough time will help stop your pup from excessively pulling:
When walking in public, be sure to show your pup plenty of praise and treats every time they do something good – like staying by your side or not pulling on the leash..
*Important*
Do not give any attention when they pull! When they do pull, stop walking right away (no need to yank on the leash).
Then, walk in the opposite direction of where you were originally heading. Do this every time they pull on the leash.
When they stop pulling and walk with you, pat them on the back, give treats or give a vocal command of praise.
Then turn around to go the other way. Repeat this pattern of turning, walking forward a few paces, then changing direction until they're consistently walking with you instead of tugging.
Here's a great video that helps provide more info to stopping a dog from pulling on their leash:
Final Thoughts
Well there it is!
Our complete list of the top 12 best harnesses for a boston terrier.
I hope it's been helpful in turning your long list of choices to a much shorter list.
These harnesses are top quality and highly rated by thousands of dog owners.
I'm confident you'll be happy with whichever one you choose based on you and your pups situation.
Happy walking!
Other posts you might find interesting:
Top 28 Best Dog Brushes (100+ brushes analyzed!)
The 27 Best Dog Crates For Small Dogs And Puppies
15 Best Dog Shampoos for Odor: Top Picks for Your Smelly Pup