Pawscessories is reader-supported. When you buy via links on our site, we may earn an affiliate commission at no cost to you. Learn more.

---
Quick Access To The Best Harnesses For Pomeranians👇
Pomeranians are fluffy and have an adorable face that can make anyone's heart melt. However, one problem that a lot of pomeranian owners come across is how to walk their dog without them pulling on the leash or running off all over the place. 
A great start to curbing this behavior with a pomeranian is by getting them a good quality harness for their walks.
It can be difficult picking a harness to bring home however. They're so many options available, who's to know which is right for your pup or not?
That's exactly why this list exists.
After looking at well over 50 different dog harnesses, the 12 we've listed below are what we believe are the best of the best for pomeranian puppies and adults.
We're confident that after checking out the harnesses below that you'll find at least one perfectly suited for your pup.
Let's jump right in and check out our best overall pomeranian harness.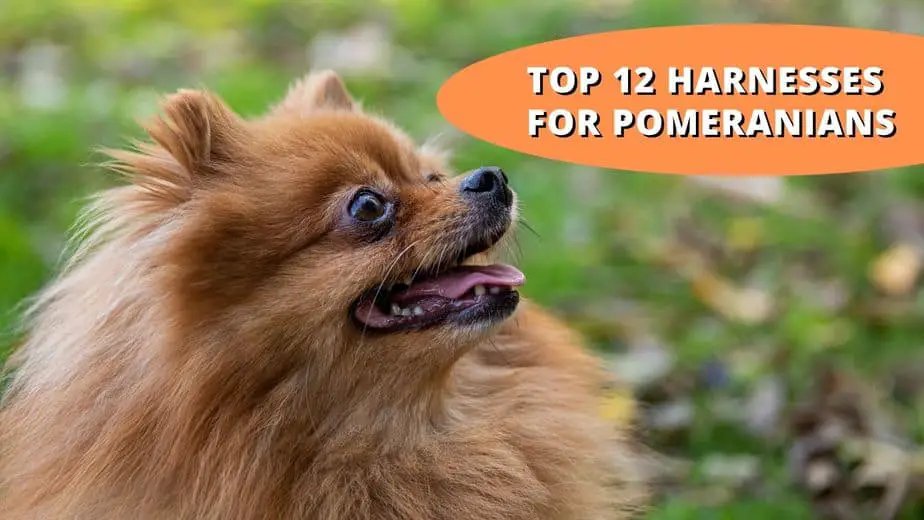 Top 12 Best Harnesses For Pomeranians
Best Overall: The Voyager Step-in Air Dog Harness
Step your dog in, clip, and go. The Voyager Step-in Air Dog Harness is our pick for the best overall dog harness for you pom puppy.
The mesh design means that this harness is perfect for all seasons, especially in the winter when your dog may get wet or dirty. The material is easy to clean and comfortable for your pup.
Simply fasten the harness with the hook and loop style closures, buckle, clip the leash to the double D-rings and you're off. 
The harness is made of strong but lightweight material, so it provides less stress on you and your pup while out for a morning stroll, evening stroll, or a late-night walk.
It also has reflective bands to keep you and your pup safe during late night excursions.
Reviews from testers shared their happiness with how easy this harness was to put on compared to other harnesses. They also shared that they felt it was a very safe harness and comfortable for their pup too.
Some testers of this harness mentioned that it was more convenient for them than other ones because it was easier to put on. The same people also shared that their pup found the harness comfortable and they felt safer using this over a collar.
Key Features:
Easy on/off, step-in design
Three layers of security
Soft mesh, lightweight fabric
Best Runner Up: The Puppia Soft Dog Harness
The Puppia Soft Harness is our pick for the best runner-up harness for a pomeranian. It's high quality, machine-washable and lightweight—everything you need for a low-maintenance harness.
This soft harness is made of durable polyester for resistance to mud and dirt. It's also an easy-care option for a dog that drools because it doesn't absorb water, making spills or playtime in puddles simple to clean up.
It's a secure option for pomeranians with enough padding to keep your pup feeling comfortable. The padding will come in handy on longer walks to make sure they're enjoying the entire trip.
The buckle system on the harness ensures a comfortable, easy-to-adjust fit for your furry friend.
From the feedback offered by people who've tried the harness, it's obvious that this dog vest is well liked in the dog owner community.
Several people shared that they like how their pup doesn't experience chafing from the harness being too constricting while also not being able to find escape points.
**Most complaints are about ordering the wrong size and being disappointed that they can't use the harness because it looks great. So before you order, measure your pup to make sure you get a perfect fit!
Key Features:
Breathable soft padding
Doesn't chafe
Simple to put on
Best Budget: The Frisco Small Breed Soft Dog Vest
The Frisco Small Breed Soft Dog Vest is a safe, comfortable, cost-effective option for walks with your pomeranian.
This harness features a snap-in step-in design that will provide your pup with the best possible fit, regardless of their size or shape.
It has two sturdy D-rings for your leash to attach to which ensures you have a secure hold on your pup.
In addition to being well-made, this harness offers four adorable colors – including blueberry, lilac, peach muffin and spiderweb.
Key Features:
Made with soft breathable material
Easy step-in design
Comes with reflective bands and 4 cute colors
Best Under $10: The PAWABOO Dog Harness
Even when on a budget, safety and comfort are two of the most important considerations when walking your pomeranian.
The PAWABOO Dog Harness is a budget-friendly harness that gives your pup a protected walk. It's also available in a wide variety of styles, making sure that you can always find one to match your personal style without breaking the bank.
One of the best features of this harness is its mesh construction, which provides increased comfort.
Also, the adjustable straps allow for a snug, secure fit without compromising your pup's range of motion.
Not to mention its reflective stitching, sturdy D-ring and little pockets, this harness makes for the perfect walking accessory.
If you're looking for a good quality and comfortably fitting harness that is also not overly expensive, this harness is a fantastic option.
Key Features:
Reflective visibility
Durable, comfortable, breathable fabric
Adjustable buckles
Other Top-Rated Picks
The Gooby Dog Harness
The Gooby Dog Harness is perfect for a small breed pup who has tried to escape or escaped on a walk in the past. Its design prevents your pup from wiggling out and applies pressure on their chest, not their throat.
The lightweight neoprene material is safe for any size pup and durable enough to handle years of use.
The webbed polyester straps adjust easily for snug security while on-the-go, which means a pup on the loose will be a thing of the past! Its 4 point adjustments ensure you'll be able to find an incredible fit.
Key Features:
Designed for smaller breeds up to 35 lbs
Lightweight material with polyester straps help ensure durability with comfort
Considerably adjustable for secure fit
The Comfort Fit Dog Harness
Get a good grip and take your pomeranian for a walk in the park with the Comfort Fit Dog Harness!
Rest easy that your pup will be on lockdown as this harness has nylon straps and buckle hardware that'll keep your doggo secured. It's super lightweight, soft and flexible too.
Its got 2 reinforced D-rings that lock securely onto your leash while you're out for a stroll.
The design is made to remain comfortable after prolonged use and to not cause rubbing or chafing under their arms.
The harness is made from soft, comfortable materials with a quick release clip to make it easy for you to take your pup on walks and have fun adventures.
It also features a step-in design which is great for dogs who don't like having things put over their head!
Key Features:
Comfy interior padding
Easy step-in design
Keeps dog secure and difficult to escape from
The RYPET Small Dog Harness
At long last, there's finally a dog harness for the stylish and fashion-forward pup in your life!
It's design is bright plaid with a cute little bowtie and safety bell to keep your pup from going unnoticed.
It's also made of soft breathable mesh fabric to make sure their strolls are as comfortable as possible.
Lastly, the easy-to-adjust chest size will leave them looking dapper as can be and without wiggle room to escape or from being too restrained.
Key Features:
Made with breathable & soft mesh
Adorable plaid & bowtie design
Easy to adjust for snug hug fit
The BINGPET Soft Mesh Harness
This comfortable harness is designed to allow your pup to move freely without being overly restrictive.
The mesh vest is perfect during warmer times of the year as it increases air circulating and helps to keep your pup cool.
The BINGPET Soft Mesh Harness is padded to reduce chafing and has a quick release feature for days when it's hot. And the adjustable chest strap makes the harness easy to take on and off.
The buckles on the harness also make it easy to quickly adjust for your pomeranian, giving them a better, more secure fit.
The harness is available in a variety of colors with a cute little paw print logo on the back to satisfy your fashion forward pup.
Key Features:
Soft mesh padded fabric
Adjustable strap and buckle
6 color options
The PoyPet No Pull Dog Harness
If you're looking for a lightweight harness that won't cause your pomeranian any sort of pain, this vest is an ideal choice.
The breathable design of this harness helps maximize comfort, and the lightweight construction makes it easy for pomeranians to wear for longer periods.
The two belly straps make it easy to quickly put on and take off the harness whenever you need.
It also has a handy locking buckle on the neckline which is perfect for keeping them secure on car rides.
Key Features:
Easy on-and-off harness
Available in a variety of colors
Made of breathable, non-toxic material
The PetSafe Sure-Fit Harness
The PetSafe Sure-Fit Harness is an excellent choice for owners who want maximum airflow while also being a safe and secure harness.
It has well-placed adjustment points that make your dog feel comfortable and less stressed while still ensuring he or she remains securely attached to their leash.
This harness is built to last and can be used for many occasions due to its durable nylon straps and reinforced steel O-rings.
The harness comes in 4 different sizes and has 5 different adjustment points to ensure your pup can achieve a near custom fit.
With the Petsafe easy walk harness you can stroll around with peace of mind knowing they are securely contained while still having room to move and play; because playing should always be one-part safety, two-parts fun.
Key Features:
5 points of adjustment for a near-custom fit
Made from reliable, durable material
Hassle free to put on and take off
The Chai's Choice Harness
The Chai's Choice Harness is a stylish and safe dog harness with an adjustable fit.
The harness is uniquely designed, focusing on your pup's comfort and safety while out for a walk as well as during car rides.
It also provides two points of attachment, giving you the ability to cater to your pups walking style as necessary.
This harness offers a comfortable experience both when putting it on and taking it off. The interior lining is made with mesh to ensure comfort and prevent your pup's delicate skin from chafing or being irritated in general.
Also, the reflective material makes this a great nighttime harness, with its added visibility. Whether you're out with your pup in the early morning or sunset, this harness will make sure they remain both visible and safe.
Key Features:
Dual ring setup
Ergonomic design for easy on-and-off
Sturdy handle for extra control and seatbelt use
The EcoBark Dog Harness
The EcoBark Dog Harness keeps your dog safe and you in full control. It's double layered mesh fabric that is soft, gentle, and breathable.
The harness is designed for walking, running and/or hiking – its lightweight airflow design makes it comfortable to wear no matter the weather.
The breathable mesh material will make walks more enjoyable and the anti-chaff design will keep your pup comfortable during long adventures.
It's also escape proof when you've got the right size so that your little pup can't wriggle out in their excitement.
Also, the environmentally friendly fabric helps minimize waste which is better for our environment–something important to many people.
Key Features:
Made with recycled material while remaining durable
Anti-rub technology to prevent chafing
Soft, lightweight & breathable
FAQs
What Size Harness Does A Pomeranian Wear?
In general, since pomeranian's are considerably small pups, you're going to be looking at the small, extra small, or double extra small sizes.
However, to ensure you're getting them a suitable harness; one that isn't too tight as well as being not too loose, you'll want to measure them.
The two measurements you'll want to take on your pup to size them up for a new harness is around the base of their neck, and around their rib cage (behind their front legs).
These two measurements will allow you to use the measuring chart given on each harness product page to ensure you're adding the correct size harness to your cart.
Should Pomeranians Wear Collars Or Harnesses?
As a general rule, the right harness will provide a better walking experience for your pomeranian than a traditional collar. A harness will prevent them from getting a throat injury from excessive pulling, will be more difficult to escape from, and will allow you to better cater to their walking style.
Final Thoughts
And that concludes our list of the top 12 harnesses for pomeranians!
As a pomeranian owner, finding a good quality harness that'll fit your little guy/girl well can be challenging.
These harnesses all have sizing options available that should fit your pup well to keep them secure on their daily walks. We hope you were able to find the best harness for pomeranian.
Happy travels!
Other posts you might find interesting:
14 Best Dog Shampoos for Pomeranians: What Sets Them Apart
Top 28 Best Dog Brushes (100+ brushes analyzed!)