Quick Access To The Best Dog Beds For Great Danes👇
Do you find your great dane isn't getting the uninterrupted beauty sleep that they need? Unfortunately, things such as arthritis, joint pain, and hip & elbow dysplasia are all too common in great danes because of their large size. This makes it super important to get them a comfortable place to rest. By looking through perfect great dane beds you have the best chance of finding something that will help relieve some of their aches and pains.
Getting an orthopedic bed when they're just a pup or a teen can help keep their joints healthy and if they're already an adult or senior a great bed it can help them rest with minimal pain.
A challenge with buying beds for a great dane is they have to be jumbo since they are a jumbo breed! This means their bed will cost more than a one would for a toy dog.
This makes your choice all the more important so you don't have to buy numerous beds and find one your doggo can use for years to come.
That's exactly what our list of the top 10 best dog beds for a great dane is for, to help you make the best decision and not have to purchase multiple beds over the years. Thankfully, all the beds listed below can be found on Amazon which can provide quick and easy shipping.
Let's take a look at our Best Overall pick!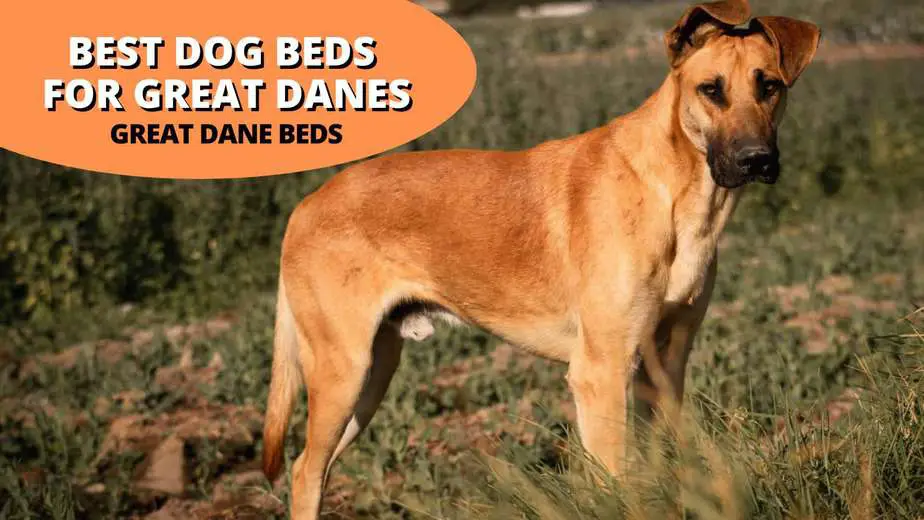 The Top 10 Great Dane Beds
Best Overall Great Dane Bed: Big Barker 7″ Orthopedic Dog Bed
Of all the beds, The Big Barker 7″ Pillow Top Orthopedic Dog Bed is our choice for the best overall dog bed for a great dane.
It's made with 1 bolster side and a flat side to give your big pup the best of both worlds. If they want to lie with their head elevated, they can. And if they'd like to lie flat, they can also do that to maximize their comfort.
The bed has 4 different types of American made foam. 4" contoured foam for the head rest, and 3" of H45 comfort foam sandwiched between 2" of H10 comfort foam. Even a human would be comfortable lying on this bed. As of writing this, the bed comes in 3 sizes, large (48" x 30" x 7"), extra-large (52" x 36" x 7"), and giant (60" x 48" x 7").
The company that makes these beds have actually done a focused study with the bed. And they were able to prove that after using the Big Barker for just 28 days dogs experienced less pain and more mobility.
So outside of having over 4,000 reviews with 90% of buyers being raving fans. This bed has also been tested in a concentrated study and proven to help with mobility and pain. Perfect to maintain your great danes healthy joints or to provide them with relief as they age.
What's also great is the company is so confident that the bed will last they a 10-year warranty. No need to worry about it flattening over time.
Best Budget: Furhaven Plush Orthopedic Dog Bed
If you're looking for a bed that doesn't break the bank but still will provide the comfort your great dane will love then the Furhaven Plush Ergonomic Contour Orthopedic Dog Bed is a great option.
It offers great support with its contoured form as well as orthopedic foam. Perfect to make sure your gentle giant is experiencing support for their neck, back, hips and joints. The orthopedic foam is extra thick to ensure the bed remains comfortable over a long period time without being flattened. Even though this is our best budget option, quality isn't being sacrificed.
Another bonus is it's zippered cover can easily be removed and washed in your washing machine.
They always seem to get dirty paws somehow right?!
The bed has over 15,000 reviews with an average rating of 4.3 stars. Many reviewers share that the quality of the bed is just what they wanted, if not better. Others shared that it was a great bed for their large dog.
Best Runner Up: PetFusion Ultimate Dog Lounge & Bed
The PetFusion Ultimate Dog Lounge & Bed is our choice for the best runner up dog bed. A great dane deserves a proper throne and other dog beds don't compare to the PetFusion bed.
This bed has it all, orthopedic memory foam, comfy bolsters to act as a head rest, removable & machine washable covers, a non-slip grip along the bottom so it stays in place, and waterproof lining around the memory foam. 
It has the perfect option for a jumbo size dog which is their XXL Jumbo size. The XXL is 50-inches long and 40-inches wide. Even if your great dane isn't fully grown yet, you'd likely want to get the larger size to make sure you don't have to buy another bed once they are fully grown.
The bed has glowing reviews from numerous purchasers claiming how their beloved pets adore this bed. Many also share that their dogs have no problem taking to the new bed. A big worry when spending money on your dog can definitely be, "I hope they use the darn thing!" and it's clear that's no issue with this bed.
What's also nice about this bed is replacement covers are available separately if need be.
Best Dog Bed Under $150: Laifug Orthopedic Memory Foam Dog Bed
Our choice for the best under $150 dog bed for great danes is the Laifug Orthopedic Memory Foam Dog Bed. It has two layers of protective surfaces. A waterproof cover and a soft zippered removable cover that makes washing the bed simple. This bed can withstand any size dog up to 200 lbs. It also has a bolster headrest 10-inches high while the rest of the bed is 8-inches. 
The flat 8-inch portion of the bed is made of thick memory foam. This helps ensure that it will keep its shape and not flatten over time. They say it will keep 90% of its shape and support for the 3 years.
Based on the reviews that statement seems true. Many reviewers share that the bed has been used for long periods of time and still in great shape.. And of course that their dog has taken quite the liking to their new bed and remained happy with it.
It's been reviewed almost 2,000 times with 85% of people giving this bed a shiny 5 star review. These beds consistently provide support and comfort for their doggo users making the Laifug bed a wonderful choice for a great dane.
Best Indestructible Great Dane Bed: Kuranda Dog Bed
Based on all the options available, we determined that the best indestructible great dane bed is the Kuranda Dog Bed. This bed is highly chew-resistant, has immense durability, as well as an elevated design, which helps alleviate pressure to joints. We'd even go as far as saying it's a great dane proof dog bed!
This product is patented for it's high strength, lightweight design. It's built to support up to 250 pounds AND it has a one year warranty so if your german shepherd can chew through this bed, then you're covered for a year, which is great. However, based on the amount of reviews from previous purchasers, you won't have a problem with your dog chewing apart this bed.
The chew proof design is great for aggressive chewers and the elevated/raised orthopedic design is also great as it helps relieve some of the pressure on their joints. 
This bed would also take the medal for best elevated dog bed for great danes as well. 
Unfortunately, as great danes age they have a tendency to get arthritis and hip dysplasia. And these conditions can be very taxing on their joints making the elevated nature of this bed a perfect fit for your furry friend.
Other Top Dog Beds For Great Danes
Brindle Waterproof Designer Memory Foam Pet Bed
One of the challenges that comes with having a pup or can come up with an aging dog is their lack of bladder control. So having something that they love to sleep on and not have to purchase a new bed every time a mess happens, is important! That's where the Brindle Waterproof Designer Memory Foam Pet Bed comes to the rescue. It also comes equipped with high quality memory foam so even though it's built for durability with messes it's also very comfortable for your great dane!
Since the outer layer is removable and the memory foam is covered in a waterproof layer, this bed can easily be washed up and ready to use again as needed. Many of the reviewers of this product shared that it has held up against many washes.
The bed has just over 4,500 reviews with an average rating of 4.5 out of 5 stars. 
Dogbed4less Premium Memory Foam Dog Bed
The Dogbed4less Premium Memory Foam Dog Bed has a beautiful balance between durability and comfort. The bed includes premium memory foam, pressure relief orthopedic padding, a waterproof case, a washable durable denim cover and also comes with two external covers, which is a nice bonus. If something happens to one cover and you're unfortunately unable to get the stain out, it comes with another cover that you can simply replace with the old one.
The denim cover is meant to be strong, durable and has extra stitching to prolong the life of the bed. The manufacturers claim that the bed will not flattened over time, which will help with better sleep and healthier joints for your dog, for many years to come.
The bed has sizes of XXL and Jumbo which will suit your great dane perfectly.
This bed has just under 3000 reviews, with an average rating of 4.7 out of 5 stars with the vast majority of people, 82%, giving this bed a five star review.
Friends Forever Orthopedic Dog Bed
The Friends Forever Orthopedic Dog Bed could become your great dane's favorite place to chill-out. It has water-resistant lining as well as human grade mattress foam with poly-filled bolsters, you may get jealous of how good of a night sleep your doggo is getting in this bed!
The bed pertains more towards large & very large dogs. If your great dane is a teen and still growing they can definitely enjoy a XXL jumbo bed, there might just be a little extra room until they grow into it.
83% of purchasers that reviewed this bed gave a 5 out of 5 stars so this bed was certainly not a disappointment to many.
Like many of the other beds the cover is removable and machine washable, it is also tear resistant but not necessarily meant for major chewers. 
Sealy Lux Quad Layer Orthopedic Dog Bed
The Sealy Lux Quad Layer Orthopedic Dog Bed maximizes comfort in more ways than 1. Not only is it made of premium orthopedic foam, it also has cooling technology to help regulate your great dane's temperature. If you find your dog panting frequently without exercise or consistently laying on tiles or near a vent, this could be their new best friend.
The bed is also built with a pro-charcoal base to help absorb odors so not only will it be your dog's best friend, but yours as well. Of course if they have an accident or it simply needs a wash, the cover is easily removable and machine washable to keep it fresh and clean.
Out of just under 1,000 reviews, 79% of people gave this bed a 5 star rating with many sharing kind words of how much their dog loves the bed. If they're happy, we're happy!
The 'Dog's Bed' Orthopedic Dog Bed
The 'Dog's Bed' Orthopedic Dog Bed (spot on company name for their product, I must say) has everything you and your great dane could ask for in a bed. 
This bed is more specifically designed to help with pain relief of arthritis, hip and elbow dysplasia, post surgery, lameness, and senior support if your doggo is getting a little older. These features can also act as preventative measures to help keep your pupster's joints younger for longer. 
Just as most of the other beds, it comes with a removable cover that is easy to wash, quick drying, and includes a waterproof mattress protector to catch accidents.
It comes in a variety of sizes, two of which are perfect for great danes, which are their XXL and XXXL bed sizes. It has been reviewed just under 3000 times on Amazon, with an average review rating of four and a half out of five stars with over 75% of all reviewers giving the bed a five star rating.
Many of the reviewers share they have large dogs that enjoy this bed, some say that it's truly an orthopedic bed, that it's been very comfortable and satisfying for their dogs that have these hip and elbow dysplasias or joint troubles. If your dog is experiencing any discomfort or if you want their joints to stay healthy as long as possible, then this bed can help.
Final Thoughts On Great Dane Beds
Any of these beds could be a great fit for your great dane. Our top pick is the Big Barker 7″ Pillow Top Orthopedic Dog Bed as it's specifically designed for large breeds.
Have a mischievous guy or girl on your hands? The Kuranda Dog Bed would have the best chance at surviving. Many people call it an indestructible dog bed, some may even call it a great dane proof dog bed! Something else to help your dogs bed last longer could be distracting them with an entertaining dog toy.
Have you tried any beds that your great dane loves and we missed it on our list? Let us know in the comments below!
Other posts you might be inetersted in: